Class of '14 hosts Flirt Fest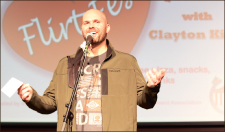 While students are used to hearing relationship advice from Clayton King during Campus Church on Wednesday nights, they received an extra dose at the Flirt Fest.
Students flocked to the Tilley Center after church on Feb. 22 for an event put on by the Freshman Class. The event had a casual atmosphere where students were encouraged to ask King any question related to love or relationships.
"This is a fun, relaxed, low key environment where we can laugh at ourselves and not be so uptight about relationships," King said. "This is a great chance to enjoy where we are at right now in our lives. I love to have been able to take this opportunity to interact one on one with the students and hang out."
Freshmen Class President Chelsea Andrews was in charge of putting the event together. Food was provided from Little Caesars Pizza, along with cupcakes, chocolates and flowers, which were all free to the students. Tables and chairs were set up where students could sit and watch the stage.
Videos were played featuring the Harvard Sailing Team, Tim Hawkins and the Fresh Prince of Bel Air, all mocking the typical stereotypes of how girls and guys act when it comes to the dating game.
"I think this was a great way to get the freshmen class' name out there. We are hoping to make this an annual event," SGA member Cecilia Hines said.
Students enjoyed being given helpful advice and having the opportunity to participate in an open forum style event.
"I think relationships are really important to focus on. Unlike any other university, Liberty's intent is to foster godly relationships with our creator and with each other," SGA Spiritual Life Chair Kelsey Taylor said.
Flirt Fest took the approach of enjoying the opportunity to be in relationships and focus on learning from them. Most of the questions that Clayton King was asked were humorous and lighthearted. There were a few serious questions which, in return, received helpful and sincere answers.
"I really appreciated how Clayton took his time to talk to students. It was great to have one-on-one interaction with him. It was open for couples and single folks alike," Corey Knef said.