PRSSA Prepares for the Plunge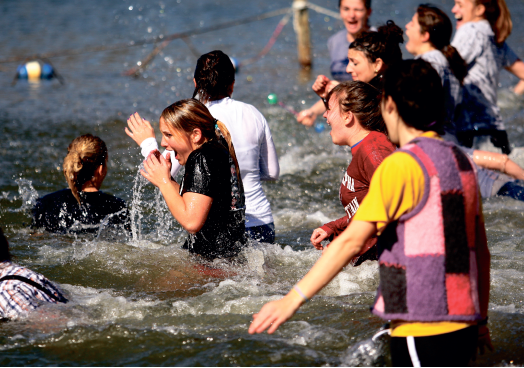 "She doesn't always get to participate in the same activities that I do," Liberty University junior Victoria Petrocelli said when describing her 18-year-old younger sister, Alexandra, who was born with Down syndrome. "They offer her something special, something that makes her so happy."
Petrocelli is referring to the Special Olympics, the world's largest sports organization for children and adults with intellectual disabilities. They provide year-round training and competitions to more than 3.7 million athletes in more than 170 countries, according to specialolympics.org.
Petrocelli describes the Special Olympics as close to her heart, which is why, after joining the Public Relations Student Society of America (PRSSA) at Liberty, she chose to use her skills to help plan and support the Hill City Polar Plunge. Petrocelli has been working on the event with other account associates at Innovations, Liberty PRSSA's official public relations firm, since September 2011.
The Polar Plunge, now in its fourth year, is an event dedicated to fundraising for Special Olympics Virginia. The event takes place Saturday, Feb. 25, from 11 a.m. to 2 p.m. at Camp Hydaway Lake in Lynchburg, Va., and Petrocelli defines it as a "fun, carnival-like day filled with great food, games, giveaways and live music that ends with people running and jumping into freezing cold water."
Petrocelli was quick to add that a heater will be readily accesible at the event for participants to warm themselves up following their plunge.
"It's a fun way to raise money for a good cause and it doesn't cost you a penny," Petrocelli said. "I'm plunging, because it is a way for me to help my sister even when I'm not at home with her."
Liberty students are encouraged to raise money and have a prayer leader or their pastor plunge in their place if they do not want to plunge themselves. Plungers will receive a free T-shirt and lunch, and a prize will be awarded to the top individual fundraiser.
The Polar Plunge raised over $12,000 last year for the Special Olympics and the Innovations staff working on this fundraiser is confident that this year's event will produce an even better financial outcome.
"Our main goal is to get at least 100 people to sign up to plunge," Haley Collins, Innovations' account executive for the Polar Plunge, said. "We are planning on hitting campus hard with promotions these next few weeks to gain more plungers, and we are also reaching out to the Lynchburg community and Special Olympics athletes this year to get them involved."
Even if a person does not wish to physically plunge into Lake Hydaway's icy cold water, Collins insists that there are numerous fun, rewarding ways to support the cause, such as helping run games, volunteering time to paint signs and helping with set up and clean up at the event.
"Promoting the event on Facebook and Twitter, or spreading information by word of mouth, is helpful too," Collins said. "Or you can just attend the event to show your support and celebrate what the Special Olympics stands for."
The best part of this event overall, according to Collins, is that it is local. The Polar Plunge raises money specifically for the Lynchburg Special Olympics.
"It's a unique way to give back to an incredible group of people," Collins said. "And as much as the Special Olympics changes their lives, the stories of these athletes have changed mine. They are truly inspirational people."
To qualify to plunge, participants need to raise at least $50 and can register online at https://www.firstgiving.com/polarplungeva/2012hillcitypolarplungefestival. For more information on the Polar Plunge, visit polarplunge.com/hillcityplunge or contact Haley Collins at hacollins@liberty.edu.