Grads bring Bloop back home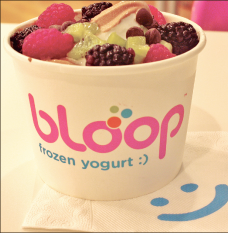 Liberty Alumni open new yogurt location in Lynchburg, offering health and a chance to help those in need
When students returned from Christmas break, they were greeted with a new frozen yogurt shop just minutes from campus. Bloop frozen yogurt is located in the small community of Wyndhurst and will soon open in Candler's Station. Bloop is the creation of four couples, all of whom graduated from Liberty University.
"As former Liberty students, we were all challenged by Dr. Falwell Sr. saying 'If it's Christian, it should be better'" Lauren Mcquillian, Bloop's director of operations, said. "That's where Bloop came from — a desire to create better yogurt for a better reason. As Christ followers, we are called to live out our faith according to James and that's what we plan to do through Bloop."
Bloop caters to students at Liberty with its convenient location and by accepting flames cash. Bloop is the only self-serve yogurt shop in the area that offers the "Super Blooper" – a "Fill all you can cup" for a fixed price. Bloop also features a program called "A Cup 4 A Cup" which will help a charity organization give water to those who are in need.
"Every time someone buys a cup of yogurt, we give a cup of clean drinking water to someone who needs it. It's that simple. Bloop is teaming up with Charity: Water to offer the simplest form of compassion according to Matthew 10:42 and Mark 9:41—a cup of water," Mcquillian said. "Bloop will donate 5 cents of every cup of yogurt to Charity: Water with the goal of each store donating enough to dig a well at the end of each year. How amazing would that be? We believe it's our God-sized idea."
Bloop also features a unique form of yogurt that has a hand-crafted flavor and texture. The yogurt products are crafted with real fruits, coffee and even real cookies. Bloop offers fresh local fruit, as well as low fat, non-fat, sugar free, gluten free and non-dairy options for customers. In comparison with the local competition, Bloop prides itself on its support of missions as well as promoting health.
"We love the healthier aspects of yogurt but we know that not all yogurt is created equal," Mcquillian said. "Some of it is not even yogurt. We just knew it could be done better. The results are there already. Everyone who tastes Bloop loves the hand-crafted flavor and texture."
Beyond Lynchburg, there are two more Bloops opening in both Charlottesville, Va., and Fort Mill, SC. The management of Bloop has plans of expanding and hopes to have 10 Bloop stores open in 2012.