Lynchburg to participate in 9-11 Heroes Run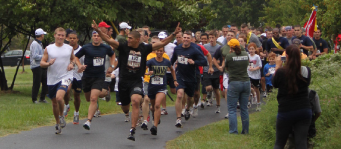 Local commemorative event raises support and fund for fallen heroes
Across the City of Lynchburg, citizens will participate in commemorative events and activities on Sept. 11 in memory of the terrorist attacks that occurred 10 years ago. One of these events is the 9-11 Heroes Run, a national event that is put on by the Travis Manion Foundation for the purpose of honoring those who have sacrificed their lives for the sake of the nation. The run will take place at 2 p.m. on Sept. 11 in Lynchburg, starting and ending at Central Virginia Community College.
The 9-11 Heroes Run program was inspired by the Manions' son, Travis, who was a 1st Lieutenant in the Marine Corps, according to Mike Walsh, the director of development at the Travis Manion Foundation.
"During a patrol mission on Sunday, April 29, 2007, Travis was killed by enemy sniper fire in the Al Anbar Province of Iraq while fighting courageously to defend against an enemy ambush," the official website for the Travis Manion Foundation 9-11 Heroes Run.
This event originated in the Manion's hometown of Doylestown, Penn., according to Walsh, but it has now become an annual, national event with 29 communities across the states participating in the race, as well as cities in five foreign countries.
"The idea is to give Americans, community by community, a chance to run, volunteer, donate and cheer, but most of all, to honor all those who have given their lives on Sept. 11, 2001, and since," Walsh said.
The race is a way for citizens to provide support for families who are still going through the healing process and to commemorate those who have given their lives in service, both during the terrorist attack on Sept. 11, 2001, and since that day.
"We have a number of people involved who have lost a family member and this is sort of a way to bring communities together," Walsh said.
There is also the fundraising aspect of the event. The event costs $25 per person to participate in the 5K (up until Sept. 3) and Lynchburg's fundraiser goal is $5,000, according to the 9-11 Heroes Run website. Individuals can also participate in the Fun Run/Walk or join as a family and get a special family rate, according to information about the 9-11 Heroes Run on Active.com.
Walsh said that 25 percent of the money earned is left with a local first-responder charity in each community, such as a fire department or sometimes just the family of a police officer who was killed. The other 75 percent is used to help families who lost loved ones, but is mostly targeted toward veterans who are in the healing process as well after losing a buddy or friend in combat, according to Walsh.
"There's not enough opportunity for people to go out and tangibly do something to remember the fallen," Walsh said. "One of the reasons we do this is because it's something so tangible that you can do. You're literally doing something. You're going out, getting a team together, and getting friends together."
With the registration closing date being Sept. 10, there is still time for Lynchburg residents to register for the race or donate to the cause. For more information, e-mail Lynchburg@911heroesrun.com or visit 911heroesrun.com to learn more about the 9-11 Heroes Run, The Travis Manion Foundation and the marine who inspired it all.