Spurred on by the founder and his legacy, Liberty's church planters have impacted lives for Christ across the U.S. and abroad
Liberty University founder Jerry Falwell Sr. served in every imaginable capacity — pastor, evangelist, political activist, visionary, and so much more. But spreading the Gospel of Jesus Christ by sending forth students to knock on doors and plant a church, just as he had done in Lynchburg, was his heartbeat.
"Jerry was always a great encouragement and example to me throughout my entire ministry," said Liberty alumnus Dr. Dave Anderson ('79, '81), who planted two churches, in Dunedin, Fla., and Buffalo, N.Y. "I have no doubt he impacted many lives the same way he impacted mine by being not only a pioneer and a trailblazer but an example to follow as to how to share the Gospel."
Anderson, a former captain of the Flames Football team, now serves as senior pastor of Faith Baptist Church in Sarasota, Fla. He said Falwell displayed a life of boldness for the Lord seasoned in kindness and godly character that he wanted to emulate.
"I saw an example of a man who loved people, wanted to reach people," Anderson said. "He was also openhearted and open-minded to people who opposed him, and in the years I was there, I never saw him lash out or retaliate. … That's what spoke to me, and that was the kind of pastor I wanted to be: one who would go into a town and portray the character qualities of Christ."
While his church planting efforts were not always free of difficulty, Anderson saw encouraging fruit from his labor, while modeling Falwell's bold, evangelistic approach.
"When we started, we knew no one," he said about his first church plant in Dunedin. "But my wife and I just started knocking on doors in the area, and then soon afterwards, we were able to plant a church in a bingo hall."
Close to 50 people attended the first Sunday. Then Anderson had the idea to visit the local high school football team and volunteered to coach.
"We had one Sunday where I asked the whole football team to come to our morning service and 32 of them showed up, and 10 of them professed faith in Jesus Christ," he said. "It wasn't only Dr. Falwell's exhortation to knock on doors and witness to people, but it was also my football experience at Liberty that came together to help us with our church plant."
At his one-year anniversary service, 150 people attended and 10 more came to Christ.
"There's no telling how many lives have been impacted across this country and across the world because of our church planting efforts out of Liberty over the past 50 years and because of the faithfulness of these graduates who received their training here and heeded the call to boldly spread the Gospel. It's at the core of what Liberty is all about: making an eternal impact."

— Troy Temple, Dean, John W. Rawlings School of Divinity
Fellow church planter Barry Fero ('85) started Open Door Baptist Church near Los Angeles in 1991. Other than his wife's family who lived in Southern California, Fero was living far away from anything familiar. He was stepping into a very different environment than the small, Central Virginia Bible college culture that he was accustomed to. But one of his most memorable outreach initiatives came on Saturday nights, when he and some of his parishioners would drive to Huntington Beach, Calif., to share the Gospel amid the thousands of people who congregated around fire pits on the shore. Because the area would become so crowded, a church member would drive there early in the morning to reserve the fire pit closest to the end of the beach.
"At just about sunset, you would see people coming down the beach, and they would be working their way down asking people if they could share their fire pit," Fero said. People would run out of options until the end, and that's where they would find Fero, always willing to share his spot. "We would tell them they could share it if they didn't mind that we were a church group. We had opportunity at that point to lay out the Gospel for them. It was a great ministry and a great outreach, being able to lead people to Christ around fire pits on the beach."
Fero said he still remembers the training he received as a young college student who had just received a call into the ministry. He recalls Falwell hosting panels with church planters on Wednesday mornings for students interested in following in their footsteps and traveling to visit church plants.
"They told us their church planting stories, and we were able to ask them questions about what it was like practically to go out and share the Gospel while starting a church," he said.
Every graduate who has left Liberty to start a church has powerful stories like Anderson's and Fero's. These servants of the Lord were willing to face the unknown and leave their comforts of home to share the Good News.
"There's no telling how many lives have been impacted across this country and across the world because of our church planting efforts out of Liberty over the past 50 years and because of the faithfulness of these graduates who received their training here and heeded the call to boldly spread the Gospel," said Troy Temple, dean of the John W. Rawlings School of Divinity. "It's at the core of what Liberty is all about: making an eternal impact."
NEW GROWTH, SAME GOALS
Through his consistency in faithfulness to the Lord, Falwell left an evangelistic church planting legacy that has remained with Liberty throughout the school's
50 years.
"I think the point was that church planting would be the DNA of Liberty University," said Dr. David Wheeler, evangelism professor and the senior executive director of LU Shepherd.
Wheeler said Liberty has always been intentional in reaching the world through training students and supporting alumni as they planted churches. He said Falwell understood that establishing strong church communities was essential for the growth of new and seasoned believers.
"Evangelism is not a process or a program or something that you do as an assignment," Wheeler said. "It is the assignment of who we are in Christ. But more than that, it is a daily lifestyle of who we are supposed to be. May we never look for a place to be comfortable, but may we always look for a place to be committed."
To further these efforts, the School of Divinity has launched the Center for Church Advancement with a focus on church planting, church revitalization, and church resourcing. The new center is in partnership with the North American Mission Board.
"This school was started by a church planter. Dr. Falwell had a burden, a passion, and a vision to equip students to go out and plant churches," said Dr. Chris Dowd ('97), the center's director.
The center is building off Falwell's original vision of planting 5,000 churches, a goal he initiated in the early 1980s. Dowd said Liberty is looking to return to this specific focus, embodying the founder's approach by taking action through evangelism while not standing on the sidelines.
"During our 50th Anniversary year, getting back to the vision of planting 5,000 churches is unique to Liberty, and it's amazing. We're finding a way to meet the church planting needs of today and developing some systems and programs moving forward," Dowd said.
While the mission of sharing the Gospel will not change for Liberty's church planting initiative, Dowd said that the methods must as the culture changes.
In 2020, Liberty graduate Austin Coleman ('13, '14) moved to Knoxville, Tenn., to plant Heart & Soul Church during the beginning of the COVID-19 pandemic. Immediately, he was forced to begin adapting to the virus protocols and mandates.
"If you are going to plant a church, you better be adaptable," he said. "You can learn to lead, your character can grow, but church planters really need to be people who will step out and do (seemingly) crazy things and be really adaptable along the way."
Although Coleman did not get to benefit from a personal relationship with Falwell, who passed away in 2007, he said he was influenced by his legacy.
"Some of the leaders in my life at Liberty had a significant impact on my future regarding church planting and sharing the love of Christ," he said.
NETWORK OF SUPPORT
One way church planters who have trained at Liberty receive support for their ministry is through the Liberty Church Network, founded by Falwell in 1981. LCN was originally called Liberty Baptist Fellowship before changing its name years later when it began welcoming other denominations, providing coaching, networking, and resources for new church planters. Falwell's son Jonathan, Liberty's campus pastor and the senior pastor of Thomas Road Baptist Church, now serves as the national director.
The network is organized into 30 centers around the country. Each center includes local pastors from different denominations who meet monthly to encourage, challenge, and coach each other on how to lead better disciple-making churches. The network is open to all sizes, types, and models of churches. Throughout the year, the LCN puts on one-day Refuel Conferences in various locations.
"The focus is coaching pastors to develop and deploy disciples, which means planting the Gospel, which produces new churches," said Dr. Matt Willmington ('85, '87), an adjunct professor in the School of Divinity and executive pastor at Thomas Road Baptist Church.
These efforts are critical to the spread of the Gospel.
"The message at this school from the beginning was champions," he said. "That wasn't just a buzzword, but it was an understanding that we are a world-class school sending out champions to change their world."
"Dr. Falwell always preached, trained, or taught at Convocations that students were to go out and take the Gospel with them into every sector of society while planting the Gospel and making disciples and, of course, starting churches," he added. "That message has been mission centric to Liberty University from the very beginning."
DISCIPLES MAKING DISCIPLES
Liberty's next generation of church planters will also have the shoulders of former church planters to stand on and look to for guidance. That includes former church planter and current School of Divinity professor Dr. Rodney Dempsey ('82, '84, '04), who returned to Liberty in 2003 after spending 18 years with his church plant in Columbus, Ohio, and is helping to equip future pastors for the journey ahead.
"Church planting is who we are, and there is still a desperate need for it," Dempsey said.
In the summer of 1985, Dempsey and four of his former classmates decided to follow the leading the Lord had placed on their hearts to plant a church. After researching several developing cities in the U.S. that were growing and in need of churches, they all moved to Columbus, Ohio, a growing city, to plant New Life Baptist Church (now called New Life Church).
"We basically did it because Dr. Falwell told us to," he said, laughing. "We prayed about it for sure, and we had passion and had done our research on Columbus, too. We knew it would be a growing area."
Dempsey said Falwell was consistent in commissioning young men out across the country to start churches, but he was also consistent in his correspondence with them.
"In all of the church plants they started, they didn't leave their students by themselves," Dempsey said, referring to Falwell and Liberty co-founder Elmer Towns. "They came and visited, encouraged, and mentored us and really stayed closely connected."
While Dempsey and his ministry comrades appreciated their support, they were also grateful for their laypeople, some of whom desired to be an intricate part of the plant themselves.
"It was extremely important," he said. "We had people who had graphic design abilities, and in the early days, we had computer people who knew a lot more about computers than we did, and so they were a part of our core team. We even had a financial guy who was
our bookkeeper."
Due to the need for people from different professions to join church planting efforts, Dempsey and the School of Divinity are looking to create a church planting minor that students from all majors can sign up for to learn how to be an integral part of a church plant.
Dempsey and his colleagues have hopes of displaying a board on campus showing the major cities where the next Liberty church plants will be launched so that they can apply for jobs nearby.
"We would really like to target cities where we have a pastor or a team going to that city, and if you are a business student or someone who is going to that city, we can make you aware of that church plant," he said.
Dempsey hopes Liberty can make this available to their online students as well.
"Church plants are more likely to succeed if they have a healthy weight. And that means there are people on the team, and those people are in on the vision and are in on helping out and helping the church be successful," he added.
Although these congregation members will have careers they are growing in throughout the work week, all Christians should understand the importance of discipleship.
"You're called to be a disciple first," Dempsey said. "And disciples are then called to make disciples."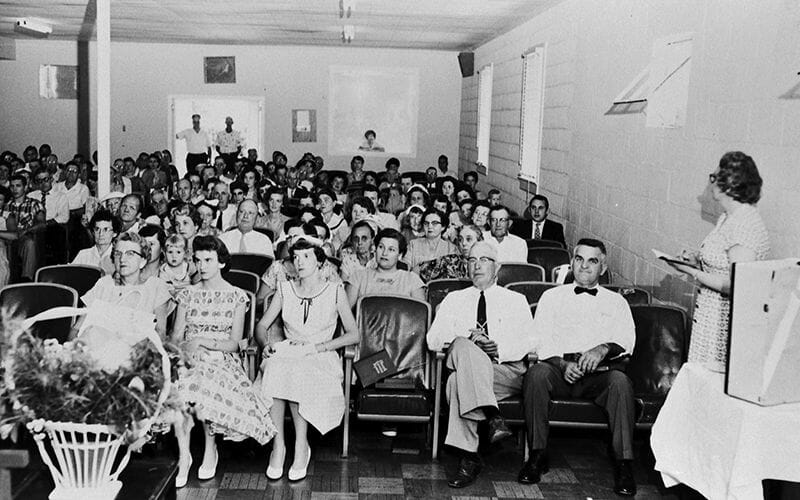 Dr. Jerry Falwell, Liberty's founder, planted Thomas Road Baptist Church in Lynchburg. On Sunday, June 17, 1956, 35 adults and their children attended the first service in Mountain View Elementary School, and on June 21, the group held a prayer meeting inside a dirty, one-room building abandoned by the Donald Duck Bottling Company, a soft drink manufacturer, near the site where they would build their first sanctuary in 1964. The church relocated to its current building near Liberty's campus in 2006.