If you're surfing through channels at primetime or sitting in a movie theater anywhere in the country, there's a chance you will see Liberty University alumni showcasing their acting chops. Some of them honed their skills in the School of Visual & Performing Arts; others pursued different academic interests before chasing their show business dreams. All credit Liberty with helping them to shape their true character off the screen.
Alan Powell
2007, Biblical Studies
After a breakout performance in the 2012 musical drama "The Song," a modern reimagining of the life of the biblical King Solomon, Powell's star has been rising. He will be in New York City through April filming the upcoming season of ABC's "Quantico" and will be starring in the 2018 film "Like Arrows," a parenting drama created by FamilyLife in partnership with Dennis and Barbara Rainey, the Kendrick Brothers, and Bob Lepine. The Nashville-based actor also plays the villain in "Heavenquest: A Pilgrim's Progress," a faith-based film that sets one of the most beloved books of all time as a fantasy epic in the vein of "The Lord of the Rings."
Powell has played a diverse range of characters, from charming to flawed heroes, and even antagonists.
"I don't have any problem personifying the bad if the good can win," he said. "I am interested in what the story is telling. I don't want to lend myself, my time, or my talent toward something that is communicating a message I don't agree with."
Before diving into the world of acting, Powell helped found and establish the Christian pop group Anthem Lights. The group came together after performing at Coffeehouse, a student talent show that is one of Liberty's largest and most popular Student Activities events.
Lindsley Register
2015, Theatre Arts
Over the past two years, Register has dedicated much of her time to two television shows: History's "SIX" and AMC's "The Walking Dead." Register produced and starred in an independent feature film, "This Valley of Dying Stars," which is in post-production.
She has stayed connected with her alma mater by appearing in some of the Liberty University Cinematic Arts, Zaki Gordon Center's feature films, including "Extraordinary," "God's Compass," and "Altar Egos."
"I don't think I would've become an actor if I hadn't gone to Liberty," Register said. "It was a happy accident that I fell into the theatre arts program. My professors helped me lay a foundation of proper acting technique, approach, and habits so that when the opportunities came to me, I was ready. Having the film school close by was another huge help because I was able to get on-screen experience and footage for a demo reel before I graduated. These were invaluable head starts."
TAAMU WUYA
2014, Theatre Arts
After Liberty, Wuya studied classical acting (M.A.) at the London Academy of Music & Dramatic Art (LAMDA) before moving to New York City. He racked up a number of professional stage credits, including "Hamlet" and "Henry V," and starred in a few short films — most recently "The Fighting Road," a Civil War-era project filmed in Virginia — before moving to Los Angeles. Last fall, Wuya appeared on the series premiere of the CBS series "S.W.A.T."
Alex Miller
2012, Theatre Arts
Miller will have a minor role in the upcoming season of HBO's "Homeland," for which he has worked regularly as a double and stand-in. He played George Washington's aide on AMC's "TURN: Washington's Spies" and has been featured in the PBS show "Mercy Street," as well as the feature film "Imperium," starring Daniel Radcliffe.
Miller has played several roles in faith-based films, including "Crossing Streets," and the Liberty-produced projects "Extraordinary" and "Altar Egos." Miller has also published three children's books about a gluten-free pirate named Captain Katie.
---
Hollywood actress chooses online program for its flexibility and faith focus
Last summer, actress and Liberty online student Tiffany Espensen was better known as Cindy in the blockbuster movie "Spider-Man: Homecoming."
Starting with a role opposite Miley Cyrus on "Hannah Montana" when she was 7, Espensen has since appeared with Jude Law ("Repo Men"), James Marsden and Kaley Cuoco ("Hop"), and Hugh Laurie ("House MD"). She has also landed roles on "NCIS," "Criminal Minds," "R.L. Stine's Monsterville," Disney XD's "Kirby Buckets," and Nickelodeon's "Bucket & Skinner's Epic Adventures," in addition to voice-acting for animated productions, including Disney's "Phineas and Ferb."
Espensen, now 18, is slated to reprise her "Spider-Man" role in Marvel Studios' "Avengers: Infinity War," which is expected to be the highest grossing movie of the year.
Espensen, who is studying religion and political science, said she chose Liberty's online program because she wanted a quality education without having to put her career on hold. But what drew her most to Liberty was its biblical foundation and mission of Training Champions for Christ.
"I genuinely love what Liberty is doing and what it stands for. It is so important because you don't see many colleges today that stand for truth, and that is very important because you are training young minds." (Read the full story.)
>>For more on students who have achieved success on-screen, read these articles from Liberty University News Service:
Cinematic Arts graduates impact the film industry
July 24, 2017

Over the summer, graduates of Liberty University's Cinematic Arts, Zaki Gordon Center filled various roles on the crew of "Indivisible," a faith-based picture with two lead actors known for their work on "Grey's Anatomy:" Justin Bruening, who played Matthew Taylor on the show, and Sarah Drew, who has played Dr. April Kepner since 2009. After wrapping up filming in Memphis, Tenn., and Santa Clarita, Calif., some of the alumni then moved on to the set of a family sci-fi adventure, "F.R.E.D.I.," starring Angus Macfadyen (of "Braveheart" fame) and Kelly Hu, who is known for her starring roles in "X2: X-Men United" and Nickelodeon's "Teenage Mutant Ninja Turtles" series. (Read the full story.)
Film grads walk red carpet as thousands nationwide watch 'Extraordinary' premiere
Sept. 7, 2017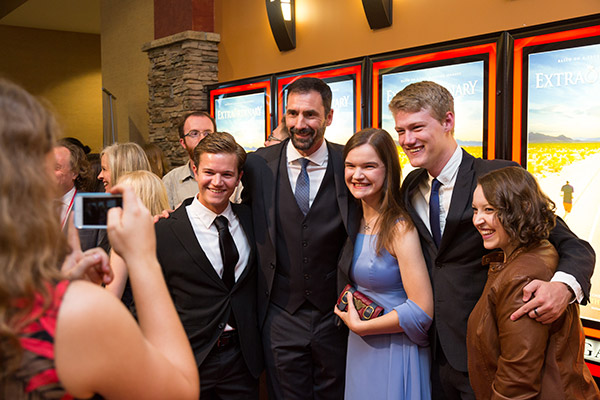 The red carpet was rolled out at the Regal River Ridge Stadium 14 in Lynchburg on Sept. 7 as Liberty University celebrated the national theatrical release of "Extraordinary," produced by the Cinematic Arts, Zaki Gordon Center in collaboration with Working Title Agency. Actors from the film posed for photos with students and members of the community who showed up in droves — 13 screens held sold-out 7 p.m. showings of the movie, followed by two encore screenings later that night. Meanwhile, several recent cinematic arts graduates bathed in the shining, golden lights which illuminated dozens of "Extraordinary" movie posters lining the lobby. More than 400 theaters from Alaska to Florida debuted the film through Fathom Events to a nationwide audience of tens of thousands of people.
Austin Stumvoll, a 2017 cinematic arts graduate, had only had three days off total between graduation and the red carpet screening.
"Being able to work on ('Extraordinary') has changed my life dramatically," he said, noting that coworkers on other sets continue to be amazed by him and his classmates. "They could not believe (we) just graduated from film school."
Stephan Schultze, executive director of Liberty's Cinematic Arts Department, said that each of the program's four films have upped the game for the university. Last year, "God's Compass," won best screenplay at a film festival and enjoyed a cable television debut followed by a nationwide DVD release by Sony Pictures. Now, Liberty has made it to the silver screen.
"Less than 1 percent of the films that get made actually make it into theaters," Schultze said. "For movies in general, this is huge. But to know that there were a lot of students that worked on this, that brought it to the level to get a theatrical release is significant. This is the first movie in cinema history that has been student-driven and had a national theatrical release."
Unique calling leads divinity alumnus to filmmaking success
July 11, 2017
Four years later, Sheik's work was being recognized on an international stage.
In May, Sheik premiered his film, "Worth Fighting For," at the 2017 International Christian Film Festival in Orlando, Fla., earning Best Director for a Feature Film.
"Worth Fighting For" follows the story of Alex, who, after falling in love, wants to break away from the underground boxing world — a place that is full of darkness and despair. He faces many trials as he attempts to leave it all behind.
Alan Powell plays the lead character. Powell had not worked with Sheik before this project but was thrilled to meet another Liberty graduate.
"We had a great time on the set," Powell said. "He was great at directing what he wanted to get from a scene and also giving me the freedom to explore the character."
Sheik started his own motion picture company, Ebed Pictures, in 2013. The company embodies his goal to create films that appeal to more than just a Christian audience. Since joining the film industry, Sheik has worked as a writer, director, and actor. While he enjoys different aspects of each, writing is his favorite part of the process.
Professor's film featuring crew of LU students and alumni earned several awards
March 16, 2017
"Texas Rein," a feature film that was directed and produced by Liberty University assistant professor Durrell Nelson and included the work of several cinematic arts students and graduates has garnered a handful of awards and nominations from film festivals across the country.
The film was honored last spring by the Broadcast Education Association (BEA) as the "Best of Competition" winner in the narrative video category. Honors also include best director (Nelson) and best supporting actress (Erin Bethea, "Facing the Giants," "Fireproof") at the Great Lakes Christian Film Festival. The film also earned a Bronze Telly Award for non-broadcast productions – religion/spirituality, a Winnie Award from the EQUUS Film Festival in New York, and best director and best actress nominations from the International Christian Film Festival. The film was an official selection at the Richmond International Film Festival, one of the largest international competitive film festivals in the mid-Atlantic.
"Texas Rein" celebrates family and the hope of second chances, telling the story of a prodigal daughter, Cassie. An ex-rodeo queen-turned-single mom, Cassie is drawn back into the world of competitive horse reining when she sees her father's prize-winning quarter horse. As Cassie develops a relationship with a handsome horse trainer, she is challenged to let go of her past, to forgive, and to reconcile.
Marissa Scalzo ('14) said that while "Texas Rein" was her first paid position on a film set, her experience at Liberty, which included working in two positions for a feature film, prepared her for the job.
"I had done so much in school, so it was an easy slide working in the industry; it wasn't a huge leap," she said. "Everything behind the scenes I had already covered in school, so there really weren't that many surprises. I think the cinematic arts program prepared me well for jumping on set."
Scalzo worked as a second AC (assistant camera) but had an opportunity to fill the first AC position for about a week. She also got to contribute some footage to the film that she had captured herself for a separate project.
Ian Miller ('14) had been working on film sets well before his time at Liberty, since he was 14, but had his first opportunity to fill a leadership role on the set of "Texas Rein" as key grip (in charge of the camera equipment).
"Liberty helped me to be confident enough to go into any situation and hold my own," he said. "I'm not going to know everything, but it taught me the skills to figure out and ask questions and know how to interact with people on set."