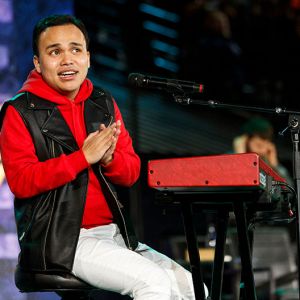 Note: After press time, Liberty welcomed "Dirty Jobs" host Mike Rowe to a Homecoming Weekend Convocation on Oct. 18 (watch the event).
Liberty was also honored to have "America's Got Talent" winner Kodi Lee on stage on Oct. 25. Lee performed and also sat down with his mother, Tina, for a heartfelt discussion on their journey from receiving his diagnoses of blindness and autism to discovering his amazing musical talent (watch the full Convocation).
Liberty University's Convocations, held three times a week, are designed for worship and fellowship with the student body, as well as forums for different perspectives to help inform the students' worldview.
This fall, Liberty has hosted pastors, musicians, business and political leaders, and others who are in the public eye for conversations and lessons on life and faith. Guests have shared examples of how students can take hold of their passions to make a positive impact on the world.
While many of Liberty's guests each year are outspoken Christians, the university also frequently hosts guests from all spheres of society. Now, more than ever, the Convocation stage is being used as a platform of ideas. As a Christian university, Liberty encourages its students to respectfully listen to different viewpoints to gain a better understanding of the issues that affect all of us.
The semester kicked off with MyPillow inventor and CEO Mike Lindell, one of the most successful Christian businessmen today. Lindell surprised students with a gift of 12,000 pillows — a $600,000 value. Lindell received an honorary doctorate from Liberty and spoke about his business successes and failures, including overcoming a severe drug addiction.
Throughout the following weeks, Christians in the music industry, including country music artist Jo Dee Messina, Third Day frontman Mac Powell, Grammy Award-winner Michael W. Smith, and popular band Tenth Avenue North performed on stage and encouraged students with their personal testimonies.
William Harvey, the president of Hampton University in Virginia for 41 years and a close friend of President Jerry Falwell, spoke on Aug. 23 about the components that make up a successful leader, beginning with a devotion to Christlike servanthood.
With the fierce divisiveness that has developed in modern America, the ability to have a constructive and respectful conversation on opposing viewpoints is vital. On Aug. 30, Princeton University professor Dr. Robert George and Harvard University professor Dr. Cornel West outlined the necessary steps for such interactions, the first of which is modeling Christ. Coming from different sides of American politics and social issues, they brought a message of mutual respect and Christian love.
Pastors Jon Tyson from Trinity Grace Church in New York City, Ben Stuart of Passion City Church in Washington, D.C., John Mark Comer of Bridgetown Church in Portland, Ore., and Robert Madu from Trinity Church in Cedar Hill, Texas, all delivered messages about the biblical guidelines of maintaining healthy, Christ-centered relationships. Comer also spoke at Campus Community and at ConvoSelect (special Convocations held on Thursdays).
On Sept. 6, newlyweds George and Candace Farmer visited Liberty while on their honeymoon to speak about their life as political activists. George explained the complex history of Brexit in his native England. Candace outlined her similarly named movement known as "Blexit," an effort to educate black Americans on what she calls the manipulative, victimhood narrative that progressives use to lure black citizens to the voting booths — a narrative she said the media perpetuates. Brexit party leader and European Parliament member Nigel Farage was originally scheduled to speak, but in a taped video to students, he told them the battle for Brexit in the U.K. needed his full attention.
Working in the spotlight of the sports and entertainment world can be challenging, but HGTV stars Erin and Ben Napier of "Home Town" and NFL Hall of Fame quarterback Brett Favre spoke about keeping their faith in the workplace. On Sept. 13, the Napiers explained how the home makeovers on their show are reflective of the way that God transforms lives, and they encouraged students to pursue their passions. In the spirit of the Napiers' work, Liberty surprised three roommates with a renovated dorm room. During College for A Weekend on Sept. 27, Favre discussed the iconic moments of his record-breaking career and his life off the field.
To watch Convocation live, visit the Liberty University Facebook page and join the livestream. To watch past Convocations, go to Liberty's YouTube channel.