Whether near or far, graduates take part in Commencement and fulfill the founder's vision
Every year, thousands join the ranks of Liberty University alumni, not only sharing diplomas with the same university seal but also following the same calling to go out and influence their communities and workplaces as Champions for Christ.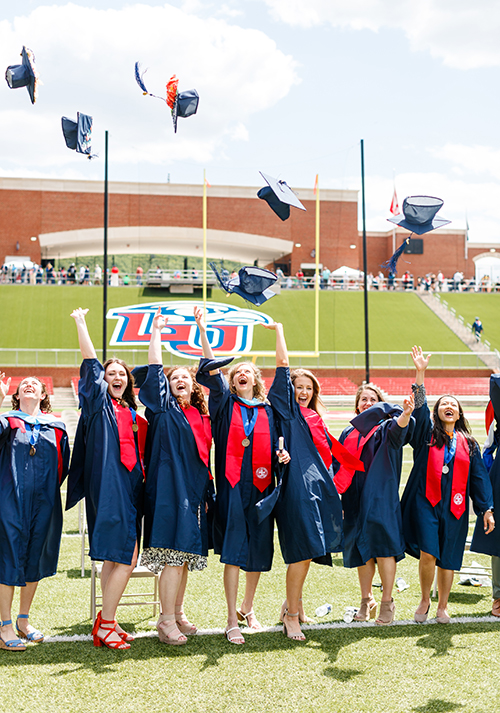 The 48th Commencement celebrated the achievements of over 50,000 graduates in the Classes of 2020 and 2021. Complying with capacity and space measures put in place by the Governor of Virginia, the planning team changed course in a short period of time and was still able to bring back many of the familiar sights and sounds that were missing last year when ceremonies had to be canceled for the first time due to COVID-19 restrictions. This year, rather than one full day of festivities, a total of 25 degree presentation ceremonies were spread out from May 11-15. All were held outdoors, either on the Academic Lawn or at Williams Stadium. President Jerry Prevo attended each ceremony to encourage graduates with a Gospel message as they entered a new chapter of life.
Liberty welcomed more than 5,600 residential and online graduates to campus and 37,000 guests in all throughout the week. More than 10,000 graduates participated in their degree ceremonies virtually, a new element this year that allowed them to celebrate with friends and families many miles away from campus while still receiving individual recognition.
The main ceremony, traditionally held at Williams Stadium in the morning, preceding the degree presentations, was only offered virtually this year, streamed on May 15 as a grand finale after all other Commencement events had concluded. Keynote speaker Tim Tebow delivered a powerful motivational charge to the graduates to lead a life of service to others through their chosen vocations (read more from his speech).
During the main ceremony, President Prevo highlighted the outstanding accomplishments and resilience of the graduates and Liberty's entire student body throughout this past year of the COVID-19 pandemic. He congratulated the university's athletics teams for their stellar performance, which included a first-ever AP Top 25 ranking for Flames Football and several sports earning conference titles.
Prevo also introduced a video that gave graduates the unique opportunity to hear the university's founder, the late Dr. Jerry Falwell, communicate his vision for building a Christian university. With the 50th anniversary of Liberty's founding set to kick off this fall, the video with archive footage was a touching tribute to the man who followed God's calling on his own life and is still influencing lives today as thousands more are sent forth from Liberty Mountain to fulfill his original vision. The video was also played at every degree presentation ceremony.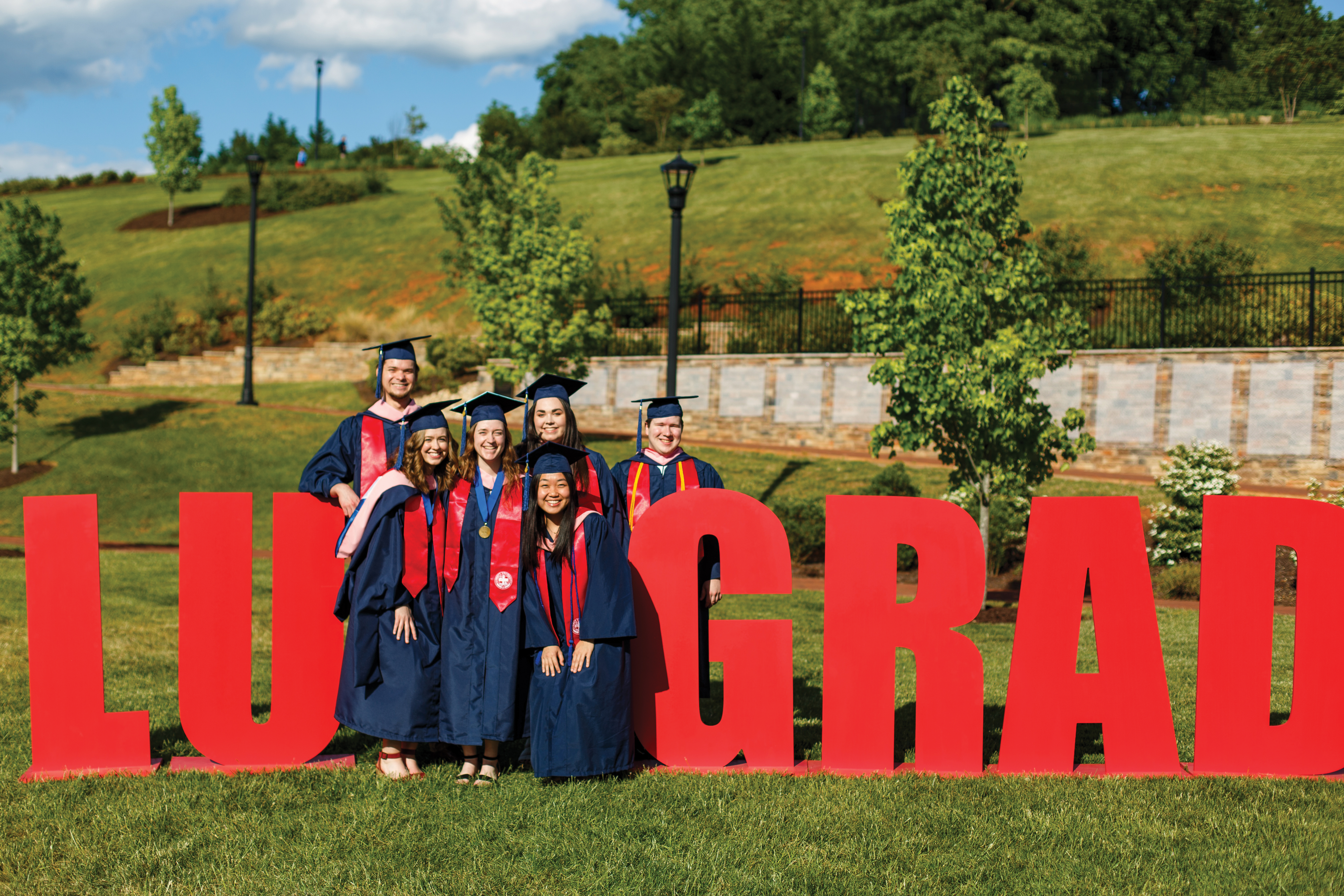 Prevo said that our world, in all its brokenness, needs Liberty and its graduates to bring the joyful and redemptive message of the Gospel.
"You'll come across a lot of people whose lives are broken, and when you do, I hope you'll love them and help them because that is what a Champion for Christ does," he said.
Prevo then shared the path to eternal life with Jesus Christ and charged the graduates to start with God and stay with God for their entire lives, in every undertaking.
"There's no other person who can help you make wiser decisions, no other person who can give you direction in life, better than God. So start with God. As you go out into this world, you'll be surrounded by people who will try to get you to not stay with God. You have to make the decision to stay with God, and if you do, then your dreams will come true." 
---
Saluting 
military graduates
Liberty hosted its ninth annual Military Graduate Recognition Ceremony, streamed virtually from the Center for Music and the Worship Arts, Concert Hall on May 10. Ret. Col. Air Force Chaplain Steven Keith, director of Liberty's Center for Chaplaincy, delivered the keynote address, exhorting military graduates to be sure that they are "all in" in answering the call of the Lord Jesus Christ and to serve as His ambassadors wherever He may lead them.
In all, Liberty recognized the achievements of 5,494 military graduates in the Class of 2021, including 1,835 on active duty, and another 4,933 from the Class of 2020. On Friday, May 14, Liberty's Army ROTC and Air Force ROTC programs held in-person commissioning services at the Thomas Road Baptist Church Worship Center and the National D-Day Memorial in nearby Bedford, Va., respectively. 
---
The Liberty Journal congratulates all graduates of the Classes of 2020 and 2021. Visit Liberty.edu/Alumni to learn about the many exciting opportunities to stay connected with Liberty and the vast resources and benefits made specially available to Liberty alumni.