How Liberty's founder took his ministry — and an exciting new school— to the airwaves
Throughout multiple eras of television and radio broadcasting, Liberty University's founder, Dr. Jerry Falwell, was committed to using "every available means" to spread the Gospel. Those efforts also helped to tell the world about a new school and the Christian values it was founded on.
Dr. Falwell's pastoral ministry and his career in broadcasting, particularly television, began at almost the same time. On his first Sunday as the founding pastor of Thomas Road Baptist Church (TRBC) on June 17, 1956, Falwell preached to a congregation of 35 people gathered in Mountain View Elementary School. The next week, the service was held in a building formerly used as an old soft drink bottling company. That's when Falwell began his first TV ministry with 30-minute daily live broadcasts of "Thomas Road Baptist Church Presents" aired from the studios of the Lynchburg ABC affiliate WLVA to the city of Lynchburg and nearby Campbell, Bedford, and Amherst counties.  
"I realized how I could present the message (of the Gospel) to all those people simultaneously from one convenient location," Falwell once said of starting TRBC's media ministries, including his daily radio program, "The Deep Things of God," carried on the local WBRG daylight station. "So, it was only natural for me to begin to dream about expanding the church's electronic ministry through television."
"Being pastor of the church is my heartbeat; it's my calling. Television and radio are just methods of reaching millions of people at once from this little spot in Virginia."

— Dr. Jerry Falwell, Founder of Liberty University

A local church on TV was almost unheard of in this era of television. But the local program was successful in building the church and soon developed into the church's own program, the long-running "Old-Time Gospel Hour," filled with music, preaching, and a personal message from Falwell on salvation. It wasn't long before the show was picked up by affiliates across the country.
In 1968, TRBC purchased black-and-white camera equipment, and with it came the ability for the church to broadcast live on its own; two years later it upgraded to color. By 1971, "The Old Time Gospel Hour" was airing on over 300 stations reaching every state in America.
"I thank God for this television ministry. I thank God for the radio. We're reaching people that maybe we'll never know about until we get on the other side," Falwell told his congregation. "But I believe we should pray that God will put their hands on the dial and help them turn those sets on and hear. That's why I never preach without talking about the death, burial, and resurrection of Christ. I never want to assume that every viewer is a Christian, because there may be just that one time a person tunes in who will never do it again, who may be dead tomorrow, who will hear how to be saved."
At a Wednesday night service in January 1971, Falwell brought his congregation an idea: an evangelical school that would turn young people into Champions for Christ. From that night on, wherever he traveled or whomever he reached with his broadcasted messages, Falwell shared with audiences the Gospel first, followed by the news of this growing Christian university in Lynchburg.
"Dr. Falwell's main focus, even though he had the university, was always to see people come to Christ, and he did that through every medium he could possibly find," said Sandra Wagner, who has worked in Liberty's broadcasting department since 1988 and is currently the operations/project coordinator. "He used the broadcast end of it to promote Liberty in different segments of his programs. It was the main way that the university got known, probably worldwide, because of his use of the medium of television or radio."
"As more people (heard about Liberty), more donations started coming in, more buildings started coming up, and basically through TV, radio, and the print media, the college was built," added Bruce Carey, a cameraman for both TRBC and Liberty in those early years and a mainstay in Liberty's broadcasting department for 48 years. "When there was construction on a building, we would come up and shoot footage of the groundbreaking and everything as the building was going up, and he would show people on TV during the service. After that, people started to realize, 'Hey, he's got something here.'"
The church and school shared most of their equipment and workers; the same crew members who were running the Sunday morning broadcasts would operate cameras for Liberty's chapel services during the week. In an ongoing endeavor to keep the school afloat financially, Falwell and the broadcast team had to combine prayer with prudence.
"In the old days, we had to scrimp and save and scrape together stuff that we had to hang on to for decades," Wagner explained. "Many of us even donated our own money to buy things. One day I came into work, and there was a certain piece of equipment that was not working, and I just laid my hands on it and prayed, and God made it work. We believed in what we were doing, we believed in Dr. Falwell's vision, and we worked tirelessly to see it happen."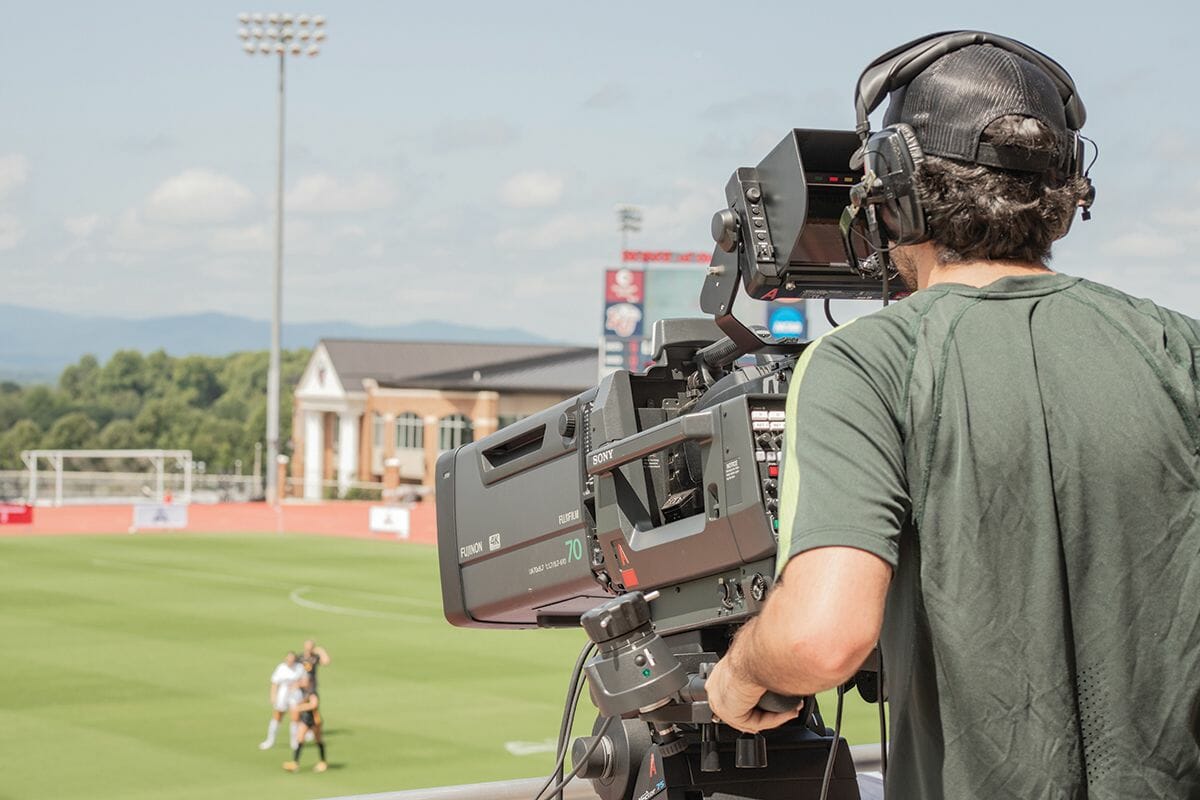 As a passionate sports fan, especially when it came to football, Falwell knew that developing an athletics program and getting it airtime on television and radio would give the school even more exposure. Originally with football, men's basketball, and baseball, Liberty began airing play-by-play in the late 1970s on WRVL Victory FM. The radio station manager, Jerry Edwards, spent 33 years at the helm and came to be known as "The Voice of the Flames." Falwell soon purchased a remote truck and cameras and hired a television producer named Dan Shoemaker to get the Flames on television.
"We started broadcasting games from Lynchburg and around the country, and we used our people who had already been out doing freelance, including myself," Carey said. "From that point on, we just kept doing games until eventually it got very costly."
In the 1990s, Falwell decided Liberty could produce its own games, work its own cameras, and create what would become the Liberty Flames Sports Network (LFSN). 
"Jerry knew I'd been doing freelance (camera jobs) for years, and he walked me out to his Suburban and said, 'I want to start producing games here at Liberty with our TV truck, and I want you to start this network and be in charge of doing the games. You're in charge,'" Carey recalled with a laugh. "I was just a camera guy, and here's the head of the university asking me to start a sports network. I told him people wouldn't listen to me if I say I'm just a camera guy, and Jerry said, 'You're now the senior producer for sports for Liberty University. Go print up some business cards.'"
Liberty's athletics have expanded to 20 NCAA Division I teams and over 40 Club Sports programs, with many of them now being televised on ESPN. Carey remembers a call from an ESPN producer a few years ago.
"He told me, 'Bruce, your baseball games are exactly how we want baseball games to be produced. We are using your games as a model for all the other schools around the country that we carry. We want them to broadcast their games the same way you do yours,'" Carey said. "I was blown away."
Liberty's sports productions have been distributed on ESPN digital platforms for nearly a decade, including more than 225 events the last two years. LFSN Radio continues to air live game coverage.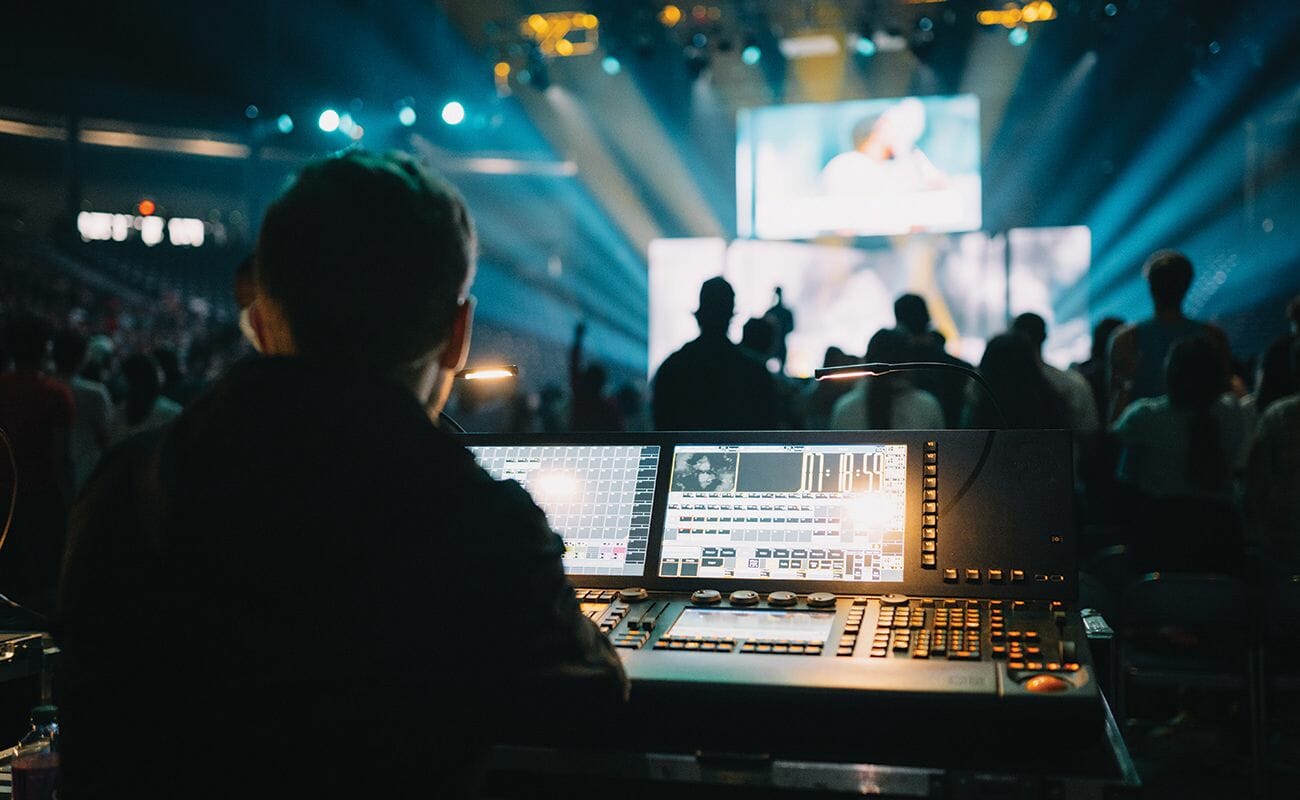 In addition to athletics, Falwell knew that other broadcast opportunities like Convocations, concerts, and other special events on campus would engage the public and attract prospective students. He invited pastors like Billy Graham and politicians from both sides of the aisle, such as Ronald Reagan, George H.W. Bush, and Ted Kennedy, to speak.
"As we were building the sports network, he was also building the television aspect, as far as concerts and speakers and Convocations," Carey said. "A lot of people like sports, but a lot of people don't care for sports; they like music, they like preaching, they like learning. He branched out with every means available on air. That's how you pick up eyes, then the college grows, and as it grows, people want to come and be a part of it."
In 1985, Falwell launched his daily radio broadcast "Listen America," aired on more than 200 stations nationwide, and his one-hour weekly "Listen America" TV program was available in 90 million American homes.
As time went on, students joined Liberty's broadcasting efforts. Liberty added a telecommunications production area with TV studios for student news productions, a video editing facility, and a master control transmitter for a four-channel, closed-circuit system in 1985.
Liberty video engineer Richard "Al" Stephens, who has worked with the church and university broadcasting teams since the mid-1960s, said incorporating academics was the goal from the beginning.
"It was always Dr. Falwell's vision to have students approach ministry from a hands-on point of view," Stephens said. "You learn how to do it by doing it. You have to train them on what they're going to be expected to use when they leave here. Like Jerry would say, 'If it's Christian, it should be better.' We've always had really good people here, and they've done great work, and they have talents, God-given talents that they're using."
As the school grew and its television network became more "Liberty-centric," students began participating in original live programming. Today, students are still involved with broadcasting Convocation and Campus Community (which air on the Liberty University Facebook and YouTube pages), the weekly athletics news show "Flames Central," and live game coverage.
Carey explained that a live game production can involve as many as 35 people, so there are always opportunities for students. Now, after having retired, he says he still watches in amazement as productions reach new levels.
"There's a lot of room for students to come in, observe, watch, and learn," Carey said. "As the students got better, we started moving them into some of the key positions, and now a lot of people have left here and gone on to big careers after having gone through training here. Each year, Liberty seems to get a newer piece of equipment, and the students who come here now are exposed to some of the best people and the best equipment that they can get anywhere in the world."
Today, Liberty is in the top tier of collegiate broadcasting with its live game coverage and nonathletic events. For the current 2021-22 academic year, Liberty Broadcasting Communications has either completed or scheduled over 600 broadcasts, including 231 live sports events, 203 campus events, and 64 "Flames Central" productions. 
"Whether it's for those in attendance at a venue, a parent watching online, or someone who is flipping through the channels one day and stumbles upon Convocation, our goal is to enhance the Liberty experience through everything we do," said Bobby Keating, assistant director of Broadcast Communications. "What Dr. Falwell started with trying to reach the globe, it's still happening."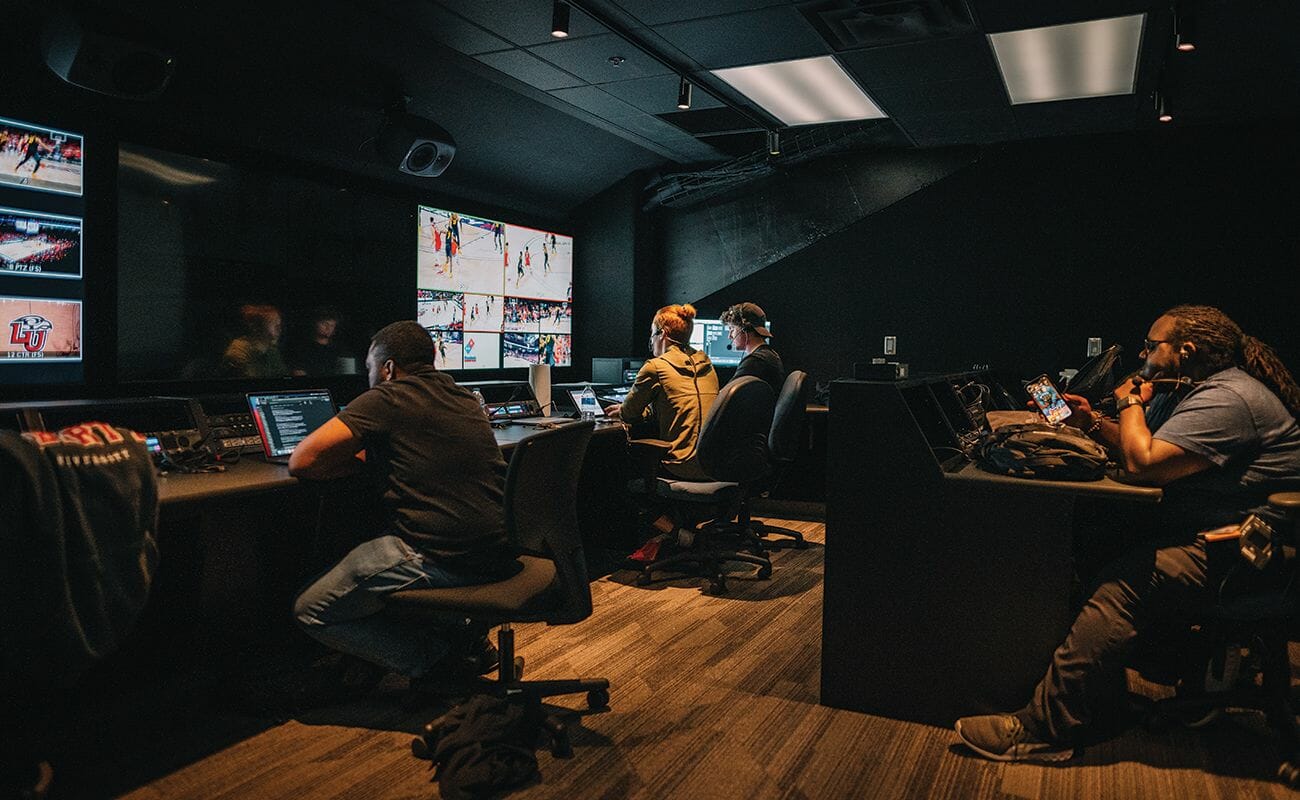 Liberty Broadcasting has also adapted to accommodate the unexpected variables caused by the COVID-19 pandemic by producing livestreams of all 26 Commencement degree ceremonies last year and various summits and theatre performances for those who cannot attend in-person.
The staff has also remained up to date with broadcasting trends by launching the Flames Central Podcast in early 2021. Other university departments, including the Health & Wellness department and the John W. Rawlings School of Divinity, have begun separate podcasts, and a show devoted to Flames hockey, titled "Rock the Rink," is available on Spotify. 
As ambitious as Falwell was in using the latest formats to share his vision, Keating said podcasting is a medium that the founder would have adopted wholeheartedly.
"Every new form of technology that has come along, it seemed like (Falwell) would always jump on it and further the mission of the university through that," Keating said. "Podcasting certainly is the 'now,' and if Dr. Falwell was still around, I'm sure he would have a weekly sermon podcast or something like that he would be putting out."
The high caliber of Liberty's productions is recognized by those outside the university as well, evidenced by the ASUN Conference requesting Liberty to bring its staff and mobile production truck to broadcast the conference championships on other schools' campuses. 
"Our work and our facilities are top notch," Keating said. "We are very close to BYU and Notre Dame, which is a comparison that Dr. Falwell always wanted us to be able to make. We are lucky because we've been given the resources — gear, finances, and people — to be able to do what we do."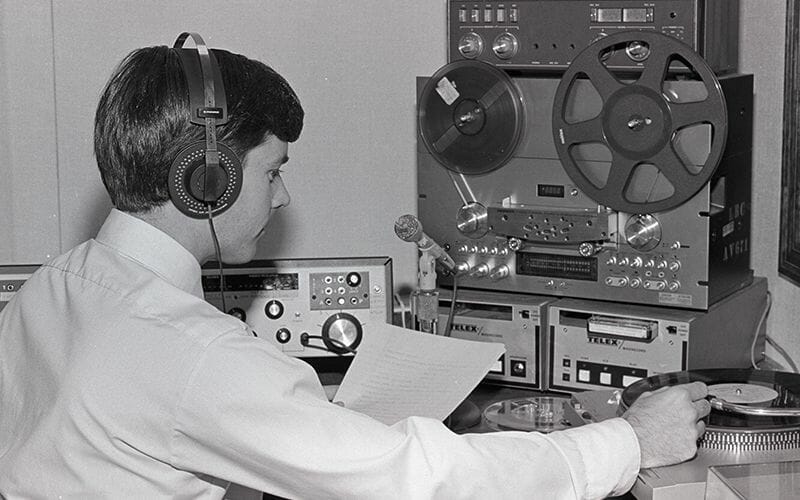 Liberty's student-run radio station, 90.9 The Light, began in February 1980, known as WLBU at the time. In addition to music programming, The Light also broadcasts news programs and sports.
---
'Flames Central' takes viewers into the action and hearts of student-athletes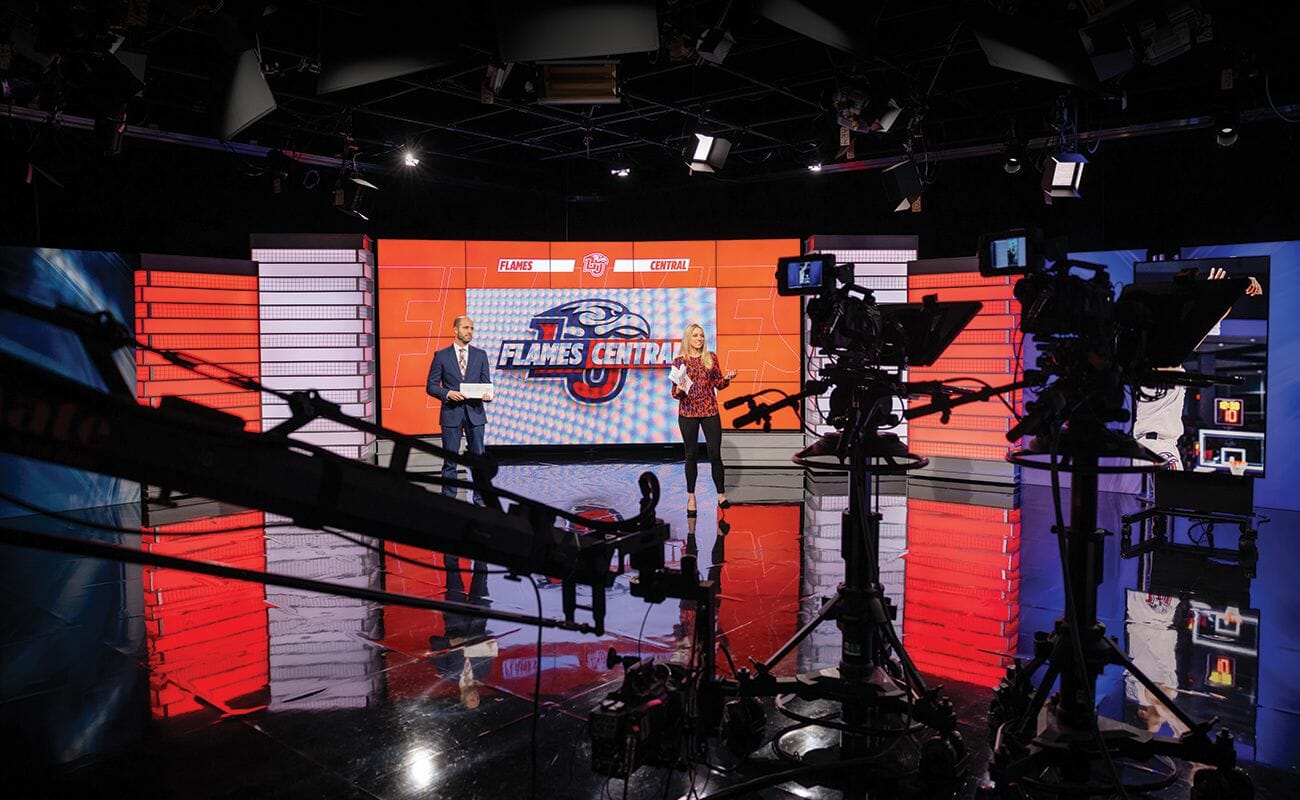 As Liberty University Athletics continues to experience unprecedented success on the field, the university's weekly TV show "Flames Central" gives fans an inside look at the teams and student-athletes leading the way.
Hosted by Matt Warner, Rett McGibbon, and Emily Austen, the Emmy Award-winning program showcases the rise of the Flames through behind-the-scenes access, inspirational features, and entertaining looks at the student-athletes making the plays on the field. 
"From Hugh Freeze and Liberty Football winning a third-straight bowl game, to Liberty Basketball's three straight NCAA Tournament bids, Flames Central brings you closer to the teams, athletes, and coaches leading the Flames into their greatest era of athletic success," said Warner.
But Flames Central goes deeper than just the scores and stats, as each week it brings viewers in-depth, personal stories of Liberty athletes, coaches, and alumni.
"At the heart of Flames Central is the idea that athletics can be used as a platform to share the Gospel," Warner said. "Whether it's an inspirational story about how God brought a student-athlete through a difficult time in their life or an encouraging feature about an alumnus sharing the Gospel on the mission field, this combination of faith-filled, inspirational stories and high-level collegiate athletics makes Flames Central a must-watch program for any fan of the Flames."
Flames Central is available on-demand each week on ESPN+ and on a number of regional TV affiliates (visit LibertyFlamesCentral.com for a list).
"The Flames Central Podcast" is released weekly on Mondays and is available on Apple Podcasts, Spotify, and other popular podcast platforms.