Through the smiles and tears of joy shared across a crowd of more than 40,000 on hand for Liberty University's 46th Commencement Ceremony on May 11 was a sturdy resolve, a sense that while it was the end of a journey, the university's largest graduating class in history had much to look forward to.
As keynote speaker Vice President Mike Pence put it: "The world awaits."
Pence brought with him the personal congratulations of the President of the United States of America, Donald J. Trump (who gave the first Commencement address of his presidency at Liberty in 2017) and encouraged the Class of 2019 to seize "a new era of opportunity and optimism" fueled by a growing American economy.
The Class of 2019 has an advantage entering the job market, Pence said, noting "the Liberty name carries great weight with employers all across the country" (there are four LU alumni on his own staff), but he also warned the graduates to be prepared to make a stand.
"If what you've seen and heard and learned in this place has also taken hold in your hearts, go from here, live it, and share it — because America needs men and women of integrity and faith now more than ever."
The vice president spoke about the recent attacks on faith communities across the world, from harsh media assaults against religious education to horrific acts of terror at places of worship.
"You need to prepare your minds for action, men and women. You need to show that we can love God and love our neighbor at the same time through words and deeds," Pence said. "And you need to be prepared to meet opposition. As the founder of this university (the late Dr. Jerry Falwell) often said, 'No one ever achieved greatness without experiencing opposition.'"
He challenged the graduates to "go forth for Liberty" and make their alma mater proud as their loved ones cheer them on.
"Decide here and now that you are going to stand firm, that you will put into practice all the things you learned here on Liberty Mountain, that you will never give up, that you will persevere, and that you will always be prepared to give a reason for the hope that you have."
Pence, joined by his wife, Karen, was welcomed to the stage by Liberty President Jerry Falwell, who called him "one of the most engaged and influential vice presidents in my lifetime."
As he addressed the graduates, President Falwell encouraged them to step forth into their careers as leaders and innovators.
"What we really want to do is to teach students how to think like entrepreneurs," Falwell  said, "not just to go out and get a job and wait for the end of the week for their paycheck, but to really look for ways to add value, to pursue ideas and problem-solve, and also not to be afraid to fail and try again. Because that's how this school started from scratch in 1971 and became the world-class university you see today."
He shared an example in Anthony Nobles, a medical innovator and executive director of Liberty's Center for Entrepreneurship, and in his own father, Liberty founder Dr. Jerry Falwell.
"God built that entrepreneurial DNA into my father, who learned it from his father and his grandfather, and then dad mentored many of us with that same spirit," Falwell said. "Graduates, I hope that your time at Liberty has also placed that spirit, including a real love for people, in all of you. Liberty was built by entrepreneurs who took huge risks, and if you do that in your life and are not afraid of failing, you'll be shocked at what you can accomplish."
Nobles spoke briefly to the graduates about building his products from a vision, before his friend, Dr. Ben Carson, took the stage to encourage students to have courage to rise above conformity.
The traditional graduate charge was given by President Emeritus A. Pierre Guillerman, who was Liberty's first president in 1971 and served until his retirement in 1996.
To all the members of the Class of 2019, congratulations and may God bless you as you leave Liberty as Champions for Christ.
---
Class of 2019
20,731
Total college graduates
16,531
Earned their degrees online
3,670
Earned their degrees residentially
6,145
Graduates with military ties
---
Honorary Doctorates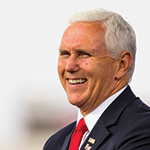 Vice President Mike Pence
DOCTOR OF LAWS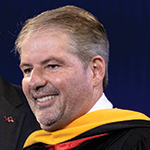 Anthony Nobles
Medical Innovator and Executive Director of Liberty's Center for Entrepreneurship
DOCTOR OF BUSINESS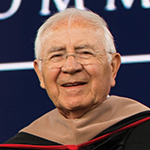 Daniel Reber and Jimmy Thomas
Prolific Businessmen and Longtime Liberty Supporters (Namesakes of Liberty's main dining facility)
DOCTOR OF BUSINESS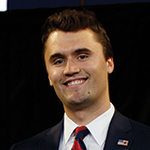 Charlie Kirk
Founder and Executive Director of Turning Point USA
DOCTOR OF HUMANITIES

Bob Goodlatte
Longtime U.S. Congressman, Serving Virginia's 6th District for 26 Years
DOCTOR OF LAWS