Class of 2017 welcomes Donald Trump for his first Commencement speech as president of the United States
As nearly 19,000 Liberty University graduates prepared to make their own marks on history, United States President Donald J. Trump prepared to make his mark as well, arriving on campus May 13 to give his first Commencement address of the presidency.
A record crowd of over 50,000 heard Trump's remarks to the Class of 2017, the second graduating class to welcome a sitting U.S. president for Commencement (President George H.W. Bush addressed the Class of 1990).
The moment shined a spotlight on Liberty — no longer as a university rising to prominence, but as one that has achieved it.
"Notre Dame has had a tradition the last few generations to have the new president deliver his first Commencement address (there)," Liberty President Jerry Falwell said before introducing Trump. "We've always respected and admired Notre Dame University. In fact, from our very beginnings, we aspired to be for evangelical young people what Notre Dame is for Catholic young people. Well, I am proud to say today that the president of the United States chose to deliver his first Commencement address not at Notre Dame, but at Liberty University."
Welcoming President Trump back for his third visit to Liberty, Falwell said he has "noticed a new hope and a new optimism sweeping the country," since Trump's election.
"As a country, we needed fresh and bold leadership," Falwell said. "President Trump's love for ordinary Americans and his kindness, generosity, and bold leadership qualities made him the best candidate for the job. Mr. Trump possesses the resolve to put his country first and to never give up in a world that is increasingly hostile to our values."
Trump followed in that vein, making several remarks throughout his speech that encouraged graduates to go against the tide.
"No one has ever achieved anything significant without a chorus of critics standing on the sidelines explaining why it can't be done," Trump said. "Nothing is easier or more pathetic than being a critic, because they're people that can't get the job done. The future belongs to the dreamers, not to the critics. The future belongs to the people who follow their heart no matter what the critics say because they truly believe in their vision."
Following your convictions, he said, "means you must be willing to face criticism from those who lack the same courage to do what is right — and they know what is right, but they don't have the courage or the guts or the stamina to take it and to do it. It's called the road less traveled."
Trump recognized two individuals in the crowd whose lives were prime examples of persistence and grit. NFL Hall of Fame quarterback Jim Kelly was celebrating his daughter Erin's graduation. Trump called Kelly a man with "tremendous heart" who "knew how to win," both on the field and in two battles with cancer. The president also honored decorated World War II veteran George Rogers, who served Liberty faithfully for many years as its CFO. Rogers survived the Bataan Death March and, because of his suffering, wasn't expected to live past the age of 40. Rogers is now 98.
A rich heritage
The week of Commencement marked the 10-year anniversary of the death of Liberty's founder, Dr. Jerry Falwell. President Falwell honored his father's legacy by sharing the advice he had always given to students.
"My father would find a way to weave into every speech and sermon the admonition that students should never quit and never give up, and my goal is to reiterate that advice today," he said. "Graduates, you will face seemingly insurmountable hardships and obstacles often throughout your life. At times, everything will seem hopeless and every fiber of your being will be screaming for you to quit and give up on your dreams. But persevering in those darkest hours is what separates the winners from the losers. Only if you press on will you achieve greatness."
Trump also honored the legacy of Dr. Jerry Falwell, noting that it was his vision that made Liberty what it is today. He said the elder Falwell would be "very proud" of his son for carrying the vision forward.
Salute to military graduates
In his speech, Trump commended those who fight on the front lines in the war for freedom — the men and women of America's armed forces.
"We are profoundly grateful to every single one of you who sacrifice to keep us safe and to protect God's gift of freedom," the Commander in Chief said, recognizing the nearly 6,000 of Liberty's Class of 2017 with military ties. "It is truly a testament to this university and the values you embrace that your graduating class includes so many patriots who have served our country in uniform."
Praising all the graduates for their thousands of hours of community service and predicting that a future U.S. president "or two" may likely be among them, President Trump honored the Class of 2017 for already impacting  the world.
"America is better when people put their faith into action."
Football dreams realized
Trump noted how Liberty's vision has always included a top-level athletics program, and he congratulated the university for recently being approved to join the Football Bowl Subdivision, the highest level of collegiate competition.
"The success of your athletic program — arriving on the big stage — should be a reminder to every new graduate of just what you can achieve when you start small, pursue a big vision, and never, ever quit — you never quit," Trump said. He surprised the crowd by announcing several of Liberty's upcoming football opponents, including the University of Virginia, Auburn, Army, Brigham Young, Virginia Tech, Wake Forest, and Ole Miss (see schedules).
"From the most humble roots, you have become a powerhouse in both education and sports," Trump said.
---
To the Class of 2017:
"If you give God your heart and your mind, He always has a big, wonderful plan for you."
– Wallace Turnbull, Honorary Doctorate Recipient
"Be a Champion for Christ one by one. Together you can do what you cannot do alone – you can change the world."
– Karen Kingsbury, Honorary Doctorate Recipient
"Never stop fighting for what you believe in and for the people who care about you. Carry yourself with dignity and pride. Demand the best from yourself and be totally unafraid to challenge entrenched interests and failed power structures."
– President Donald J. Trump, Commencement Keynote Speaker
"You will face seemingly insurmountable hardships and obstacles often throughout your life. At times, everything will seem hopeless and every fiber of your being will be screaming for you to quit and give up on your dreams. But persevering in those darkest hours is what separates the winners from the losers. Only if you press on will you achieve greatness."
– Jerry Falwell, Liberty University President
"Don't let the devil tell you that you're unqualified. There are no small, insignificant members of the Body of Christ."
– Rev. James Robison, Baccalaureate Keynote Speaker
---
HONORARY DOCTORATES

Donald J. Trump
Honorary Doctor of Laws
President of the United States
—



Wallace and Eleanor Turnbull
Honorary Doctors of Divinity
Founders of Baptist Haiti Mission, which has planted over 350 churches and changed lives in Haiti for more than 70 years, and the Turnbull Family Foundation, which has provided Liberty scholarships to 34 Haitian students
—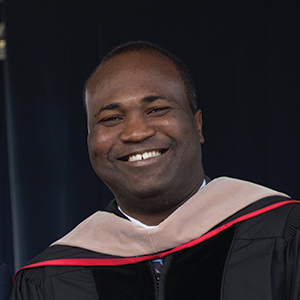 Daniel Jean-Louis ('06)
Honorary Doctor of Business
CEO of Bridge Capital, author, consultant, international speaker, professor of entrepreneurship and development in Port-au-Prince, Haiti
—


Karen Kingsbury
Honorary Doctor of Letters
New York Times best-selling novelist
—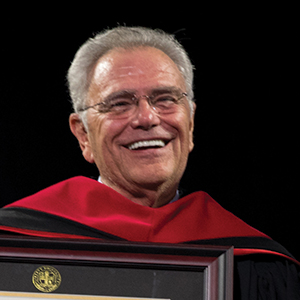 Rev. James Robison
Honorary Doctor of Divinity
Founder and president of LIFE Outreach International
—


David Nasser
Honorary Doctor of Divinity
Campus pastor and senior vice president for spiritual development at Liberty