When Liberty University announced in February 2017 that its football program was making the move to the FBS, the Flames' coaching staff was not the only group who knew it needed to step up its game to make sure Liberty was ready to compete at the highest level.
For the past decade, Williams Stadium — the home of Liberty's football program since 1989 — developed a reputation for providing one of the top game day experiences at the FCS level, boasting top-10 attendance rankings. From concessions to family and children's activities to fireworks and even real flames shooting from the top of the scoreboard, Williams Stadium has offered a thrilling environment to cheer on the home team.
But between the 2017 and 2018 seasons, Liberty set out to ensure that the entire fan experience, for the students and the general public, matched the product that Head Coach Turner Gill and his staff were putting on the field. When the gates opened for Liberty's first home game — and its first game as an FBS team — on Sept. 1 against Old Dominion University, a newly expanded stadium greeted guests. The expansion increased seating capacity from 19,200 to 25,000, with new upper deck seating on the east side. A new colonnade entrance was constructed along University Boulevard, and more gate entrances were added to the new tower.
For students, the game day experience is a dramatic upgrade. They now enter through a new, designated student gate on the east side and are met with a wide array of concessions, from the normal fare of kettle corn, soft drinks, hot dogs, and hamburgers, to new vendors, including Dunkin' Donuts, Auntie Anne's Pretzels, and House of Flames (featuring chicken wings). There is also a new Flames Football team store at the main entrance.
Liberty's IT Department has worked hard to ensure that the stadium is equipped with the best technological capabilities. A new 3,000-square-foot Daktronics LED videoboard (three times the size of the previous one) debuted during the first game, as well as a new LED ribbon board stretching over 100 yards along the west side mezzanine. Additional speakers provide better sound clarity. All across the stadium, wireless service has been boosted to support 25,000 screaming Flames fans streaming content on their mobile devices.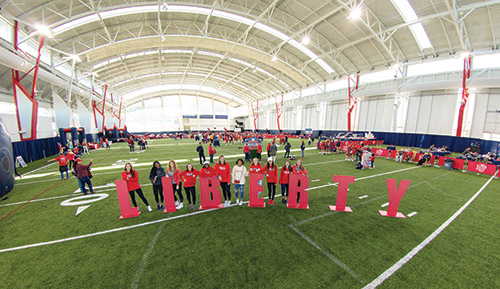 But the game day experience truly begins long before the football team takes the field. Two hours prior to kickoff at each home game, Liberty Athletics now hosts the ultimate fan experience with the Flames Fan Fest, presented by Food Lion, inside the Liberty University Indoor Practice Facility. The event is free and open to all ticket holders and features music, the live LFSN Radio pregame show, and tailgate games. The area allows fans to enjoy family time before the game — rain or shine — within a climate-controlled facility. Children can have fun bouncing on inflatables or take pictures with Sparky and the Liberty cheerleaders. Flames Club members can also enjoy a pregame meal.
As Flames Nation watched Liberty secure a 52-10 win over potential new in-state rival ODU, the resounding victory made a statement to the college football world that Liberty has not only transitioned to the FBS level, but it is ready to compete with the best — right out of the gate.
When Dr. Jerry Falwell founded Liberty (then Lynchburg Baptist College) in the fall of 1971, he painted a clear vision for its athletics department when he stated, "It is our plan to have our athletic program comparable to USC, to Notre Dame, to Alabama, to anyone — in time."
Thanks to the tireless work of many, both on and off the field of play, Liberty University and its athletics department have taken a huge step toward making this vision a reality.
Rise With Us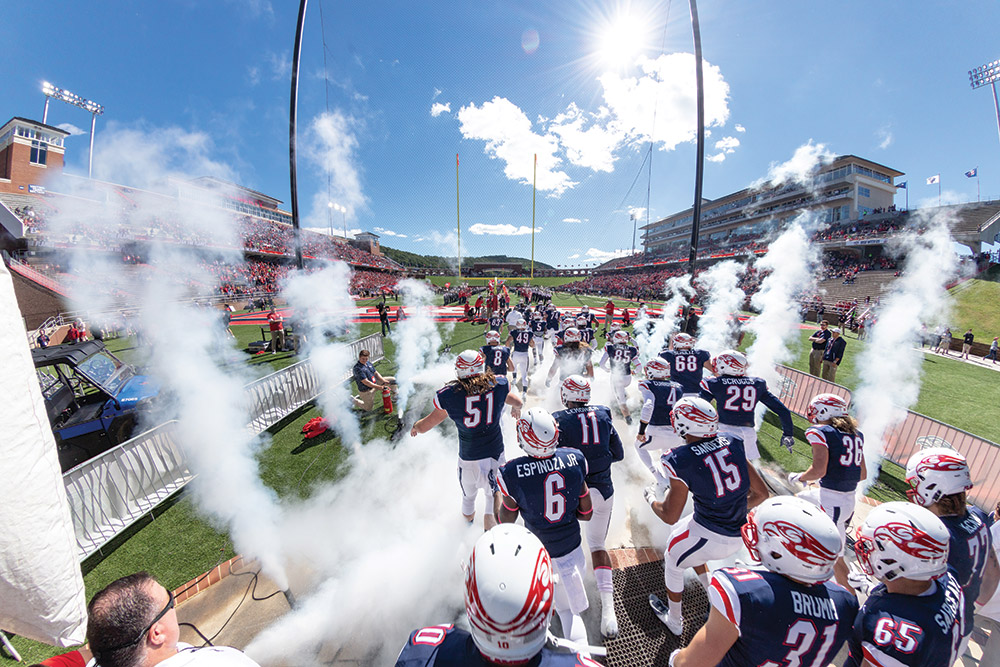 The Flames held their own against Football Bowl Subdivision opponents in their inaugural season as an FBS program, opening with an overwhelmingly successful 52-10 triumph over in-state foe Old Dominion University on Sept. 1. The second win for the Flames came at New Mexico (52-43). They staged another stunning home victory, 22-16, over Troy, the first-place team in the Sun Belt Conference. Then, the Flames tamed the Idaho State Bengals in front of a Homecoming crowd, 48-41. Liberty suffered setbacks at Army (14-38), at home against North Texas (7-47), and at New Mexico State (41-49).
Two more chances to catch the Flames in action at Williams Stadium:
Nov. 24 vs. New Mexico State | 2 p.m.
Dec. 1 vs. Norfolk State (rescheduled from Sept. 15) | 2 p.m.
Buy tickets at LUFootball.com
---
Bowl Agreement News
In July, Liberty Athletics announced its first bowl agreement with the AutoNation Cure Bowl for the 2018 and 2019 seasons. The agreement is secondary, meaning that if teams from the Sun Belt Conference and American Athletic Conference, who are both scheduled to play in the bowl each year, don't have enough deserving teams (six qualifying wins), Liberty may be substituted before the bowl organizers consider teams with five wins.
The agreement gives Liberty football its first bowl tie-in during the program's inaugural FBS season. Bowl games will be announced Dec. 2.
The AutoNation Cure Bowl is played each December at Camping World Stadium in Orlando, Fla. The game is televised nationally on CBS Sports Network and broadcast live on iHeart Radio. Funds raised from the game directly benefit the Breast Cancer Research Foundation.
---
A Vision Fulfilled: Reflecting on flames football's history and progresS
Liberty University's football program has made quantum leaps since fielding its first team in 1973. Back then, the school was called Lynchburg Baptist College, and players sported green and gold uniforms. They practiced on Treasure Island — in the middle of the James River — and played their games at Lynchburg's City Stadium.
In 1975, the school was renamed Liberty Baptist College, changed its colors to red, white, and blue, and joined the National Association of Intercollegiate Athletics (NAIA). In 1980, the Flames moved up to the National Collegiate Athletic Association (NCAA) Division II level, with an eagle as its official mascot. In 1985, the school became Liberty University, and in 1988, Liberty football became an official member at the NCAA I-AA level.
In 2014, after securing its seventh Big South Conference championship in eight seasons, Liberty traveled to JMU and recorded its first postseason triumph in program history, 26-21, in the FCS playoffs.
The Flames started the 2017 season — their last at the FCS level — by posting their first victory over a Power 5 school, upsetting Baylor University in Waco, Texas, 48-45. ESPN.com ranked the win the seventh-biggest upset in college football in the last 25 years.
Many Flames Football alumni have maintained close ties with the university and monitored the progress the program has made since those early years. Alumni Jeff Benson and Richard Osborne have had a front-row seat to the recent progress as current members of Liberty's Board of Trustees.
Benson played quarterback for Liberty in the early 1980s. While watching the Flames in their inaugural season of FBS football, he was struck by how different the game day experience is from his playing days at City Stadium.
"Williams Stadium is very impressive, with the latest expansion and newest scoreboard," he said. "All of the improvements truly take the stadium experience to the FBS level."
Benson said the move to the highest division of collegiate football will pay dividends for the university in multiple ways.
"Our founder, Dr. Jerry Falwell, communicated his vision very clearly that it was his absolute goal to see us play football at the highest level and that it would provide a benefit not just in athletics but in all phases of the university, and I think that will prove to be true," he said. "It will increase the platform for the university and increase student and national interest in who Liberty is and what we do."
Osborne played defensive noseguard for the Flames through 1979, when he became the university's first political science graduate. He called the rise to the FBS more than just another one of Falwell's "big, hairy, audacious goals" (a term Falwell often used to encourage students to strive for success).
"It's an answer to prayer that Dr. Falwell envisioned," Osborne said. "It's very exciting, and I've talked to Head Coach Turner Gill and Athletics Director Ian McCaw. They're all in for our mission, Training Champions for Christ, and we're hoping that the new facility and moving up to the next level attracts more students to the university so they can become Champions for Christ, too."
---
West Tower named in honor of longtime supporter
The Williams Stadium West Tower has been renamed Carter Tower in memory and appreciation of Worth Harris Carter Jr., a generous donor to the university and Liberty Flames Athletics. Carter established Carter Bank & Trust and served as CEO until he died on April 7, 2017, at the age of 79.
At the time of his death, Carter Bank & Trust had become Virginia's second largest community bank. The bank was one of Liberty Athletics' largest corporate sponsors and the longest-tenured luxury suite holder. Carter was one of the largest individual annual donors to the Flames Club.
Carter Bank & Trust helped underwrite much of Liberty's growth and operations dating back to the late 1980s. Carter was awarded an honorary doctorate of business from Liberty in 2012. The Worth Harris Carter Jr. and Katherine S. Carter Endowment Scholarship Fund was established upon his death to assist eligible students from areas of Virginia and North Carolina.
---
Through the years
Williams Stadium Records
Attendance: 22,551 for Liberty's 31-21 upset of  No. 7 Montana on Sept. 20, 2015
Longest touchdown pass: 98 yards from Ben Anderson to Courtney Freeman against Charleston Southern, 1996
Most team points scored: 76 by Liberty against West Virginia Tech, 1995
Longest field goal: 60 yards by John Lunsford of Liberty, 2014
---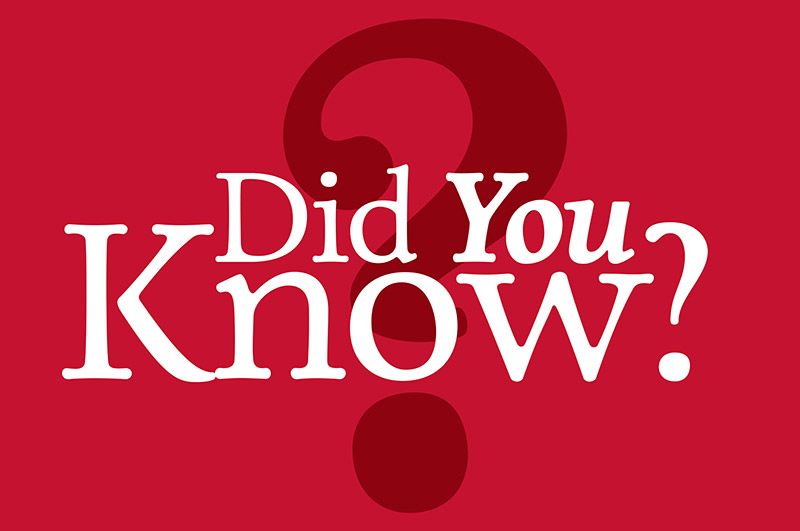 Chip Smith, a four-year letterwinner and team captain (1973-76), was the football program's first scholarship student-athlete. He scored Liberty's first touchdown on Sept. 27, 1973. He now operates a training program where he plays a large role in launching and accelerating the careers of hundreds of professional athletes.