For longtime coach Brant Tolsma, Liberty's new state-of-the-art indoor track complex is a dream come true
Head Coach Brant Tolsma considers the new Liberty University Indoor Track Complex a field of dreams. Tolsma, who led the Lady Flames' cross country team to victory in the Big South Conference Championships last fall — the 100th conference championship of his career — said Liberty's athletics facilities have made quantum leaps since he first started coaching track & field in 1986.
"If you would have asked me when I came here, 'In your wildest dreams, what would you like the track & field facilities to look like in 30 years?' I never would have envisioned this," he said. "It makes me think (of Ephesians 3:20) that 'God will do abundantly above what we ask or imagine.' That's in heaven, for sure, but even here He's done abundantly above what I would have asked or thought of 30 years ago."
The new 169,000-square-foot complex glows at night beneath the illuminated monogram on Liberty Mountain, standing as a testament to the standard of excellence Tolsma has established for Liberty's men's and women's cross country and indoor and outdoor track & field programs over the past three decades. It hosted its first competition Jan. 13-14, the Virginia Showcase, presented by Milestat.com, attracting over 3,000 high school athletes from nearly 25 states, Washington, D.C., and Jamaica. Two national records were broken at the meet.
Jeff Caron, who ran collegiately at the University of Maine and professionally for New Balance in recent years, traveled from Washington, D.C., to witness the record-setting performances at the Virginia Showcase.
"From spectating this event, it appears like a national championship," he said. "If I were to walk in there and someone told me this was the national championships, I would believe that."
The facility, he said, is "certainly something that would attract people to Liberty."
"If I was a track athlete and I was looking for a school, I would want to look at their facilities and this would definitely draw me in to compete here," Caron said, adding that the relatively rural location of Central Virginia is another selling point.
"When I was competing in college and professionally, all of the best indoor tracks were in the Northeast, and that's where everyone would flock to," Caron said. "Lynchburg is just such a great community. I always enjoy coming here. It's a beautiful part of the state, and it's nice to have these events outside of the major cities … you can actually enjoy the event a little bit more."
The Flames made their season debut in the new facility at the Liberty Kickoff, featuring more than 45 collegiate teams, on Jan. 20-21. An official grand opening was held on Jan. 28, during the Darius Dixon Memorial Invitational, the second collegiate meet hosted by Liberty.
The facility was built by Glass & Associates Inc.
"We spent countless hours getting this one right, using input from various existing facilities and figuring out what it would take to make it better," said Alan Askew, vice president of major construction in Liberty's Planning & Construction Department. "We arrived at something we're very proud of — from an aesthetics standpoint, from a fan experience standpoint, from an athlete's standpoint, and from an event management standpoint."
Glass & Associates' previous on-campus projects include the Hancock Welcome Center, Tower Theater, and basketball practice facility at the Vines Center, as well as the renovation and expansion of the LaHaye Recreation and Fitness Center, LaHaye Ice Center, and Food Court at Reber-Thomas — all part of Liberty's nearly $1 billion ongoing campus restructuring.
"The indoor track is going to be their crown jewel, I think," Tolsma said. "We're very grateful to President Jerry Falwell for making that call and demonstrating so much faith in our program. It's amazing. It's going to turn the attention of the track & field world here."
Not factoring in the adjoining natatorium (to be completed in November) or road improvements leading to the facility from Candlers Mountain Road, the project cost is just under $30 million.
The new complex is nearly triple the size of the previous 60,000-square-foot Tolsma Indoor Track Center in Marie F. Green Hall. It is 425 feet long by 300 feet wide, with an arched roof ranging in height from 46-66 feet. The configuration of the track layout includes room for all six field events, with the weight throw, shot put, and high jump pits located outside the track oval, and the pole vault, long jump, and triple jump runways located inside.
It is among only a few indoor tracks in the nation large enough to have a second-floor mezzanine area — a spacious loft where competitors can sit or huddle with their teammates and interact with athletes from other schools — above an eight-lane, 100-meter warm-up track straightaway. The mezzanine is on the opposite side of the track from stands that seat nearly 1,500 fans, with the capacity to hold more than 2,500 when track-level portable bleachers are added. The complex is large enough for a maximum occupancy of 5,000, including 2,500 or more athletes. 
The track itself is the facility's most dynamic feature and one of only a few indoor tracks in the U.S. to offer a six-lane, 200-meter, hydraulically banked oval. (Other such tracks are located at the Naval Academy, Alabama, Birmingham, Nebraska, Penn State, Texas A&M, and Virginia Military Institute (VMI).) With the push of a button, 72 hydraulic cylinders, each capable of nearly 10,000 pounds of thrust, flex the underlying support structure, fabricated from 200,000 pounds of steel, to create up to 10-degree banks on each of the track's turns in a matter of two minutes.
VMI and Liberty are the only schools to have banked tracks that feature a specially formulated surface manufactured by Beynon, the company that resurfaced Liberty's outdoor Matthes-Hopkins Track Complex and the University of Oregon's Hayward Field, site of the United States Olympic Trials in July. The International Association of Athletics Federation-certified track surface, sealed on top of a 3/4-inch marine-grade plywood, incorporates original (not recycled) butyl rubber in the force-reduction layer, creating the most responsive track surface in the world. 
Jeff Jacobs, a Flames junior sprinter from Kansas, is thrilled to run on such a state-of-the-art surface.
"Banked tracks are awesome, and they're really fun to run on, too," he said. "It just lets you hit the turn a little bit harder — to put faster times down in training. It doesn't take away as much of your momentum as the flat track does; it will be safer for our bodies because training on a flat track can be really strenuous. It also gives us an advantage competing against the big schools that will be coming in because we'll already be used to the track."
Fans can keep track of all the student-athletes in action with help from a digital scoreboard that displays both active times and field event results, as well as a videoboard that shows live action and instant replays.
Other amenities in the facility include a 6,000-square-foot weight room, a 3,000-square-foot training room and underwater treadmill (to be shared with the NCAA women's swimming & diving team and new Club Sports men's swimming & diving team), a coaches' hospitality room with windows that overlook the track, a concessions area, a press box, and ample restrooms, locker rooms, and office space.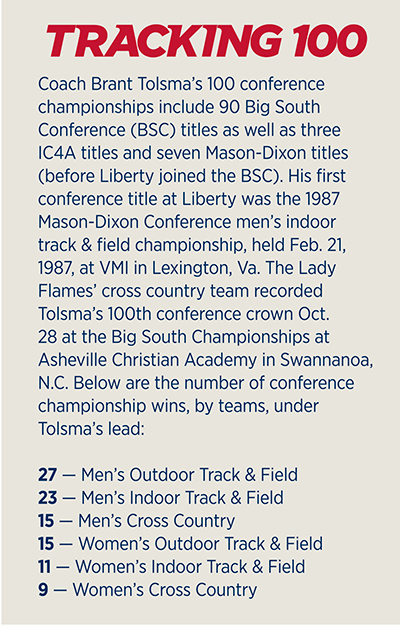 Tolsma, who earned a master's degree in hydraulic engineering from the University of Michigan in 1973, considers the complex and its unique track one of the best indoor venues in the nation and one that will attract not only top collegiate athletes and teams from around the country, but also blue-chip recruits to Liberty's track & field programs.
"Obviously, we're really blessed, but we also understand that where much is given, much is also required," he said. "This track is raising the bar of expectation, but I embrace that. Our staff embraces that. We want to represent the Lord at the highest level and … this is going to be a huge push in that direction. Our goal is to become a national power. We would like to consistently be a top-25 — and frequently a top-10 — program in the country."
The student-athletes are just as hopeful.
"Our team goals are to be a presence at indoor and outdoor nationals this year," Jacobs said. "Having this facility really prepares us and not only tells the world that Liberty is supporting its athletes but that we are also ready to move up into that level of competition. The track will help us get to those higher levels, and then it will also bring in teams, and we'll be able to share the Gospel and be a light in here."
Liberty is slated to host the Big South Indoor Track & Field Championships starting in 2018, and Tolsma said others have been lining up to request use of the facility. This year, it will host the Central Intercollegiate Athletic Association Championships (Feb. 12-13) and the Virginia Commonwealth Games. The facility will also be used for the 2019 State Games of America. According to Tolsma, University of Virginia Head Coach Bryan Fetzer visited the complex last summer and expressed interest in seeing the Atlantic Coast Conference Championships held there in the future. Tolsma said that he would love to host the Junior College National Championships, in part for recruiting purposes.
The facility has already hosted some of the brightest stars in the high school ranks. In the crowd of more than 3,000 prep athletes at the Virginia Showcase on Jan. 13-14, for example, were at least three Summer Olympic Trials qualifiers, along with 13 athletes ranked No. 1 in the nation in their respective events, and 22 national class record-holders.
"The future looks bright, and I'm glad we have the experience we do with managing meets because we will need to continue putting out a top-of-the-line product," said Tolsma, who expects to see records broken at all levels in the facility, from youth to high school, college, and beyond.
---
Star performers
These Liberty student-athletes, coached by Tolsma, qualified for the U.S. Olympic Trials:
Sam Chelanga (2016 men's 5K, 10K, marathon)
Josh Cox (2000, 2004, 2008, 2012 men's marathon)
Mike Decker (2000 men's 400 meters)
Clendon Henderson (2008 men's discus)
Danielle McNaney (2008 women's heptathlon)
Carol (Jefferson) Smith (2012, 2016 women's marathon)
Andrea Wildrick (2000 women's pole vault)
Heather (Sagan) Zealand (2004 women's 1,500 meters)
These Liberty student-athletes, coached by Tolsma, represented Team USA in national and international competitions:
Josh Cox World Championships – Marathon (2001)
Josh Edmonds World Junior Cross Country Championships (2007)
Brandon Hoskins NACAC Under-23 Championships – Decathlon (2006)
David McCombs Junior Pan American Games (1991)
Jordan McDougal World Junior Cross Country Championships (2006)
Josh McDougal World Cross Country Championships (2005)
Danielle McNaney Nike Combined Events Challenge (2006, 2007, 2008, 2009)
Ramsey Moore USA vs. Canada Junior Decathlon (1997)
Gerald Mosley USA Bobsled Team (1993)
Mike Reed East Olympicfest Team (1995)
Jacob Swinton South Olympicfest Team (1994)
Ryan Werner East Olympicfest Team (1995)
Andrea Wildrick – U.S. National Under-25 Team – Pole Vault (2002)
Keith Woody USA vs. Canada Junior Decathlon (1990)
Heather (Sagan) Zealand World Cross Country Championships (2002)