Some children dream of being doctors. What may start with a toy stethoscope and a white coat can mature from a child's game into a career choice. Liberty University students are turning those early dreams into reality as they train to become doctors, nurses, social workers, counselors, researchers, and other health care professionals.
Liberty has become an epicenter for medical training, equipping those whose childhood play has developed into a lifetime of caring for people around the country and around the world. About 33,000 students, or one-third of Liberty's total enrollment, are pursuing health-related degrees. The Liberty University College of Osteopathic Medicine (LUCOM), Liberty's medical school, opened its doors in 2014 and is training students to become doctors who are committed to helping the underserved with compassion and excellence. That same commitment drives the Liberty School of Nursing, now the largest in Virginia. These programs thrive because of Liberty's dedication to service, world-class education, and investment in facilities that surpass industry standards.
In recent years, a grant from the Virginia Tobacco Indemnification and Community Revitalization Commission has significantly contributed to the expansion of Liberty's health care degree offerings. In 2011, the commission pledged a $20.5 million matching grant to fund construction of a facility that would house the new medical school with the goal of serving rural regions across the state. A decline of the tobacco, textile, and coal industries over the past two decades has caused local economies in many of these regions to suffer.
Ground was broken one year later on land in Campbell County at the southern edge of Liberty Mountain. Overlooking Liberty's main campus, with the beautiful Blue Ridge Mountains in the background, the four-story, 144,000-square-foot Center for Medical and Health Sciences is now home to LUCOM, School of Health Sciences administration, and the Department of Public & Community Health.
The Tobacco Commission grant was one of the largest investments in the commission's history and also benefited many of Liberty's other health-related degree programs. It was awarded primarily on the basis of LUCOM's commitment to reaching the medically underserved in Southern and Southwest Virginia, where about 67 percent of the population lack immediate access to medical care.
LUCOM began to fulfill that commitment in October when a team of student-doctors hosted the college's first outreach event in Martinsville, Va. During a six-hour health clinic, student-doctors and physicians provided general health screenings for dozens of individuals. The team focused on obesity and diabetes, hypertension and heart disease, and musculoskeletal dysfunction, and included the application of  Osteopathic Manipulative Medicine. Several agencies and students from other schools collaborated with Liberty for the event.
Del. Kathy Byron, a longtime member of the Virginia House of Delegates and a member of the Tobacco Commission, said that Liberty has made a major commitment to providing a broad range of educational opportunities in the health industry.
"Through determination, skilled planning, and a keen ability to identify underserved educational markets, Liberty's leadership has earned an outstanding reputation in its medical offerings," she said. "As a member of the Tobacco Commission, I would consider our investments in Liberty's health care programs to be one of our real success stories."
Byron noted that the proposals received from Liberty were impressive and clearly showed the impact that the university could have on the community.
"The university's proposals are detailed and well crafted, giving the Commission a complete and comprehensive picture of the benefits of their proposals from inception through completion. Additionally, Liberty always makes its commitment to the entire region — and rural Virginia — an integral part of its proposals," she said.
Over the last several years, state lawmakers and Tobacco Commission members have frequently visited Liberty to participate in ceremonies celebrating either the beginning or the completion of a building project.
"The idea that a university that has been in existence for less than 50 years can become so prominent so quickly is astonishing," Byron said. "That it has made service to the people of our region an essential component of so many of its projects explains why there is so much enthusiasm for Liberty on the Commission."
School of Nursing
In late October, alumna Rebekah Pemberton ('15) was finishing her nursing rotation at Roanoke Memorial Hospital's Thoracic Surgery ICU unit. She had a meeting with her supervisor immediately following her shift to discuss her performance thus far, and she was nervous. The words she heard next, however, were not what she expected to be told fresh out of college.
"My supervisor said, 'You are amazing. You may be a new graduate, but you are truly incredible,'" Pemberton recounts. "'Your patients speak very highly of you — you have an excellent bedside manner, everyone is always talking about how patient you are with your patients. You have excellent critical thinking skills for someone who has just graduated nursing school, and we would love to have more Liberty graduates just like you.'"
Pemberton said she did not deserve the praise. Instead, she said, the credit belongs to Liberty University's School of Nursing.
"I would not be the nurse I am today if it was not for Liberty's nursing school," she said. "The program's Christian focus helped me develop the bedside manner of which my unit manager spoke so highly. The program has made an impact on my nursing practice and on my daily life."
Liberty's School of Nursing is committed to student success, upholding high academic standards and an atmosphere of encouragement in both the classroom and clinical areas. Last fall, 98 percent of Liberty graduates passed the National Council Licensure Examination on their first try — one of the highest passage rates in the state.
"The nursing program has been successful because students learn how to integrate their faith into everything they do," said Dean Deanna Britt. "We teach students how to be the hands and feet of Jesus as they care for patients who are at crisis points in their lives and need the caring touch of a faith-filled person."
Britt added that the school graduates approximately 180 students each year and has a 99 percent employment rate. About one-third of graduates stay in Lynchburg to work with Centra, a regional nonprofit healthcare system based in Lynchburg and serving more than 300,000 residents in 38 locations throughout Central and Southside Virginia.
Patti McCue, senior vice president and chief nursing officer at Centra, said that all Liberty nursing students come to Centra at least once while they are at Liberty. As a result, Centra has a very close relationship with Liberty's nursing school.
"We are very fortunate to have students of their caliber, as they are passionate about caring for our patients," she said. "They are well prepared, and we are pleased to have them in our facilities, working with our patients and families, and being part of the Centra team. We are proud of the relationship we have with Liberty University."
At the start of their sophomore year, undergraduate students begin logging their 900 required clinical hours, which is twice the minimum that many nursing schools require. Faculty members are actively involved throughout this process, and the school's 10-1 student-to-faculty ratio ensures that students receive individualized attention.
Two days a week, students put their knowledge into practice at area hospitals or participate in the distant clinical program at other hospitals across Virginia, including Roanoke, Salem, and Charlottesville, as well as in Charlotte, N.C. Additionally, students practice their skills in Liberty's simulated nursing labs each semester.
"Many times, we are contacted by hospitals that want to recruit our students," said Shanna Akers, associate dean. "Our graduates are successful in gaining employment almost immediately after graduation because they are comfortable in a hospital setting, knowledgeable about research, and they know how to act professionally."
During their junior year, nursing students can also enroll in NURS 316, a three-credit elective course that allows them to travel overseas to places such as South America and Africa. Students receive cultural training while serving the local population; they help with childbirth, serve in leprosy colonies, and assist during surgical procedures.
Liberty offers a Bachelor of Science in Nursing (BSN) in acute and critical care nursing, with rigorous courses in medical terminology, pharmacology, and childbearing. The department also offers advanced degrees, including a Master of Science in Nursing (MSN) and a Doctor of Nursing Practice (DNP).
The MSN is offered completely online and is based on guidelines established by the American Association of Colleges of Nursing. Students complete practicum hours wherever they live, making an MSN attainable for working professionals. The program is designed to equip future nurse educators and administrators.
The DNP trains nurses to become leaders, family nurse practitioners, and clinical experts. Two paths are available — an online post-MSN and a residential post-BSN — that incorporate additional clinical training to prepare students for advanced careers in nursing. The residential program prepares students to take a national certification examination for family nurse practitioners.
Additionally, the school offers an online RN to BSN program. Due to changes in the health care industry, many registered nurses who do not already hold a bachelor's degree are now required to have one, and Liberty is helping these nurses continue their education and advance their careers.
School of Health Sciences
Liberty's School of Health Sciences houses the Departments of Biology & Chemistry, Health Professions, and Public & Community Health. More than 2,000 students are enrolled across 17 academic degree programs.
Liberty's Department of Biology & Chemistry prepares students for a variety of graduate and professional schools, including medical, dental, pharmaceutical, and veterinary programs. There are over 80 students enrolled in the Master of Science in Biomedical Sciences program, which offers one- and two-year tracks and provides students with a solid foundation in the sciences before they go on to medical or dental school. Last May, every member of the master's program's first graduating class was accepted into medical school.
Liberty's Department of Health Professions offers degrees in athletic training, kinesiology, health promotion, exercise science, and medical office assistance (online only).
The athletic training program gives students the opportunity to learn in a variety of clinical settings, including local clinics, secondary schools, and colleges. Students also work alongside clinical instructors who provide care for Liberty's Club Sports and NCAA Division I student-athletes. Eighty-nine percent of Liberty students who took the National Board of Certification Exam to become a certified athletic trainer last year passed the first time.
Liberty's exercise science program not only equips students for careers in the health and fitness industries, but it also prepares them for graduate studies in exercise physiology, physical and occupational therapy, chiropractic medicine, and more.
The kinesiology program trains students to promote healthy, active lifestyles through education or fitness professions, including coaching or serving as an athletics director or sports outreach coordinator. The Virginia-licensure track, accredited by the Virginia Department of Education, prepares students to teach PreK-12 health and physical education in a public or private school setting.
Community health education specialists are needed across the professional landscape to service businesses, schools, hospitals, nonprofits, and government departments, and Liberty's health promotion program is meeting this need. Students can prepare for the national Clinical Health Education Specialist examination, which certifies them as health specialists.
National projections predict a need for at least 250,000 new and replacement workers to prevent a public health workforce crisis within the next decade. The Department of Public & Community Health offers programs to help meet the growing demand for public health professionals both at home and abroad. Liberty's Master of Public Health gives students a foundation in epidemiology and biostatistics and offers concentrations in health promotion, global health, and nutrition.
School of Behavioral Sciences
The School of Behavioral Sciences houses some of the university's most popular majors — psychology
and counseling.
The school includes all addiction counseling, clinical counseling, human services, pastoral counseling, psychology, and social work programs, offering residential and online degrees from the associate to the doctoral level. Nearly 24,000 residential and online students are enrolled in these programs, making the school the largest at Liberty. The school offers 12 academic degrees and 48 programs.
The mission of the School of Behavioral Sciences is to promote an integrated understanding of science, practice, and faith, displaying a commitment to both scientific competence and specific best practices generated by a Christian worldview.
The school includes the Department of Community Care & Counseling, the Department of Counselor Education & Family Studies, the Department of Social Work, and the Department of Psychology.
The Department of Community Care & Counseling offers Master of Arts  degrees in Human Services Counseling and Pastoral Counseling and a Doctor of Education in Community Care & Counseling. The department trains professionals for service in community, agency, and ministry settings, and degrees in this department can be customized based on the student's interest.
The Department of Counselor Education & Family Studies offers residential Master of Arts degrees in Clinical Mental Health Counseling and Marriage & Family Counseling, as well as online Master of Arts degrees in Professional Counseling and Marriage & Family Therapy. An online Ph.D. in Counselor Education & Supervision is also available. Programs are designed for those pursuing careers in mental health agencies, hospital programs, private practices, church-related or faith-based counseling centers, and other public and private facilities.
Liberty's online master's degree in counseling was ranked No. 1 in the nation last year by Online U. The online M.A. programs received a 2014 Student Before Profits Award for putting student needs ahead of the bottom line.
Liberty's residential Clinical Mental Health Counseling (M.A.) program received full accreditation from the Council for Accreditation of Counseling & Related Educational Programs (CACREP) in 2015. Liberty has now begun seeking CACREP accreditation for its online 60-hour Professional Counseling (M.A.) program.
During the Fall 2015 semester, the school launched a new B.S. in Social Work residentially. The degree became available online at the beginning of the Spring 2016 semester. This degree trains students for careers with child services, adoption agencies, hospice, hospitals, nursing homes, mental health clinics, and schools.
Christine Fulmer, social work program director at Liberty, said that in the past there have been very few Christian schools with social work programs because it is often considered a secular career field.
"There has been a growth in recent years in the number of Christian schools with undergraduate social work programs," Fulmer said.  "Liberty is engaging in this market now as a way of offering healing and hope in the name of Christ."
Fulmer said the focus of the program is to serve and encourage individuals, families, and communities both domestically and internationally. 
"The students at Liberty are given an education with the knowledge, values, and skills to become competent social workers who are Champions for Christ," she said. "It is a beautiful thing to be in a place where you know God is working.  I encourage students who love the Lord and know He is leading them into social work to prayerfully consider Liberty's program. It is amazing already, and I am honored to be part of it."
Students currently enrolled in the program will participate in international field experiences over spring break in the Dominican Republic and have opportunities to do semester-long field placements in Uganda and Australia.
Additional international ministry opportunities for students studying social work are also being planned.
Oasis Hernandez, a junior enrolled in the program, said that she was previously studying psychology at Liberty; however, she knew she wanted to become a child protective services agent, which requires a degree in social work. She was excited to be one of the first students to enroll.
"I would have to say that my favorite aspects about the program are the professors and the applied-practice curriculum," Hernandez said. "The professors are incredibly personable and down-to-earth. The way they tackle the curriculum forces you to think outside of the box. The professors wire you to love people even when they are not lovely in themselves."
After she graduates, Hernandez plans to earn her master's degree and work as a child protective agent before eventually working overseas.
"I believe that in order to formulate a godly mindset — especially since I am going into a liberal arts field of study — I needed to attend a school that advocates a Christ-centered worldview," she said. "I am thankful that Liberty has done just that for me."
The Department of Psychology prepares students for graduate school and careers in community services, business, childcare, the mental health field, and substance abuse recovery. Students can also participate in the Daniels Program, which gives them an opportunity to collaborate with faculty on a variety of research projects intended to solve real-world problems.
Students attend state and national conferences, including the Association for Psychological Science National Convention, Virginia Psychological Association State Convention, and American Psychological Association to present their research.
"The majority of our projects allow students to engage in research that has real-world implications," said Dr. Brianne Friberg, director. "The Daniels Program is a beautiful example of how the university is intentionally investing in students and living out the mission to Train Champions for Christ."
She said that while the Daniels Program allows Liberty's faculty to mentor students throughout the research process, students also grow in their own research self-efficacy and passion for excellence in the area of psychological science.
Graduates from Liberty's Daniels Program have gone on to earn master's degrees from Columbia University, George Mason University, Boston College, New York University, and other prominent schools. Additionally, students have become research assistants and interns with top organizations, including the Mayo Clinic, The University of Virginia, NASA, and Johns Hopkins Hospital.
Ariel Ligowski finished her B.S. in Psychology in December and participated in the Daniels Program by studying the relationship between gaming addictive behavior, satisfaction, and success in computer-based learning. She is currently pursuing a master's degree in social work at Columbia University.
"I learned so much from my psychology professors, watching how they took straight research and straight Scripture and showed us the ways they are parallel," she said. "That was incredible for me to
see demonstrated."
---
Presidential candidate

Dr. Ben Carson

visits LUCOM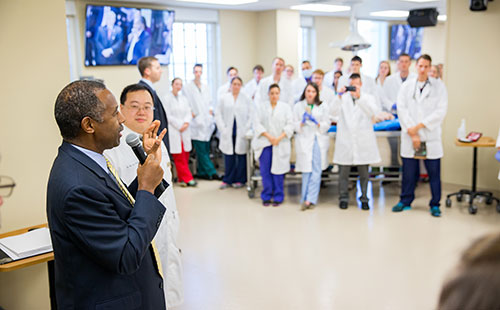 Their white coats standing out in the Convocation crowd, LUCOM student-doctors had the opportunity to hear from renowned neurosurgeon and GOP presidential candidate Dr. Ben Carson on Nov. 11, 2015.
After Convocation, Carson visited the Center for Medical and Health Sciences to meet with student-doctors and tour the two-year-old, state-of-the-art facility. His tour included the Center for Standardized Patients and Simulation, where student-doctors learn in simulated environments as well as interact with trained actors.
Dr. Ronnie Martin, LUCOM dean, said that Carson was impressed with LUCOM's facilities.
"Dr. Carson said that our simulation provides students the opportunity to learn and acquire skills and master techniques without putting a patient in harm's way, an advantage he did not have when he was at medical school," Martin said.
Carson also toured LUCOM's medical library, anatomy lab, and both Osteopathic Manipulative Medicine labs.
"Dr. Carson recognized that the technology and quality of labs we have give students a tremendous advantage in their learning," Martin said. "It prepares them to go out and take care of patients in a way that not only advances their health care, but also provides a margin of safety that was not there 30 years ago in training medical students."
Carson shared his memories of medical school with the student-doctors and emphasized the impact their careers will have.
"There are few careers that are more rewarding than this," Carson said, "Because you get to intervene in the most important thing a person has — their life — and give them longevity and give them quality. I've had the opportunity to do that hundreds and even thousands of times, and I wouldn't trade one of those lives for a billion dollars."
---
NEW CENTER OFFERS TRAINING IN FAMILY STUDIES
During the Fall 2015 semester, Liberty University launched the James C. Dobson Center for Child Development, Marriage, & Family Studies in partnership with world-renowned psychologist, author, radio show host, and family expert Dr. James C. Dobson.
Housed under the Department of Community Care & Counseling, the center equips men and women with the knowledge to positively impact the family and society for Christ. Regardless of their major or degree program, students can add minors in family advocacy, public policy and the future, parenting and child/adolescent development, or marriage and family studies.  Courses are currently available through Liberty's online education program, and Dr. Dobson, as well as other distinguished Christian psychologists and family therapists, teach the video lectures. Students who complete the program receive a certificate in marriage and family relationship coaching.
For decades, Dobson has worked to strengthen families and promote biblical values through his books, lectures, films, radio programs — and now digital media as well.
"It has often been said, 'as the family goes, so goes society,'" said Dobson. "The family is a foundation — the ground floor on which everything of value rests. Our institutions, our government, and our children all depend on strong and stable families, and that is why I am excited to partner with Liberty University to equip men and women with the skills to impact families."
Dobson first visited Liberty in May 1993, when he spoke at Commencement.
"I was on campus for just one day, but I immediately recognized what the university and the Liberty community stood for," he said. "When I was invited back to campus recently to discuss the concept and initial planning of the new Dobson Center, President Jerry Falwell showed me that the school had remained true to its original beliefs and vision. It is an honor for me to be part of this legacy-building effort."