Students may call the Lynchburg area home for their college years, but many have made it their home for life.
Doctors, nurses, teachers, businessmen/women, engineers, lawyers … the list goes on. As more than 250,000 Liberty University alumni impact the world for Christ all across the globe, people in Central Virginia don't have to look far to find Liberty grads at work in the community.
Lynnette Shadoan
Director, Light Counseling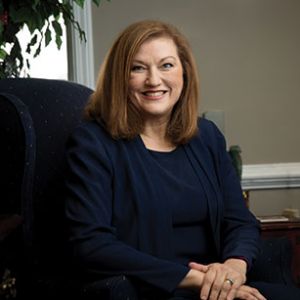 As a Kentucky native and University of Kentucky graduate, Lynchburg was not really on Lynnette Shadoan's radar. But after graduating college and working with the Fellowship of Christian Athletes, she realized God was calling her into counseling, and she wanted a master's program that would equip her for that career. Through a trusted advisor, who was also a Liberty alumna, Shadoan discovered that Liberty's Master of Arts in Counseling program was exactly what she was looking for.
In 1989, Shadoan moved to Lynchburg for the program and discovered something special about Liberty.
"The faculty believed that the students were here because God had led them here," she said. "It was evident that the instructors weren't there to weed out people — they were there to Train Champions for Christ. They really lived that motto out."
After working at the in-patient crisis counseling center in Richmond, Va., where she met her husband, Mark, she and Mark were recruited to work at Light Counseling, a Christian counseling practice in Lynchburg.
"We felt that God opened the door, and we didn't want to refuse," Shadoan said, adding that the professional opportunities through Light were appealing. The couple has also written a treatment planner for the American Association of Christian Counselors.
Shadoan has served under two Virginia governors (Govs. George Allen and Jim Gilmore) on the Virginia Board of Counseling.
Having now lived in Lynchburg for over 17 years, the Shadoans consider the area their home.
"I love living in Lynchburg," she said, comparing the city to the idealistic television town Mayberry. "We have a nice little community here."
In her practice, Shadoan has counseled numerous clients, addressing marriage, mental health issues, depression, grief, anxiety, and more.
"My prayer is that I have been able to help people understand they have been fearfully and wonderfully made by God, as Psalm 139:14 says, and that God has a plan for their lives," she said. "The rewards are eternal; I am humbled, and it is my privilege to help."
Emilia Overstreet
Emergency room nurse, Lynchburg General Hospital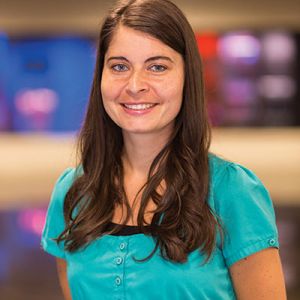 As a nurse in Lynchburg General Hospital's emergency department, alumna Emilia Overstreet ('12) serves patients from all walks of life. Born in Romania, Overstreet decided to attend Liberty for its highly competitive nursing program.
"Studying at Liberty gave me the best opportunity to learn and grow in my knowledge and skills needed to be a nurse," she said. "I also got to grow spiritually, so that I can minister to the spiritual needs of my patients and their families — not just their physical needs. Sometimes praying with them is all the comfort I can give."
Overstreet's favorite memories from Liberty are the special moments she spent with her professors.
"Outside of class, we would talk about life and have small little parties to help us relax, especially before tests," she said. "I loved the fact that they went above and beyond for us as students. They truly cared about us doing well not only academically but also emotionally, physically, and spiritually."
After graduation, Overstreet decided to stay in Lynchburg because she enjoyed the atmosphere.
"The city is not too big to get overwhelmed, and I feel that it is a safe place with a Christ-centered community."
Overstreet said that as a nurse she is able to be "the hands and feet of Christ."
"I hope and pray that I am making an impact on all the people I come in touch with while at work," she said.  "A lot of people I meet need hope, a word of encouragement, and education regarding medical issues. I have had patients send cards or write emails to thank me for my help. That always humbles me, because I know I could not do this without God's help."
Overstreet has been married to her husband, Stephen, for two years. She is expecting her first child in March. When she is not working, Overstreet joins some of her coworkers to volunteer at Lynchburg Daily Bread, a local food pantry.
Chevy Thompson
Police officer, Town of Bedford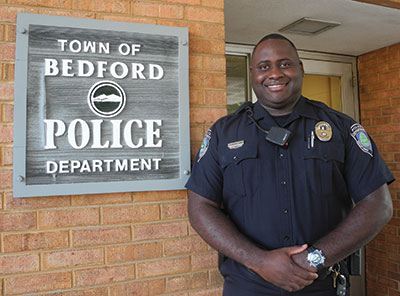 Nearly a decade ago, Chevy Thompson arrived in Lynchburg with little money and no idea what lay ahead. At Liberty University, he discovered people who cared both about him and about changing the world, and he gained a determination to make his community better.
Thompson, originally from Jamaica, arrived in Baltimore in 2003.  Shortly after, Thompson, then 26, began considering college. He applied at three Maryland schools, but then Liberty University — in Lynchburg, Va., a city he had never heard of — caught his eye.
He came to Lynchburg in August 2008 to begin his studies.
"I just let Jesus take the wheel," he said.
Once on campus, Thompson fell in love with Liberty.
"A school that lets you focus on your spiritual life as well as everyday life is just what I needed," he said.
As he struggled to make financial ends meet, Thompson became impressed with how people at Liberty seemed to genuinely care about him, and he got a full-time job as a landscape tech there.
While Thompson worked on the grounds crew for over four years, his goal was to enter law enforcement.
"That is what I have wanted to do since I was young," he said.
Thompson earned a position with the Liberty University Police Department as an armed security officer, and in 2015, was hired as a police officer by the town of Bedford, Va.
"I prayed, and I think this is where God wanted me," he said. "I love it here. People here care about other people and their community."
Thompson has always wanted to change his community for the better, and he especially wants to make an impact on local kids. In Bedford, about 20 miles from Lynchburg, Thompson is involved with Boys With A Dream, a group of teenagers who do community service projects.
"One of things I've noticed is that there is nothing for kids to do outside of school," he said. "There is nothing that appeals to their age group."
Before he came to Liberty, while living in Baltimore, Thompson was impacted by the Police Athletic League. He remembers fondly how police officers there would trade their uniforms for gym clothes and play sports with local teenagers.
Thompson would like to begin a Police Athletic League center in Bedford.
"We need a facility to help our kids grow," he said. "We need something to help them see law enforcement in a positive light."
For the moment, Thompson is working with Liberty University to help Boys With A Dream members and other children attend Liberty athletic events together with officers out of uniform.
Kristin John
Assistant principal, Altavista Combined School
When she graduated from Liberty in 2008, Kristin John took a job helping students at a nearby middle and high school. Having been raised in a military family that moved a lot, John grew to love the Central Virginia area and knew that this was where she wanted to settle down and raise a family of her own.
John had transferred to Liberty from the University of Hawaii at Manoa. She went on to earn her master's degree in administration and supervision from Liberty in 2015.  She is now in her second year as an assistant principal at Altavista Combined School in Altavista, Va., a community about half an hour south of Lynchburg.
"There are days I miss the classroom, but my ability to connect with, counsel, and coach kids is so much broader than when I taught in a single classroom," she said. "I have been better able to support teachers around me, and I work closely with parents and community members — I have the chance to celebrate the successes of many more children now in my current role."
John and her husband, Tim, bought their first house three years ago, and they had their first child, Preston, in September.
"Lynchburg is a wonderful place to raise a family," she said. "With my background and education, I am able to offer hope and options to kids. I emphasize that their education is truly their ticket to the world and that no one can take their education away from them."
Dan Manley
Senior pastor, Lakewood Baptist Church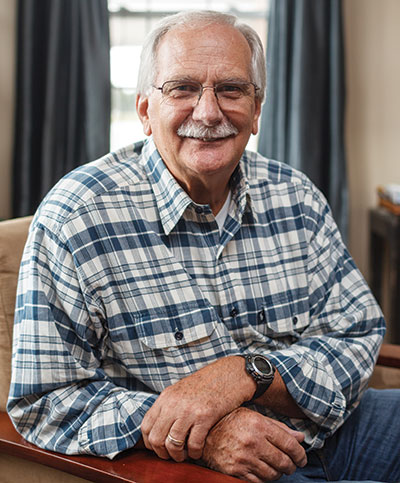 Dan Manley first learned of Liberty University before it even had a name. While he was serving as the first full-time youth pastor at Thomas Road Baptist Church in Lynchburg in 1970, Manley was invited to a lunch meeting with his senior pastor, Dr. Jerry Falwell, and Dr. Elmer Towns, a preacher who was in town visiting.
"I wondered why they both wanted to meet with me," Manley said, "and when we met, Dr. Falwell told me, 'By the way, we're getting ready to start a college — and you're going to be the basketball coach.'"
A year later, Manley had assembled Liberty's first sports team. He went on to coach six years at Liberty and, during that time, earned his B.S. in physical education, graduating in 1977. (Manley held an undergraduate degree in theology from Tennessee Temple University.)
He left Liberty shortly after graduation, going on to attend Delta State University in Cleveland, Miss., to work on his master's in physical education and serve as an assistant basketball coach. Other coaching and ministry jobs took him to Ohio, and in 1986, he began preaching full time. In 1999, he and his wife, Gail, were called to the mission field to pastor an English-speaking church in Quito, Ecuador, giving one-on-one care to missionaries there.
In 2002, 25 years after he had left Liberty, Manley returned to the Lynchburg area — though not under the best circumstances. While still in Ecuador, he received a call that his son (who was attending Liberty at the time) had been diagnosed with cancer. Manley quickly left to be with him in Lynchburg. His son's treatment was successful. Through some friends they had met in the hospital, they heard about the need for a full-time pastor at a church in the area. God led Manley to Lakewood, and soon he was calling Lynchburg, Va. — where he had first started in the ministry — his home once again.
It also didn't take long before he found his way back to Liberty. He regularly attends sporting events on campus, and for four years he provided analysis during television broadcasts of basketball games. "Having given birth to the basketball program, it's been neat to watch it grow," Manley said.
Manley also takes opportunities to impact students. Each semester, he shares his experience during pastoral ministry classes and mentors interns at his church. Through his personal experience of being mentored by Dr. Jerry Falwell, he knows that learning from other pastors is an important part of a student's education. "I learned so many things from him (Falwell) that you could never teach in a classroom," Manley said. "You learn that ministry is not just from the pulpit."
Manley, originally from Canada, has traveled to many places but doesn't know "of a more beautiful place than Lynchburg."
"Nestled in the foothills, you have the Blue Ridge Mountains, and within three hours you can be anywhere you want:  the beach, a major city, the countryside. Virginia has rivers, lakes, an ocean; to me Lynchburg is an ideal place to live because there's so much within grasp."