Hundreds of students joined Liberty University's first Life March on Jan. 29  — the same day the March for Life in Washington, D.C., held virtual ceremonies — representing the more than 60 million babies killed since the signing of Roe v. Wade.
The march followed a virtual Convocation that featured warriors in the battle for life: Allie Beth Stuckey, host of the Relatable podcast (keynote speaker); conservative activists and Liberty alumni David and Jason Benham; Be Their Village founder Christine Yeargin; and Susan Campbell, executive director of the Blue Ridge Pregnancy Center in Lynchburg. (Watch the Convocation on Liberty's YouTube channel).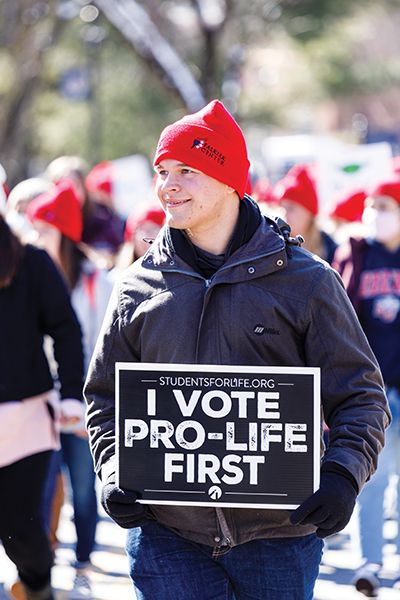 The event was sponsored by Liberty's Falkirk Center for Faith and Liberty, the student group Culture of Life 1972 (COL1972), and the Students for Life club. President Jerry Prevo gave a speech before the march.
"We gather here today so that here in America and around the world the hearts of people will be changed so we can overturn Roe v. Wade," he said. "Today, abortion is the greatest injustice going on in the world. And we're here today to stand up for those unborn who deserve, like you and me, a right to be born, to live, and to follow God's purpose for their lives."
The march began at the Freedom Tower and followed a route around the bookstore, down University Boulevard, and between Residential Commons II and III, finishing back on the Academic Lawn.
COL1972 donated 600 beanie hats, and live worship music played before and after the march.
"The Liberty University Life March was one of my favorite experiences thus far being a Liberty student," said junior Victoria D'Adessi, co-founder of COL1972. "The pro-life movement really embodies (Liberty founder) Jerry Falwell Sr.'s mission of being a Champion for Christ. We can't be Champions for Christ without being champions for the unborn."