Teams back in action as competition heats up for the Flames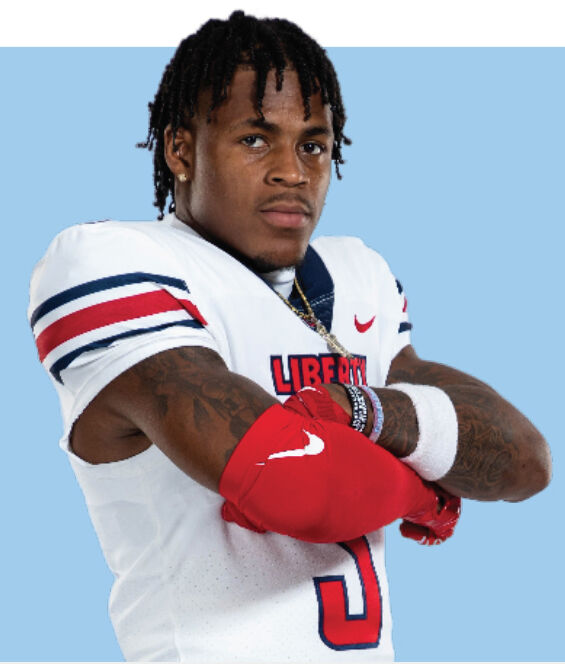 Football
Flames Football opened the 2022 season on the road on Sept. 3 with a thrilling 29-27 win over Southern Miss in the fourth overtime period.
The team will look to continue its incredible run this season as one of the more balanced FBS teams in the country the last few years. 
After capping off last season with a convincing 56-20 win over Eastern Michigan in the LendingTree Bowl, Liberty became one of five FBS teams in the country to win a bowl game each of the last three seasons, joining Alabama, Georgia, Kentucky, and Louisiana. 
The Flames were one of eight programs in the country that ranked in the top 25 in both scoring offense (No. 25 – 33.6 points per game) and scoring defense (No. 24 – 21.5 points allowed per game).
The 2022 home schedule is the most anticipated in program history. The six-game slate is highlighted by games against ACC and in-state foe Virginia Tech on Nov. 19 and future Big 12 Conference member BYU on Oct. 22. Fans will enjoy new seating options above the south end zone, which features a newly graded berm for ground seating and 23 cabanas along the concourse.
---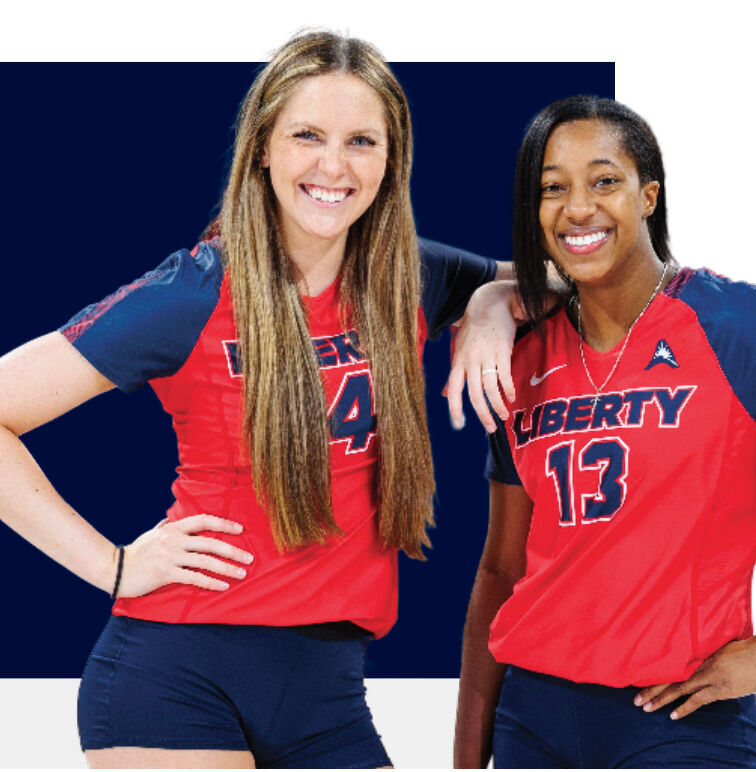 Volleyball
Liberty women's volleyball, under the direction of fifth-year Head Coach Trevor Johnson, looks to make a statement in its final season as a member of the ASUN Conference.
The Lady Flames have brought in an impressive cast of newcomers with a seven-member freshman class and three transfers. Liberty added a pair of starters from Lipscomb in setter Delaney Dilfer and outside hitter Kamryn Bacus, while welcoming libero Erica Lowery from Texas A&M.
Liberty also welcomes back two players who have missed significant time over the past two seasons. Redshirt senior Amelia Preston returns for her first full season since 2019, when she was an ASUN All-Conference first team selection and ASUN Scholar-Athlete of the Year. Redshirt sophomore Julia Mangum led Liberty in kills before suffering a season-ending injury in the spring of 2021.
Juniors Trinity Watts and Lydia Burts bring two years of starting experience, while rising sophomore Kate Phillips was named to the 2021 ASUN All-Freshman Team.
For the first time in program history, Liberty will be hosting two tournaments at Liberty Arena. The Lady Flames will also make their first trip to California since the 2010 season.
---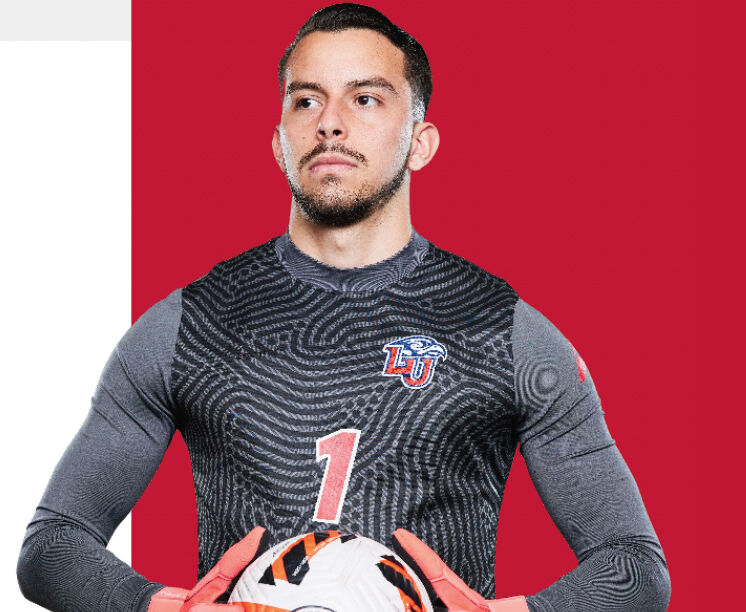 Men's Soccer
The team has qualified for the ASUN's six-team postseason tournament each of their first three seasons in the conference and is ready to take the next step by winning the ASUN title and claiming an automatic bid to the NCAA tournament this fall.
Fourth-year Head Coach Kelly Findley's team will be led by midfielders Marko Mitrevski and Seth Clark. Mitrevski, a senior, has been named to the ASUN All-Conference First Team, while Clark has earned all-conference second team honors each of the past two seasons. Mitrevski scored three goals and had two assists last fall. Clark led the Flames and finished third in the conference with six assists.
Meanwhile, in goal, the Flames return the duo of senior Danny Cordero and sophomore Blake Franzen. The two each saw time in the Liberty net in 2021, with Cordero starting nine games and Franzen four games.
Besides its ASUN schedule, Liberty has already faced NCAA soccer powers Maryland and UCLA for the first time in program history on the pitch this fall.
---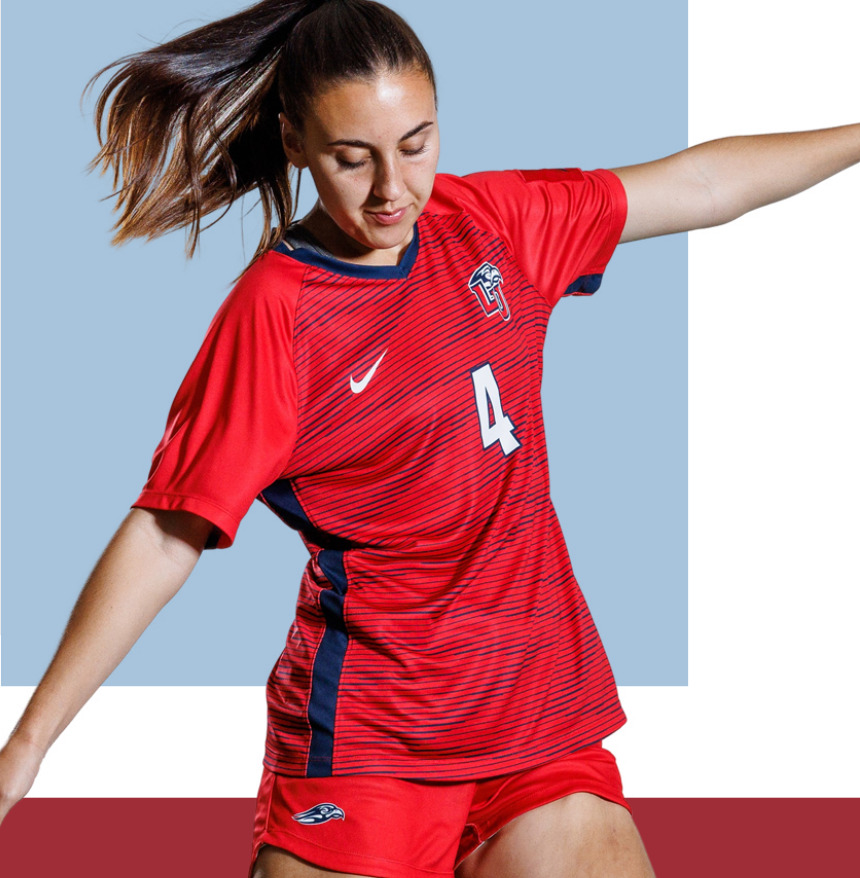 Women's Soccer
The team is coming off an 11-7-1 season as the reigning co-champions of the ASUN East Division. The Lady Flames were set to face two Power Five opponents this season: Pitt from the ACC (Sept. 8) and Penn State, its first-ever Big 10 opponent on Sept. 11. (Both games were held at press time; follow LibertyFlames.com for coverage.)
Head Coach Lang Wedemeyer enters his sixth season at Liberty. During the offseason, he was named a recipient of the 2021 United Soccer Coaches Advocacy Awards of Excellence, winning the Faith-Based Coaches Award.
The Lady Flames return senior McKinley Burkett, a 2021 All-ASUN second-team selection, and Meredith King, who was named the 2021 Spring ASUN Freshman of the Year. Liberty welcomes 11 newcomers, including Saydie Holland, a transfer from Ole Miss, and Ivy Garner, who is coming off an appearance with the U20 National Team for Puerto Rico and scored a goal in a CONCACAF match this summer.
Liberty will play eight games at home this season.
---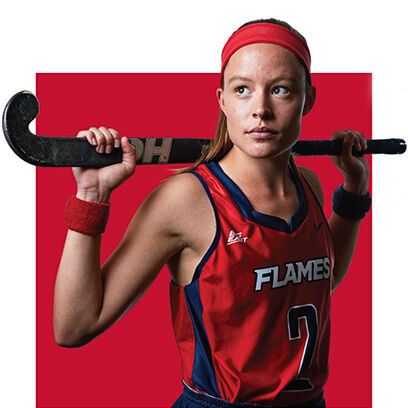 Field Hockey
Liberty is coming off a historic 2021 campaign in which it won its first BIG EAST title and went on to make school history by advancing to the title game of the NCAA Division I Field Hockey Championship.
Five of Liberty's six NFHCA All-South Region honorees are back, including two of its three All-Americans from last season, junior goalkeeper Azul Iritxity Irigoyen (second team) and senior forward Daniella Rhodes (third team).
The Lady Flames also return first team all-region selection Bethany Dykema and second team all-region honorees Jodie Conolly and Lizzie Hamlett, along with 2021 postseason hero Charlotte Vaanhold. Vaanhold sent Liberty to its first national championship game in school history with a game-winning goal in double overtime versus No. 5 Maryland at last year's Final Four.
Liberty was scheduled for a national championship game rematch at No. 1 Northwestern on Sept. 9 (the game occurred at press time; visit LibertyFlames.com for results). The 2022 schedule also includes several top-25 teams from a season ago —  No. 6 Louisville (Oct. 9), No. 8 North Carolina (Oct. 2), No. 13 Virginia (Oct. 18), No. 17 Old Dominion (Oct. 28), and No. 19 Connecticut (Sept. 23).
---
Men's Cross Country
The team looks to wrap up its tenure in the ASUN Conference with a league title this fall, following four consecutive ASUN runner-up finishes. Liberty has placed either first or second at each of its last 19 men's cross country conference meets overall. This year's ASUN Championships are scheduled for Oct. 29 in Huntsville, Ala.
Veterans Caleb Olson and Kyle Harkabus will lead the way for Head Coach Isaac Wendland's squad. Olson and Harkabus have each claimed All-ASUN cross country laurels previously, with Olson doing so twice. Olson lowered his track 10K personal best to 29:14.24 during the spring.
Will Jefferson is poised to make his collegiate cross country debut following a stellar freshman campaign on the track. He placed third in the ASUN 1,500 final, set program freshman records in the outdoor 1,500 (3:45.28) and indoor mile (4:06.63), and raced to a 13:56.61 5K clocking.
The Flames have also added Nicholas Kiprotich, a transfer from Iowa Western Community College. He came in fourth at the NJCAA Division I Cross Country Championships a year ago.
---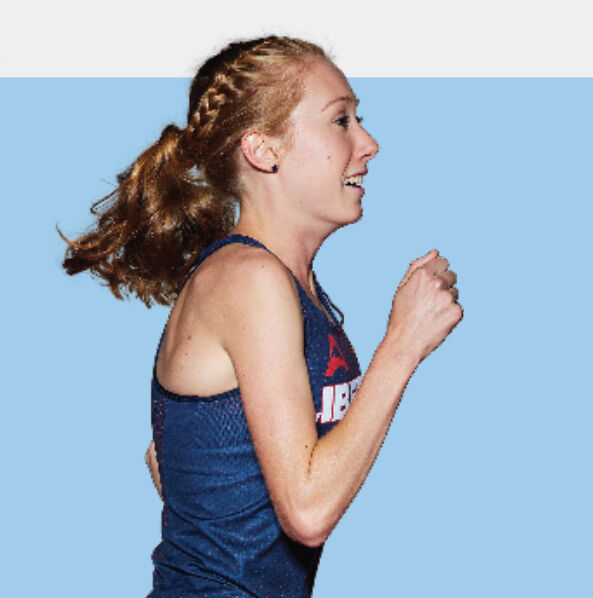 Women's Cross Country
The team is coming off its most successful two-season stretch in program history. During the last two years, the Lady Flames have qualified for the NCAA Division I Championships for the first time (Spring 2021), posted their best-ever NCAA Southeast Regional finish (fifth in Fall 2021), and won back-to-back ASUN Conference team titles.
The dynamic duo of Calli Doan and Adelyn Ackley-Fairley is back to pace the Lady Flames' formidable lineup. Ackley-Fairley claimed back-to-back ASUN individual cross country titles in 2019 and Spring 2021 before Doan took top honors in Fall 2021. Doan then went on to place 28th nationally last season to earn All-America distinction.
Multiple time All-ASUN cross country runners Noel Palmer (three times), Anna Hostetler (twice), and Priscillah Kiplagat (twice) also dot second-year Head Coach Heather Zealand's roster. They will be joined by highly touted incoming freshmen Ava Gordon (10:19 2 mile), Katrina Schlenker (10:26 3,200), Katie Sigerud (10:35 3,200), and Kayla Werner (10:05 2 mile, 16:44 5K).
The NCAA Division I Cross Country Championships return to Stillwater, Okla., on Nov. 19. The Lady Flames raced there as a team at the Spring 2021 NCAA meet and would love a return trip to the Sooner Stat
---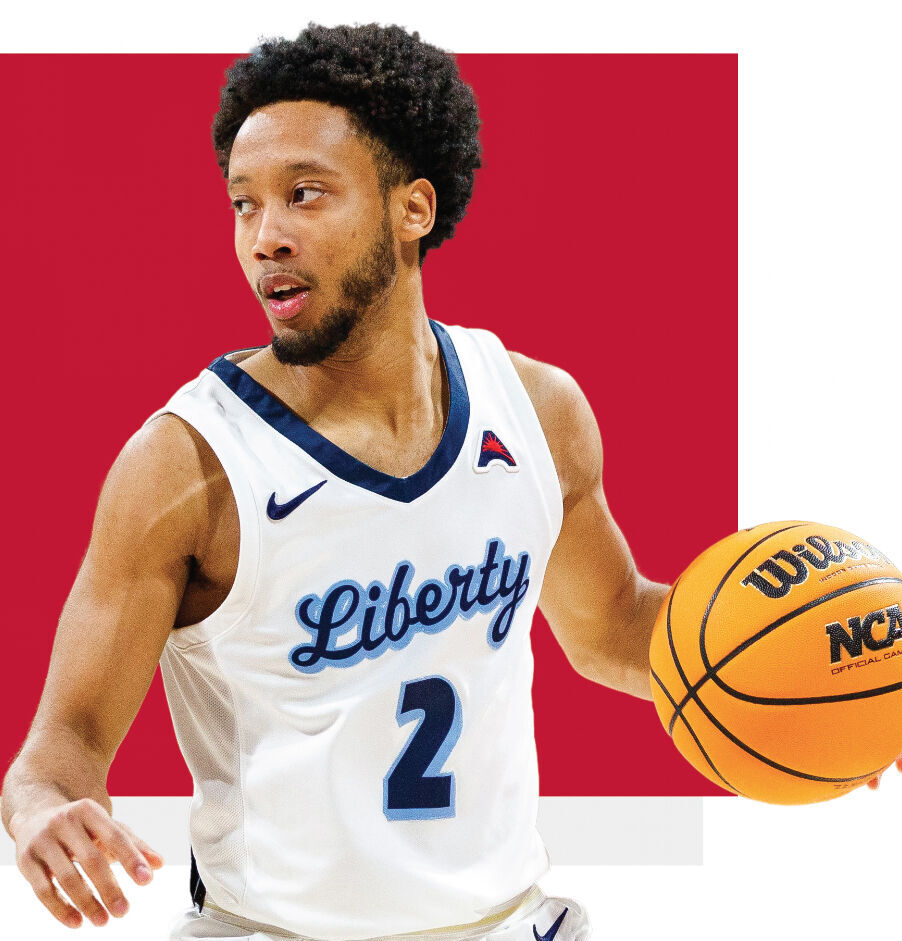 Men's Basketball
The 2022-23 season will be an exciting one for Flames Nation as Liberty is led by Darius McGhee, who returns as the two-time reigning ASUN Player of the Year.
McGhee is the top returning scorer in Division I men's basketball. Last year, he averaged 24.1 points per game and was the only player in the last 30 years of college basketball to score 810 points, grab 145 rebounds, record 115 assists, and make 140 three-pointers in a single season. The lofty numbers have McGhee entering the season as a Preseason All-America candidate.
The team has won 104 total games over the last three seasons, which ranks fourth in the country. 
Head Coach Ritchie McKay enters his ninth season at Liberty and is one win away from 200 career wins at LU. Liberty returns seniors Blake Preston, Shiloh Robinson, and second-team All-ASUN selection Kyle Rode. Liberty also returns one of the nation's best defenses; the Flames ranked No. 31 in scoring defense. The team also had one of the most prolific offenses in the country, ranking No. 9 in the nation with 341 three-pointers made.
The Flames welcome a trio of freshmen to Liberty Mountain in Zach Cleveland, Colin Porter, and Ben Southerland, who all look to make an immediate impact on this
year's squad. 
---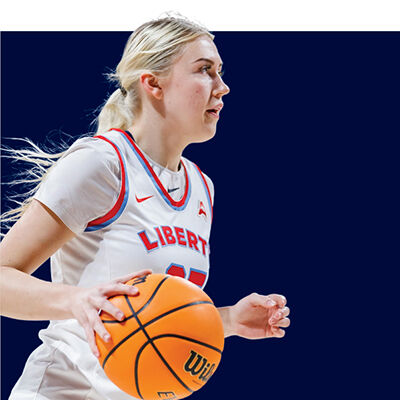 Women's Basketball
Last season, the Lady Flames tied a program record with 28 wins and picked up their first-ever victory in the Postseason WNIT.
Head Coach Carey Green's squad went 14-2 in ASUN Conference play and reached the ASUN Championship semifinals for the fourth year in a row. 
First team All-ASUN center Mya Berkman returns for her fifth season, anchoring the lineup. She paced the Lady Flames in points (12.3) and rebounds (7.4) a season ago, while ranking No. 3 nationally with a 66.3 field goal percentage.
Five of Liberty's top seven scorers from 2021-22 are back this year, also including ASUN All-Tournament Team member Dee Brown (7.7 ppg, 5.9 rpg), Jordan Bailey (6.9 ppg), Bella Smuda (5.5 ppg, 5.0 rpg), and Kennedi Williams (4.9 ppg, 3.8 apg). Williams' 126 assists on the season were the most by a Lady Flame in seven years.
The Lady Flames will tip off the season with a Nov. 7 home matchup with Richmond. The team is 28-2 all-time at Liberty Arena.
---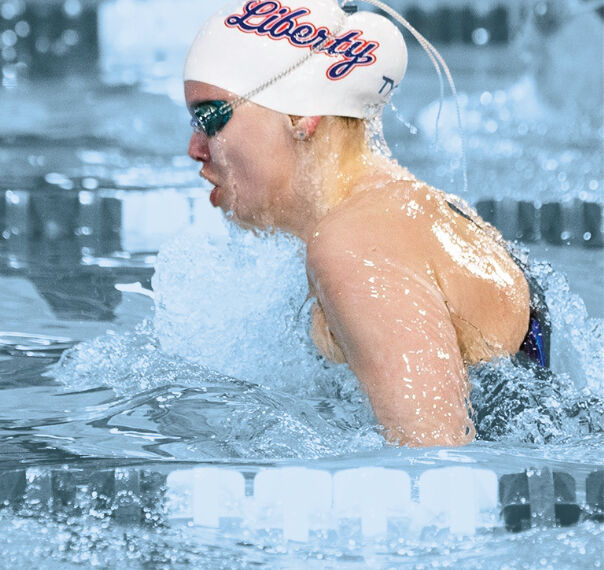 Women's Swimming & Diving
As the four-time defending CCSA champion, Liberty enters the 2022-23 season looking to keep its championship streak alive. The Lady Flames won the 2022 CCSA Women's Swimming & Diving Championship in resounding fashion, defeating second-place FGCU by more than 300 points.
Liberty returns two-time CCSA Diver of the Year Maddie Freece, who has already won three individual CCSA event titles and competed in two NCAA Zone Championship finals in her career. Freece is also one of three 2022 CSCAA Scholar All-Americans returning to the roster, joining junior Abbie Shaw and sophomore Sydney Stricklin.
Stricklin became the seventh Lady Flame to be named Most Outstanding Female Newcomer of the CCSA Championship Meet. Shaw, a Kentucky transfer, won both the 100 and 200 backstroke at the 2022 CCSA Championship.
Seven-time CCSA medalist Eva Suggs and five-time CCSA podium finisher Jessica Schellenboom highlight the senior class, two of eight returning conference medalists on the 2022-23 team roster. 
Every returner on this season's roster has been a part of at least one CCSA Championship team. 
---
Division I Men's Hockey
A veteran squad with 18 returning players will give the Flames a shot to qualify for their seventh straight national tournament and reach the "Frozen Four" for the second time in three years. 
The team is anchored by graduate defenseman and head captain Colin Baird, senior forward and alternate captain Matt Bartel, and senior goalie Hunter Virostek. Head Coach Kirk Handy, who is entering his 23rd season, is two wins away from eclipsing the 500-win mark of his coaching career. 
The Flames finished 22-10 and ranked sixth in the ACHA Division I last season, with seven of those losses against teams ranked in the top five. The 2022-23 schedule includes road trips to perennial powers Minot State (N.D.), Adrian (Mich.), and UNLV, where Liberty will also play NCAA Division I Alaska Anchorage.
The Flames will be battle-tested by the time the ACHA National Championships roll around, March 16-21 in Marlborough, Mass.
---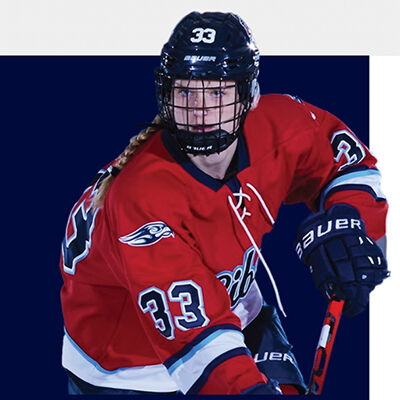 Division I Women's Hockey
An extremely competitive and balanced schedule with 13 home games at the LaHaye Ice Center and 15 away contests awaits Liberty's four-time-defending ACHA Division I National Championship women's hockey team, which is riding a record 40-game winning streak.
The Lady Flames, led by three forward captains (graduate Shelby Bradford, reigning ACHA DI Player of the Year senior Yannick Truter, and junior Brityn Fussy) will play 23 games against ACHA Division I opponents and two against NCAA Division III programs in Pennsylvania, at Neumann University in Aston, Pa., on Oct. 22 and Chatham University in Pittsburgh on Oct. 23. That should prepare Liberty to contend for its fourth consecutive Women's Midwest College Hockey (WMCH) tournament championship, Feb. 24-26 in St. Louis, and fifth-straight national crown.
Following the lead of Liberty's ACHA DI men's hockey team, the Lady Flames will travel to Finland to serve with Hockey Ministries International over Christmas Break.
---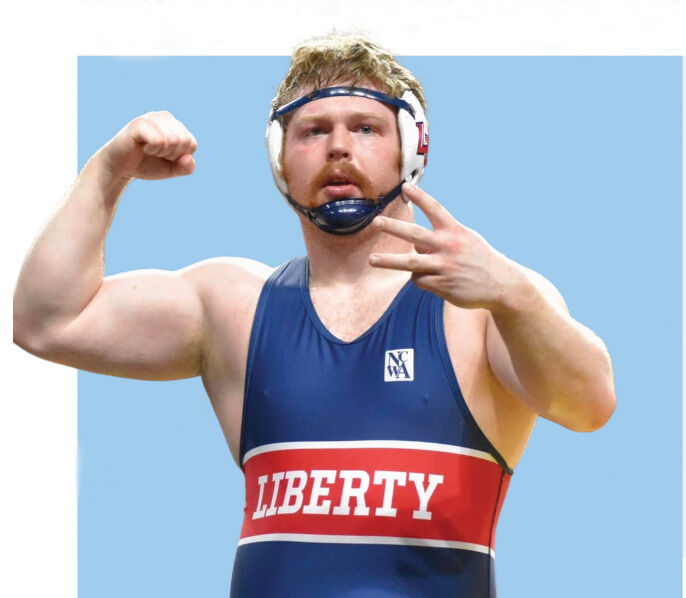 Men's Wrestling
The team claimed its fourth consecutive NCWA Grand National Championships in Allen, Texas, and NCWA National Duals at the LaHaye Ice Center last season as well as won its 10th Mid-Atlantic Conference (MAC) Tournament title in a row. 
The Flames broke their own NCWA record with seven individual national champions (out of 11 weight classes) at the Grand Nationals. That includes Jeff Allen, a rising graduate student who won his third straight 235-pound crown, matching Austin Amos for most in program history at the NCWA level, though one short of Head Coach Jesse Castro's record when he competed for the Flames from 1977-81 in the National Christian College Athletic Association.