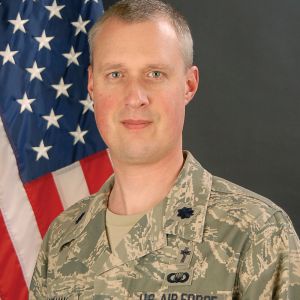 Lt. Col. Brian Bohlman ('96), Associate Professor of Chaplaincy Studies at Liberty Baptist Theological Seminary since 2009, touched several hearts of military personnel on his 90-day deployment to Afghanistan March-May 2012.
He served at Craig Joint Theater Hospital where he worked alongside 528 Joint Medical Staff who provided U.S. standard and urgent health care to U.S. and Coalition forces, Afghan National Security Forces, contractors, and local nationals. Bohlman said he ministered to more than 1,500 wounded warriors during his tour of duty.
"My primary mission was to offer spiritual care to every wounded warrior who came through our facility," he said. "I may never again see the wounded warriors that I met in the trauma hospital, but I will always remember them and treasure the opportunity to provide them with a ministry of presence, care, and hope as they made their journey home."
Bohlman has served in the U.S. military for 20 years and as chaplain for 12 years. He was inspired to join the military by the courage of the young men and women in the Gulf War in 1991.
Bohlman explained how God equipped him for the task through his time at Liberty.
"While completing my undergraduate degree at Liberty, I received a solid academic foundation that provided me with a Christian worldview. I will never forget my roots at Liberty. It is exciting to see how God continues to bless this institution as they train Champions for Christ," Bohlman said.
Since becoming a chaplain, he has helped recruit other chaplains and published the book, "For God and Country: Considering the Call to Military Chaplaincy," to help those who are considering the vocation of military chaplaincy.
"There will always be a need for chaplains to provide spiritual care to those located outside the four walls of the local church. I am excited to get back into the online classroom and serve the students that God has called into this exciting ministry," Bohlman said. "I am at a point in my career where I have the opportunity to supervise and mentor the next generation of chaplains who will eventually take the ministry baton from me."
Bohlman received his bachelor's degree in general studies in 1996 from Liberty.
He was recently promoted to Lieutenant Colonel and became the Wing Chaplain at the 169th Fighter Wing, McEntire Joint National Guard Base in Eastover, S.C., where he and his family now reside.