Liberty University accreditation reaffirmed for next 10 years
After a rigorous review, the Southern Association of Colleges and Schools Commission on Colleges (SACSCOC) reaffirmed Liberty University's accreditation for the next 10 years. The accreditation affects almost every area of the university.
President Jerry Falwell informed the campus of the continuing accreditation during the Dec. 7 Convocation, calling it a monumental achievement.
"I'm so grateful for the hard work everyone put into this, from the faculty to the Provost's Office," Falwell said. "To have full accreditation from SACS, no sanctions, for the next 10 years, is going to allow us to focus fully on our very big plans for the future. This reaffirms that we are doing things the right way and meeting the highest standards required of universities."
SACSCOC requires a rigorous self-study report every 10 years, including responses to 96 standards, as well as an additional report every five years.
"It's impossible to really describe how complex that report is," said Provost Dr. Ron Hawkins. "It's thousands of pages and appendices that look like the IRS code. We've been seriously engaged in this report for the last two years."
Liberty was first accredited by SACSCOC in 1980. In 2009, Liberty received Level VI accreditation, the highest classification from SACSCOC, reserved for colleges and universities that offer four or more doctoral degrees. 
Liberty's growth and impact recognized by state publications
State of the Commonwealth Report:
The 2016 State of the Commonwealth Report features a 20-page spread on Liberty University's explosive growth and "burst into prominence" over the last decade. The report is produced by the Center for Economic Analysis and Policy at Old Dominion University (ODU) and is jointly sponsored by ODU's Strome College of Business and the Virginia Chamber of Commerce.
James V. Koch, Board of Visitors professor of economics and president emeritus in the Strome College of Business at ODU, highlighted many areas of the university and noted Liberty's plans for the future and its goal of becoming the Evangelical Protestant equivalent of the University of Notre Dame or Brigham Young University.
Also in the report, an unnamed higher education official from Washington, D.C., heaps the following praise: "Liberty University is nothing less than a marvel. There are few stories like it in the entire history of higher education. They are teaching lessons to my institutions on a daily basis."
Virginia Business Magazine:
Virginia Business Magazine published a feature article, "A Vision Comes to Pass: Liberty University has transformed itself into Virginia's biggest school," in the fall, telling the story of a decade of impressive growth at Liberty, including new construction, new academic offerings, and a rise
in enrollment.
Reporter Heather Hayes toured campus at the start of the Fall 2016 semester and highlighted some of Liberty's state-of-the-art facilities. The story features a photo gallery and interviews with President Jerry Falwell and Provost Ron Hawkins.
Hayes also chronicled the university's history through its financial struggles in the 1980s to its status as a pioneer in online education. Alan F. Edwards Jr., director of policy studies for the State Council of Higher Education for Virginia, is quoted as saying "(Liberty) really got a jumpstart on the other schools, and they've remained popular because of the breadth of what they offer, which includes a lot of liberal arts programs, which is very unusual. They've also got the economies of scale to keep the tuition costs relatively low."
The article points out that Liberty's tuition is 30 percent below the U.S. average for private schools. "What's more," Hayes writes, "students' second-choice schools weren't other private, Christian colleges but Virginia public universities, led by James Madison, George Mason, and Virginia Commonwealth University."
Economic report reveals Liberty's tremendous impact on Virginia
Liberty University's impact on the economy is not only seen in the greater Lynchburg area, but also throughout the Commonwealth of Virginia, according to an independent study.
During the 2014-15 academic year, Liberty University, its associated enterprises, students, and visitors totaled $593 million in direct spending, generating almost $1.1 billion in economic activity in the Lynchburg MSA (Metropolitan Statistical Area), according to a report by Richmond, Va.-based Mangum Economic Consulting LLC. Statewide, the contribution in direct spending was $694 million, with $1.4 billion in economic activity. The report showed that every $1 of Liberty's state spending is generating $2.04 in economic activity in Virginia.
In December, the Lynchburg Regional Business Alliance held its 2016 Economic Summit, where it discussed Lynchburg's accomplishments in economic growth, echoing the report's findings that Liberty draws an array of business to the area. Barry DuVal, president of the Virginia Chamber, called Liberty "the economic engine that helps this region grow and prosper and attracts people from around the world."
Liberty's regional spending was responsible for supporting 11,080 jobs in the Lynchburg MSA, which generated $417 million in labor income, according to the report. Liberty was also Lynchburg's largest employer between 2014-15, providing jobs for 5,469 individuals in the Lynchburg MSA and more than 8,000 worldwide. According to the report, the city of Lynchburg had 51,163 jobs in 2014, meaning about one in every five jobs was somehow connected to Liberty.
Through volunteer initiatives, Liberty students contribute 975,511 volunteer hours per year. Those volunteer hours are estimated to add $8.4 million within the Lynchburg MSA each year.
"In sum, Liberty University is a rapidly growing institution that has a significant economic and fiscal impact on the Lynchburg MSA and the state of Virginia as a whole, and plays a very active and positive leadership role within its community and Virginia," the report concluded.
Liberty featured as top university on Instagram
Liberty University has been recognized as the No. 1 university on Instagram, according to an article highlighting "15 Universities That Are Nailing It on Instagram." The post was compiled by eCity Interactive, an award-winning digital agency, and placed Liberty ahead of universities like Colorado State University (No. 2), Arizona State University (No. 3), Duke University (No. 4), West Virginia University (No. 6), the Massachusetts Institute of Technology (No. 7), Penn State University (No. 8), and the University of Virginia (No. 13).
Liberty's posts are ones "that anyone can relate to," the article explained. "They inspire school spirit. Focusing on human shots as well as campus photos personalizes your campus and connects you to your students."
The university has more than 52,000 followers on Instagram and typically receives an average of 2,000-3,000 likes per photo, as well as over 7,000 views on its most recent videos.
Student cracks code hidden in Science Hall DNA art display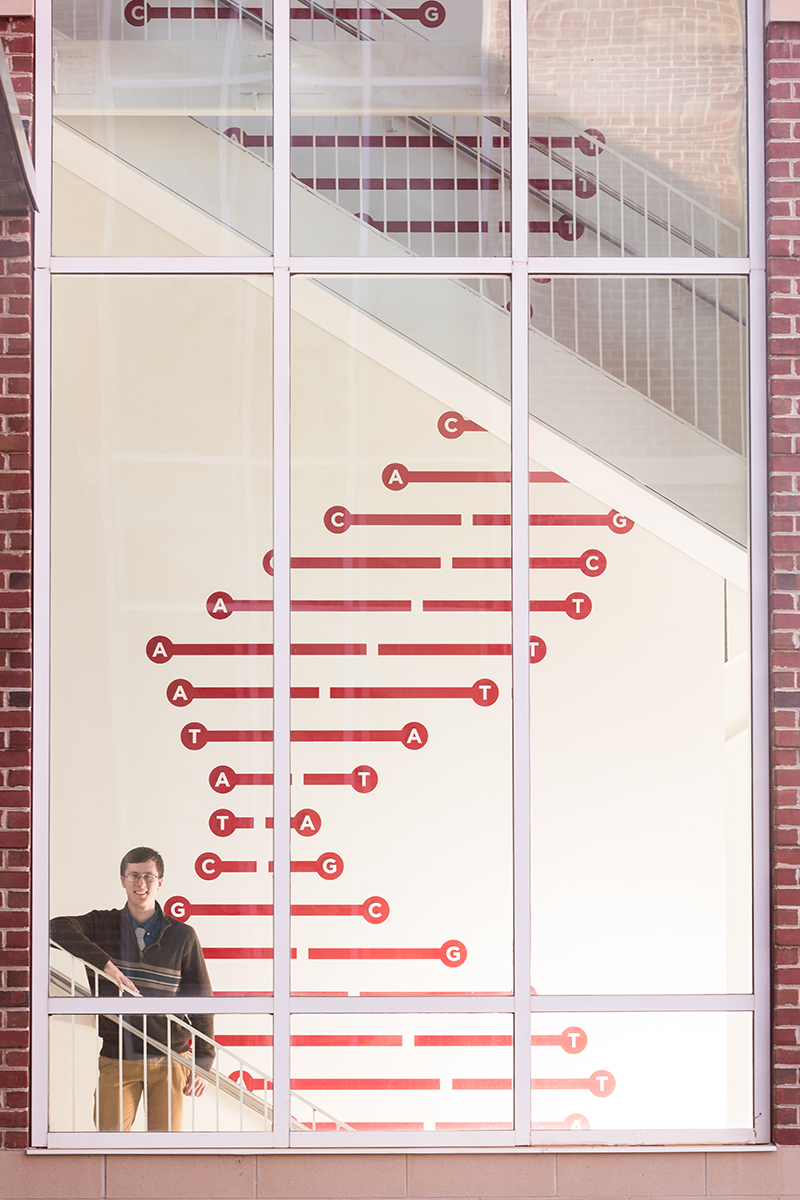 A four-story DNA double helix crawls up one of the stairwell walls in Liberty University's Science Hall. It's been more than a year since the facility was completed and, unbeknownst to passers-by, the artwork — a winding red ladder with a sequence of letters — features a hidden message.
Hidden, that is, until November, when senior biomedical sciences major Josiah Twiddy heard rumors that the art may conceal a secret. He decided to write down all of the letters, and 20 minutes later he had solved the puzzle.
"If you read genetic code," Twiddy explained, "there are four letters — A, G, T, and C. Every three pairs of letters in that code stands for an amino acid, which is a building block for a protein. Every amino acid has a certain letter associated with it. If you read the code in groups of three, and then you look at the letter associated with the amino acid that each group of letters represents, the artwork spells out, 'Christ is risen, He is risen, amen.'"
"I hope the hidden code in the DNA challenges our students to look for things that may be hidden in plain sight," said Dr. David DeWitt, chair of Liberty's Department of Biology & Chemistry. "The code in the DNA is a reminder of two things: First, it is a reminder that the Lord Jesus Christ is our risen Savior. Second, for us as scientists, it's a reminder that we are really just uncovering what God has done, and it is possible to recognize evidence for design."
Twiddy said he appreciates the thought put into planning the one-of-a-kind artwork.
"The designers were putting what is most important first — glorifying God in all we do," he said. "Liberty is giving us a good education, but on top of that, even in a piece of artwork, leadership is showing us that their main goal is our walk with Christ. It is cool enough that the DNA is there, but it is even better that there's actually a message in it. I'm amazed how they did that." 
Project tests blood samples at historic home used as Civil War hospital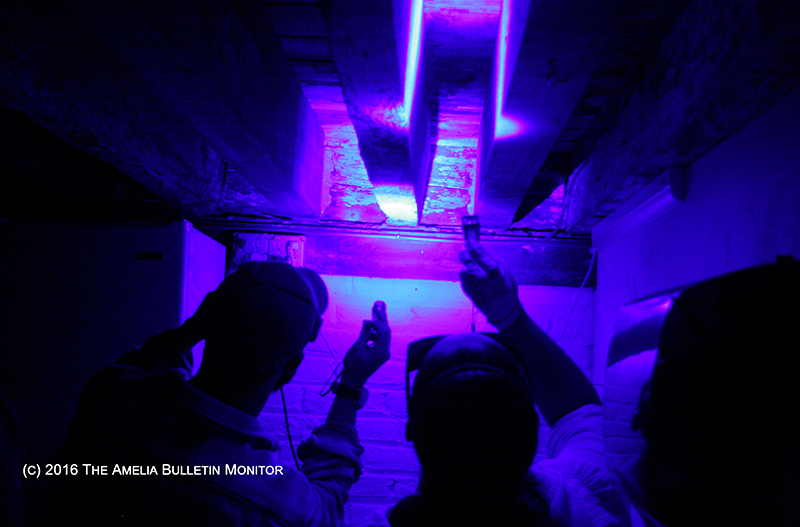 Forensic science students are getting an in-depth look at American history as they analyze blood samples taken from the Hillsman House in Rice, Va., which served as a Union field hospital during the last major Civil War battle fought in Virginia.
The project, funded by a university Illuminate Grant, brought students to the historic site — now a museum — last fall to collect samples from a number of stains on the floorboards.
Dr. J. Thomas McClintock, director of forensic science at Liberty and a world-renowned expert in his field, initiated the project.
The research is unlike any other — McClintock and his students are using a variety of presumptive tests and extraction methods to try and generate DNA profiles from samples that are 151 years old. To do this, Liberty acquired an Applied Biosystems/Hitachi Model 3500 Genetic Analyzer, worth about $150,000. McClintock said that even the FBI is not using this new piece of equipment yet.
Students first ran a number of presumptive blood tests, both at the site and in the lab, to confirm what the samples were made of. Establishing that they were, in fact, blood corroborated historical accounts of Union and Confederate soldiers being treated there and also supported stories supposedly told by residents of the home, who claimed to witness blood dripping between slats of the wooden floor as they were locked in the basement.
The research team is now working to extract as much DNA as possible from the samples, hoping to create a database of individual DNA profiles. Records show that about 500 soldiers were treated on one surgical bed and two post-op beds in the house.
"Since there were so many soldiers, we are hoping to see DNA profiles from many contributors," McClintock said.
McClintock said that once the research is completed and made public, tests could be done to find familial matches for people who may have had a relative who was injured or killed in the battle.
The team is planning to present their research findings later this semester.
Research around Liberty
Faculty and students from multiple departments are engaged in a number of exciting research projects that are enhancing the learning experience while making significant contributions to their fields of study.
Biology:

Upper-level biology students interested in conservation have the opportunity to take part in a long-term population study of the timber rattlesnake along the Blue Ridge Parkway. During the summer months, snakes are captured, marked and measured, then released so researchers can gather data beneficial to understanding population ecology. This study, directed by Dr. Norman Reichenbach, professor of biology, is useful for assessing impacts on and trends in the reptile's population, which has shown significant decline across its range.
Chemistry:
Working with Dr. Alan Fulp, associate professor of chemistry, students are helping to make new pharmaceutical active compounds. Unlike many other pharmaceuticals, these new compounds target the endocannabinoid receptors that are located outside of the central nervous system, rather than those inside the brain and spinal cord, and can lessen the side effects associated with other drugs while maintaining the same positive effects in treating a variety of disorders. The endocannabinoid system impacts appetite, mood, memory, and pain sensation.
Engineering: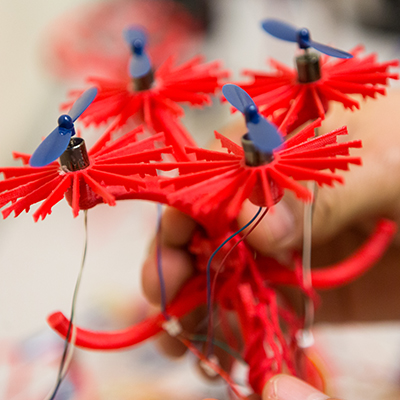 Engineering students have begun designing and building robots that resemble and fly like dandelions, reacting to wind. The concept belongs to Dr. Hector Medina, assistant professor of mechanical engineering, and has never been attempted before. The first wave of the project involved collaboration between mechanical and computer engineering students to create prototypes with limited hovering capacity. This semester, the research team is fine-tuning the project to improve stability during flight.
Psychology:
A team of psychology students have begun a study to investigate the effects of binge sugar consumption in adolescent and adult rats. It is hypothesized that consumption of large amounts of sugar during adolescence will result in memory impairment, enhanced alcohol consumption, and changes in key neurological indicators like dopamine receptors (D2). The project continues a study conducted last year that found adolescent mice exhibit depression-like symptoms when sugar is withheld after a period of binge use. The series of studies is intended to provide insight into the possible lifelong effects of sugar on humans when consumed in high quantities during this important developmental period.
History: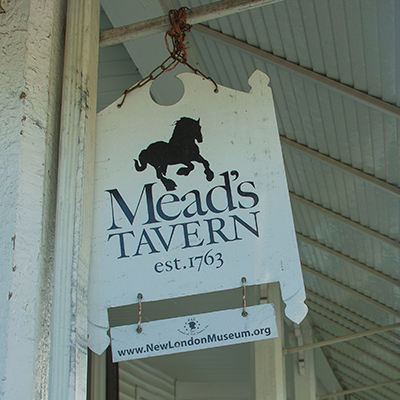 With the purchase of the historic Mead's Tavern (built in 1763) by the university in the summer of 2015, students are gaining hands-on experience in historic preservation and archaeology. The Department of History has been working with a local historical organization and renovation professionals to restore the building to its original design. The building was used as an ordinary (or tavern) that provided meals and lodging to travelers in the once-bustling colonial town of New London, about 15 minutes from campus. It is believed to have attracted well-known historical figures, including Thomas Jefferson, Patrick Henry, and Daniel Boone. Students have also been educating the community under a new public history program, presenting their research on the rich history of the town.
Treasure seeker: Professor uncovers one of year's top archaeological finds in Israel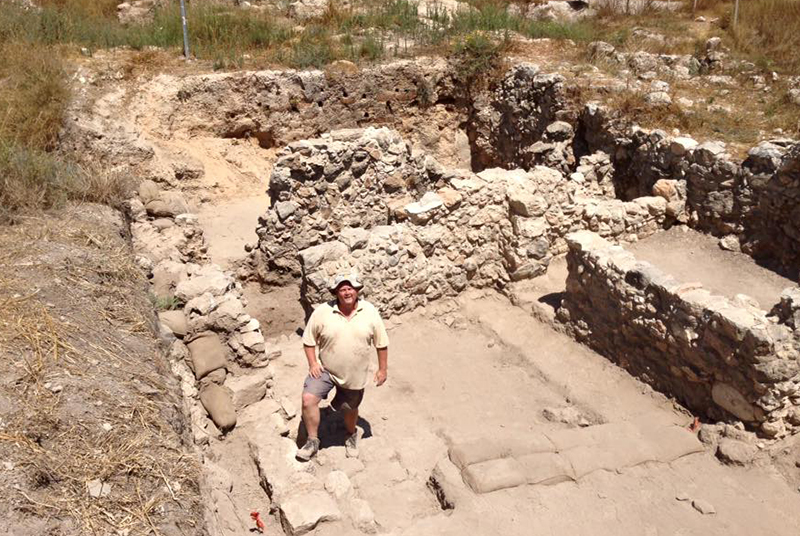 Teaming up with archaeology professors from New Orleans Baptist Theological Seminary, Dr. Chet Roden, an associate professor of Old Testament and the chair of graduate online Biblical Studies in the Rawlings School of Divinity, made a discovery last summer that was listed as one of the "Best Archaeological Finds in Israel in 2016" by Haaretz, an Israeli publication and website.
In the foundation of what is believed to be military barracks in the biblical city of Gezer, Roden and his colleagues uncovered a treasure trove of silver and gold relics wrapped in linen inside a small piece of lidded pottery dating back to 1700-1500 B.C. It is believed to be the best-preserved cache from that time period ever discovered in Israel.
The ancient Canaanite center of Gezer is located west of Jerusalem along a strategic highway between Egypt and Mesopotamia in an area allotted to the tribe of Ephraim and where much of Old Testament history took place. The site is now part of the Israeli National Park System.
The School of Divinity has signed on as a consortium member for the archaeological excavation of the site, which started in 2009. The team's primary objectives are to fully excavate the tunnel, determine the approximate time period in which Gezer's unique water system — an astounding tunnel over 20 feet wide and 150 feet deep — was originally constructed, and to eventually open it to the public.
During a recent excavation of the tunnel, a mold to form idol plaques was found. These plaques represented either the Canaanite goddess Astarte or the Egyptian goddess Hathor. Roden believes a silver pendant he found in the pottery last summer also represents Hathor and was left, along with the other small relics, as an offering to her for protection.
He theorized during a presentation to the Evangelical Theological Society that this discovery of pagan relics is evidence of syncretism — the blending of two belief systems — in the area.
Roden plans to return to Gezer for this year's dig, May 20-June 9.
Pre-med student represents Liberty through research and humanitarian efforts
For Ramon Misla David, a junior majoring in biomedical sciences (pre-med) in Liberty University's Department of Biology & Chemistry, hands-on learning opportunities have already led to success. He has completed two competitive internships with the National Institutes of Health (NIH) and presented his research on Post-Traumatic Stress Disorder (PTSD) at a national conference.
With the ultimate goal of attending medical school, Misla David spent the past two summers interning with the NIH, participating in ongoing PTSD research at Ponce Health Sciences University in his home of Puerto Rico, and gaining experience in behavioral studies, surgery, and tissue analysis. His research focused on the expression of a protein in the brain associated with PTSD, demonstrating that lower levels of this protein in rats correlated with more fear.
The long-term implications of the study could include screenings for soldiers to determine future susceptibility to PTSD and enacting preventative measures.
Misla David said that he was encouraged to apply for the internships through Liberty's Eagle Scholars Program, which trains high-achieving residential, undergraduate freshmen and sophomores for leadership. He was invited to display his work at the Annual Biomedical Research Conference for Minority Students (ABRCMS) at the Tampa Convention Center in Florida in November. Misla David was the first student from Liberty to present at the conference.
As a minority student, Misla David appreciated the opportunity to see students like him engaged in research.
"It helped boost my pursuit, my drive, to go deeper into academics," he said. "It really motivated me to know that there is a lot of interesting science going on and a lot of opportunities available. It was great to be a part of that, to present my research, to add my grain of sand. It made me feel like I was a part of something bigger."
In addition to his academic pursuits, Misla David has put his heart into starting a campus chapter of a health care charity for children — the Foundation for International Medical Relief of Children (FIMRC). The chapter, for which Misla David serves as president, raises money to support the organization's mission of bringing health care to underserved communities in the developing world. Liberty's FIMRC chapter has already helped a local single mother with farm work and plans to add health care service opportunities this semester as well as a medical service trip to a country where FIMRC is at work.
LU helps Gleaning For The World provide relief for Hurricane Matthew victims
Hurricane Matthew caused devastating flooding along the East Coast in October, and Gleaning For The World (GFTW) was among the first relief organizations to respond. Liberty University then offered to match, dollar-for-dollar, up to $12,500 in donations to GFTW to help the people of Lumberton, N.C., a city that was hit hard by the flooding. Liberty promoted the fund drive throughout the Lynchburg community and its website and donors responded by far exceeding the goal. In all, about $37,500 was raised between Dec. 13-31. The funds were used to send 12,300 blankets, 2,000 Bibles, 126,000 pounds of food, 1,000 Christmas gifts, and a load of roofing material to help residents of Lumberton begin rebuilding their lives.
While the match is over, donations are always appreciated. Visit GFTW.org for more information.
Medical students find ways to give back
Throughout the year, student-doctors from Liberty University College of Osteopathic Medicine (LUCOM) take time out of their strenuous schedules to give back to the community. Here's a brief look at what they accomplished in 2016:
Spring Semester:

LUCOM-SOMA (Student Osteopathic Medical Association) visited third-graders at a local elementary school to talk about how the heart works, the importance of exercise, and making healthy food choices.
Student-doctors, under the supervision of faculty physicians, offered complimentary Osteopathic Manipulative Medicine (OMM) to over 30 patients during a public clinic at the Center for Medical and Health Sciences. OMM is a non-invasive, hands-on approach that is used to diagnose, treat, and even prevent illness and injury.
LUCOM raised more than $20,000 for the American Heart Association at the third annual HeartChase. About 200 people participated in the fast-paced scavenger hunt on campus, styled after gameshows like "The Amazing Race" and "Minute to Win It." Challenges ranged from exercise activities to trivia questions. 
The college held its first black-tie Helping Hands gala. Approximately $750,000 was pledged by Gleaning For The World and World Help to build a future health care clinic in Guatemala through a partnership with Hope of Life International. Another $10,000 was raised at the event for supplies, medicines, equipment, and training. The event was hosted by the Office of Medical Outreach and International Medicine at LUCOM.
The LUCOM chapter of the American College of Osteopathic Pediatricians (ACOP) partnered with the Jubilee Family Development Center, the Boys and Girls Club of Greater Lynchburg, and Amazement Square for Teddy Bear Clinics. Student-doctors gave each child's favorite stuffed animal a "checkup" in an effort to remove the fears associated with doctor visits. (Another clinic was held in the fall).
Fall Semester:
Student-doctors from the Class of 2019 gave more than 85 local middle and high school student-athletes pre-participation physical examinations to gain practical patient care and interaction experience.
LUCOM groups helped organize the first Lynchburg Parks & Recreation HealthFest at Miller Park. LUCOM-SNMA (Student National Medical Association) hosted a booth to discuss the importance of a healthy lifestyle. LUCOM'S NaPMed (Nutrition and Preventative Medicine) chapter worked with the Type 1 Diabetes Experience group to offer assistance with diabetes risk assessment and blood sugar screenings.
The third-annual Pancakes for Parkinson's fundraiser, hosted by LUCOM-SOMA, raised over $500 for the Thomas Hartman Center for Parkinson's Research at Stony Brook University.
LUCOM hosted its first-ever Christmas variety show, Osteopathic Merry Melodies. More than 400 attended, raising over $2,100 in ticket sales. Proceeds benefitted student-doctor Dusty Eck, whose wife and two children were involved in a car crash. The accident took the life of their 7-year-old son, Cole.
Outstanding Parent of the Year taught sons to love God through hardship
Despite her own health struggles, Reina Alvarez remained steadfast in her commitment to God, encouraging her son, Jesse Alvarez, as he worked toward his exercise science degree at Liberty University.
"My mother empowered me for success in life by inspiring me to continue studying for a better future and teaching me to love and have faith in God," said Jesse Alvarez, a sophomore from Greensboro, N.C., who nominated her for Liberty's 2016 Outstanding Parent of the Year Award. The award was presented by Flames Football Head Coach Turner Gill during a banquet over Fall Family Weekend, Oct. 28-30.
Last summer, Reina Alvarez was diagnosed with leukemia. Jesse said it was a difficult time for his family, but watching his mom as "her faith and love for God grew," inspired him.
"Seeing how she never held anything against God was amazing," he said.
Last fall, she was declared cancer-free.
Jesse said he felt "compelled" to nominate his mother for the award because of all she has done for him and his brother, Santos Alvarez, a junior at Liberty.
In the essay he wrote to nominate her, Jesse explained how his mother overcame all of her circumstances through her faith and a strong work ethic. After her husband died, Reina cared for and supported her young family on her own. And even though she was never able to step foot in a classroom as a child growing up in El Salvador, Alvarez still assisted her children academically. "(My mother) supported me in (high) school when I was on the track, cross country, and wrestling team(s) by coming to those events and paying for my sports gear," Jesse Alvarez said. "Whenever I stayed up late studying or doing homework, she would stay up as well, encouraging me to keep going." 
School of Education ranks first for number of teacher candidates in Virginia
Liberty University's School of Education leads the way in teacher program graduates for the Commonwealth of Virginia, according to a report released last fall.
The Title II report (an annual report that is part of the Higher Education Act)  stated that 637 candidates from Liberty completed their respective programs during the 2014-15 school year. This was a 29 percent increase from the 2013-14 report.
The Virginia schools with the next highest number of teacher candidates were George Mason University (431) and James Madison University (366).
According to School of Education Senior Assistant Dean Dr. Michelle Goodwin, the numbers included both residential and online students pursuing a degree in education through Liberty.
"The growth of our numbers is due to our multiple formats of delivery," Goodwin said. "We offer both residential and hybrid programs that lead to eligibility for a teaching license."
In the 2014-15 report, the two areas with the highest number of completers for Liberty were Elementary Education/Pre-K-6 and Special Education – General Curriculum K-12.
The report also showed that 518 out of the 637 candidates took their teacher certification test for Virginia — with a 100-percent passage rate. Liberty has had a 100 percent passing rate on all state-required testing for teacher candidates since 2010.
"We seek to provide convenient, practical programs that effectively prepare our graduates to teach in multiple classroom environments," Goodwin said. "We do this while maintaining national and state accreditation requirements."
The School of Education's Teacher Licensure Program is accredited by the National Council for Accreditation of Teacher Education (NCATE). 
Liberty University Art Gallery Spring 2017 Exhibits
"Prism" Faculty Exhibit with Christopher and Kelsey Phillips – Jan. 26-Feb. 11
The exhibit showcases paintings by Christopher and hand lettering by Kelsey, giving visitors a behind-the-scenes look at their processes, which begin similarly but have vastly different results.
Dr. Seuss – Feb. 16-26
The show will feature limited-edition prints by Theodor Seuss Geisel, better known as Dr. Seuss. Most are familiar with his children's books or even political cartoons, but Seuss also had a personal collection that was revealed after his death. The following pieces from this collection, including "secret" items will be displayed at Liberty: "Green Cat in Uleåborg Finland," "Worm Burning Bright in the Forest in the Night," "That Winter Spring Came Late," "Talk Talk Talk," "Hop on Pop Diptych," "Stars Upon Thars Diptych," "These Things Are Good Things Diptych," and "I Like Them, Sam I Am."
Juried Digital Arts Competition – March 2-26
Annual competition that features animation, graphic design, illustration, photography, and user-experience design from digital arts students.
Senior Studio Art 1 – March 1-April 14
Students will showcase photography, drawing, painting, and sculpture.
Senior Studio Art 2 – April 20-May 6
Students will showcase photography, drawing, painting, and sculpture.
Furniture store awards scholarships for student showroom design
The Liberty University Department of Family & Consumer Sciences' (FACS) interior design program was recently awarded $5,000 in scholarships from the Virginia Furniture Market (VFM).
VFM partnered with Liberty to offer the first annual VFM Design Challenge last fall. Three groups of five students each worked closely with VFM staff to research trends and best-selling items in order to create a room design. Then each group presented "mood boards" (a display of pictures and concepts) to a panel of judges made up of VFM staff.
The winning group — seniors Bethany Batton, Taylor Ford, Courtney Gilmour, and Diana Alligood and junior Cayla McHaney — received a $2,500 scholarship to be divided between the members. Their showroom vignette (pictured here) was showcased in the company's Bedford and Rocky Mount, Va., stores on Black Friday.
"The students were so professional and put in a real effort," said VFM owner Joel Shepherd.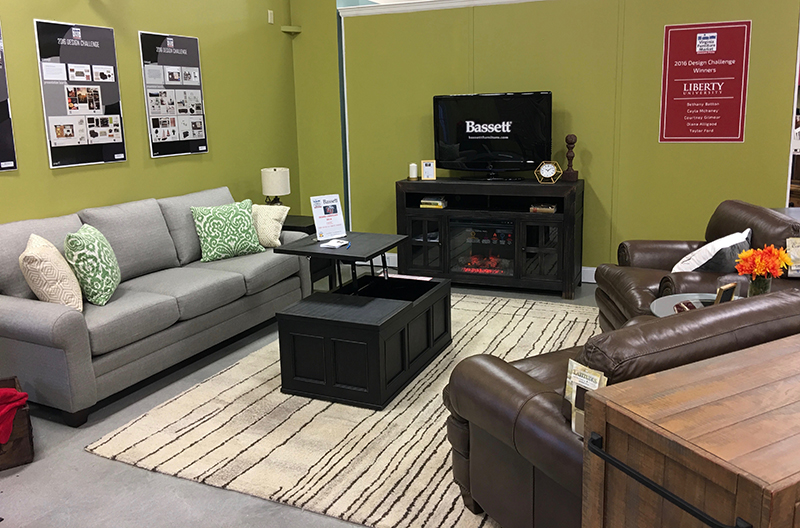 VFM also presented a $500 People's Choice Award, chosen through a social media vote, to seniors Greyson Walsh, Emily Compton, and Skyler Wheeler and juniors Lauren Jenkins and Victoria Cummings. An additional $2,000 was given to the FACS department to award scholarships to interior design students, with recipients to be announced at Commencement.
Assistant Professor Lisa Campbell, who incorporated the challenge into her FACS 345 Materials and Specifications course, said students gain practical training in the design industry.
"Any opportunity where students can interface with the public outside of the classroom is so much more valuable than lecture time," Campbell said. "It's a great hands-on experience."
Interior design is one of three concentrations offered under the Bachelor of Science in Fashion & Interiors, along with fashion merchandising and fashion design.
On-campus shooting range will be used for Olympic sports, firearms training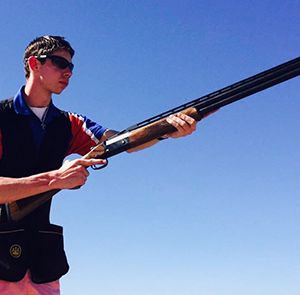 Set to open by Labor Day, Liberty University's new shooting range will be the first facility on a U.S. college campus to meet every NCAA and NRA specification for all Olympic Shooting Sports. The university will debut men's and women's skeet shooting teams as part of the Club Sports program in the fall and is planning to add NCAA teams in the future.The shooting sports program will feature three main areas: shotgun sports (skeet, trap, bunker, sporting clays, and five stand), rifle and pistol (with 100- 200- and 300-yard ranges), and three-gun competition/tactical training range.

The $3 million, 490-acre range will be located off Camp Hydaway Road on Liberty Mountain, across from the Hydaway Outdoor Recreation Center.  The facility will also feature a field house and awards pavilion.
Dave Hartman, a former member of the United States Cycling Team and nationally recognized shooting sports organizer and coach, will serve as director of the shooting center and head coach. His son, Tommy Hartman (pictured here), is a freshman at Liberty and helped lead the Spokane (Wash.) Area Youth Shooting Team to a USA Youth Education in Shooting Sports (YESS) National Championship in 2015.
The new range will also serve as the location for the range portion of Liberty's handgun safety class, which can be used to apply for a concealed carry permit in Virginia. Since Liberty started offering the class for free to students, faculty, and staff two years ago, more than 900 people have taken part. Because of the strong interest, university officials determined that the current shooting range off of Candlers Mountain Road could no longer accommodate the growing numbers. In fact, it was student feedback that led to the decision to construct the new range.
Planning Coordinator Brad Butler says all aspects of the range will be visually appealing and, most importantly, safe.
"Safety is our top priority," Butler said. "Every aspect of the design and the operation of this facility will be firmly focused on keeping everyone safe. It will also be a beautiful facility and will match the architectural standards of our new buildings on campus. We're very excited about it."
The design will utilize the land's natural topography to minimize noise. The range will be open to the public during designated hours but will cater primarily to students. Trained instructors and range masters will be on hand to supervise shooters.
"According to our research, there is not a college or university that offers all of these features at a college-owned facility on campus grounds," Butler said. "Most have to lease or rent space. It's another example of Liberty leading the way."

2016 George Rogers Champion of Freedom: Dr. Charlie Davidson
For decades, Dr. Charlie Davidson, director of Liberty University's Doctor of Ministry (D.Min.) program, has been on the frontlines of both spiritual and physical warfare. The retired United States Air Force Lieutenant Colonel ministered for 20 years as a chaplain, serving his men even as they braved combat zones overseas. Davidson was the first Air Force chaplain to set foot in Baghdad during Operation Iraqi Freedom and, on Nov. 7, 2003, was the first Air Force chaplain from that campaign to receive the Bronze Star for bravery and valor under combat conditions.
Over 6,200 individuals came to Christ during Davidson's military service.
"What a blessed life, to be able to serve God and to serve your country at the same time. It was a fruitful ministry," Davidson said.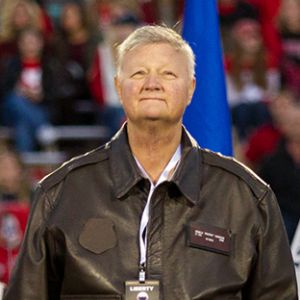 During a patriotic halftime celebration at the last Liberty Flames home Football game on Nov. 12, Liberty honored Davidson with its seventh George Rogers Champion of Freedom Award. The award is given annually to a man or woman who displayed extraordinary heroism while serving in the United States Armed Forces. The award's namesake is a survivor of the Bataan Death March during World War II. (Rogers worked at Liberty from 1974-99, starting as its chief financial officer and retiring as vice president of finance and administration.)
Davidson earned a Bachelor of Arts from Liberty in 1982, a Master of Divinity in 1984, and a Doctor of Ministry in 2001. Today, he serves as the director of both the doctoral program he graduated from and its endorsing agent, Liberty Baptist Fellowship.
While Davidson has hung up his military uniform (as of 2006), his fighting days are not over. Currently, he is battling cancer. Still, he remains positive, convinced that the Lord is good and has blessed his life greatly.