Liberty named title sponsor, host of Commonwealth Games
The Virginia Commonwealth Games are officially moving from Roanoke to Lynchburg. In October, Subway passed the title sponsorship torch for Virginia's largest annual multisport competition to Liberty University, where a majority of the events will be held, starting this summer. 
The Games had been held in Roanoke since 1990, with an estimated $4 million impact on the Roanoke Valley economy. The competition has featured as many as 10,000 athletes at one time, competing in over 50 sports.
"I don't believe we could have found a better title sponsor than Liberty University," said Pete Lampman, president of Virginia Amateur Sports (the nonprofit organization that operates the Games), during a press conference at Liberty on Oct. 7. "Thank you for giving us this opportunity to provide our athletes the chance to compete at a Division I school and to empower them to dream big."
More than 225,000 athletes have participated in the Games since they started in 1990.
"We are excited about this new partnership with Virginia Amateur Sports and the City of Lynchburg," Liberty President Jerry Falwell said at the press conference. "We've spent the last decade building athletic and recreational facilities. We wanted to find a way to share these facilities with the local community and with the state — not keep them to ourselves … we thought this was the perfect opportunity to bring these games to Lynchburg and to share our facilities with the Commonwealth Games and with the general public."
Liberty signed a five-year contract to be the title sponsor and host. The opening ceremonies for the 2016 Commonwealth Games and the main weekend of competition will take place July 22-24.
The Commonwealth Games are the second major summer athletic event to relocate its base of operations to Lynchburg in recent years. In 2013, the Virginia High School Coaches Association Senior All-Star Games moved to Lynchburg from Hampton Roads, after 20 years in that area. A majority of those contests, including football, baseball, softball, and volleyball, have taken place in Liberty Athletics facilities.
Students win two grants from Virginia Academy of Science
Liberty University students won two out of five research grants awarded at the Virginia Academy of Science (VAS) Fall Undergraduate Meeting on Oct. 24 at Virginia State University. The research teams of Jorge Tovar and Dominique Richburg, under the supervision of Dr. Andrew Fabich, and Nicolas Terreri and Josh Sellwood, under the supervision of Dr. Michael Price, were each selected from among the five winning poster presentations.
This year saw a spike in participation from Liberty students (29 participants), who sent about twice as many research posters (15) as last year and accounted for nearly half of all posters at the meeting, which is open to colleges and universities across the commonwealth.
"I am pleased with the involvement of our students and faculty in the Virginia Academy of Science," said Dr. David DeWitt, chair of the Department of Biology & Chemistry. "Our students consistently have high achievement. With the current equipment and resources in our new science building, I anticipate even more success in the future. We are demonstrating that Christians can do high-quality scientific research."
Tovar and Richburg's poster, "Citrobacter rodentium Competes with Commensal E. coli to Cause Inflammation and Alter the Intestinal Biome," featured research on microbe colonization in the mammalian intestine, which will hopefully lead to a cure for illnesses such as Crohn's disease, ulcerative colitis, and colonic tumorigenesis caused by strains of E. coli. This research, supervised by Dr. Fabich, is related to the recent genome sequence released by the university.
Terreri and Sellwood's poster, "Identifying Phenotypes in Overexpression of Putative Genes in Cryptococcus neoformans," explained their  research into a fungal pathogen linked to over 600,000 deaths annually in Sub-Saharan Africa alone — more deaths per year than tuberculosis. Under the supervision of Dr. Price, the students are identifying the gene(s) that appear to allow a mutant, previously unable to grow on glucose, to adapt and use glucose to survive. Identifying this gene(s) will provide insight into the limits and costs associated with adaptation to harsh environments.
The winning teams will be invited to present their research once again at the VAS Annual Meeting at the University of Mary Washington, May 17-20.
School of Education receives positive news from accrediting agencies
Liberty University's School of Education received notification from the Council for the Accreditation of Educator Preparation (CAEP), formerly known as National Council for Accreditation of Teacher Education (NCATE), in October that its accreditation had been renewed until 2022.
The School of Education first achieved national accreditation through NCATE in 2003. NCATE accreditation applies to all programs that prepare educators for the K-12 setting. The accreditation board promotes excellence in educator training through evidence-based accreditation, assuring quality and supporting efforts to  strengthen student learning.
"National accreditation enhances the marketability of our graduates and facilitates their licensure as educators in Virginia and in other states through reciprocal agreement," said Dr. Karen Parker, dean of Liberty's School of Education. "The School of Education views CAEP accreditation as a standard of excellence that is recognized by our education colleagues in K-12 schools and higher education."
In August, the School of Education also received accreditation for its Master of Education in School Counseling (M.Ed.) from the Council for Accreditation of Counseling & Related Educational Programs (CACREP). Liberty's residential Clinical Mental Health Counseling (M.A.) program received CACREP accreditation last year.
The M.Ed. program, under Liberty's School of Education, is led by Rita Schellenberg, professor and school counseling program chair. The program is offered online and requires four residential intensives. The degree meets core counseling and school counseling content area requirements for licensure as a professional school counselor in both public and private K-12 school settings.
"Since CACREP is recognized as the premier accreditation for counselor education graduate programs both nationally and internationally," Schellenberg said, "obtaining CACREP accreditation continues to reaffirm Liberty University's global commitment to excellence and identifies the M.Ed. in School Counseling program as a quality one, graduating competent budding professional school counselors prepared to make an impact."
According to Schellenberg, the CACREP site team provided positive feedback, citing specific program strengths and affirming that all of the more than 200 standards were met. Liberty's program was granted accreditation for the maximum eight-year period.
Cinematic Arts student meets Ron Howard at Twitter workshop
Caleb Natale, a junior in Liberty's cinematic arts program, was invited to Twitter's headquarters in New York in December for a workshop featuring Academy Award-winning filmmaker Ron Howard.
"It was a pretty crazy, big, humbling experience to see this person who has been in the industry for a long time, making these huge movies, right there in front of you," Natale said. "It was definitely one of the cooler things I have done in my life."
Natale was invited because of his work on Vine — a social media platform owned by Twitter where users create and share six-second looping videos. Natale and nine other prominent "Viners" were given face-to-face time with Howard to make a six-second social media video promoting Howard's recent film, "In the Heart of the Sea." Natale's video shows Howard appearing out of a photograph swiped from Natale's phone.
Natale said he had the chance to share some of his past work with the Hollywood legend.
"(Seeing) him watching my videos and saying, 'Oh, play that again,' was pretty amazing," Natale said.
As Natale continues pursuing his degree in cinematic arts, he also works creating short-form content (short video clips) for brands.
School of Music receives top industry accreditation
The Liberty University School of Music was accredited by the National Association of Schools of Music (NASM) in November. NASM, founded in 1924, is the national accrediting agency for music and music-related disciplines. It establishes the standards for undergraduate and graduate degrees and other credentials associated with music education. The accreditation process includes an extensive self-study and peer review.
Other member schools include Virginia Tech, Florida State University, Indiana University, the University of Georgia, Wheaton College, the University of Michigan, and Eastman School of Music.
Liberty's School of Music is the nation's seventh-largest school of music. It is comprised of two centers: the Center for Music & the Performing Arts and the Center for Music & Worship.
Liberty tests offsite intensives for online students in Orlando and Dallas
Liberty is piloting a new program that allows online students to attend intensives closer to home.
Professors are traveling to Orlando, Fla., and Dallas, Texas, to teach intensives (one-week courses), giving students the opportunity for face-to-face instruction in locations that may be more convenient options than Liberty's campus in Lynchburg, Va.
Liberty has over 95,000 students around the globe enrolled in its various online education programs.
The first offsite intensives began around the Christmas holiday, with graduate students in the education and counseling programs participating in the trial program.
Brian Soistmann, management analyst in Enrollment Management, said research indicated that the further students had to travel to Lynchburg, the less likely they were to enroll in intensives.
"It appeared the required travel to Lynchburg was becoming a barrier for some of our students," Soistmann said. "Because of that, we wanted to develop teaching sites in strategic areas."
Tamela Crickenberger, executive director of online enrollment, said Liberty works to reduce expenses incurred by students traveling for intensives, whether held on campus or at another location.
"We provide complimentary shuttles from the airport to the host hotel and back," she said, "Shuttles to nearby restaurants and attractions during the week, as well as complimentary breakfast, lunch, and snacks."
Online operations to move to former insurance call center
Later this school year, the headquarters for Liberty University's online programs will move to a new location in Lynchburg — an 82,500-square-foot building that was previously a customer service hub for Nationwide Insurance.
The university purchased the building earlier this year. The decision to make the move came after university officials determined that the former Nationwide building was better equipped to handle administrative and call center functions than the current location.
"It is set up as a contact center and is built to accommodate what we do here," said Dr. Steve Peterson, Liberty's vice president of online admissions. "We are currently set up in a former retail space at River Ridge Mall. We came in and did modifications the best we could, but the current site is just not as effective as it could be."
Liberty has elected to move some of the departments that don't have routine interaction with on-campus students to off-campus locations.
Liberty is leasing the property to Nationwide until March. The site consists of about 15 acres, giving the university flexibility for future expansion, and is located four miles from campus. More than 1,000 employees from Liberty's online education department will move in sometime during the spring of 2016.
Flight team wins regionals for 11th straight year
The Liberty University School of Aeronautics hosted the National Intercollegiate Flying Association (NIFA) Region X competition for the first time Oct. 14-17, where its NIFA Flight Team claimed first place for the 11th straight year. Senior Kyle Gallagher earned the Top Pilot award.
The top finish qualifies Liberty's team for nationals, hosted by Ohio State University, in May.
Liberty, the Naval Academy, Averett University, and Guilford Technical Community College competed in a series of ground- and flight-based events at Lynchburg Regional Airport and nearby locations. Ground events included pre-flight inspections, navigation, and planning a cross-country flight. Flight events included precision landings and dropping containers from the air to a ground target. Schools also competed using Liberty's flight simulators.
"We do everything from all facets of aviation," said senior and flight team captain Evan Thrams. "This competition has gotten me ready for check rides with the FAA and for interviews with companies; it has prepared me as an aviator."
Liberty's 15-member team is assembled following rigorous tryouts that focus on both individual skill and team camaraderie.
No Argument Here: The university's Debate Team is one of the nation's strongest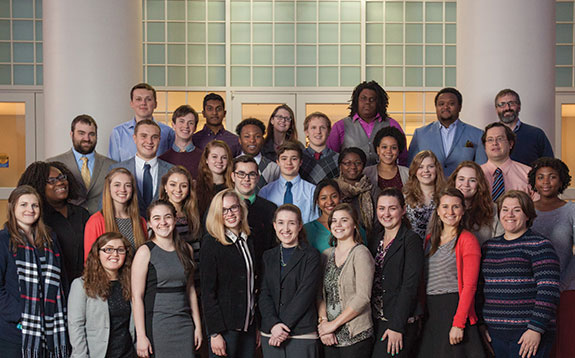 Liberty University's Debate Team is entering the spring semester as one of the top-ranked teams in the country. In preliminary rankings following the fall season, Liberty is No. 1 in both the Cross Examination Debate Association (CEDA) and National Debate Tournament (NDT).
Liberty is looking to defend last year's titles in both the NDT and CEDA, as well as the American Debate Association (ADA).
In fall competitions, Liberty debaters notched wins against teams from Boston College, Cornell University, Dartmouth University, Emory University, Georgetown University, Harvard University, the University of California at Berkeley, and more.
The team has been crowned ADA rankings champion for 12 consecutive seasons, has been the CEDA rankings champion for seven straight seasons, and has captured the NDT rankings championship in eight of the last 10 years, including 2014-15. Liberty remains the only school to finish first in all three rankings in a single year.
Liberty has won the varsity division of the prestigious West Point Tournament — begun in 1967, four years before Liberty was founded, and hosted by the United States Military Academy — four times. Only Cornell University has won the West Point varsity division more times.
"We've have great students and great support from our administration," said Michael Hall, director of debate. "Our growth as a program traces back to (Liberty founder) Dr. Jerry Falwell's love of debate. I remember him saying, 'Your mouths will be running long after our football players' legs stop running.' His affection for debate translated into strong administrative support. Thanks to the current administration's continued support, Liberty is one of the best-funded debate programs in the nation today. But funds only get you so far. Our success also speaks to the academic quality of Liberty's student body."
In November, two members of the Debate Team — seniors Kaitlyn Schiess (who studies history) and Leonora Crane (a government major) — were invited to attend one of the most prestigious debate competitions in the world — the Oxford Inter-Varsity Debating Competition in London. In all, 130 two-member teams competed, including Yale University, Harvard University, Stanford University, Duke University, and Cambridge University.
The Oxford debate was comprised of five preliminary rounds, followed by quarterfinals, semifinals, and a grand final. Four teams faced off in the preliminary debates, with each individual giving a seven-minute speech, during which the opposing teams asked questions and offered counterarguments. Liberty ranked second in two of the preliminary debates, and placed third in another, but did not qualify for the quarterfinal round.
According to Schiess, debating with other schools from around the world was an invaluable experience.
"I am thankful that I go to a school like Liberty that values debate and gives us the opportunity to travel across the world to do what we love most," she said.
Liberty is already engaged in its spring slate. The varsity team completed a two-tournament swing in California (both at the University of California-Berkeley) Jan. 1-9, with a pair of Liberty debaters advancing to the semifinals, beating teams from Berkeley, the University of Kansas, and Baylor University. Liberty's novice team won the U.S. Naval Academy Tournament on Jan. 15. National titles will be on the line in March with the ADA tournament March 10 at Boston College, followed by the CEDA nationals March 25 and NDT nationals March 31, both at Binghamton University.
Campus construction moves forward
As Liberty University continues its half-billion-dollar campus rebuilding project, new facilities are being completed while existing ones receive upgrades. At the beginning of the Spring 2016 semester, Liberty opened the second wing of its second high-rise dormitory, moving the remaining population of the off-campus Residential Annex to the 1,000-bed Residential Commons II, located in the heart of the university.  Construction on the fine arts auditorium — the second building of the School of Music's Center for Music and the Worship Arts — is moving inside as the exterior is nearly finished. The completed building is scheduled to open in June. Liberty's renovated and expanded LaHaye Ice Center opened last semester (read more on Page 26). The DeMoss Student Center continues to take shape across from the Jerry Falwell Library and new Science Hall and is on schedule to open in the fall. Construction also continues on the indoor football practice facility next to Williams Stadium, the indoor track on Liberty Mountain, and Freedom Tower.
An expansive greenway that will connect Liberty's new buildings and provide a beautifully landscaped walkway through campus is also emerging.
Take a 360-degree tour of the university at Virtual Experiences at LU.
Liberty lends support to families of San Bernardino shooting victims
On Dec. 3, the day after terrorists opened fire on a holiday party at the Inland Regional Center in San Bernardino, Calif., killing 14 and injuring 22, Liberty University President Jerry Falwell and his wife, Becki, were watching the news coverage and felt compassion for the families of the victims and for a police officer who had to retell the horror.
"I was emotional hearing Lt. Mike Madden talk about the carnage he witnessed when he walked onto the crime scene," Becki Falwell said. "I can't imagine how scary it was for someone to be in that situation."
She called the San Bernardino Police Department that night and left a message for Madden. The Falwells then tasked Liberty's Financial Aid and Admissions Offices with providing scholarship assistance to the children of the victims and the first responder. Dan Bolton, Liberty's director of spiritual programs, organized the effort to personally contact each of the families to express Liberty's condolences and inform them of the scholarship assistance.
"From arranging scholarship details to reaching out to the families, multiple departments made this happen," Bolton said.
President Falwell talked about the tragedy during the Dec. 4 Convocation and told Liberty students that the school was reaching out to the families. Madden returned Becki Falwell's call the following week, expressing his gratitude for the offer to help his family.
"He called me on my cell phone and we talked for a long time. Mike was so grateful and appreciative of us reaching out," she said. "He was deeply touched by our offer to help with his children's education."
According to Bolton, some of the families that Liberty reached out to had just recently become Christians, and the offer of a Christian education was well received.