School of Aeronautics receives milestone aircraft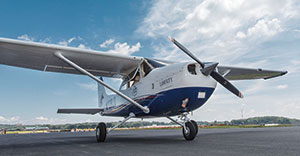 Textron Aviation Inc., a Textron, Inc. company, delivered the 10,000th single-engine aircraft from its Independence, Kan., facility to the Liberty University School of Aeronautics on Wednesday, Aug. 27. The milestone aircraft, a Cessna Skyhawk, along with two other Skyhawks, were added to Liberty's growing flight training fleet.
The Independence team and Liberty representatives marked the occasion with a delivery ceremony of the three Cessna Skyhawks, one of which features a custom decal displaying its title as the 10,000th Independence-delivered single-engine aircraft.
"The Skyhawk is the mainstay to the quality flight training we provide to America's next generation of professional pilots," said Ret. U.S. Air Force Brig. Gen. Dave Young, assistant provost for aeronautics education at Liberty. "Through the years, we have developed a great relationship with the team here in Independence and continue to choose Textron Aviation products because we trust the craftsmanship that goes into each aircraft."
The Cessna Skyhawk has become the global standard training platform. There are more Cessna Skyhawks in the world than any other type of aircraft, with more than 48,000 having been designed, manufactured, and delivered since 1955.
Since its first single-engine delivery in June 1996, Textron Aviation's Independence facility has produced the majority of Cessna single-engine piston products, as well as two types of Citation jets.
"Reaching this milestone is a testament to the quality of the workforce at our Independence facility, which continues to be a cornerstone of the Textron Aviation manufacturing footprint," said Lily English, general manager of the Independence facility.
Freedom Aviation merges with fellow fixed-base operator Virginia Aviation
Freedom Aviation, a subsidiary of Liberty University and a fixed-base operator (FBO) at Lynchburg Regional Airport, finalized the  purchase of Virginia Aviation, the other FBO on site, on June 24.
"From my perspective, this is a tremendous opportunity for the public and for the aviation community, and a great move," said Ret. U.S. Air Force Brig. Gen. Dave Young, assistant provost for aeronautics education and president of Freedom Aviation. "We want to build an aviation center of excellence that rivals anything in the country and anything in aviation higher education."
He said that rather than competing internally with another FBO, Freedom Aviation can now better equip the airport to compete for customers on a regional level.
"That's our goal, to draw interest to Lynchburg Regional Airport," Young said. "Merging the two operations and taking the strengths of each one puts us in a much better competitive position than having more than one fixed-base operator. We want to be competing regionally, competing up and down the East Coast. This merger will increase our business and enhance economic development for the city of Lynchburg and for Central Virginia."
Liberty's School of Aeronautics is also in the process of establishing Flight Training Affiliates (FTAs) at airports in Virginia and across the U.S. This unique educational model will allow students to complete much of their college coursework online while doing their flight training at their local airport. In Virginia, FTAs are already operating in Newport News, Manassas, Leesburg, Warrenton, and Stafford. The FTA in Valparaiso, Ind., opened in June.
Liberty's operation of Freedom Aviation and Virginia Aviation will create an opportunity for students at FTAs to also spend time in residency at the School of Aeronautics' Lynchburg Regional Airport campus. They will now be able to participate in the operation of a full-service general aviation, charter, and aircraft maintenance business.
Liberty ranked among most influential, engaged colleges on social media
Liberty University has been ranked in the top 20 Most Influential Colleges on Instagram and in the top 30 Most Engaged Social Media College Communities by College Atlas. Liberty was ranked alongside major institutions across the U.S., including state, Ivy League, and other private institutions. On both lists, Liberty was the only Virginia school recognized.
College Atlas, an encyclopedia of higher education, studied the social media efforts of more than 400 colleges and universities.
Liberty was ranked No. 17 for its Instagram presence, which was determined by number of followers and average number of likes per post.
Liberty ranked No. 28 on the Most Engaged Social Media College Communities list, which focused on the depth and frequency of engagement by the school's social media community.
USA Today recognizes Liberty's affordability, growth
In an article published by USA Today in May, Liberty's undergraduate online program was recognized as one of the most affordable in the country based on research provided by The Best Colleges and OnlineU.
While offering online tuition rates far lower than its for-profit competitors, Liberty has also managed to keep its residential tuition among the lowest 25 percent of all private universities in America.
"Liberty University would not be the nation's largest nonprofit online university today if it were not anchored by a major residential Christian university with decades of history and solid academic performance standing behind it," Liberty President Jerry Falwell said. "Online students love the fact they are studying at a Christian university that has operated on this campus for decades. They enjoy supporting our athletic teams and traveling to Lynchburg for intensives and for graduation."
Approximately 90 percent of Liberty's online and residential students received financial aid in the 2012-13 school year. Liberty also offers discounts for active military and emergency response personnel.
Liberty's student loan default rate is about half the national average, a reflection of its affordability and an indication that its graduates are getting jobs quickly. The university is rated by Standard and Poor's as one of the 78 strongest schools in the nation financially, with more than $1 billion in net assets.
USA Today sent sports writer Dan Wolken to visit Liberty this past summer to survey the climate of its athletics program, specifically the university's pursuits to move to the FBS level in football. In his article, Wolken noted Liberty's growth in enrollment and construction of many new facilities across campus. He discussed Liberty's academic reputation, which plays into FBS considerations, and quoted President Jerry Falwell: "The perception is that we're primarily a small Bible school, and the reality is we're a liberal arts university with engineering, medicine, and nursing. A lot of people think religion is our No. 1 major, and in reality it's ninth." The article stated that Liberty's aspirations to compete in the FBS won't stop, as "nothing would be a game-changer quite like the opportunity to play a Baylor or BYU on ESPN." Falwell told Wolken: "My father used to say there were two universal languages all young people understood — music and athletics — and to build a world-class university those two components have to be a major part of it. Athletics isn't our mission, but it has the potential to shine a light on our mission like nothing else ever can."
Department of Biology & Chemistry growing in size and reputation
Over the past four years, the Department of Biology & Chemistry has grown by more than 25 percent. Throughout this growth, the department has strengthened the quality of its programs  — for the last three years 90 to 100 percent of graduates who applied to medical school were accepted, and 95 percent were accepted into the medical school of their choice this past year. Students and faculty are also repeatedly recognized for their excellence.
As the Department of Biology & Chemistry continues to expand and build upon this success, its facilities and curriculum are being bolstered to ensure continued excellence.
Prestigious Recognition
Associate Professor of Genetics Dr. Gary Isaacs and four of his former students — Noor Taher ('13), Courtney McKenzie ('12), Rebecca Garrett ('12), and Matthew Baker ('14) — received the J. Shelton Horsley award at the Virginia Academy of Science's Annual Meeting on May 16 at Virginia Commonwealth University in Richmond, Va. The award is the highest honor conferred by the academy for original research.
The team received the award for an article published in a recent issue of the Journal of Alzheimer's Disease.
For the third year in a row, Liberty undergraduate students also received recognition at the meeting for best poster and best oral presentation in the biology/microbiology category.
Competition is not limited to undergraduate students; half of the submissions are from master's students, Ph.D. candidates, professors, and research technicians. Judges reviewed published articles, posters, and oral presentations submitted by hundreds of students and faculty members from schools across the state.
Rising senior Amanda Hazy, working under Isaacs' supervision, won for her poster illustrating how an analysis of cells from blood samples can indicate how genes are turned on and off in the brain.
Ryan Montalvo ('14) won for his talk on how laboratory, commensal, and probiotic E. coli adapts to the intestine and competes with the intestinal microbiome. He received research direction from Associate Professor of Microbiology Dr. Andrew Fabich.
Hannah Drown ('14) was also awarded honorable mention for her poster produced under the supervision of Fabich. Drown's research focused on the rise of novel antibiotic resistances by bacteria in the intestine.
New Science Hall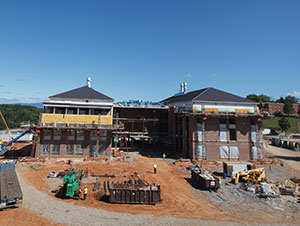 More than triple the size of the old science building, the new Science Hall is progressing rapidly and is expected to be complete by Spring 2015. The four-story, 121,000-square-foot building will house the Department of Biology & Chemistry as well as the Department of Health Professions.
For biology and chemistry students, the number of labs will be increased from 11 to 20, with a cadaver lab, cell culture facility, and several research labs among the new facilities.
"We will be able to accommodate more students and have more open labs where students can work outside of class time for additional training," said Dr. David DeWitt, professor and chair of the Department of Biology & Chemistry.
The new facility is also being outfitted with state-of-the-art equipment, such as a gene sequencer, GC mass spectrometer, and nuclear magnetic resonance spectrometer.
While construction continues, the department has been temporarily moved to a former residence hall on Liberty's Champion Circle. The old science building was demolished to make room for continued improvements to Liberty's future Academic Commons, now in progress and including an upcoming expansion to DeMoss Hall.
Expanded Program Offerings
This semester the department has added two new majors — biopsychology and forensic science — raising its total number of majors to 10.
"The goal was to provide students with a curriculum that was focused on their specific interests and needs," DeWitt said, noting that the department has expanded its offerings tremendously since 2010 when only two majors and three concentrations were available.
A new Master of Science in Biomedical Sciences also launched this fall, with one- and two-year tracks available.
Study trips add a new dimension to learning
A trip to Europe in June gave 15 Liberty University history students the opportunity to go back in time to the largest seaborne military invasion in history.
As part of a 10-day tour through England and France with Liberty's Study Abroad program, the students attended ceremonies for the 70th anniversary of D-Day at the site where thousands of Americans gave their lives to defeat the Nazis and end World War II. They joined a large crowd of guests, including D-Day veterans, family members of the fallen, and world leaders at the American Cemetery in Colleville sur Mer, France. The cemetery overlooks Omaha Beach, where American troops invaded the northern coast of France on June 6, 1944. More than 9,500 crosses mark the graves of American soldiers.
The trip was led by Dr. Douglas Mann, dean of the Graduate School; Dr. Bruce Bell, associate dean in the College of General Studies; and Dr. David Snead, a history professor who regularly teaches courses on U.S. military history and World War II.
Michael Megelsh, who is pursuing his master's in history, learned about the trip in one of Snead's classes.
"That was a real selling point for the trip, to be able to be there at Normandy on the anniversary of D-Day," he said. "It wasn't seeing all the dignitaries there, but walking down the beach itself, actually being on the sand that the men fought to take from the Nazis and walking on the same ground they did, that was the most moving part."
The itinerary focused on historical sites from World War II. Students first arrived in London, where they viewed Winston Churchill's bunkers and the HMS Belfast, which was part of the D-Day forces. They also saw a production of "Les Misérables," then left for Normandy from Portsmouth at the southern tip of England. A ferry took them to France, following the same course that the American military forces took the day before D-Day. After touring Normandy, the students traveled to Paris, where they visited the Shoah Memorial, dedicated to the 76,000 French Jews deported from France to Nazi concentration camps.
Since May, Liberty's Study Abroad program has sent students on short-term trips to Israel, Italy, Greece, Ireland, and Guatemala, with students receiving course credit for their studies. The program, also open to Liberty's online students, offers trips during fall, spring, and winter breaks, as well as semester-long sessions. Many of the trips include service opportunities.
Paralegal program preps students for high-demand careers
Since launching in 2011, the paralegal program offered through Liberty University has experienced three-fold growth, from just under 300 students to 941 currently enrolled.
The paralegal bachelor's and associate degrees are offered entirely online.
Matt Barber, associate dean for Liberty University School of Law's online programs, said corporations are interested in hiring paralegals who are versatile and trained in various areas of law, a diversity that Liberty's online curriculum is intentional about providing.
"While they are not practicing law, paralegals are able to interpret various aspects of law that people without a paralegal degree would not be able to provide or would have difficulty understanding," he said.
Demand for paralegal professionals continues to increase, making a degree in the field from Liberty extremely marketable.
"It's definitely a growing field for paralegals, especially in a tough job market, because they can do a lot of the heavy lifting for attorneys," said Suzanne Caruso, associate dean for career and professional development, residential professor at Liberty Law, and an online professor for the university's paralegal studies program. "They can't practice law, but they're much more than a secretary. They work with attorneys and do a lot of the behind-the-scenes research, writing, and preparation."
A month after attending Liberty's graduation exercises in May, Alexa Smith began working as a legal secretary with an opportunity for promotion to a paralegal program at a personal injury firm in Pittsburgh, Pa.
"I sent my résumé to the firm and within 20 minutes they had set up an interview with me," said Smith, who was offered and accepted the job the day after her interview. "During the interview, I learned that my résumé stood out as unique to them, and Liberty was a huge part of that."
Law school's experiential training rated among nation's best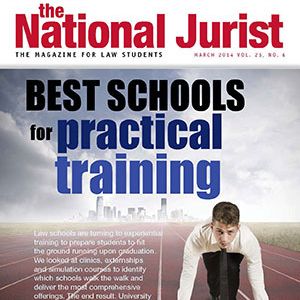 Liberty University School of Law received an "A" in the The National Jurist magazine's March issue cover story featuring the Best Schools for Practical Training.
Liberty Law was one of 21 universities and colleges across the United States to receive an "A" or higher, putting it in the top 10 percent of all 203 law schools in the nation.
Liberty was ranked directly behind Boston University's School of Law and received the same grade as Seton Hall University, the University of Connecticut, Temple University, and Northwestern University among others.
Based on information compiled in December for the American Bar Association, schools were rated on the number of faculty-supervised clinical positions filled, the number of field placement or externship positions filled, and the number of simulation positions filled (weighted in that respective order).
The magazine awarded bonus points to schools using unique innovations such as capstone courses, pro bono requirements, practicums, and legal practice or practice court programs to make learning models even more intensive.
"Liberty Law is a national leader in providing experiential learning to our students," said Mat Staver, dean. "We teach both the substance of law and how to apply law in real-life situations. Our students and graduates have a competitive advantage because they are better prepared than their peers to address real-world situations."
Fall 2014 Convocation Schedule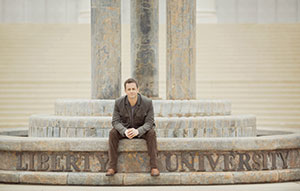 This schedule is tentative and subject to change. Visit www.Liberty.edu/Convo for the most up-to-date schedule.
9/10: David Nasser – Senior Vice President for Spiritual Development, Liberty University
9/12: Jonathan Falwell – Senior Pastor, Thomas Road Baptist Church
9/15: Nik Ripken – Author
9/17: Roy Peterson – Pastor, Author, President of the American Bible Society
Bob Creson – Current Wycliffe President
Mart Green – Hobby Lobby Heir, Founder & CEO of Mardel and Every Tribe Entertainment
Courtney Garrett – Miss Virginia
9/19: Mac Powell – Lead Singer of Third Day
9/22: Darrell Bock – Christian Scholar
9/24: Mark Gungor – Pastor, Celebration Church in Wisconsin
9/26: Kirk Cameron – Actor, Producer
9/29: Vernon Brewer – Founder and President of World Help, Liberty's First Graduate; Children of the World Choir
10/1: Todd Starnes – Fox News Contributor and Author
Ed Gillespie – Republican Candidate for U.S. Senate
10/3: Shelene Bryan (Homecoming) – Author of "Love, Skip, Jump"
10/6: Dr. Ed Hindson – Distinguished Professor and Dean, Liberty University School of Religion
10/8: David and Jason Benham – Liberty Graduates, Real Estate Moguls
10/13: J.D. Greear – Pastor, Summit Church in N.C.
10/15: Mark Batterson – Author and Pastor ofNational Community Church, Washington, D.C.
10/17: Ed Stetzer – Alumnus, Author, President of Lifeway Research Division
10/20: TBA
10/22: Leith Anderson – President of the National Association of Evangelicals
10/24: Jim and Jill Kelly – Liberty Parents; Jim is a Cancer Survivor and Hall of Fame NFL Quarterback
10/27: Alternative Convocations*
10/29: Jay Strack – President and Founder, Student Leadership University
10/31: Alex Himaya – Senior Pastor of theCHURCH.at in Tulsa, Okla.
11/3: Chris Tomlin – Recording Artist
11/5: Oliver North (Military Emphasis Week) – Author, Military Historian, Former U.S. Marine Corps Lieutenant Colonel
11/7:  Louie Giglio (College For A Weekend) – Pastor of Passion City Church, Atlanta, Ga., Founder of the Passion Movement
11/10: Rick Santorum – Former Senator, Presidential Candidate
11/12: TBA
11/14: Alternative Convocations*
11/17: Andrew Burian – Holocaust Survivor
11/19: Rush of Fools – Christian Music Group
David Nasser – Senior Vice President for Spiritual Development, Liberty University
11/21: Prayer & Praise
12/1: Ken Davis – Christian Comedian
*Schools within the university host their own Convocations