Dr. David DeWitt is a man on a mission.
Like many academic deans at Liberty University, the chair of the Department of Biology & Chemistry is always evaluating curriculums and recommending new majors that will make the programs more educationally relevant.
As he does his evaluations, DeWitt wants to ensure that courses remain pertinent in the classroom and equip Liberty students for future employment opportunities.
"We are seeing the results of our students getting into medical school and graduate school," DeWitt said. "We are trying to provide a variety of options in the sciences rather than providing a one-size-fits-all major. We are tailoring and targeting our programs to student interest and job demand."
While Liberty has always had a reputation as an excellent teaching university, it is also known for thoroughly preparing its students to land full-time jobs upon graduation. That emphasis, reinforced by the university's Christian values, is a primary reason that the default rate on federal student loans for Liberty students is less than half the national average.
For the past three years, DeWitt has been enhancing the biology and chemistry programs by strengthening their academic core. The department has added degree programs in zoology, cell and molecular biology, and environmental biology, and has beefed up coursework in biomedical science, which prepares students to take entrance exams for medical school. Last year, Liberty students scored above the national average on the Medical College Administration Test (MCAT).
Across campus, new majors are constantly in the planning stage.
Dr. Ron Godwin, Liberty's senior vice president for Academic Affairs and provost, said two exciting programs being added are a doctoral degree for nurse practitioners and a master's degree for physician assistants.
While the nurse practitioner degree program will be overseen by the university's School of Health Sciences, the physician assistant program will be part of the new College of Osteopathic Medicine, which opens in 2014.
"If you want to be a physician assistant, you'll be able to be in a program directed by the dean of the medical school and taught by physicians teaching in the medical school," Godwin said.
Students in the PA program will also be able to get required training hours in a new clinic offered by the School of Health Sciences.
The following are some of the new residential majors for the 2013-14 school year. For information on the more than 20 new academic programs being offered through Liberty University Online, the nation's largest private, nonprofit online educator, visit www.Liberty.edu/Online.
Zoo and Wildlife Biology
While previous biology courses have been designed for students more interested in going to medical or veterinary school or into a Ph.D. program, the new zoo and wildlife biology major is designed for students interested in working with animals either in a zoo, game park, rehabilitation center, or veterinary clinic. It is also suited for those interested in pursuing graduate work in natural resources, particularly in wildlife management.
"The new major is designed for students interested in animal husbandry and wildlife research," DeWitt said. "It looks more at the behavior of the animals instead of their biochemistry and physiology."
The major is suited to people who want to work with captured wildlife or animals living in the wild. Students will have a required internship at a zoo or research project on subjects such as flock migration or conservation. For example, research could include an evaluation of the ecosystem surrounding the nearby Peaks of Otter, part of the National Park Service and the only known habitat where a certain species of salamander resides.
The freshman and sophomore classes provide a strong foundation in biology; the upper level courses emphasize the biology and behavior of vertebrates.
Chemistry
As part of the effort to strengthen Liberty's science offerings, DeWitt is resurrecting the chemistry major, which has been dormant since the early 1990s.
"Chemistry is a central science," he said. "To do much in terms of medical research or biomedical research, you have to have a solid foundation in chemistry. Strengthening the chemistry area is part of having a robust science program. Having a good chemistry program makes our science programs better."
There are a number of jobs that require chemistry, according to DeWitt, including developing pharmaceuticals or biodiesel fuels. Many people who major in chemistry go on to medical school.
American Sign Language & Interpreting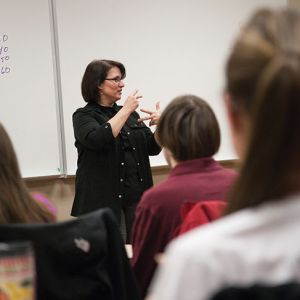 Assistant Professor Nicole Thorn said the new bachelor's degree in American Sign Language & Interpreting puts Liberty in unique company. Thorn, the director of the program, said there are only 39 schools in the United States that offer the degree, and Liberty's program is the only one in Virginia.
The degree equips students with both the technical skills and educational credentials required to complete the National Interpreter Certification exam, which is administered by the Registry of Interpreters for the Deaf (RID).
The need for interpreters has skyrocketed since the Americans with Disability Act mandated accessibility for deaf individuals.
"There is a nationwide shortage of interpreters," Thorn said. "Interpreters are needed in a wide variety of fields, including the workplace, corporations, medical facilities, and education. Pretty much, any field now needs an interpreter."
The major also explores issues pertaining to deaf culture, competency in American Sign Language, and developing interpreting skills in order to facilitate effective communications.
Music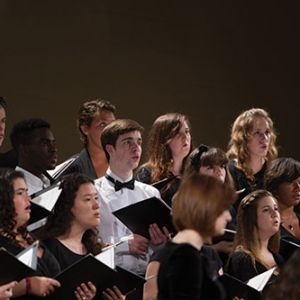 One of the rising stars on the Liberty campus is the School of Music, which will soon be located in a new state-of-the-art facility with a 1,600-seat concert hall and 50 practice rooms.
"It will be a great testimony to what the Lord has been doing here," said Dean Vernon Whaley.
Launched in 2012, the School of Music contains a bevy of new degree offerings this academic year. New performance degrees include string, vocal, guitar, piano, and woodwind/brass/percussion, as well as artist development, leadership communication, music in world cultures, songwriting, worship studies, and instrumental and vocal music (with music education concentration). The Bachelor of Science in Music and Worship degree also now includes a concentration in cinematic arts.
With alumni like TobyMac, Guy Penrod, Michael Tait, and Meredith Andrews, Liberty has a rich tradition of nurturing successful Christian recording artists and hopes to become more influential in both Christian and secular music circles as well as in praise and worship.
Currently, the school has about 600 worship majors and approximately 160 students preparing to become teachers or performing artists.
Liberty also has plans to launch a master's degree program in music education specifically designed for those interested in teaching or administering college or high school music programs.
Furthermore, Whaley said many churches are now requiring music staff to have master's degrees.
"Our degrees are tied to the job market," he said.
In addition to its roughly 700 undergraduate students, the School of Music has about 400 students seeking graduate degrees, making it the seventh largest in the country.