New facility sets a high bar for music education with its unrivaled technology, design, and versatility
Students in the Liberty University School of Music are now being fine-tuned in a facility unlike any other in the country — the state-of-the-art Center for Music and the Worship Arts, featuring the recently unveiled 1,600-seat concert hall.
The concert hall completes the 141,000-square-foot center, which spans two connected buildings. The academic wing opened in August 2015.
Beautifully constructed to complement the campus' neo-Jeffersonian architecture — with symmetrical design, porticos, and red brick — the School of Music's new home also has its own visual identity, with a sparkling cascade of glass connecting its buildings. The interior features brick and light hickory trimmings throughout most of the common areas, which are spacious and inviting. The grand entryway includes a spiral staircase leading up to a floating walkway. The aesthetics might catch the eye, but the high-tech capabilities hidden deep inside are what make it conducive to musical mastery.
Creative construction
Taking inspiration from some of the finest auditoriums in the country, Liberty's new concert hall is designed to accommodate both grand and intimate performances, as well as adapt to just about any sound need, from acoustic sets to amplified shows.
"Ours is the only building in a college or university anywhere in North America with this capability and flexibility of doing both acoustic and electronic presentations in the same room," said Dr. Vernon Whaley, dean of the School of Music.
The technology begins with the Meyer Sound Constellation Acoustic System. Hanging high above the seats is a large sound wave — a rib-like, wooden structure that is mostly aesthetic. The front of the wave, however, is part of the system's software. The wave can be used to "deaden" the room, blocking echoes for non-amplified events like orchestra concerts. And with a simple change in programming, the wave can be adjusted to accommodate an electronically amplified rock 'n' roll show.
"With the electronic miracles of the Constellation Acoustic System, we can literally sample the acoustics in any concert setting anywhere in the world and duplicate it in this building," Whaley said, adding that the flexibility allows for great variety, from classical orchestras to praise and worship, jazz and pop music shows, musical theatre, opera, and more.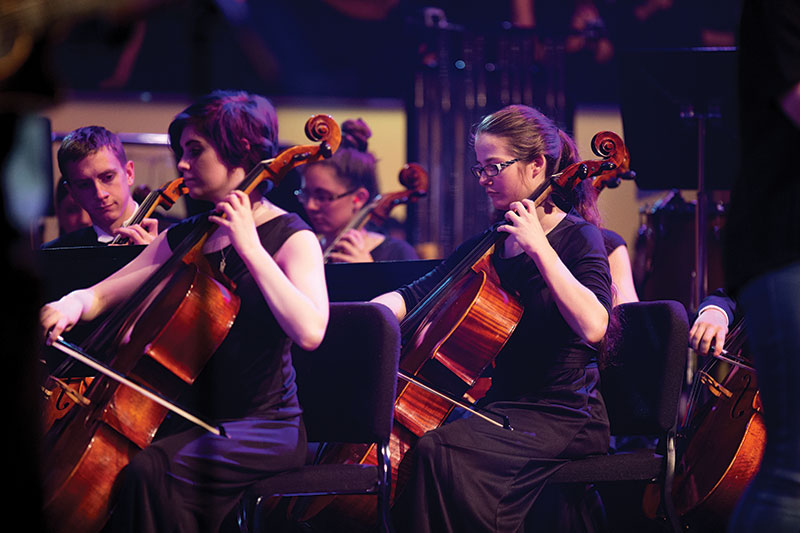 This school year, the concert hall will host worship nights, two operas, showcases of diverse musical styles, a major Christmas production, and a joint concert with the Liberty University and Lynchburg symphony orchestras (see schedule).
The concert hall also features state-of-the-art lighting and projection technology as well as a retractable, telescoping choir loft that doubles the stage seating from 150 to 300 singers. The stage features an orchestra pit that can be raised and lowered to three different levels. It can be raised to serve as an extension of the stage or, for more intimate shows, can sit level with the audience. It can also be lowered below the floor level. All drapes, curtains, banners, lifts, and doors can be electronically controlled from one location, with a cue-based system that allows for preset sequences and effects for precise technical execution.
To further prevent outside noises from getting in, the concert hall (as well as other areas throughout the center) was constructed with two exterior walls, separated by a thick layer of insulation. This unique construction design was recognized for excellence even before the building was completed — last spring, the Steel Erectors Association of America (SEAA) awarded it the 2016 SEAA Class III ($1-2.5 million) Project of the Year for the steel portion of the structure.
While the concert hall was being built, other areas were also being constructed nearby, including administrative offices, a percussion lab, a green room with dressing rooms, four classrooms, piano storage, a catering prep space, the 124-seat Macel Falwell Recital Hall, and a world music exhibit that features hundreds of antique instruments from various cultures.
The building's recording studio will be the final touch. Designed by the renowned Walters-Storyk Design Group (WSDG), which has installed over 3,000 professional sound studios used by some of the world's biggest stars, the studio is scheduled to be completed next spring.
Academic Enrichment
Throughout the academic building are 50 Wenger SoundLok "sound isolation" practice rooms, 43 teaching studios, and the 54-seat Doug Oldham Recital Hall. There are massive instrumental and choir rehearsal rooms, common rooms on each floor for group practice and instruction, as well as piano, songwriting, guitar, and music computer labs.
By having such a variety of spaces, the building is more conducive to creativity, encouraging the students to grow in both their theoretical understanding of music and their artistic expression. The multiple practice rooms, for example, help students hone their skills and fulfill the required supplemental practice hours.
The songwriting lab provides eight pods that can be used for individual recording sessions or, in the spirit of collaboration, up to six can be synced for group writing/recording sessions.
When students perform in the recital halls, they have access to the same variable-acoustic sound technology and curtain control as in the concert hall. This allows music students to create professional-quality productions in a more intimate setting.
The School of Music trains students to impact every facet of the music industry, including producing, recording engineering, publishing, and artist development, which is why top-notch live production technology, including lighting, is important.
"We are training artists to do presentations, and we are training recording engineers and producers," Whaley said. "Part of that training includes teaching students how to program the lights. It is a really important part of the artist's presentation."
The recording studio is wired to record from six spaces in the building — the two recital halls, the concert hall, the choir classroom, the band/instrumental classroom, and the songwriting lab — and utilizes the latest wireless, digital software for offsite recording, even across state or country lines. This cutting-edge program is designed to eliminate latency (the delay that typically occurs during a broadcast).
The possibilities for live or studio recording are endless at Liberty. An orchestra and choir could be recorded live from two different rooms, or an artist could be recorded from Nashville and mixed in with musicians recorded at Liberty.
"That means we can give our students opportunities to play or sing with the best musicians in the world," Whaley said.
Liberty Music Group (LMG), the university's newly formed music publishing, producing, and recording division, was created to support the school's growing commercial music programs and provide a platform for both budding artists and music industry professionals. LMG is developing labels and imprints (for printed music materials) to serve different areas of the industry, from printed education materials to jazz, classical, and worship music, as well as film scoring. Students interested in becoming artists can find a venue to publish their own music as well as get opportunities to be mentored by established artists.
Whaley said LMG will give all students access to quality, live recordings of their recitals.
From providing students spaces that inspire creativity to offering tools to hone their skills and avenues for presenting themselves to potential employers, Liberty's new music facility is more than a beautiful collection of brick, glass, and steel. It is a conduit for limitless expression, collaboration, and influence. It fully supports the School of Music's mission to send out graduates who will take worship to the nations and impact the culture for Christ.
"We are grateful to Liberty's administration for their vision and for providing the School of Music with this building," Whaley said. "We believe it is going to be a contribution to academia, the community, and to the kingdom of God for many years to come."
---
DID YOU KNOW?
Liberty University School of Music was ranked the top Christian College Music Program of 2016-17 by Christian Universities Online. Liberty was also named one of the "Best of the Best" worship programs in the country by Worship Leader Magazine for the last five years.

Liberty's School of Music is the nation's seventh largest and houses some of the most popular and fastest-growing degree programs on campus, with over 1,400 undergraduate and graduate students enrolled this year.

Liberty is one of just a handful of institutions

worldwide to be designated an All-Steinway School, providing the highest quality pianos in the world. There are 123 Steinway & Sons pianos across the Center for Music and the Worship

Arts.
---
THE HIGH NOTES
State-of-the-art features of the Center for Music and the Worship Arts include:
Meyer Sound speakers 

in every classroom and venue

Dante connectivity in all venues, which creates an interconnected audio network that enhances the reach of the recording studio and eliminates broadcast delay
Variable acoustics in both recital halls and the concert hall to accommodate both non-amplified (acoustic) and amplified (electronic) presentations
Advanced rigging systems in all performing venues to control all drapes, banners, stage lift, doors, etc. from a single location via a cue-based control system
Sophisticated lighting 

and audio mixing systems

Scenic projection 

in the concert hall

DiGiCo mixing consoles 

with fiber-optic networking

Advanced underground HVAC system 

that maintains comfortable temperature in the concert hall without any noise

Telescoping choir risers 

in the concert hall that can adjust stage seating from 150 to 300

Stage lift 

that adjusts the concert hall's choir loft between three height levels

LED tape around the concert hall's seating section railing, creating a glow that is programmed with the lighting