Former Congressman David Brat took the helm of the Liberty University School of Business on Jan. 2.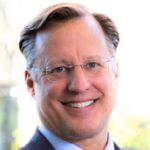 Brat served two terms as the U.S. Representative for Virginia's 7th District, from 2014-18. Prior to that, Brat held a teaching position and was chairman of the economics and business department at Randolph-Macon College. He has also worked in accounting in both private and public sectors.
Dr. Brat and his wife, Laura, have two children, Jonathan and Sophia.
How will you draw on your background in business and higher education to serve Liberty University?
I have traveled a long road, and God has guided me to Liberty to make full use of the background He has provided. I majored in business and worked at Arthur Andersen (an accounting firm) in Detroit and Chicago. But I had always felt the call to seminary, so I followed that calling to Princeton Seminary with the intent of teaching college systematic theology. While in seminary, I attended a Capital Semester in Washington, D.C., and studied economics and ethics, so the systematic part just became even broader for me. I followed this passion by pursuing a Ph.D. in economics at American University in D.C., where I worked at the World Bank and for the U.S. Army. I then was fortunate to teach economics and ethics for 18 years. I tried to apply these disciplines in the real world by working for a Virginia senator for seven years, and then felt the call to public service myself and served in Congress for four years. I fully intend on using and sharing the theory and the practice over the years to shape curriculum and programs to best serve our students. In particular, I have already been meeting with the Career Center and trying to promote Handshake, which links our students to internships and employers across the country. Our entrepreneurship program is not just for business students. Liberty always begins with the whole person and begins with God's plan for their lives, and entrepreneurship is meant to guide all students to link their callings and talents with careers where they will spend most of their hours on earth.
What are some of your goals for the School of Business?
One of my main goals will be to communicate and highlight what Liberty offers to our students and to the world. I also want to share what I think is our business school's distinction: we have a clear conception of the good and of ethical living because we have a commitment to God and His Kingdom. We teach and plan courses and plan vocations and careers based on this worldview. Most institutions in higher education were founded with strong faith and ethical backgrounds but unfortunately that has now been left far behind. So one of my many goals is to highlight this vision and the hope that we have to share with the world.
Why did you enter a life of public service and what are you most proud of accomplishing during your time in Congress?
I entered Congress because I saw that our country was falling way off course on many of the foundations that have made us great. Our debt is over $20 trillion. Our unfunded liabilities are at $100 trillion. Our mandatory programs like Medicare and Social Security are insolvent in 10 to 20 years. Our K-12 education system does not teach about God, nor does it teach a system of ethics. Our higher education system too often tends to teach that business and capitalism are morally bad. Economic growth had been sluggish and middle-class wages have been flat for 40 years. These sound like economics issues, but they are all obviously hugely spiritual and ethical issues as well. I am most proud that even when the heat was on, I kept my promises and voted and did what I said I would do. I tried my best to use the media to educate everyone about the issues above. We still have major work to do, and so now I will still try to spread the good Word.
---
Almost There
Liberty University plans to officially open its new, 78,000-square-foot School of Business building by Commencement. The three-story structure will be equipped with state-of-the art technology in its classrooms and professional meeting rooms. It will house the Center for Cyber Excellence and the Center for Entrepreneurship and will also feature a stock trading simulation room (in partnership with BB&T), information technology labs, networking and data centers, and a 500-seat auditorium.