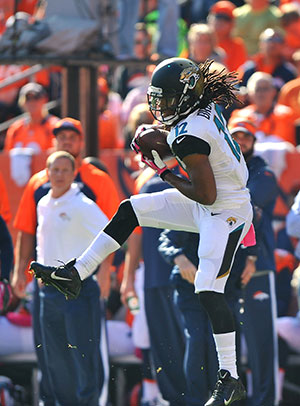 After what he could only describe as a frustrating first year in the National Football League, Liberty University alumnus Mike Brown ('11) took the field against the Kansas City Chiefs on opening day of the 2013 season as the No. 3 wide receiver for the Jacksonville Jaguars. As the hot Florida sun beat down on EverBank Field, Brown lined up left with just over a minute to go in the first half.
Running a short, inside slant against a zone defense, Brown found a gap, turned, and was immediately hit with a pass to the chest — his first NFL catch. After a 14-yard gain on the play, two Chiefs defenders took him down, the second with a hard shot to the back.
"It just felt like a bruise," Brown recalled. "It was a little sore, but I stayed in the game. When I came back out (from halftime) I tried to keep going, but the first drive I was in I took off, and I felt sharp pain and couldn't do much after that."
Brown had to wait four days before he finally got the news that he would be out for four to six weeks with a back fracture. The injury was yet another hurdle in his early career.
The previous season had been arduous. Following his successful collegiate career with the Flames, Brown was overlooked in the NFL draft. He eventually earned a tryout with the Jaguars after which he was invited to training camp. Brown did not perform well at camp and was waived. He managed to make the practice squad, a grueling endeavor without the reward of suiting up for games. But Brown's perspective remained positive throughout the ordeal.
"There are a lot of things behind the scenes that the average fan may not see that guys go through day in and day out," Brown said. "It's tough on a lot of guys. Job security is not very good. I have no idea how people deal with that without a relationship with God. I can sit back, and I can trust in Him and know that no matter what, He has my back. At the end of the day … whatever He has planned for me is going to happen. … It just gives me peace."
At the end of that first season, Brown got the call — he was being pulled up to the active roster. He made his NFL debut in Jacksonville on Dec. 23, 2012, against the New England Patriots. A week later, he was promoted to the starting lineup for the season finale at Tennessee. After leadership changes in the offseason, he impressed the new coaching staff and earned playing time in the first game of the new season, the game where he received the injury. The implications of being off the field for up to six weeks were startling.
"I was basically a rookie with one catch and I am out four to six weeks," Brown said. "That is not very good job security."
Like it had before, Brown's faith kept him anchored as he focused on "beating the clock" to get back on the field as soon as possible. "(My faith) applied there more than any other situation. I felt like that is all I really had — faith that the injury would heal, faith that I wouldn't lose my job before then."
His positive attitude and dedication paid off, and Brown found himself on the turf once again on Oct. 13, 2013, in Denver. He was listed as the No. 5 receiver but ended up playing most of the game, which he finished with four catches for 49 yards. A week later he caught his first touchdown pass in London against the San Francisco 49ers.
Brown completed the 2013 season with 32 receptions for 446 yards and two touchdowns, more than 13 yards per catch. The highlight of the season was an Oct. 20 performance at home against San Diego when Brown made three catches for 120 yards, including a career-high 43-yard reception.
Though a lot of his success can be attributed to talent, Brown admits that much of what he has accomplished has come from surrounding himself with the right people. Because of the impact these individuals have had on his life, he makes it a priority to do the same for others.
Brown returned to his alma mater this past spring, along with New York Giants running back and fellow Flames alumnus Rashad Jennings, to host a football camp and raise money for Habitat for Humanity. While Brown is involved in community work in Jacksonville — regularly visiting the local children's hospital and helping out at a homeless shelter — he makes it a priority to stay connected to the Lynchburg community as well. Having grown up an hour north of campus in Charlottesville, Brown considers Liberty to be just as much his home.
"What really got me to come to Liberty was when I came on campus and saw the vision of (Liberty founder) Dr. (Jerry) Falwell and the vision of (Athletics Director) Jeff Barber. … That, along with everybody I met throughout the campus, made it seem like home to me. I left campus that day feeling like it was home."
At Liberty, Brown majored in business with a concentration in finance and played an integral part in ushering in an era of success for Flames Football. The team won four straight Big South Conference championships between 2007 (when Brown redshirted as a freshman) and 2010. As Liberty's starting quarterback beginning in 2009, Brown was a two-time Big South Offensive Player of the Year honoree and Walter Payton Award candidate. He finished with a Big South record of 15 games with 300 or more total offensive yards and a school record in completion percentage (65.0). He also ranked fifth at Liberty in career touchdown passes (45) and sixth in passing yards (6,072).
During his senior season, Brown was the Big South leader and ranked No. 9 in the country in total offense (310.10 yards per game) and was seventh in the nation in points responsible for (16.60 per game) and No. 17 in passing yards per game (266.40).
During his break before spring training camp with the Jaguars, Brown stopped by campus for the Flames' annual Spring Football Game on April 12. He also took time to share with the Liberty Journal his journey as an athlete.
After the success you experienced last season, what is your mindset going into the upcoming season?
I have the same mindset today as I had the first day that I walked in. I felt like I had something to prove (and) my mindset hasn't changed. There are thousands of guys trying to come in and get my job, so I've got to be on my A game every day. There is never a time where you can relax in this profession. Going through what I have been through and seeing what I have seen, I am probably more hungry now than I have ever been.
How do you give yourself an edge to succeed in the league?
The first thing I did is find that guy I can look up to. I looked for whoever is the best at what they do, who works the hardest. Then, I see what they do — how they have lasted in the league — and then I try to outdo that. Cecil Shorts has been that guy for me in Jacksonville. I really look up to him. I am not going to let him outwork me, and he is not going to let me outwork him.
Rashad (Jennings) played a big part in my first year, teaching me what I need to do to take care of my body. He was one of the first people to take me under his wing (at Liberty and in the NFL).
What sort of spiritual support system do you have in the NFL?
It is just amazing how God works. He puts different people in your life in different seasons. It has really been amazing to sit back and watch.
We hold Bible studies every Saturday night before the game. We do Bible studies Monday night at different people's houses and then we started, toward the end of the season on Saturday morning, doing a casual group talk. That was really beneficial to me in my growth.
Just being able to fellowship with those guys, with different spiritual leaders, played a really big part in my life and I am thankful for them.
What kind of influence do you have on your teammates?
Last year we had a very young team, a lot of guys coming straight out of college. We have seen at least 30-40 guys come through (the receiver room), so you are able to impact people in different ways, whether they come in for a day, a week, or a year. I haven't been in the league for a long time myself, but I was able to share my experiences with those guys, and I think it helped them in a lot of situations. That is what I am all about, helping people in any way that I can. I'd rather them learn from my mistakes than have to go through them themselves.
How do you approach game day?
I try to keep it as normal as possible. Sunday is a fun day. I go out there and have fun and stay relaxed before the game. I am focused, but I am relaxed at the same time. I throw a joke out here and there to keep the guys loose. I am all about having fun.
When did the dream of playing in the NFL start to feel like it could become a reality?
It was actually kind of a roller coaster. When I first came on (Liberty's) campus I thought, "These guys are so big, everybody is so strong, everybody is moving so fast."
That is when I really had to start focusing on what I wanted to do outside of football because coming into college, the only thing I really thought about was playing football. Once the game started to slow down and I started having some success, (the NFL) started to feel more reachable. And then once Rashad went, he came back and gave me advice and an extra bit of confidence.
At the end of the day, you still have to get drafted or picked up. I felt good about it for a while, but then no teams were really showing interest. But then I got that call, barely got a tryout, and I kind of took that and ran with it.
Having played such a large role in building a legacy for Flames Football, what does it mean to you to see Liberty where it is today?
Our class was one of the winningest classes … we had a really good group of guys. We helped change the culture. We went on to get some conference championships and things like that. It was great to be a part of that. One day down the road, if I have kids and bring them back 15 years from now to look at the university, I can only imagine what it will look like based on the advancements they have made over the short period of time while I was there and since I have been gone. It is really exciting. It definitely feels good to know that you played a part in that building process.
You, along with Rashad Jennings, are staying connected to the community here. Is that something you plan to continue?
We really wanted to hit the Lynchburg community this past offseason. We did stuff for Habitat for Humanity, got back in touch with Liberty … and the football alumni. We are going to try to do an event every year around this time, like put on a camp for kids and raise money for a charity.
Rashad and I share a lot of the same passions — giving back, helping people that may not be as fortunate as us. We both say, "There are always people that say you can't do something, so look at us, let us be testimonies that yes you can."
You describe yourself as pretty down to earth. How do you connect with people?
When I was growing up, I always put professional athletes up on a pedestal and thought they were on some other level. I like to be a person that is very approachable … I think that says more than someone who is outspoken. … I grew up watching people as opposed to listening to what they say. Because people can say anything, but I judge people by their actions.
The talent that I have on the football field is something that God has given me and I am very thankful for that. I try to use that to leave a mark on every person that I cross paths with.
Have you thought about what you want to do after football?
To be honest, I am thinking about it right now, always preparing for it. I always knew I loved to help people and I loved football and that led me to want to coach. My passion is definitely coaching.