Former Congressman Robert Hurt named executive director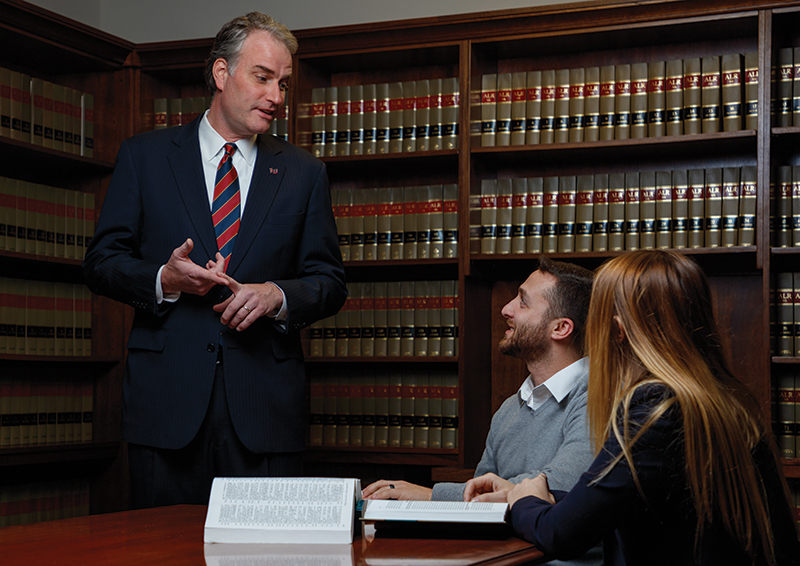 After 15 years in local, state, and national government, former U.S. Congressman Robert Hurt (Virginia's 5th District) has joined Liberty University to head up the new Center for Law & Government. In concert with the Helms School of Government and Liberty University School of Law, the center has many ambitious goals. At the top of the list is to influence public policy in America and to celebrate and spread conservative ideals.
"I could not be more thrilled to be a part of this project," Hurt said. "I think this is an excellent opportunity for Liberty University to be a part of the policy-making process in a way that other places cannot."
The center will be a public policy innovator and incubator, engaging faculty and students across the nation in research, analysis, and formation of sound conservative policy ideas at all levels of government. It will create practical solutions to challenges in education, health care, business and economics, government regulation, national security, and other areas affected by public policy, as well as train the next generation of men and women in statesmanship and public service.
It will be a place of ideas, an arena for thought and debate with a focus on conservative principles, such as limited government, the rule of law, and a free market economy. The center will initiate studies on various issues in law and government and provide regular policy opinions.
In addition, there will be a speaker series with some of the country's biggest names in politics and law.
Students will be able to put what they've learned into practice in skills labs, where they can run through real-world scenarios and receive feedback on their performance. For instance, students could play the role of a legislator's spokesperson and try to stay firmly on point while delivering a press conference to journalism students.
"Hands-on experiences for students are so important," Hurt said. "A very big part of what this center will bring is the opportunity for them to more fully take part in activities that will hone their skills. Whether you serve in an elected office or in a supporting role to an elected official, practical experience is absolutely critical. It makes you more effective. It makes you able to hit the ground running. And it gives you a full appreciation for the powers and limits of government under our constitution, something that I don't think is taught regularly across this country."
Liberty President Jerry Falwell said Hurt's experience and track record of impacting policy locally and nationally will be an asset to the university.
"The polls are saying Americans think it is time we take some advice from our founding fathers, and instead of electing career politicians, we elect citizen legislators who have succeeded in real life. Congressman Robert Hurt has certainly succeeded through more than a decade of successful private law practice. His commonsense approach, respect for the Constitution, and support of conservative ideals make him the perfect leader for this new center."
With many Liberty graduates already working in law and government, Dr. Keith Faulkner, dean of the School of Law, said the center will allow alumni, as well as current students, to have an even bigger impact.
"This center is another reflection of how Liberty wants to lead the way," Faulkner said. "We are not passive. We are active in the community, in our nation, and in our world. I'm really excited about not only what the policy-making aspect of this new center can bring forth but the true intersection between law and policy as well. The partnership between the Center for Law & Government, the Helms School of Government, and Liberty Law will certainly advance the mission of the law school to equip future leaders."
Dr. Shawn Akers, dean of the Helms School of Government, is equally excited about the cooperative venture.
"I'm so thankful to be able to work with Congressman Hurt, who brings the height of practical policy-making experience, and with the dean of an incredibly successful law school, whose bar passage rates are exceptional. I think the new center, the law school, and the Helms School of Government, working together, can create a place where theory and practice meet and can produce a powerful synergy in the fields of law, government, politics, and policy. The center is an exciting step in Liberty's leadership in the study of law and government that I think will become a training ground for statesmen and stateswomen and a place where tomorrow's leaders learn to engage today's culture and impact the discussion of law and policy in America."
According to Akers, statesmanship, morals, and a commitment to the spirit of service will continue to be a major focus. The goal is to not just teach students about law and government but to train future leaders.
Hurt, Faulkner, and Akers all say it is the ideal time for a center such as this, one that is committed to promoting conservative principles and creating world-changers through programs based in fact, research, and debate. They see the center as being firmly dedicated to free speech, where people can express their thoughts and opinions without being judged.
Future plans call for the construction of a new building on campus to house the center, with an arena, lecture halls, and classrooms.
"I think Liberty University has built over time, under the leadership of President Jerry Falwell and the deans here, not only a tremendous reputation," Hurt said, "but also a platform that I believe can be used for the education of students in unique and important ways."
---
Congressman 

Robert Hurt 
U.S. HOUSE OF REPRESENTATIVES (Washington, D.C.):  2011 – 2017 (term ended Jan. 3)
VIRGINIA SENATE: Richmond, Va. 2008 – 2011
VIRGINIA HOUSE OF DELEGATES: Richmond, Va. 2002 – 2008
Robert Hurt is a native of Southern Virginia. After graduating from Hampden-Sydney College and Mississippi College School of Law, he returned to his hometown of Chatham as a prosecutor. He went on to achieve a decade of successful private law practice before being elected to represent the people of Virginia's Piedmont region in a variety of elective positions.
During Hurt's time in elected office, he put together skilled legislative teams with the primary focus of sponsoring and supporting policy to promote jobs and economic growth – especially in rural America. In addition to using his seat on the Financial Services Committee to promote legislation to increase access to capital, he has also worked for policy to reduce unnecessary regulatory burdens and to make it easier for families, small businesses, and family farms to be free and successful. He has made constituent service and outreach a number one priority. In Congress, he was successful in working in bipartisan and bicameral efforts to persuade executive branch agencies to address specific concerns, resulting in significant regional job growth potential.
What local newspaper editorials said about Robert Hurt following his announcement in December 2015 that he was retiring from Congress at the end of his third term:
"Hurt has worked hard to support every economic development effort that has been launched to revitalize communities like this one."
Danville Register & Bee – Jan. 10, 2016
"Hurt did the job well. …  He has a disposition the process needs. …  We salute him but wish he had decided otherwise."
Richmond Times-Dispatch – Dec. 27, 2015
"He's a good man, a good public servant who takes seriously his responsibilities toward his constituents. …  Congress, we believe, would function better if there were more Robert Hurts, not fewer."
Lynchburg News & Advance – Dec. 30, 2015