Long before Top 25 FBS football, the endowment, and the campus we all know today, our Athletic Department announced the addition of a women's swimming program to our Division I offerings in 2008. I arrived on Liberty Mountain in the summer of 2009 to start the new swim program from scratch and spent the 2009-10 academic year recruiting and coaching a group of women already on campus who showed an interest in joining the first official NCAA team the following year. Current Associate Head Coach Jessica Barnes was added on as our first assistant in Fall 2010, and the 2010-11 school year marked the beginning of an ongoing journey that will see us start year 14 coaching together this fall.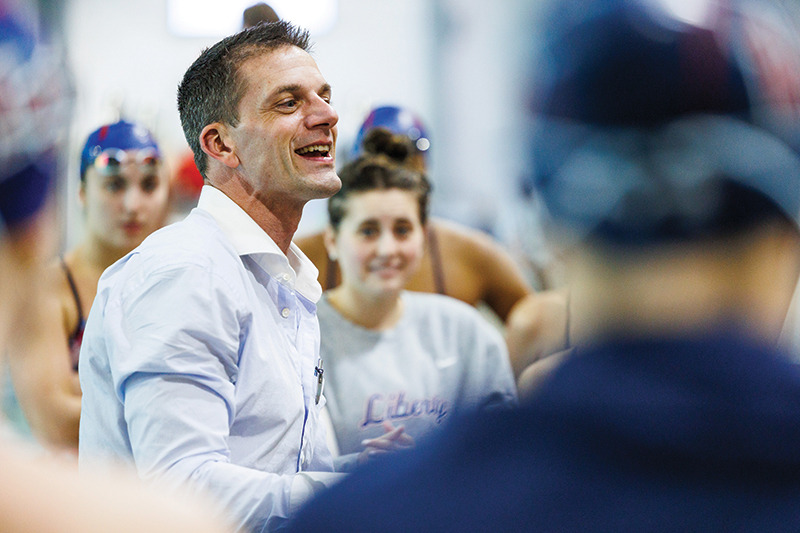 A vision from Liberty University founder Dr. Jerry Falwell to Train Champions for Christ and achieve academic and athletic excellence fueled us in those early days amid humble beginnings. While we are not fortunate enough to remember the original Thomas Road Baptist Church, watch football practice on Treasure Island or games at Lynchburg City Stadium, or attend Convocation under the tent, we did lift weights in the Hancock Athletic Center, take recruits on campus tours past the old Circle dorms, and find shelter in our first offices in the old Schilling Center.
We officially added women's diving to the program in 2013, and the recent addition of the state-of-the-art Liberty Natatorium in 2018 spurred a record string of five consecutive titles (and counting) in the Coastal Collegiate Sports Association (CCSA). Diving Coach Andrew Helmich rounds out our staff, and together we work daily to uphold the original vision of Dr. Falwell and co-founder Dr. Elmer Towns, delicately balancing a respect for the past with an eye toward the future.
Our women are superstars, and our culture of excellence in the Liberty Swimming & Diving program allows them to succeed in the classroom, in the water, and on the diving platforms, using this experience as springboards for impactful lives after collegiate athletics. While not perfect, our swimmers and divers have a heart for God, and they give our staff hope for the future of the university and Christianity in general. They are Champions for Christ in every sense of the term and represent Liberty and our alumni family with grace and dignity.
Perhaps just as importantly, our staff instills a spirit of thanksgiving and appreciation of Liberty history as pillars of that culture. We practice an overwhelming sense of gratitude and cultivate a deep reverence for those who paved the way and sacrificed much to build this great university. Every year, our women watch the famous "Do It" speech by Art Williams, a generous supporter of Liberty and the namesake of Williams Stadium. How many enter the stadium gates every year without knowing the "why" behind the name? They also learn about pioneers in women's sports at Liberty, like the late Brenda Bonheim, who helped start the women's basketball and volleyball programs and was our first-ever Senior Woman Administrator, and longtime professor and coach Dr. Linda Farver, as well as several swimming & diving alumni who worked tirelessly in our original facility, the LaHaye Aquatics Center, to build our program into a winner.
Gratitude, a zero-entitlement attitude, appreciation, reverence, and remembrance. These are attributes that we instill in our program. Thank you, alumni and supporters. Your efforts are not lost on our program. We honor you with gratitude and our work.
But we do not live in the past. We're always moving forward. We do not tire nor falter. We strive daily, with Paul's words in Ephesians reminding us that we were created in Christ's image to do good works. We honor the past and those who sacrificed to build Liberty and our program, but we do not rest in their accomplishments; we're busy writing the next chapter and making our contributions to Liberty's story.
As we're no longer in the lean years, we'll use every resource and facility available to further the mission of Training Champions for Christ. We will not deny God's current blessings. Though we have plenty, we will never let shiny new buildings or the talk of resources lull us into the shallows of mediocrity. We will, without fail, maintain an old-school work ethic of which all Liberty alumni can be proud. We will never waver from Dr. Falwell's original vision and will always pledge that "If it's Christian, it ought to be better," for within Liberty Swimming & Diving, we believe it is.
---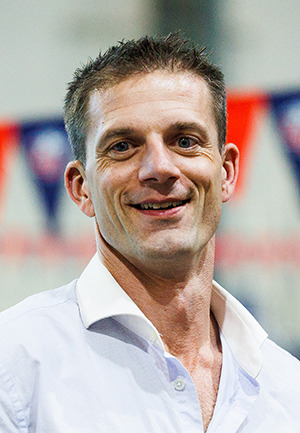 Jake Shellenberger is entering his 14th season as Liberty's founding women's swimming head coach and is coming off his fifth CCSA Coach of the Year honor this past season. Prior to joining the Liberty staff, he served as an assistant coach on Penn State University's men's and women's swimming & diving team. Shellenberger is a member of the National Strength and Conditioning Association, American Swimming Coaches Association, and the College Swimming Coaches Association of America.