MALIK WILLIS RECEIVES BOBBY BOWDEN TROPHY FROM BOWDEN FAMILY
When Flames star quarterback Malik Willis was asked how he will approach his budding professional football career and handle the countless eyes on him leading up to the NFL Draft, his answer was simple: "Keep looking up, don't look out in front."
The interview was a part of a panel during the March 23 Convocation that centered on the theme of faith and football. Liberty alumna and host of ESPN's "Sunday NFL Countdown" Samantha Ponder ('09) led the discussion, joined by her husband, former NFL quarterback Christian Ponder, Willis, Flames Head Coach Hugh Freeze, and Tommy and Terry Bowden, sons of Bobby Bowden, who were also there to present the 2021 Bobby Bowden Trophy to Willis. The annual award recognizes the college football player who epitomizes a student-athlete of faith. Willis' gridiron performance in the fall earned him multiple national recognitions, and many projected him to be selected in the first round.
"It's more than an honor; I'm more than blessed to receive this award," Willis said during the presentation. "I can't do anything but give the glory to God, and my parents, and thank Liberty University for having me."
Christian Ponder was the 2010 recipient of the Bobby Bowden Trophy.
Bobby Bowden, the legendary college football coach, passed away in August.
All the guests noted that the Christian values that Bobby Bowden so clearly demonstrated throughout his life are reflected today in Malik Willis. At the NFL Combine in early March, a video of Willis handing out some items from a suitcase to a homeless person went viral. 
"Football only lasts so long, and none of us are perfect, so you have to strive to be better and do something good," Willis said. "We are all works in progress. When you have a grateful heart, it makes (life) easier."
Freeze noted that after every game Willis played, no matter the outcome or how well he performed, Willis would post on his social media the concise but poignant phrase, "Thank God for everything" or the acronym "TGFE."
Terry Bowden told Willis, "What I think made my father different and what makes you different is not just that you're a leader quarterback, but that you're also a servant quarterback like how he was a servant coach."
The Convocation followed an exciting Football Pro Day at Liberty the day before, in which representatives from all 32 NFL franchises — more than 60 NFL team personnel, including two NFL head coaches and four NFL general managers — came to watch Liberty's 17 draft-eligible players display their skills.  
---
champion on the track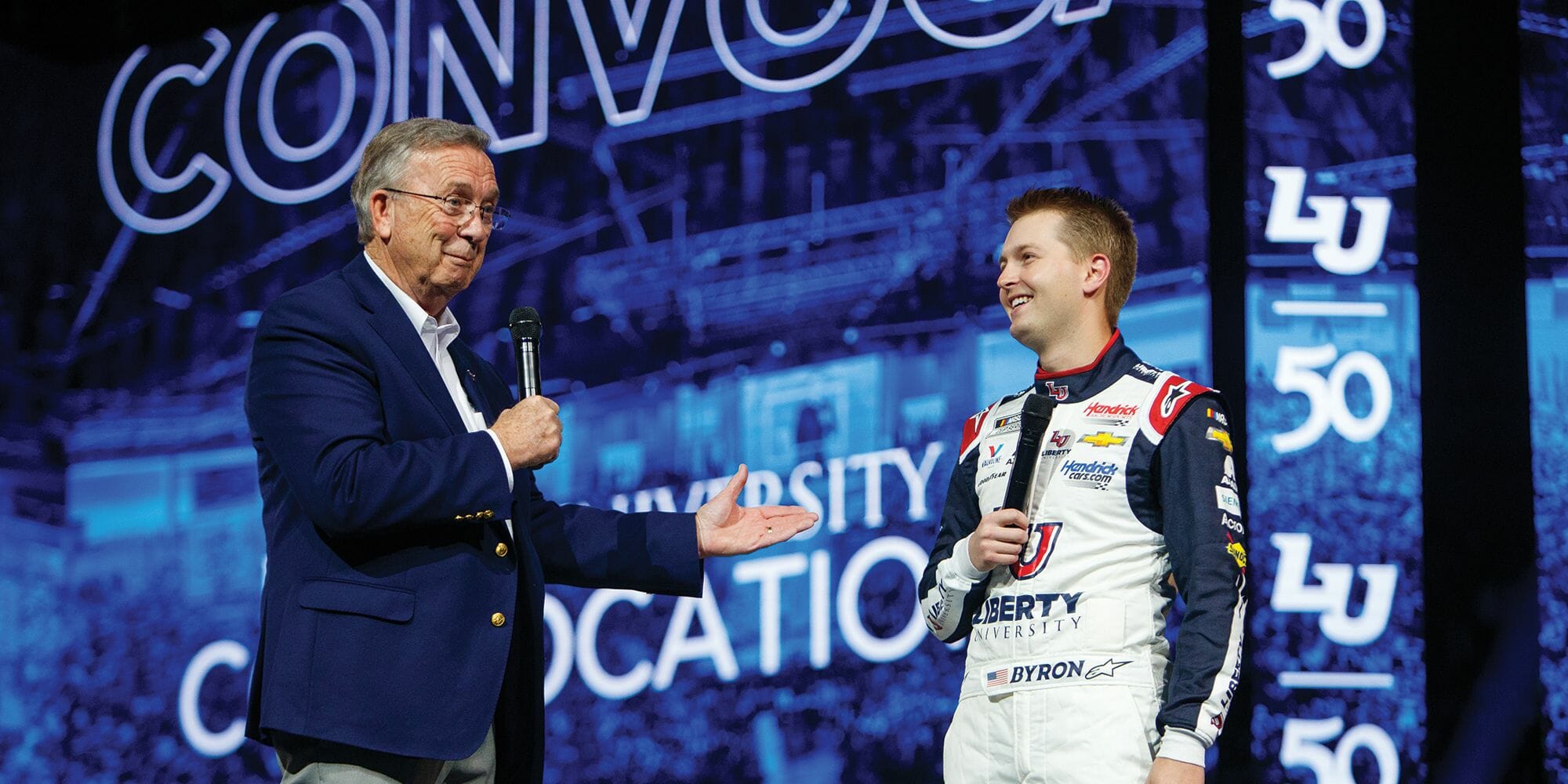 Malik Willis was not the only Liberty student recognized for recent achievements in sports during the March 23 Convocation. NASCAR Cup Series driver and current online student William Byron surprised the crowd three days after his thrilling win in the No. 24 Liberty car at the March 20 Folds of Honor QuikTrip 500 at Atlanta Motor Speedway. The victory was the third of Byron's career in the Cup Series. Byron is studying strategic communication through Liberty's online program. Liberty will remain his primary sponsor in 12 Cup races annually through 2026. Visit Liberty.edu/24 and follow Byron's progress at WilliamByron.com.