Leaving a legacy in education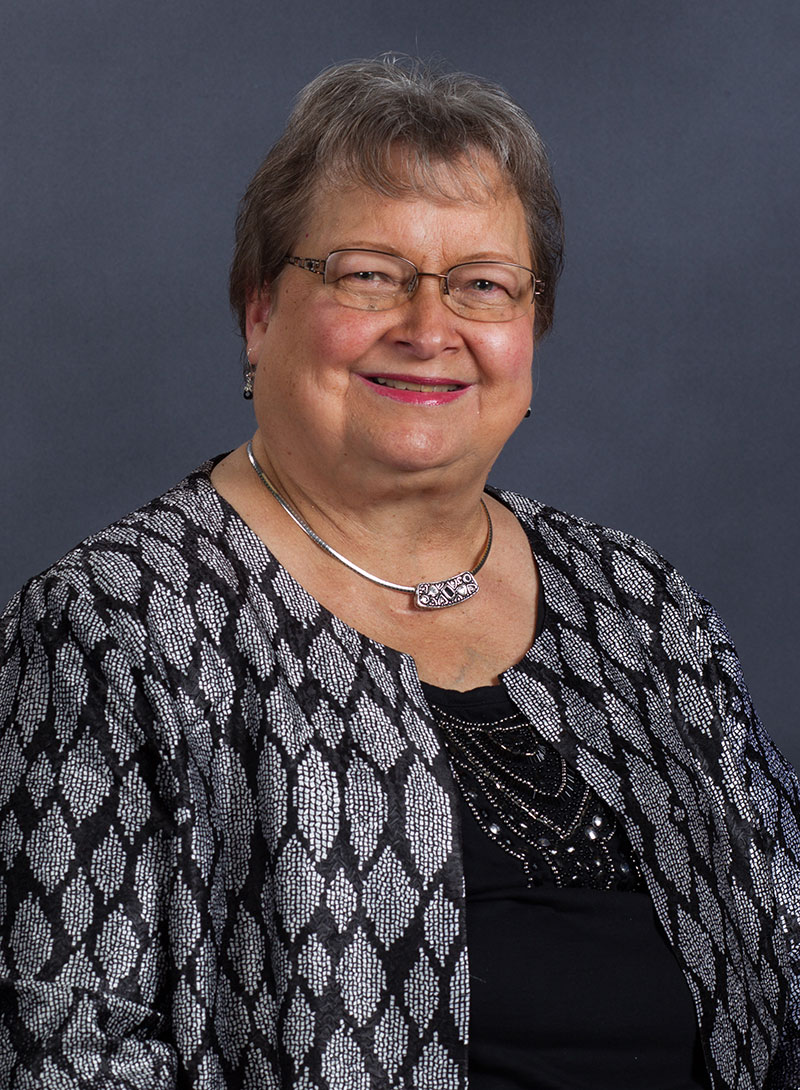 In her 15 years as dean of the School of Education (SOE), Dr. Karen Parker has seen Liberty University's education programs grow from less than 2,000 students to more than 12,000.
But the numbers aren't the only evidence of the major impact she has made at Liberty.
"Karen Parker personifies the elements critical for competence, professionalism, and a Christlike spirit. She has participated in the training of literally thousands of public and Christian school educators," said Dr. Ron Hawkins, Liberty's provost and vice president for academic affairs. "We cannot measure or express the depth of her contributions to our School of Education in the past, in the present, or in the future."
Parker will be transitioning into a new role as dean emeritus of the SOE and special liaison to the dean for accreditation. But she won't be far from the classroom; she will remain a professor of education, a job she has enjoyed since joining Liberty in 1986.
When Parker became dean, her goals for the SOE were to obtain National Council for Accreditation of Teacher Education (NCATE) accreditation and approval for teacher licensure from the Virginia Department of Education for the SOE's growing online programs. Both goals were met in 2003.
"The SOE was one of the first schools at Liberty to obtain accreditation from a professional licensing agency, and it has been a model NCATE school from the beginning," said Emily Heady, vice provost for undergraduate education. "Dr. Parker has a wealth of knowledge in this field and is widely recognized as an authority on many issues related to accreditation. In her new role, she will focus not only on helping Liberty to maintain its standard of excellence, but also on training the next generation to continue that into the future."
As the No Child Left Behind accountability movement continues to impact the accreditation requirements of educator preparation programs, Parker's role will become especially vital. She will ensure that Liberty's program meets new NCATE standards and increased federal and state requirements for preparing students for jobs in public schools.
As the executive director of the Association of Teacher Educators in Virginia, Parker will continue to advocate for accreditation in collaboration with other institutions across Virginia, the Virginia Department of Education, and national organizations.
Parker was honored during the SOE's degree ceremony at Commencement, and a classroom will be named after her.
Heather Schoffstall, a senior associate dean in the SOE, will assume the role of dean beginning in the Fall 2016 semester.
Students raise $60,000, build house for local family
In April, Liberty University's Habitat for Humanity Club presented a local family with the keys to a house that was built by more than 50 student volunteers.
Through various fundraisers, students raised the $60,000 needed to build the house for the recipient and her three daughters. The project began in February 2014, and students have worked almost every weekend at the site.
Donna Vincent, director of Habitat for Humanity, said that the project would have been impossible to complete without Liberty students.
"We are so privileged to have Liberty students involved in our ministry and our mission to demonstrate God's love in action by bringing people together, and you have done that," she said. "There is absolutely no way we could have done this without them."
Vincent presented students with an award of appreciation for their commitment to Habitat's mission and to the families they serve during the April 22 Convocation. She also recognized Alison Pettit, assistant professor in the College of General Studies and the club's faculty advisor.
"God had so many things come along the way, and He opened so many doors for this project," Pettit said. "I had an amazing group of students who made all of this happen, and now, two years later, we have a house entirely constructed."
Alumna Fights 4 Freedom, $24 at a time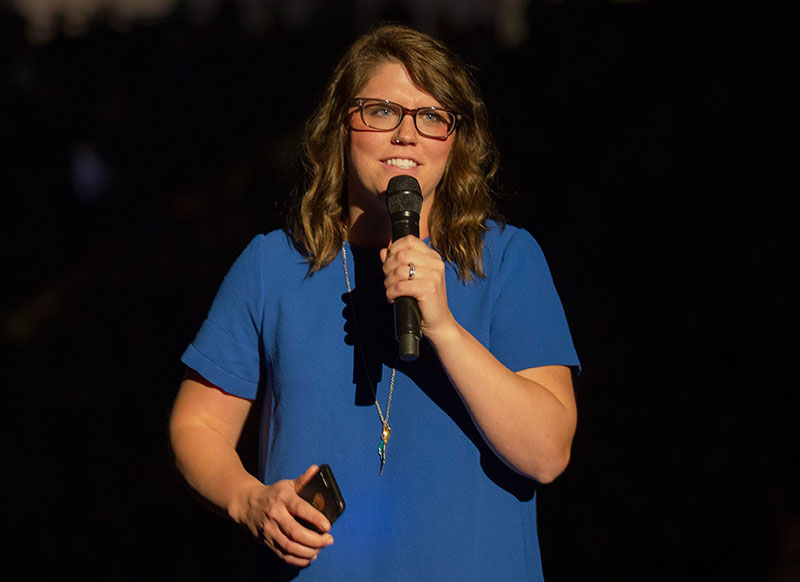 Alumna Christine Gelatt ('10) discovered her calling to fight human trafficking when she was a 19-year-old Liberty student on a trip to Bangkok, Thailand, in 2010. Gelatt witnessed the reality of sexual exploitation firsthand, seeing women being purchased for $24 in the city's red light district. For many of them, it was a last resort to feed their families.
"I was broken by the reality of their situations, which forced many of them to choose prostitution as a last option," she said. "Others were tricked, trafficked, or sold by their own parents into the sex trade. The images of the trip were seared into my mind, and turning the other way was simply not an option."
When Gelatt returned to the United States, she started building a global ministry dedicated to bringing freedom and justice to trafficked and exploited women. She named it Freedom 4/24, encouraging people to purchase an exploited woman's freedom "for" $24.
"The goal has always been to focus on the one life rescued, the one life restored, and the one life redeemed," Gelatt said. "And more than that — to focus on the power that one individual has to make an eternal difference in the lives of those still in need of rescue."
Freedom 4/24 also operates "Christine's House," a restoration home in Uganda, and financially supports several reputable organizations battling the issue domestically and around the world.
One of Freedom 4/24's largest events is the "Run For Their Lives" race series. Thousands have participated in the races over the past eight years, with the series growing to more than 20 races held in 10 states. On April 30, a race was held on Liberty's campus (people who were not able to join the race on campus were invited to run from any location they chose). More than $17,000 was raised, and runners wrote the name of a rescued woman on their arms to remind them of the difference they can make in one person's life.
Business success inspires alumnus to pursue dream of becoming a doctor
Dr. Will Cheatwood is living the childhood dream he nurtured while growing up in Lynchburg, Va.
"I grew up around medicine and doctors," Cheatwood, the son of a longtime operating room nurse, said. "Becoming a doctor was always something I wanted to do."
Since 2002, he has served as a hospitalist — a physician who works exclusively in hospitals — in Lynchburg, representing Medical Associates of Central Virginia.
Even before coming to Liberty University in the late 1980s, Cheatwood was deeply connected to the school. He grew up attending Thomas Road Baptist Church, pastored then by Liberty founder Dr. Jerry Falwell. Cheatwood was also a student at the Falwell-founded Liberty Christian Academy (LCA — then called Lynchburg Christian Academy) before coming to study at Liberty, and Falwell officiated at the wedding of Cheatwood and his wife, Tara.
Although Cheatwood ultimately chose to study accounting at Liberty, his desire to become a doctor never waned. He had a natural talent for business, and after graduating from Liberty in 1990, went on to take Virginia's Certified Public Accountant exam — where he received the highest score of the 2,500 test-takers.
Cheatwood worked as an accountant for PricewaterhouseCoopers, a national consulting firm servicing Liberty in those days. The confidence he gained from that success inspired Cheatwood to take a shot at his dream and apply to medical school.
In 1999, he graduated from the University of Virginia School of Medicine.
"I give God the credit for getting me through," Cheatwood said. He completed his residency with Centra Health in Lynchburg, then got his current position as a hospitalist in 2002.
His favorite aspect of his job is daily interaction with a diverse range of people.
"I love meeting people and hearing their life stories," he said. "It is, by far, the most interesting part of the job."
Will and Tara Cheatwood have three children who all seem to be following an educational path similar to their father's. Their son, Will IV, 19, is currently attending Liberty after graduating from LCA. Their daughters, Caroline, 17, and Ally, 14, are both LCA students.
Alumnus fights the good fight for Salvation Army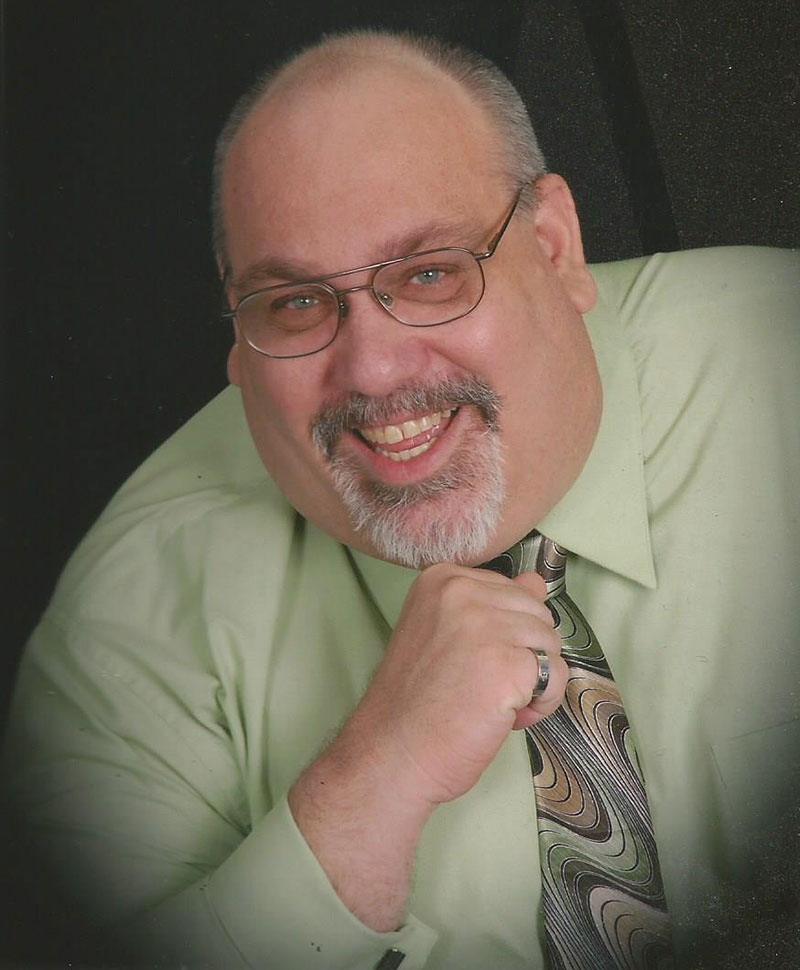 Louis Woolley believes that the foundation of true Christian faith is love for all people, especially those who have been marginalized by society. He believes in the eternal hope of faith in Jesus Christ.
It is a message that resonates with those he serves as the chief counselor of a rehabilitation program at the Salvation Army in Cleveland, Ohio.
Woolley, 55, works with people battling addictions or other serious mental health issues. He holds a Master of Arts in Theological Studies from Liberty University, which he earned in 2013, and is currently pursuing a Master of Divinity degree from Liberty. He has been recognized by the Salvation Army as Counselor of the Year for the Eastern United States.
"I have never been so happy in ministry," he said. "Holistic ministry has always been the passion of my heart. Jesus grew as a man — mentally, spiritually, physically, and socially. In my opinion, if He grew in all those arenas, we should too."
Before moving to Cleveland — where he was soon recruited by the Salvation Army — Woolley got his start as a youth pastor. For several years, he trained students as mimes and puppeteers, taking them on ministry trips across the Southern United States.
"I figured if I could instill (the importance of) evangelism into our youth, they would carry that with them for the rest of their lives," Woolley said. And many of them did — one of the great blessings of his life has been to see his former students go on to start their own careers in Christian ministry.
Working with youth was just the beginning; eventually, Woolley transitioned into helping church members, not just with theological questions, but with the practical problems they faced, as well.
Woolley also went on to play a key role in the development of the Christian Life Center near Youngstown, Ohio, and the ministry has blossomed into a hub for many community events, including meetings for Alcoholics Anonymous.
Online student increases hygiene awareness in Dominican Republic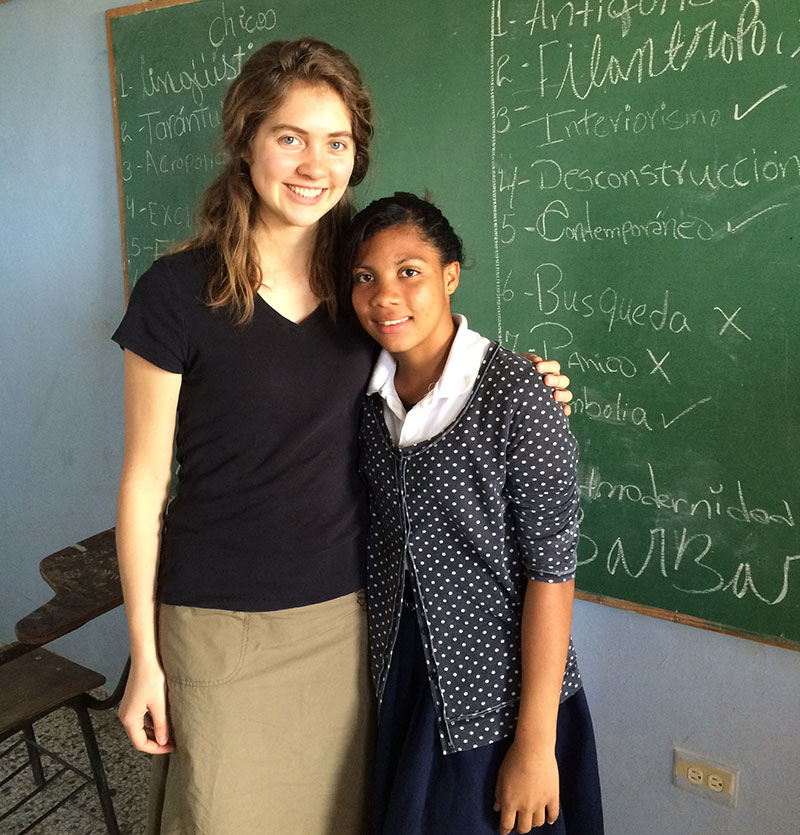 When Mattea Wilber, a Master of Public Health student in Liberty's online education program, learned about the impact that LU's residential students were making on various disaster relief and educational trips around the world, she was inspired to travel overseas herself.
"I am halfway through the M.P.H. program, but I knew I was equipped enough to help," she said. "Due to the nature of online learning, I spend every day in front of the computer or on the couch with my textbook, but I wanted a way to implement what I was learning into a real-world learning scenario."
Two years ago, Wilber went on a short-term medical trip to the Dominican Republic, where she joined Friends of Colegio Moriah, an organization that primarily serves Haitian refugees and operates a school for refugee children. Wilber said the refugees are often discriminated against and denied medical care by public hospitals, so she set out to make a difference in their lives.
It didn't take long for Wilber to notice their lack of hygiene products, and she began planning a return trip to the country so she could take the children toothbrushes and teach them about oral hygiene. While Wilber was still planning the trip, the director of Friends of Colegio Moriah asked her to teach hygiene to more children and make a presentation to parents and churches.
Wilber returned to the Dominican Republic in March, where she taught 24 classes at Friends of Colegio Moriah and gave four presentations to community groups and churches.
In preparation for the trip, Wilber, a New York native, visited local dentists' offices to collect donations of oral hygiene products. She also raised funds at her church and collected financial support to help create basic hygiene packs for adults.
Wilber is continuing her work in the Dominican Republic by raising money for new school bathrooms; currently, 400 students share six toilets. She is also working to improve the quality of food that is sold in the school's cafeteria.
"The entire world is hurting," Wilber said. "There is spiritual darkness and sickness everywhere we look. I chose the Dominican Republic because it is the place God gave me access to. When God grants access and the Spirit leads, you go. When there is opportunity to share the gifts He has given you, you use them."
Former Flames Football player shows care for his team, community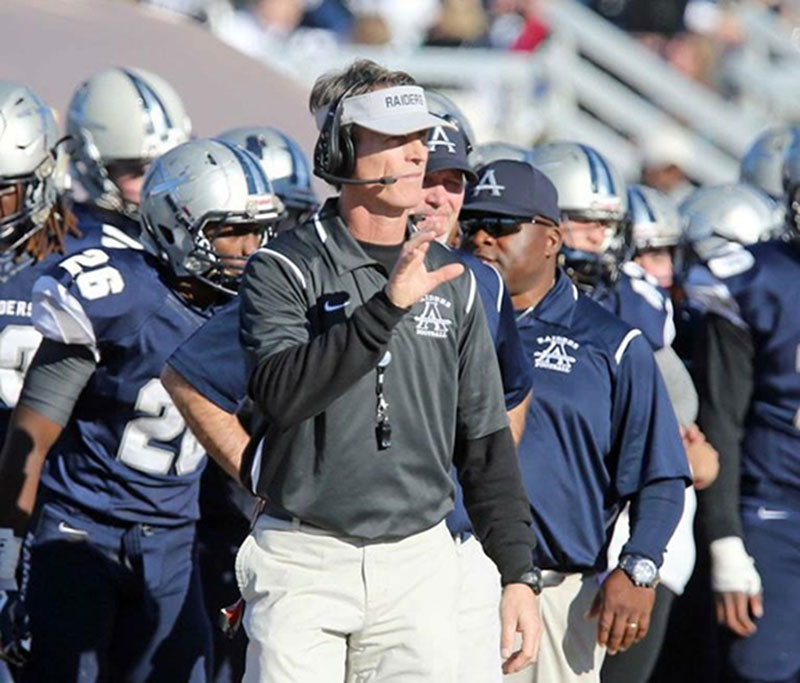 Over the past four years as head coach at nearby Appomattox High School, former Flames wide receiver Doug Smith ('86) has taught life lessons through both triumph and tragedy.
The Raiders celebrated their first high school state championship on the gridiron this past fall, finishing 15-0 under Smith's leadership.
When a Feb. 24 tornado narrowly missed Appomattox and destroyed or damaged more than 200 homes near the historic town, Smith united his players again to help clean up the debris. It was their way of giving back to a community that had supported them throughout an unforgettable season.
"I'm not surprised about what God is doing through Doug because of the patterns, the godly habits, and the biblical foundation that he established and continues to build upon," said Dr. Ed Gomes, director of spiritual development for the Flames Football program.
Gomes was one of the first people Smith met on his initial recruiting visit to Liberty in the early 1980s.
"He consistently uses that platform to honor God and help student-athletes in a public school setting," Gomes added. "He has been a father to many of his players, and they know that he loves them, he cares about them, and he encourages them to reach their potential."
When the Raiders fell behind perennial state power Richlands by two touchdowns in the fourth quarter of the Virginia 2A West playoff game at Appomattox, Smith called a timeout and, in a full team huddle, rallied his players around the "Power of One" battle cry that motivated them to work as a team. Appomattox battled back and tied the game in the final eight minutes of regulation before winning in overtime and going on to claim the first state football championship in school history.
"It was just a neat thing to see how God once again honored faith, and then their hard work along with it, because we know that faith without works is nothing," Smith said. "I think they're going to carry that with them for the rest of their lives. I know I will."
China basketball standout and LU alumnus turns to coaching
Former Liberty University men's basketball player Jason Dixon ('95) helped spark the Flames' first-ever run to the NCAA Division I tournament in 1994. After a two-year career at Liberty, he went on to play 16 seasons of professional basketball overseas, including 10 seasons in China, where he led the Guangdong Southern Tigers to five Chinese Basketball Association (CBA) championships and earned two league MVP awards.
In 2009, the 6-foot-9-inch center became one of only two players in CBA history to have his jersey (No. 15) retired. He is in good company — the other is former 7-foot-6-inch center Yao Ming of the Shanghai Sharks, who went on to become an eight-time NBA All-Star with the Houston Rockets. Like Ming, Dixon is a legend; he played 369 games for Guangdong, the most ever by an American import to the CBA, and ranks among the league's top three all-time rebounders and top 10 scorers.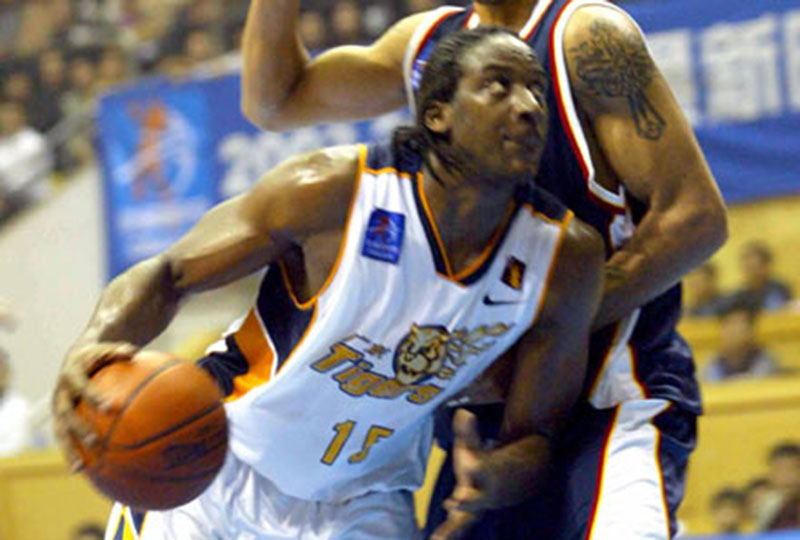 Dixon also played in Turkey, Israel, France, Argentina, Cyprus, and Australia, and he served as an assistant coach for Guangdong after retiring in 2011. He recently returned to Aurora, Colo., near his hometown of Denver, to serve as head coach of Gateway High School's varsity boys' basketball and JV baseball teams.
The transition from professional player to high school coach hasn't always been easy.
"My cousin is my assistant coach, and he's always pulling me back down because he says I'm teaching like a pro (using terminology his young players don't understand)," Dixon said. "I have to get back to the very basic fundamentals, catching the ball and being strong with the ball."
Dixon understands that fundamentals are important in faith as well. He quickly realized — both overseas and back in the United States — that the faith he developed at Liberty was critical. It empowers him to live a life that not only is pure but also can transform a culture and a new generation of basketball players.
"When I got into the world and got around people who are not in that life — who are not saved, who are not in the Word — I realized, 'I want to go back to what I was taught at Liberty,'" Dixon said.
Exercise science professor brings faith and experience to new graduate program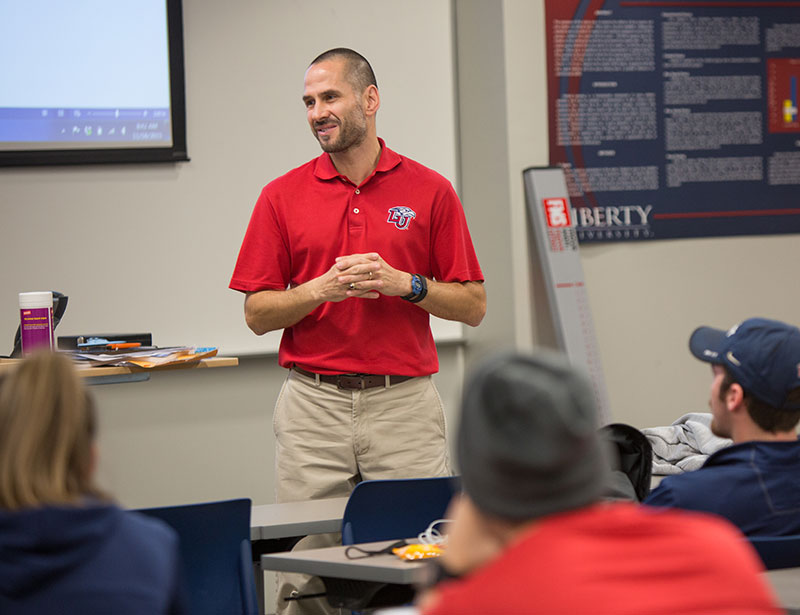 What started as a childhood aspiration to become a professional athlete turned into a successful career in the exercise science field for Dr. Andy Bosak, director of Liberty University's new M.S. in Exercise Science degree program.
Housed under the Department of Health Professions, the degree officially launched in Fall 2015 and is offered both residentially and online.
"It was crucial that Liberty added this degree. In order to land a job such as head coach in a bigger school, you have to have a master's degree," Bosak said, adding that although Liberty was not the first school to offer a master's degree in exercise science, it is the first to offer it from a Christian worldview. "We are training strength and conditioning coaches not only for the high school and collegiate level, but we are putting our graduates on career paths that never used to exist, where they can combine their love of Christ with their job, in turn reaching all corners of the world with the Gospel."
The degree offers four areas of study: human performance, nutrition, community physical activity, and clinical training. Students study exercise physiology, biomechanics, sports nutrition, statistics, and research methods.
When Bosak was in high school in Canada, he was a distance runner and a soccer player. He took his athletic abilities with him to Southern Illinois University, eventually transferring to Western Kentucky University, but numerous injuries prohibited him from advancing his athletic career.
"This was when the Lord stopped me from becoming an elite athlete," he said. "He humbled me and, instead of pursuing a career as an athlete, I turned my focus to exercise science."
Bosak felt the Lord directing him to become a professor. He has taught exercise science at Western Kentucky, Armstrong State, West Virginia Western College, Brock College in Ontario, Life University, and Georgia Southwestern State University.
He also worked for three years as an assistant sport scientist with the Professional Referee Organization (PRO), which provides referee training programs in North America as well as for the Confederation of North Central American and Caribbean Association Football (soccer), and FIFA (world cup) competitions. In that role, Bosak worked at PRO training camps, where referees from around the world regularly gather for physical training. Bosak also maintains his own referee license.
Bosak's experience has helped students secure key internships, including two with PRO.
Although his career has been full of many accomplishments, he said teaching at Liberty is the highlight.
"To be able to talk to my students about Christianity along with exercise science is incredibly rewarding," he said. "There is nothing greater than seeing my students get the internship or the job they wanted. My greatest reward in my life is being here at Liberty, being able to use the gifts God has given me to impact my students' lives."
Alumnus heads national archery organization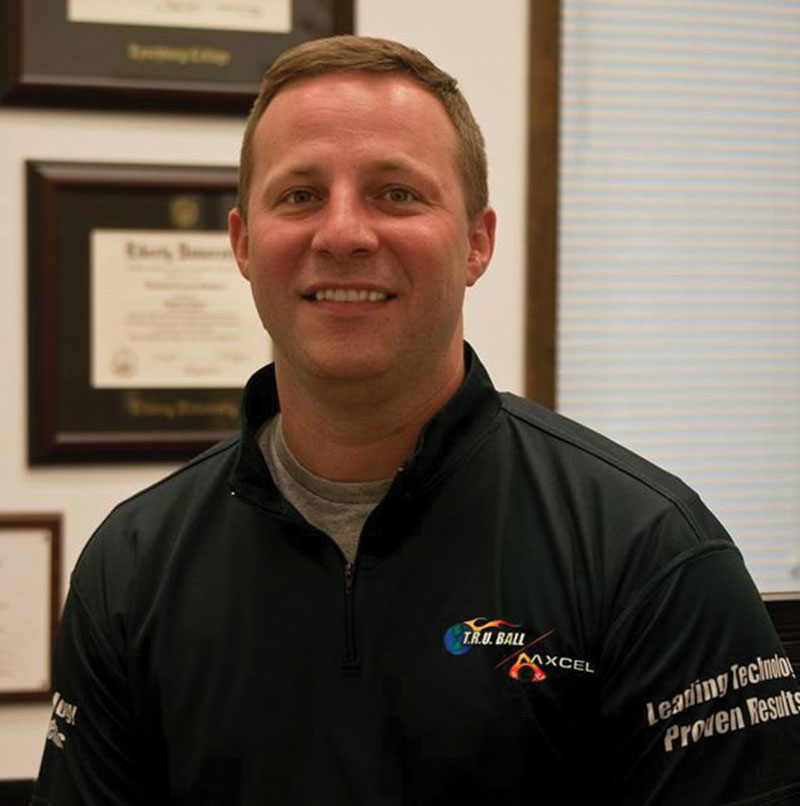 Benjamin Summers ('97) was recently elected chairman of the Archery Trade Association (ATA), which represents over 500 archery manufacturers and thousands of archery retailers worldwide.
Summers has served the ATA for more than 16 years on both the board of directors and on the board's international relations committee.
"It was a great honor to be elected for this position," he said. "As a chairman representing my company worldwide, I routinely meet people from completely different cultures and backgrounds."
Summers' interest in archery began when he was in high school. His father started T.R.U. Ball Archery in Madison Heights, Va., which supplies products to major sporting goods stores. Their products were used by medalists in the 2012 London Olympics and will be used in this summer's Olympic Games in Rio de Janeiro.
While he was a student at Liberty, Summers worked for his father. After he graduated, they traveled across the country to various archery tournaments, selling products out of their company truck.
In his new position, Summers said he aims to make archery more accessible to both beginners and professionals, as well as increase sales of small archery shops across the country.
"I genuinely care about the people who make a living and enjoy life through the sport of archery," he said. "There are still several family businesses in the archery industry that are providing a good living for their families. I value every minute of my life in archery."
Native American chief brings Gospel to tribes across U.S.
Alumnus Reynard Faber ('90), an honorary and traditional chief of the New Mexico Jicarilla Apache tribe, has traveled to 45 reservations over the last 14 years as a Native American outreach coordinator for Samaritan's Purse, a Christian organization that provides spiritual and humanitarian aid to people around the world.
Faber earned a B.S. in Religion and a minor in journalism as a residential student. He has played a key role in Operation Christmas Child, a ministry of Samaritan's Purse that provides poverty-stricken children worldwide with shoeboxes filled with toys, school supplies, hygiene items, and copies of the Gospel. Since 1997, Faber has distributed 139,043 shoeboxes on Native American reservations to children who are the only shoebox recipients in the United States.
Faber said that God has used his background to help him build a relationship between Native American tribes and Samaritan's Purse.
"I am a Native American, and I know to a certain degree the native culture, traditions, and various degrees of poverty," he said.
Before Liberty, Faber said he was at a low point in his life. After attempting college once, he found himself returning home to his reservation in New Mexico, where he began to read from an old Bible his grandmother kept in her home.
"I opened that old ragged Bible, peeling the pages apart, and read by the kerosene lamp. That is how I came to know the Lord," he said.
Faber said that his time at Liberty not only strengthened his relationship with God, but also prepared him for his current ministry.
"I tell people that the time I spent at Liberty was the springboard for my life, my career, and the ministry that God has given me," he said. "If I did not go to Liberty, I do not know what my life would have been like."
Alumnus earns 'Super Lawyer' honors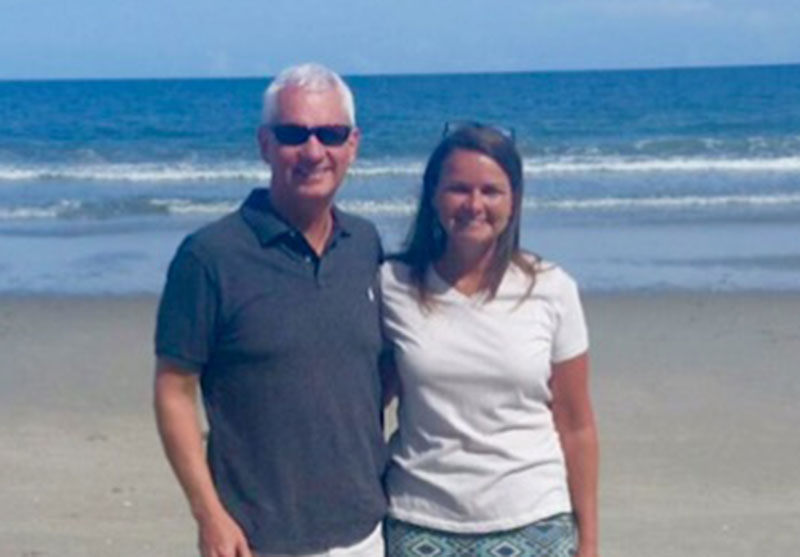 Steve Snyder ('82) has been named a South Carolina Super Lawyer for 2016 by Super Lawyers Magazine, which recognizes the top practicing attorneys in each state. (He also earned the honor in 2015.)
Snyder is a partner in the Greenville, S.C., law firm of Davis, Snyder, Williford & Lehn, P.A. and specializes in representing physicians, hospitals, and other medical providers in medical malpractice litigation and risk management.
He has been named each of the past few years to Greenville Business Magazine's annual list of Legal Elite of the Upstate: Greenville's Top Attorneys, which is determined by peer recognition. He was also named to Columbia Living Magazine's 2016 list of Top Attorneys in South Carolina, based on peer recognition and professional achievement.
Snyder is a member of the Liberty University Board of Trustees.
He earned his B.S. in Broadcasting Communications from Liberty and went on to attend University of Virginia School of Law. He worked with the Old Time Gospel Hour (a radio and television ministry of Liberty founder Dr. Jerry Falwell) in the 1980s and was news director of Liberty's radio station. He grew up on the mission field in Liberia, where his parents were involved in inter-denominational radio broadcasting. His family moved to Lynchburg when he was 16, and his parents were among Liberty's first faculty members; they taught for 18 years. His father, Al, was a professor in the School of Communication and was instrumental in starting Liberty's radio network.
Steve Snyder is also the founder and president of Global Adapt, a nonprofit organization that provides education, training, and consulting to mission agencies and international schools and businesses on living and adapting across cultures.
He and his wife, Patty Glenn Snyder ('85), live in Tigerville, S.C., just outside of Greenville.
Patty runs an evangelistic and discipleship ministry in their local public middle school called Released Time, through which more than 400 students are transported off campus each week to learn about the Bible. She recently received a Bolts of Brightness award, selected by regional business and community leaders, in special recognition of her service and contributions to the community.
The Snyders have a daughter and son-in-law, who married in December, and two sons, the youngest of whom plans to attend Liberty.