Rangers coach battles cancer with encouragement
Diagnosed with rectal cancer before spring training, former Liberty University and Minor League Baseball middle infielder Tony Beasley ('89), now in his second season on the Texas Rangers' coaching staff, hasn't let his condition get him down.
"I never went into a mode of sorrow or pity or anything negative," Beasley told the Liberty Flames Sports Network (LFSN) during an interview for its weekly "Game On" TV show that aired before his Aug. 22 surgery in Houston. "I know God's in control, and I walk by faith not by sight, and I know He has great plans for my life, so I went into that mode of 'Let's just beat it.'"
Selected by the Baltimore Orioles in the 1989 Major League Draft, Beasley spent parts of nine seasons in the minor leagues, making it as high as AAA, before finding his true calling in coaching.
"I fell in love with the teaching aspect — the impact on kids' lives. That's what really drove me," Beasley said. "I felt like I could make a difference in people, and that was enough for me."
After ending his playing career in 1998, when he was a player/coach with the Pirates' Class AA affiliate, the Carolina Mudcats, and its Class A club, the Lynchburg (Va.) Hillcats, Beasley spent a season as the Hillcats' full-time hitting coach in 2000. He went on to land his first major league coaching job with the Washington Nationals in 2006 before serving as third base coach with the Pirates from 2008-10 and with the Rangers, starting in 2015.
He has learned to rejoice through the blessings and the trials, even one as daunting as cancer.
"I've been a man who's always telling people about the goodness of the Lord and walking by faith, professing Christ in my life," Beasley said. "This is an opportunity to be really true to that. I just want people to be inspired … because God has not given us a spirit of fear, but of power and of love and of a sound mind. I think if we can stand on that and just face everything we have to face, walking through it in faith, this, too, shall pass."
Rangers' players have taken note of Beasley's positive outlook on life, even after his cancer diagnosis.
"His perspective on the situation, his consistency and his joy, how he goes about his day — it doesn't change anything about him," Texas pitcher Shawn Tolleson said. "It's just a condition that he has, and that's how he views it. It's just something he has to go through and he sees God's purpose in everything.
We've tried to offer as much encouragement as we can … but he's the one encouraging us and motivating us through the situation."
Theatre student volunteers with special needs program
Over the summer, Maria Reginaldi, a sophomore in the Department of Theatre Arts, spent two weeks volunteering with a theatre program in her hometown of Greensboro, N.C., that gives special needs performers the chance to showcase their talents on stage.
"The participants don't normally get opportunities to do theatre," Reginaldi said. "They have a talent that often gets overlooked. These people have never been a main character, have never gotten the spotlight, and then all of a sudden they get to be the star. It is so special."
Individuals of all ages with a variety of needs, including Down syndrome and physical handicaps, are welcome to participate in the Community Theatre of Greensboro's annual Onstage and Inclusive program. Volunteers partner with one or two special needs individuals and help them to rehearse and perform an act of their choice. Reginaldi teamed up with Kayla Usry, who is wheelchair bound, to stage a rendition of "For Good," a song from the Broadway sensation "Wicked" (Usry's favorite).
After two weeks of rehearsals, performances were held for three nights.
"(Audiences) were really affected and moved by the production," Reginaldi said.
In particular, they were touched by Usry's performance of the deeply emotional song about friendship.
"Every night people would look at her and say, 'You made me cry; that was very beautiful.'"
Reginaldi also worked with the theater's youth camps during the day.
"Theatre and working with the special needs community are my two passions," Reginaldi said, noting that she volunteered with a special needs day camp as a high-schooler. "That was awesome, serving through my passion. … I didn't have a lot of time to think about myself, and, honestly, those were some of the best weeks of my life because I was not self-focused."
Recently, Reginaldi was among the cast of Alluvion Stage Company's professional production of "The Hunchback of Notre Dame," which ran Sept. 16-30 at Liberty's Tower Theater. While she hopes to advance her career as a performer, Reginaldi will continue to serve those with special needs as opportunities arise. She said she may even want to run her own inclusive program someday.
To the surface: Alumnus storyteller seeks to give underground church a voice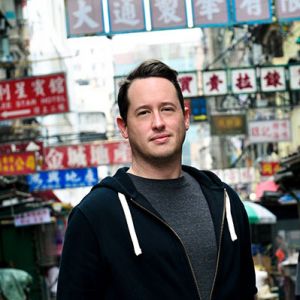 As the underground church holds firm amidst a climate hostile toward its faith, alumnus Daniel Bowden ('11) is looking to bring its story to the eyes of Western believers. He is currently living in Asia and has been traveling across China working on a documentary film that he hopes to see distributed on major streaming platforms.
Bowden, a Dallas native, studied philosophy and religion at Liberty while working as a writer and photographer for World Help, a humanitarian organization based in Forest, Va. He traveled all over the globe with World Help, becoming especially interested in China's underground church. His work experience included documentary writing, which led to a few jobs penning scripts for faith-based films.
Soon after graduation, Bowden teamed up with a U.S.-based non-governmental organization (NGO) that provides humanitarian aid to China and serves the church there.
"There is a lesson and a message that the house church in China can teach us: how to glorify Christ through persecution and how to endure to the end," Bowden said.
His goal is to produce media that will raise awareness about Christian persecution and "raise up a new generation of people who want to support the house church in China."
"There is not a doubt in my mind that someday … there are going to be restrictions on preaching (and) evangelism (in America)," he said. "We have to know how we are going to react, what we are going to do."
The documentary, "The Biggest Little Band in China," tells the story of a group of farmers who formed a marching band to play Gospel hymns. Though these Central China natives did not know how to read, they hired a tutor to teach them to read music and play the old brass instruments they acquired. Now, marching in handmade uniforms, they perform at various events, using the opportunities to reach others with the Gospel.
Bowden will be working on the film over the next year as he seeks more fundraising support. He has also been working on two books about the Chinese underground church. More information can be found at BiggestLittleFilm.com.
As a storyteller, Bowden plans to continue finding unique tales of the church from around the world. He is eyeing a future project in Africa.
A story of hope in a shoebox of love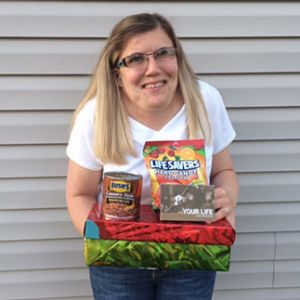 For alumna and current M.B.A. student Natasha Ivanova ('14), growing up in Belarus, a small country on the outskirts of Russia, was much different for a child with special needs.
The Russian government at the time classified her as having a disability and required her to live in a state-run orphanage instead of attending regular public school. She was diagnosed with Duane Syndrome at birth, a disorder that doesn't allow her to move her eyes from side to side and includes some hearing loss in one ear and fused vertebrae in her neck.
At the age of 9, during Ivanova's second Christmas at the orphanage, she received an Operation Christmas Child (OCC) shoebox from an American family. OCC is a ministry of Samaritan's Purse that distributes shoeboxes filled with toys, school supplies, hygiene items, and copies of the Gospel to poverty-stricken children worldwide.
Ivanova said that her shoebox was the first Christmas present she had received in years.
"It meant the world to me," she said. "From the moment I picked up my box, I knew that I was not alone anymore. The shoebox was a symbol of the hope, joy, and love that I needed."
Ivanova had visited the U.S. for the first time a year before through an organization that provides medical care for children in need of routine eye, dental, and physical examinations. She returned for six more summers, and during her seventh, she was able to stay in the country to receive regular health care. Ivanova stayed with an American woman who took her in as her own daughter.
"Living in the U.S. has changed my life for the better," she said. "It has given me a chance to grow in my walk with the Lord and to be part of an amazing family who not only supports me physically, but continuously reminds me that no matter what happens in life, God will always see me through."
Ivanova decided to attend Liberty after participating in College For A Weekend. When she graduated with her B.A. in Business Administration, she knew that she could make the greatest impact serving with OCC — the same organization that impacted her life as a child. She is now a spokesperson, traveling to churches and sharing her personal experience with OCC.
"Being able to travel and share my story is a wonderful way for me to show others how God works through these simple, yet powerful boxes," she said.
Ivanova will complete her M.B.A. in Project Management at Liberty this fall.
Advocating for those with only a bark or a meow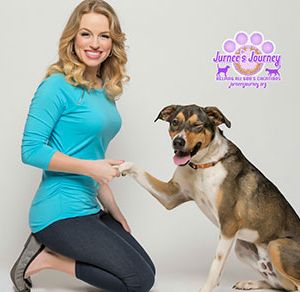 When she visited her local animal shelter 10 years ago, alumna Jurnee Carr ('16) noticed cages overcrowded with cats and dogs. At 12 years old, she founded Jurnee's Journey with a mission to promote the importance of pet adoption and neutering. To date, Carr has raised more than $50,000 for animal shelters around the country.
Since graduating with her B.S. in Interdisciplinary Studies, Carr has seen her passion for animals flourish into a career. As a district leader for the Humane Society of the United States in Tennessee, she works to advance and accelerate the adoption of federal and state laws for animal protection.
Carr's previous work with the Humane Society involved serving on the group's youth advisory board, speaking at conferences in Washington, D.C., and interning at its corporate headquarters near D.C. In 2012, she helped close a loophole in the Animal Welfare Act regarding puppy mills by collecting signatures for a petition at the International Animal Care Expo in Las Vegas, Nev.
Carr has also taken her cause to the pageant stage. She placed third runner-up and won best evening gown in the Miss International Pageant in July 2016 as Miss Tennessee International. In 2011, she was crowned Miss Teen International, and animal protection was her interview platform.
"I am reaching an international audience that is hungry for ways to be more compassionate toward God's creatures," she said.
Carr said that when she was growing up, she dreamed of attending Liberty.
"I grew into the woman I am today because of the spiritual growth that Liberty fosters," she said. "I am truly grateful for my time at Liberty. It is a blessing to forever be a Liberty Flame."
Alumna's career soars as she follows God's leading
Since junior high, Lindsey Gray knew God had called her to be a missionary pilot.
She soloed an airplane by age 17 and earned her pilot certification at 18. By 19, she was a flight instructor.
After three years of working as an instructor, Gray, originally from Las Vegas, decided to further her education.
"I held a bachelor's degree but needed technical training to meet missionary aviation requirements," she explained, adding that she was drawn to Liberty's Aviation Maintenance Technician (AMT) Program because of its affordability and accelerated structure.
She began the one-year program in January 2011 and earned her Federal Aviation Administration (FAA) Airframe and Powerplant (A&P) certification.
She then worked at Liberty as both an airplane mechanic and flight instructor for three years before joining AIM (Africa Inland Mission) AIR, a Christian missionary aviation team that serves the needs of over 50 Christian organizations in East Africa. Her time at Liberty helped her to gain valuable career experience before she set off to raise financial support for her missionary position. After a few months, at age 26, she was serving on the field.
This year, Gray, who is now 28, was named AIM's chief pilot. Her current role involves overseeing the team of pilots and coordinating training to improve proficiency and safety. She continues to fly out of AIM's base in Nairobi, Kenya. AIM also operates flights in Uganda, South Sudan, the Central African Republic, and Congo.
"I absolutely love what I do," Gray said. "I get to fly in service for those who have not yet heard the Gospel. … Sometimes, I find myself in a remote location — over 100 degrees outside, fueling the plane with a pump — while a herd of camels walks by. Some days, I look at the passengers in the seat behind me and know that I'm carrying people who are going to share the Good News. Other days, I'm in the office catching up. In every situation, at the end of the day, I know the hours I spent working that day played some small role in furthering God's Kingdom."
She added that while not everyone is called to be a vocational missionary, all Christians can use their talents to further the Kingdom — in their communities and abroad — by building relationships.
"I'm convinced that if people all over America would intentionally use their skills in their given vocations to serve relationally, America would look different than it does now."
Crossing the finish line for a good cause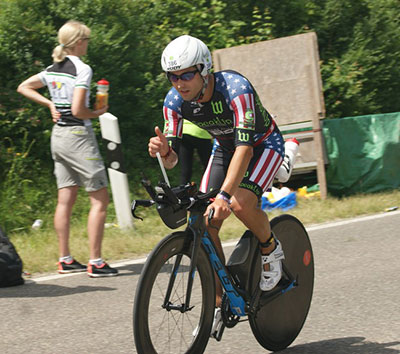 Former Liberty University triathlete and current men's and women's cycling and triathlon Head Coach Parker Spencer ('12) traveled to Roth, Germany, in mid-July to compete in his first-ever Ironman-distance event, the Challenge Roth Triathlon. One of the most prestigious races in the world, the event draws over 5,000 triathletes and 300,000 fans. Spencer finished the 140.6-mile course, which featured a 2.4-mile swim, a 112-mile cycling stage, and a 26.2-mile run, in 10 hours, 6 minutes, 23 seconds, placing 326th out of 2,458 men.
But his main focus was not on his individual performance. He raced as part of a 12-member team that raised awareness and funds for the Cameron K. Gallagher Foundation, which was formed in honor of a 16-year-old Richmond, Va., runner who died from an undetected heart defect after completing the 2014 Shamrock Half Marathon in Virginia Beach.
"As Christians, we always have a bigger mission behind what we're doing, and this was another opportunity to have an impact on people," Spencer said.
Gallagher had already begun her own mission before she died. Having battled and overcome depression, she organized a "Speak Up" 5K race to raise money to help those who suffer from anxiety-related disorders and give them an outlet to talk about their problems. Today, the foundation holds "Speak Up" 5Ks across the United States.
The Germany race was the first time the organization gained international exposure. The team raised $80,000, which the foundation will use to implement after-school suicide prevention programs in 12 Richmond-area schools as well as to support the Children's Mental Health Resource Center in Richmond.
"It feels so good to have a really important mission doing something that I'm passionate about — racing — and to know it's having an impact and saving lives," Spencer said. "To be given that opportunity is incredible."
Spencer said the foundation's mission became personal to him last year when a close friend told him of plans to end his own life. His friend received help through the Gallagher Foundation.
"I have learned throughout my life that God can take a tragedy and use it to make an immense impact for a positive purpose," Spencer said. "I firmly believe that Cameron Gallagher's death has saved more lives than anyone could count."
Spencer also traveled to Aviles, Spain, on June 5, where he placed 17th in the 25-29-year-old male division of the International Triathlon Union (ITU)
Duathlon Sprint Championships, his fifth ITU World Championship event.
Training up health workers at home and abroad
Teaching people to become educators on community health has become the goal of alumna Monterey Starkey ('14), who founded the nonprofit International HELP in November. The organization provides education about ending preventable diseases in underprivileged areas in Washington, D.C., and in Nicaragua, Honduras, and other Central American countries.
After earning her Master of Public Health degree, Starkey moved to Nicaragua, where she trained local people to become health workers. The experience fueled her desire to implement that same model in other places throughout the world.
As the CEO of International HELP, Starkey provides skill training and resources for community health workers. They learn how to filter water, prevent diarrhea, and take vital signs. They also learn the principles of proper hygiene and sanitation practices and basic first aid techniques.
"International HELP is unique because its focus is on local partnerships and on empowering communities in sustainable ways," she said. "Rather than being an organization that simply distributes products, we take a community-based approach that shares decision-making and responsibility with the local people to result in long-term improvements."
Starkey said that her Liberty education prepared her to lead such an organization.
"I learned why public health matters from a biblical perspective. Furthermore, I had professors who invested in me and showed me from their own lives what a Champion for Christ in the public health field looks like."
She added that she has been encouraged to see the continued results from International HELP's partnerships with communities.
"When I went back to visit Nicaragua, one of the health workers had gotten a job working for the sugar cane company in the fields, helping the men stay hydrated and bandaging small wounds," Starkey said. "She excitedly shared that she got the job because she was a certified community worker from my program. That is what this is about — empowering people to be healthcare leaders in their communities."
Surprise bedside graduation honors Pennsylvania man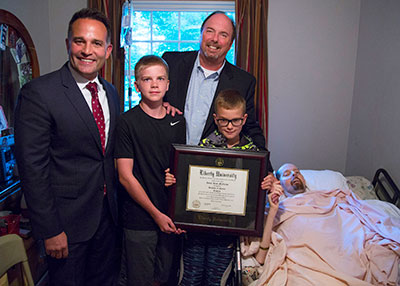 Sometimes graduation ceremonies are held in stadiums filled with thousands of people waving from the stands. And sometimes really special ones happen in a small bedroom with family and friends huddled close by your side.
Jason McIlwain, 39, graduated from Liberty University on Friday, Sept. 2, receiving his Bachelor of Science degree in Religion at his home near Grove City, Pa. Tim Fair, Liberty alumnus and associate pastor of New Life Baptist Church in New Wilmington, Pa., sent the following email to Liberty President Jerry Falwell shortly before noon on that Friday:
"We have a young man that attends our church who is near the end of his life and his battle with cancer. He literally is days away from entering heaven. He is one class away from graduating from Liberty. He wanted nothing more than to graduate Liberty and become a pastor. I want to share with you that this young man has had an incredible ministry because he has been sick with cancer for 12 years. He has gone into remission 10 times! He has given more people hope in our church than anyone else that I know of. Is it possible to [give him credit for his ministry work in lieu of completing the last class]? This would be incredible for him and his family. He is leaving behind two boys, a 10-year-old and 11-year-old. Also, if this is possible, would someone be able to call him and congratulate him on graduating from Liberty University?"
Fair was shocked to learn that McIlwain would be receiving his diploma that evening. Dr. Ben Gutierrez, Liberty's vice provost for academic administration, made the hour-and-a-half flight in a private plane from Lynchburg, Va., to Grove City, a rural area about an hour north of Pittsburgh.
When Gutierrez arrived about 6 p.m., he was met by a crowd of family members, friends, and church members. They listened as Gutierrez congratulated McIlwain for graduating Magna Cum Laude. Then Gutierrez formally conferred his degree before praying with the family and sharing a special time of fellowship together. McIlwain's church family watched it all live on Facebook.
McIlwain's second dream, to become a pastor at his home church, came true immediately after the ceremony: senior pastor John Bailey licensed him as
a pastor.
McIlwain went home to be with his Lord two days after he received his degree. His obituary read, "Pastor Jason R. McIlwain," and noted that he was "known to everyone who knew him as being a faithful follower of the Lord. His passion was sharing the Lord with others, even while facing many difficulties."
"When I first heard Jason's story, I was impressed by how he had already ministered to so many people with his display of faith and courage despite his terminal condition," said President Jerry Falwell. "He truly exemplified what it means to be a Champion for Christ."
In Memoriam:
Dr. Tim LaHaye: Faithful supporter, board member, and friend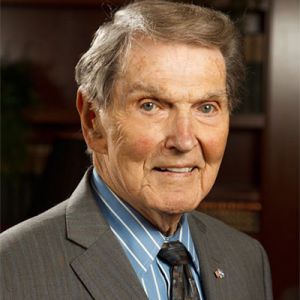 Noted evangelical leader and pastor Dr. Tim LaHaye died July 25 at age 90. LaHaye and his wife, Beverly, have been friends of Liberty University since its early years. They have served together on Liberty's Board of Trustees and generously provided funds for the LaHaye Ice Center and the LaHaye Recreation and Fitness Center.
Dr. Tim LaHaye always shared his biblical wisdom and encouragement with Liberty's administration, faculty and staff, and students during his visits to campus. The university would not be where it is today without the LaHayes' prayers, friendship, leadership, and generosity.
The LaHayes were both noted authors, counselors, and television commentators. Tim LaHaye is most known for his international best-selling book series "Left Behind," which he co-wrote with Jerry B. Jenkins. He was also a minister, a nationally recognized expert on Bible prophecy, the founder and president of Tim LaHaye Ministries, and the co-founder of the Pre-Trib Research Center.
Sherwin Cook: A partner in the mission
Former Liberty University Board of Trustees member Sherwin Cook died on June 10 at the age of 91. He and his wife, the late Lora Cook, shared a strong belief in the importance of Christian education and were longtime supporters of the university.
In 2014, the Liberty University School of Aeronautics named its aircraft mechanic training center the Sherwin Cook A&P Center, in honor of Cook's longstanding support of the aeronautics program. Cook funded the equipment needed to begin the aircraft mechanic training program.
Cook also believed in providing world-class athletics at Liberty. Even in his later years, he was an avid tennis player and supported Liberty's tennis programs. In 2010, he and his wife provided the lead gift for the Cook Tennis Center, the operations center for Liberty's men's and women's tennis programs. Sherwin Cook also donated a local tennis and racquetball facility, The Sports Racket, to Liberty.
Cook lived in the Lynchburg area since the 1960s and was a successful restaurant owner.