As Liberty celebrates 40 years of Christian Commitment, students, faculty, staff and longtime supporters of the university continue to make their mark as Champions for Christ. Below are excerpts of stories from around campus.
Accelerating the Completion of the Great Commission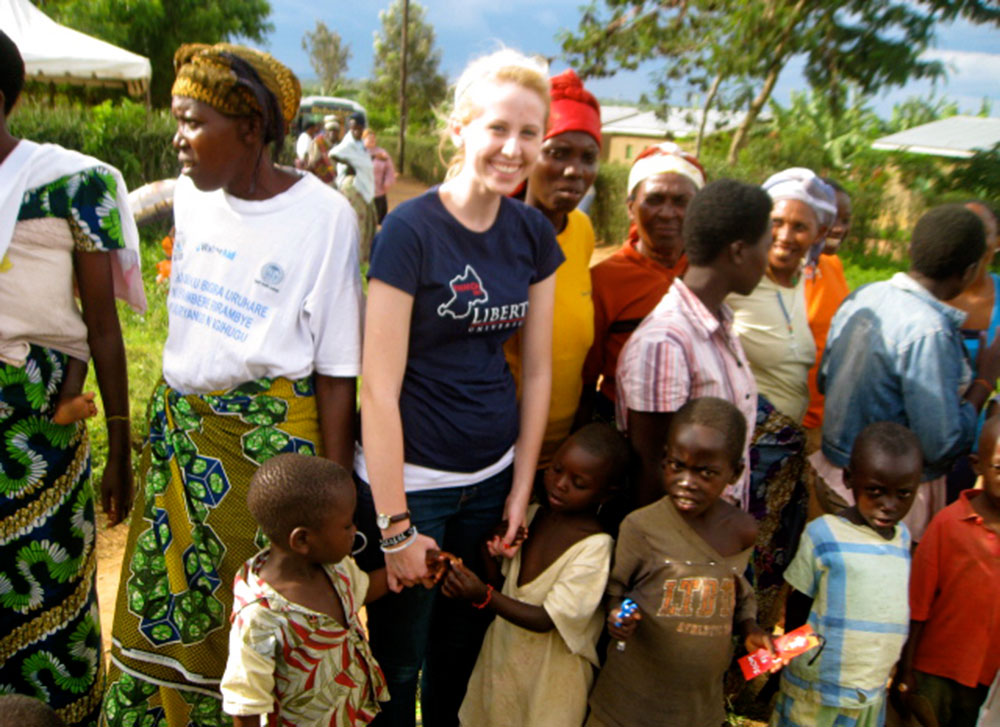 Liberty University's Center for Global Engagement plans to do everything they can "to reach the world in this generation" and especially so through an innovative and newly revised curriculum that will be launching this year.
The Global Studies degree program, which was previously deemed Intercultural Studies, will now provide special training to students who intend on living as Christians in different cultures while also maintaining a secular occupation.
The program, which will encourage a double major or minor in an "occupational skill" (such as business, education, teaching English as a second language or nursing) will equip Liberty University alumni to live and work in the heart of the world's least reached places.
Like the Apostle Paul, who often made tents for a living, these Liberty graduates will be able to go to places and reach people who have been typically inaccessible to traditional missionaries, and do it without being tethered to financial supporters in their home country.
Student's recovery from near-fatal car wreck empowers her ministry
Jennifer Barrick, a 20-year-old Women's Ministry major, has had the opportunity to share her testimony of God's grace in her life at Liberty and around the country.
After surviving a near-fatal car wreck on Nov. 5, 2006 in which Jennifer and her parents, Andy and Linda, and younger brother Josh were hit head-on from a drunk driver going 80 miles per hour a mile from their home, Jen's life drastically changed. Not expecting to live through the night, she was in a coma for five weeks.
Jennifer, 15 years old when the wreck occurred, suffered brain damage, but her spiritual side was not affected at all.
While for a time she couldn't even understand what a shoe or toothbrush was used for, she could recite all the Bible verses she ever learned and sing her favorite praise songs.
Through a long and continuing recovery process, Jen's memory is improving daily and she is becoming more independent, though she still struggles with impaired vision.
Being a student at Liberty University has helped her in the healing process.
Linda Barrick co-wrote the book "Miracle for Jen," which details their family's story. It will be released this March.
Caring for Students with Disabilities
Dr. David Wheeler, an evangelism professor, shares his own testimony of raising a daughter with disabilities who is now a bright and thriving student at Liberty. To promote further understanding in his classroom, he uses some practical interactive demonstrations to help his students identify with the disabled community.
Heart for Haiti
Sixty and counting. That's the number of years Wallace and Eleanor Turnbull have served the Lord as missionaries in Haiti, making a huge impact on what has traditionally been called the poorest country in the Americas. We can say "and counting" because now, as residents of Lynchburg, Va., the Turnbulls' work continues in the lives of Haitian students at Liberty University.
Through financial assistance and support from the Turnbulls, more than 13 Haitian students have studied at Liberty in all different majors, with seven currently enrolled, all promising to return to their homeland armed with the career skills and Christian values so desperately needed there.
"With the way the world has painted Haiti – economically, intellectually and socially and morally – we believe the inside of Haiti has a different look and a different possibility," said Eleanor Turnbull. "That is what we would like for these young people who are here at Liberty – [to take] the message and the actions of Liberty University to become a bold expression out in Haiti … They're not going to accept it [the world's view of their country] and speak out and work out against it."
Rooting for the Flames comes easy for Liberty 'greeter'
If you call Terry Falwell on the phone, the first thing you will probably hear on the other end is, "You going to the game?" Falwell, second cousin of Liberty Chancellor Jerry Falwell, Jr., is the community liaison for the Visitors Center at Liberty University, and has only missed one Liberty home football game since the program's inception.
Terry Falwell credits his father's first cousin and Liberty founder, Jerry Falwell, Sr. for his love of sports, recalling him often coming over to help him practice baseball.
"I grew up with Jerry Senior. He had a vision for Liberty sports and used to really talk about it so much and what they were planning on doing. I believed in what he was saying, and I never missed but one football game at home. … The day Jerry Falwell died, he also had never missed but one. So, he was dedicated."
Keeping Dr. Falwell's love of sports and support of the Flames going strong, Terry Falwell raised his children to make Flames sports a family event. He and his wife, Barbara, have four children, ranging in age from 13 to 36, and four grandchildren.