New women's soccer coach challenges team to become champions and servants
The first order of business for Nate Norman, who was hired as Liberty University's new women's soccer head coach in April, was to develop a level of trust with the Lady Flames.
"It's tough to ask anyone to do something really hard or difficult until they trust in you, until they believe in you, until they believe you care about them," Norman said.
In the offseason, leading up to this fall's debut, he built relationships and raised expectations for a program that is coming off its second Big South Conference Championship crown in three seasons.
His goal is to create a culture of service that starts with himself as coach.
"I believe true leaders are servant leaders, and true leaders want to serve their teammates," Norman said. "You don't lead by ruling over someone; you truly lead by serving under them."
Growing up in St. Louis, Norman was a high school All-American as a senior defenseman before going on to start on attack for the University of Notre Dame. The theology major led the Fighting Irish to the NCAA Division I tournament four years in a row before he was drafted 21st overall by Major League Soccer's Chicago Fire in 2007. He started his coaching career back at Notre Dame, which reached the NCAA Elite Eight in his first season as a graduate assistant, and went on to lead Western Michigan University to Mid-American Conference titles as head coach in 2013 and 2015.
"The opportunity to work at a faith-based school intrigued me initially, and the chance to share my faith more openly is something I've always had a passion for," Norman said of his decision to come to Liberty.
Norman is eager to help his team transition from a conference champion to a national contender. He has learned not to rush after success or to produce players who win at all costs but to shepherd them and cultivate a healthy atmosphere in which they can flourish.
"If you're in coaching for the right reasons, you're obviously focusing on (student-athletes') success in the classroom, developing them as people, and creating a selfless servant attitude," Norman said. "We want to win a conference championship. We want to advance in the NCAA tournament. But more than that, we're really asking, 'Can we work hard every day? Can we serve each other? Can we inspire each other? Can we truly care about each other more than ourselves?'"
Liberty was ranked No. 1 in the BSC preseason poll with junior forward Jennifer Knoebel and redshirt senior goalie Holly Van Noord receiving Preseason Attacking and Defensive Player of the Year honors.
The Lady Flames dropped their season opener to the No. 4-ranked University of Virginia, 4-0 at home, and their next two games by 1-0 scores on the road. They rebounded by notching their first win under Norman, 3-2 over Appalachian State on Sept. 2, and their first-ever triumph over James Madison University, 1-0 on Sept. 4, with both games played at Osborne Stadium.
Regular-season action concludes with three of Liberty's last four games at home against BSC opponents, capped by an Oct. 22 clash with UNC Asheville, before the Lady Flames begin defense of their conference tournament title on Oct. 30. (See the Lady Flames' current schedule.)
Former pitching coach returns to lead Flames Baseball
Scott Jackson, a former Liberty University pitching coach who has spent the past eight seasons as an assistant coach and recruiting coordinator at the University of North Carolina, was named the seventh head coach in Flames Baseball history on July 17. Jackson, a 1998 graduate of Campbell University, served as pitching coach at UNC Wilmington from 2003-07 before his one season at Liberty in 2008. He went on to help the Tar Heels make three College World Series appearances (2009, 2011, 2013) and advance to six consecutive NCAA Regionals (2009-14). Before North Carolina captured the ACC Championship in 2013, Jackson was recognized by Baseball America as one of the nation's top assistant coaches.
"He's somebody who understands what Liberty is about and embraces our mission, (and) he is a great developer of talent," Liberty Director of Athletics Jeff Barber said. "We want to get to Omaha (Neb., site of the World Series) and win it just like everybody else does. We feel like if anybody can get us there, Scott Jackson can do it, and we're excited to see it happen."
Football team helps family, fire department during local house fire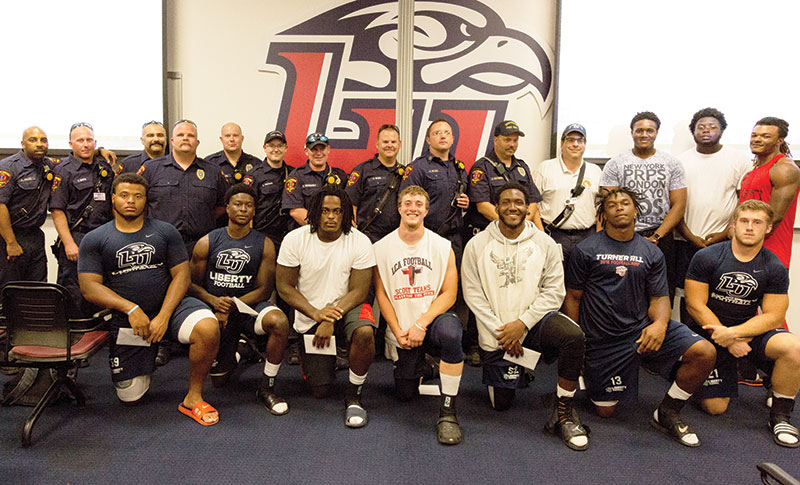 During the early morning hours of July 16, members of the Liberty University Flames Football team helped the Lynchburg Fire Department put out a 2-story house fire on Campbell Avenue. The 10 student-athletes had seen the fire and were already on the scene when the department arrived.
The student-athletes aided a 13-year-old boy, who had to jump from the roof to escape the blaze, and they helped the department get water to the ladder truck.
"As a team, we are always encouraged to help others out," sophomore Javon Frazier said. "Helping out during the fire meant that we were coming together as a team and serving our community in a way that will make a lasting impact on their lives and ours."
In August, members of the fire department visited Liberty's campus to thank Frazier and the nine other football players: Damian Bounds, Juwan Wells, Will Brown, Rion Davis, Mitchell Lewis, Malik Matthews, Korell Evans, Michael Anderson, and Cameron Jones.
The mother of the boy also met the players and thanked them for their assistance to her family.
"We cannot say enough about how thankful we are to these players for helping us," said Greg Wormser, Lynchburg's deputy fire chief. "They were helpful with assembling the equipment, and more importantly, helping the occupants affected by the fire."
Former Flames represented well in NFL, CFL
Rashad Jennings ('08) is coming off a career-best 863-yard season as a running back for the New York Giants. That brings his career totals to 2,316 rushing yards with another 127 catches for 972 yards, 13 kickoff returns for 297 yards, and a total of 17 touchdowns in seven years with three teams (Jacksonville Jaguars 2009-12, Oakland Raiders 2013, New York Giants 2014-present). He returns as the Giants' starting running back this season.
Walt Aikens ('13) has served as a gunner on special teams since being selected by the Miami Dolphins in the fourth round of the 2014 NFL Draft. Pro Football Focus website named Aikens to its Pro Bowl team as one of the league's top two special team players.
For those who follow football internationally, Kevin Fogg ('14), who nearly made the Pittsburgh Steelers' 53-man roster in 2015, is now a starting defensive back for the Canadian Football League's (CFL) Winnipeg Blue Bombers and ranked second in both tackles (55) and interceptions (3) through 10 games. Hunter Steward ('13), a guard from Calgary, also plays in the CFL for the British Columbia Lions. Jonathan Burgess ('16) plays for the North Coast Heat in Australia's National Gridiron League (NGL).
Big South Network to stream LU hockey games
Liberty's American Collegiate Hockey Association (ACHA) Divisions I, II, and III men's and Division I women's hockey teams will become the first Club Sports programs from any of the Big South Conference's (BSC) 10 member schools to have live action streamed on the Big South Network (BSN).
Starting this season, the network will pick up the Liberty Flames Sports Network's (LFSN) productions of more than 50 hockey games streamed live from the LaHaye Ice Center. Watch live action and archived games at BigSouthSports.com.
LFSN's track record for delivering professional webcasts of live sporting events was a selling point for the BSN to expand its range of collegiate coverage outside of conference play.
Kirk Handy, Liberty's Club Sports athletic director and head coach of the Flames' ACHA DI men's hockey team, said LFSN's high production quality will help attract new fans to Liberty's ice hockey programs.
"Lynchburg, Va., is not necessarily a hockey hotbed, but we've been able to create a market here, and having our games available on the Big South Network will help to grow that market," he said.
Men's, women's rock climbing become newest Club Sports teams
Men's and women's rock climbing debuted this fall as Liberty's 36th and 37th Club Sports programs. Elliot Gaunt will serve as head coach of both teams. Gaunt earned a degree in exercise science from Liberty in May and is planning to pursue a master's degree in sport management with a specialization in outdoor adventure.
The Flames and Lady Flames will be members of the Capital region of USA Climbing's Collegiate Climbing Series (CCS), which includes 10 schools from Maryland, Pennsylvania, and Virginia. They will compete in three different disciplines: bouldering, sport, and speed climbing.
Liberty will use the rock wall in the LaHaye Recreation & Fitness Center as its home base and may host collegiate events there in the near future. The season runs from Oct. 1 to March 4. The 15- to 20-member travel squads will go to five events before potentially qualifying for regional and national competitions in late March and late April.
Three athletes with Liberty ties make bids for Olympic teams
One current Liberty University student-athlete, one alumnus, and one Liberty University Online Academy (LUOA) student competed against the country's best athletes in their respective sports in an impressive showing at the United States Olympic Trials.
LUOA senior swimmer Michael Andrew, 17, who has broken close to 100 National Age Group records and won five medals at the 2015 World Junior Championships, placed fourth in the finals of the 100-meter breaststroke in 59.82 seconds. That broke his own world junior record time, set in the preliminary heat, but it was one place behind and 0.64 seconds off the pace needed to secure an Olympic team bid. He also placed 15th overall in the 100 butterfly, his second-strongest stroke, in 51.26 and qualified for the 200 Individual Medley finals with a sixth-place finish. In 2013, at age 14, Andrew became the youngest U.S. swimmer to turn professional.
Liberty sophomore Alicia Finnigan became the second active competitor on the Lady Flames' swimming and diving team to compete in the U.S. Olympic Trials, following the path of Brye Ravettine in 2012. She posted a program-best 44th-place finish in the 200 butterfly in 2:15.46, missing the semifinal qualifying time by less than three seconds.
Kenyan-born distance runner Sam Chelanga ('11), who became a U.S. citizen last summer, placed sixth in the 10K at the U.S. Olympic Trials, with a time of 28:56.12 (the top three made the U.S team). While at Liberty, Chelanga set the NCAA Division I record in the 10,000-meter run and won back-to-back NCAA cross country championships in 2009 and 2010.