Alumna becomes youngest chief of staff on Capitol Hill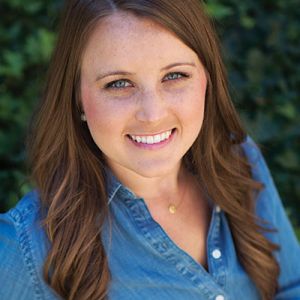 At only 24 years old, alumna Sarah Stevens ('12) was named chief of staff and communications director for Congressman Steve King (R-Iowa) in September, making her the youngest person to hold such a post in Washington, D.C.
In her role, Stevens writes King's press releases, op-eds, and serves as a liaison between the congressman and all national media. Additionally, she runs the congressman's multiple offices around the nation. Stevens previously served as King's press assistant, press secretary, and communications director.
Stevens, who earned a B.S. in Communication Studies with dual concentrations in broadcasting and advertising/public relations, said that her education at Liberty prepared her for her current position.
"I can honestly say that my classes taught me so many of the skills that I need to do my job," she said. "Many of my professors had great real-world experience that they passed along in our classes, which translated easily to my job here in Washington, D.C. Liberty taught me to be a cultural conservative, one that stands on the principles of my faith and not political ideology. Liberty also taught me that the battle is not always just about policy or your daily tasks, but about morality and remaining true to your faith."
During her senior year at Liberty, Stevens participated in the Washington Fellowship program and interned with the Heritage Foundation in Washington, D.C. According to Stevens, this real-world experience while still in school was invaluable.
"The Washington Fellowship truly helped launch my career path in Washington, D.C.," she said. "I know of no better internship program offered that gives interns the structure, hands-on learning, and variety of possibilities. I would encourage all Liberty University students from any major to consider doing the fellowship at least one semester."
Stevens' unprecedented rise was recognized by Roll Call, a national news outlet that has covered Capitol Hill since 1955.
Several other Liberty alumni are also in D.C., actively working in lobbying, government, and media. Some of these individuals include Family Research Council President Tony Perkins ('85), Concerned Women for America President and CEO Penny Nance ('88), Fox News Anchor Shannon Bream ('93), and CBN News Producer Dana Brown Ritter ('00).
Spreading Christmas cheer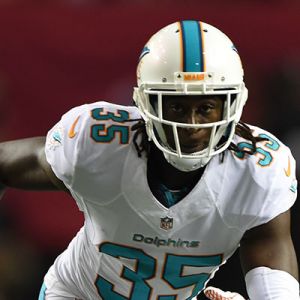 According to The Blaze, Walt Aikens, a free safety for the Miami Dolphins and former Liberty University football star, gave a stranger an unexpected present on Christmas Eve.
Aikens, struggling with an armful of items, was approached by an elderly woman who offered to share her cart with him. After initially refusing, Aikens eventually took her up on the offer and then paid for the woman's items. She insisted that she return the favor by baking him cookies, which she sent to his apartment a few days later along with a kind note.
Racing after the American dream
Less than two months after becoming a U.S. citizen, alumnus Sam Chelanga won his first USA Track & Field national title on Oct. 4. It was an emotional moment for the Kenyan-born athlete and former all-American runner for the Flames, whose love for his new nation was noticed by The Washington Post.
The publication shared his story, beginning from developing a love for distance running as a child on the dirt roads of Kenya, to attending Liberty, to his first victory for the red, white, and blue. Chelanga is now focusing on the 2016 U.S. Olympic Trials.
Big tipper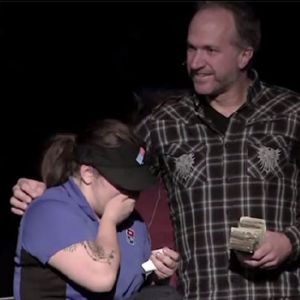 An Ohio church made headlines when it tipped a Domino's driver $1,000 for a single pizza delivery. The Rev. Steve Markle ('92), lead pastor of Sycamore Creek Church in Pickerington, a suburb of Columbus, was finishing up his sermon series on generosity.  With a gesture intended to inspire further kindness, he presented the cash to the driver on stage. News reports noted that the driver, a single mother who had missed a week of work due to illness and was facing eviction, was an assistant manager and did not typically make deliveries. She broke into tears at the church's act of kindness.
What is… a champion?
After earning nearly $100,000 in prizes in a five-episode run on "Jeopardy!" in 2014, alumna Catherine Hardee returned to the popular trivia show for the Tournament of Champions in November. She competed on the quarterfinals episode, which aired on Nov. 9, and won $17,600. She then moved on to the semifinals, which aired on Nov. 18, and went home with an additional $10,000 after being defeated in the semifinal round.
Hardee was an MVP member of Liberty's Quiz Bowl team. She graduated with a bachelor's degree in history in 2012 and completed her Master of Arts in History in May 2014.
Leading forward
In his first year in the California General Assembly, Assemblyman Chad Mayes ('98) was selected by his fellow Republicans to be caucus leader, the Los Angeles Times reported. He took over leadership of the minority party in January — a large task as Republicans seek to build momentum and gain a majority in the Assembly. Mayes is celebrated for his message of limited government and low taxes. He is committed to keeping the caucus "future-oriented," as Assembly Republicans focus on innovation and improving the Californian economy. Mayes won 57.5 percent of the vote to claim the 42nd District seat in November 2014. He credits Liberty, where he earned a degree in government, with providing him the tools and critical thinking skills needed to succeed.