One of my mentors once said that it is not truth that transforms us, it is trusted truth that transforms. Meaning you can know something, but unless you truly trust it, and truly believe it, it will not change you. I often think we can lose sight of what is important, and that statement reminds me of the reason I pursue a relationship with Jesus, the reason I became a coach, and the reason I am so thankful and blessed to be serving here at Liberty today.
I am often asked why I left Liberty the first time. Most people know I coached at Liberty for two seasons from 2007-09 before leaving to join a longtime friend of mine, Coach Tony Bennett, at the University of Virginia. My response is always the same: I never left Liberty for what it was not; I left to go where we, my wife Julie and I, felt God leading us, and at that time it was to serve alongside a friend. So my family and I made the hard decision to leave a place we dearly loved and move up the road to Charlottesville.
While I absolutely enjoyed my time and experiences at UVA, I often missed some of the unique and special things that a private Christian school offered. I missed going to Convocation and being inspired by a generation worshipping together so freely. I missed 20,000 fans quietly pausing to pray before a football game. I missed players telling me how certain professors they sat under influenced the way they viewed the Gospel. And I missed walking through campus and seeing students in the Word studying and praying together. This is not to say that similar things do not or cannot occur on other campuses, but the overflow of these things on campus was (and is) my experience at Liberty! 
Although I longed to be a part of that type of environment again, I never thought I would have a chance to return to LU.  Yet I have often found that the Lord has a sense of humor in the direction He allows our lives to go or where He takes us. There is a song titled "Million Little Miracles" that Maverick City and Elevation Worship collaborated on that starts off by saying, "All my life I've been carried by grace … ." That has certainly been my sentiment throughout my coaching journey. The opportunity that I was granted to return to Liberty in 2015 was just another example of God's grace — you could even say another one of His miracles. 
This place is special. Perfect? Of course not. After all, its inhabitants are human. But 50 years ago, God led Dr. Jerry Falwell to found this university, and he did it under the mantra that "if it is Christian, it ought to be better."  And now, 50 years later, we are seeing the abundant blessings of God poured out on our students, our faculty, our staff, our campus, and our athletic teams, and we are seeing Dr. Falwell's vision unfolding in real time.
Liberty is such a unique environment because we are afforded the privilege —and even driven — to live out our daily walk with Christ. Thankfully God saw and knew the desires of my heart and my call to be a transformational coach.  And by His grace, He led me back here to Liberty where I can freely live out the desires and calling He has given me.  
---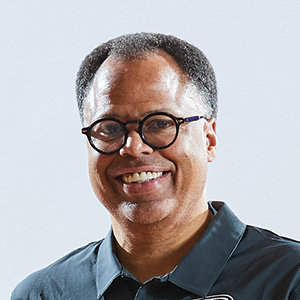 Ritchie McKay has served as the Flames' head coach for eight seasons. This year, after leading the team to a 23-6 record and their third straight berth into the NCAA Tournament, he was named ASUN Coach of the Year for the second consecutive season. McKay also won Big South Coach of the Year honors in 2016. He received the Jim Phelan Award in 2019, given annually to the most outstanding men's basketball head coach among NCAA Division I teams. In April, McKay's contract was extended through the 2028 season.