Office of the Vice President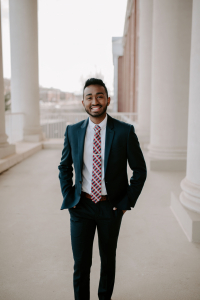 Student Body Vice President

Hey, my name is Joel Thomas, and I'm honored to serve as the Student Body Vice President this year. I'm a Senior studying Biomedical Sciences with a minor in Spanish and am from Charlotte, North Carolina. 
Over the past three years I have lived on campus and served as a Community Group Leader and Resident Shepherd. Through these experiences, I grew in new ways and saw God's hand at work in the lives of the men on our hall and in leadership. I also served on the Spiritual Life Committee in the Executive branch of SGA. In my free time I love to meet new people and hear different perspectives, eat great food with friends, and play basketball.
I have always believed that we are called to love and serve in the community God has placed us in. I'm passionate about making a difference here at Liberty as we are called to give and not merely receive. Our school is an incredible place for so many reasons, but primarily because we choose to be unified in Christ. I would love to hear from and represent you and your ideas as we begin this journey to continue the great mission of our school of training champions for Christ. Please reach out, and I would be more than happy to connect!