Connecting Online Students
Unlike most higher education institutions, Liberty University has made it a priority to provide online students with resources that are comparable to resources offered to residential students.  A student living on campus can walk into a campus office throughout the day and ask for counseling resources, talk with an advisor, find out about service opportunities, attend an athletic event, walk into an art gallery and so much more.  Online Student Life connects online students to each other, to faculty & staff, and to University services and events so that the online student has a broader and more engaging student experience.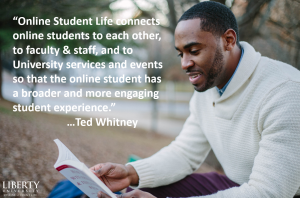 Here are five things we intentionally do to connect online students to University resources:
Use the Online Student Life Video Resources
One of the most useful resources we provide are short videos that have been created for online students.  We have collaborated with many faculty and staff at Liberty to provide online students these tools to help with life.  Some of the most viewed videos are:
The Christian Worldview
The Remedy for Anxiety
How to Have a Quiet Time
Equipment-Free Workout
3 Tips for Healthy Eating
Click here for our Video Resources for Online Students.
Counseling Resources
Online Student Life provides resources that online students can use to locate a resource in his or her hometown.
Find a Counselor – American Association of Christian Counselors
Support Groups

Alcoholics Anonymous
Narcotics Anonymous
Grief Share
Celebrate Recovery
Divorce Care
These resources can be found here.
Yammer Groups
Yammer is the private social media network within the Office 365 platform.  Many online students at Liberty use this secure network as they can engage with other students, faculty and staff.  Online students can create groups and join existing groups.  Some of these groups include:
Introduce Yourself
Discover Your Campus
Prayer Requests
Study Tips
Liberty University Art Gallery
Moms Going Back to School
Graduate Student Life
Yammer usage has grown dramatically in the past two years and online students are finding it a great way to connect.   Sign into Yammer here.
Blackboard Organization
In Online Student Life, we created a Blackboard Organization for new online students and we auto-enroll them in this "community".  The organization provides quick links for these newer students to connect and engage with each other, with faculty and staff and with campus resources.
You can also connect with us on Facebook.
Ted Whitney is the Executive Director of Student Life at Liberty University and has been working with online student engagement since April 2012.  Feel free to email Ted at tgwhitney@liberty.edu if you have any questions about this blog.