Meet the Executive Director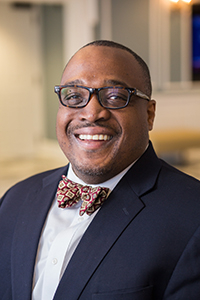 Here at Liberty University, we care about each student at an individual level, and we believe that healthy students are happy students. Health encompasses more than simply the physical aspect, so our department strives to support and encourage the campus community towards achieving and maintaining complete, holistic well-being. Every student deserves to be met where they are and to be provided with access to the best facilities and resources available, in a cost-effective manner.
I want to take this opportunity to share a little about me. My name is Keith R. Anderson, D.Min. and I am originally from St. Louis Missouri. I came to Lynchburg in July of 2003, in pursuit of an education, and making a great life for my family, after serving in the United States Army for 9 years active duty. I remained in the military as a reservist for an additional 6 years while pursuing my graduate degree. I have been married to my beautiful and loving wife since 1990, and together, we have two children. My previous roles here at Liberty University include serving in the Athletics, School of Divinity, Liberty University Online, and Student Affairs departments in various capacities. Currently, I serve as the Executive Director of the Student Health Center and Wellness Initiatives department. What I love most about what I do is providing students the opportunity to be exposed with information which will equip them to make better decisions regarding their health.
The Student Health Center and Wellness Initiatives are comprised of five primary components:
Student Health Records maintains and manages all of the medical history and immunization records for Liberty's student body.
Wellness Initiatives is the component that promotes campus-wide healthy living for students, faculty, and staff. As an active partner of Partnership for a Healthier America (PHA), our initiative is to create a healthier campus by following certain guidelines. Some of our initiatives include Live Healthy Liberty Coalition, Student Wellness Committee, and Peer Health Educators. We are developing a social media platform to best reach our students.
Student Health Center provides excellent medical and mental health services, preventive care, and health promotion are offered to students through the partnership between CVFP Medical Group and Liberty University.
Special Projects may include the Flu Clinic, Health Expo, Community Wellness Initiatives with Whitehead Media, Spiritual Wellness Initiatives with Live Healthy Lynchburg, and a partnership with the School of Divinity for spiritual wellness.
Assessment is the task force to ensure our holistic contributions to the strategic plan of Liberty University through our services, programs, and wellness initiatives.
"Dear friend, I hope all is well with you and that you are as healthy in body as you are strong in spirit." 3 John 1:2 (NLT)
Please do not hesitate to email or call us with any questions or to let us know how we are doing. We hope that our website will provide all the information you need.


Executive Director, Student Health Center and Wellness Initiatives