Increase the Church's Knowledge of the Bible by Earning our Master of Arts in Religion – Theology Degree
Understanding, defending, and teaching the Bible is vital to church ministry as a whole. Our Master of Arts in Religion – Theology degree will help you better understand biblical theology as well as prepare you to explain it to a variety of audiences.
Throughout our theology master's degree, you will study the nature of God, the history of the church, biblical prophecies, and theology itself. You will learn from theologians who have experience as pastors, missionaries, authors, and speakers and desire to mentor and support you as you follow God's calling on your life.
Accreditation
Your divinity degree is approved by the Commission on Accrediting of the Association of Theological Schools (ATS) and has met rigorous accreditation standards. You can feel confident that your degree is both academically excellent and well-respected among churches, ministries, and nonprofit organizations.


Award-Winning Campus
At Liberty, you'll find an affordable, high-quality education that equips students like you for the real world. Our commitment to excellence helped us rank among Niche.com's Top 5 college campuses in America. Earning your degree from a nonprofit university with state-of-the-art resources like ours can help set you apart from your peers.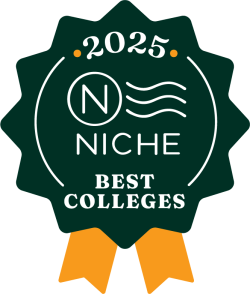 ---
Why Choose Liberty's M.A.R. in Theology Degree?
Pursuing your master's in theology degree with us residentially provides you with the opportunity to learn from experienced pastors and theologians. Our professors have office hours during the week, and they invite you to speak with them about your classes or about where God is leading you in your ministry.
Our M.A.R. program offers you the opportunity to earn your degree from a school that is more than a Bible college. At Liberty, you can build a community that's as unique as you are. As you earn your master's degree in religion and theology, you will have the opportunity to meet other graduate students studying a variety of subjects, allowing you to witness first-hand how God's truth is being revealed through fields as different as biology and cinematography.
While earning your master's degree in theology, you can network with organizations like the International Mission Board (IMB), Summit Church, and Samaritan's Purse. We also partner with a multitude of local churches and ministries within Lynchburg as well, so you can gain hands-on ministry experience while you complete your degree. Additionally, our new Monday-only program gives you the option to take the majority of the classes you need on Mondays, so you can remain involved in full-time ministry throughout the rest of the week.
---
What Will You Learn in Our Master's of Religion – Theology Degree Program?
In our M.A.R. in Theology degree program, you will conduct in-depth studies of the Old and New Testaments, giving you a foundational knowledge of the Bible that will be useful to you throughout your degree. You will take classes designed to prepare you for successful ministry within the church and beyond, like courses in apologetics, evangelism, hermeneutics, discipleship ministries, and research and academic writing.
If you choose to pursue our theology specialization, you will study the basic disciplines of theology as well as the purpose of the church, the nature of God, and prophecies of the end times. Our master's degree in religion will help you apply what you learn to practical ministry opportunities teaching the people of God through Bible studies, writing, and preaching.
View the Degree Completion Plan, and check out our featured courses below for more information!
Featured Courses
THEO 510 – Survey of Theology
Here's what you'll learn:
The basic disciplines of theology
How biblical, systematic, historical, dogmatic, and contemporary theologies interact with each other
Here's what you'll learn:
The nature and purpose of the church
Baptist ecclesiology
THEO 626 – Doctrine of God
Here's what you'll learn:
The attributes of God
The nature of the trinity
The providence of God
Highlights of Our M.A.R. in Theology Degree
In addition to their hands-on ministry experience, our faculty are theologians who are well-respected authors, speakers, and researchers.
We are committed to defending the authority of scripture and conservative evangelical theology.
Our master's degree in theology provides hands-on experience within the local church as well as opportunities to serve with churches and organizations like the International Mission Board, Hume Lake, Samaritan's Purse, and Second Baptist Houston.
Our Scriptorium houses the Rawlings Foundation rare books collection valued at over $1 million, a 111 ft.-long Torah scroll that dates to the 16th century, and a functioning replica of the Gutenberg Printing Press.
Monday-only classes allow residential graduate students to complete large portions of their M.A. in Religion attending classes one day a week.
We offer multiple scholarship opportunities to our residential students, including the full-tuition Keesee Scholarship.
Our Master's of Religion in Theology Degree Information
Career Opportunities for Graduates of Our Master's in Religion – Theology Degree Program
Associate pastor
Church education administrator
Church planter
Lay leader
Missionary
Youth pastor
Admission Requirements for Graduate Degrees
Every application is reviewed on a case-by-case basis, and all applicants must submit the following documents and meet the minimum requirements for admission:
Admission application
Official bachelor's degree transcripts with a 2.0 GPA or higher
Self-certification form for students in the final term of their bachelor's degree
Current Liberty undergraduate students seeking preliminary acceptance into a graduate program must complete a degree completion application through their ASIST account