Bring the Scripture to the World with a Master of Arts in Religion (M.A.R.) – Global Studies
Do you feel the call to bring God's Word to people around the globe? Through Liberty University's Master of Arts in Religion (M.A.R.) – Global Studies, you can learn how to successfully approach different cultures with an effective and fruitful Gospel message. Gain insight into other cultures and develop the skills you need to communicate effectively across international barriers by building impactful, nonprofit ministries and working in the church and parachurch organizations.
You will also gain an in-depth, practical education in theology, biblical studies, and ministry practice. You will study apologetics, the Old and New Testament, sermon preparation, and other useful subjects to prepare you for the global impact you can have in ministry. 
Accreditation
Your divinity degree is approved by the Commission on Accrediting of the Association of Theological Schools (ATS) and has met rigorous accreditation standards. You can feel confident that your degree is both academically excellent and well-respected among churches, ministries, and nonprofit organizations.


---
Why Choose Liberty's Master of Arts in Religion – Global Studies Degree?
Liberty University takes its mission to Train Champions for Christ very seriously. Our global studies specialization will prepare you for the mission of spreading the Gospel on a global scale. Besides the training you'll receive in interacting with other cultures, you will also study the relationship building and interactions that are crucial with the local church and parachurch organizations.
Our professors will instruct you in practical ministry and discipleship methods while imparting important first-hand knowledge of religions and cultures of the world.  If you have previous experience in the ministry field, you can complete our Institutional Challenge Exams (ICE) to see if you qualify for college credit. Our state-of-the-art teaching facilities will also help to expand your knowledge in ministry and in developing your skills at crossing cultural barriers.

Award-Winning Campus
At Liberty, you'll find an affordable, high-quality education that equips students like you for the real world. Our commitment to excellence helped us rank among Niche.com's Top 5 college campuses in America. Earning your degree from a nonprofit university with state-of-the-art resources like ours can help set you apart from your peers.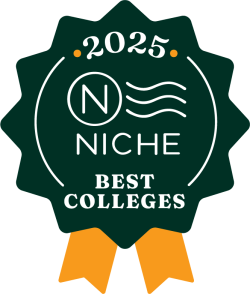 ---
What Will You Learn in Our Master of Arts in Religion – Global Studies Degree?
Our Master of Arts in Religion provides well-rounded, extensive training in ministry, theology and biblical studies, and the management and leadership of Christian organizations. In addition to this, you will participate in an in-depth study of the Old and New Testament, the history of Christianity, systematic theology, and the research and writing process of sermon preparation.
As you pursue our global studies specialization, you'll gain advanced knowledge of the other religions and cultures of the world. Understanding the backgrounds and beliefs of other cultures can provide an opening into a dialogue and deeper understanding between countries. In addition to studying some of the religions of the world, you will study the history of global Christianity from the early days of the church to the present day. Understanding the expansion of Christianity from its humble beginning to the world religion it is today will be instructive as well as inspiring. You will also learn how to effectively engage other cultures and provide a productive relationship for the sharing of Scripture.
We invite you to look at our featured courses for an exciting preview of our M.A.R. program. Download and review the Degree Completion Plan.
Featured Courses
GLST 525 – Introduction to Islam
Here's what you'll learn:
This course explores the historic rise and expansion of Islam. Basic Muslim beliefs and practices are identified, and the diversity within the world of Islam is examined.
GLST 600 – Cultural Anthropology

Here's what you'll learn:
This course introduces the discipline of cultural anthropology with a particular emphasis on studying culture and worldview for effective engagement.
GLST 620 – History of Global Christianity
GLST 650 – Intercultural Communication and Engagement
Here's what you'll learn:
This course explores key issues in effective intercultural communication.
Special attention is given to the concept of Cultural Intelligence© and its application in effective intercultural engagement.
Highlights of Our Master of Arts in Religion Degree
Monday-only classes for master's programs allow students to complete large portions of their M.A.R. degree by only attending class one day a week.
We have a state-of-the-art homiletics/teaching lab in our School of Divinity building.
Our Scriptorium houses the Rawlings Foundation rare books collection valued at over $1 million, a 111 ft.-long Torah scroll that dates to the 16th century, and a functioning replica of the Gutenberg Printing Press.
Local church ministry training is embedded within our programs.
We provide experiential learning opportunities through church and para-church ministries.
Master of Arts in Religion Degree Information
Career Opportunities for Master of Religion – Global Studies Graduates
Associate pastor
Church education administrator
K-12 religion teaching
Lay ministry leader
Religion adjunct teaching
Teaching pastor
Admission Requirements for Graduate Degrees
Every application is reviewed on a case-by-case basis, and all applicants must submit the following documents and meet the minimum requirements for admission:
Admission application
Official bachelor's degree transcripts with a 2.0 GPA or higher
Self-certification form for students in the final term of their bachelor's degree
Current Liberty undergraduate students seeking preliminary acceptance into a graduate program must complete a degree completion application through their ASIST account