Bring Scripture Into Society With a Master of Arts in Religion (M.A.R.) – Community Chaplaincy
Do you have a passion to reach people who are outside the walls of the church with the Gospel of Jesus Christ? Over half of the American population are not part of a local church. A career in community chaplaincy is a great way to get out into society and spread God's Word whether it be in a corporation, a prison, the military, a hospital or some other area in need of the Gospel. Liberty University's Master of Arts in Religion – Community Chaplaincy can provide you with the knowledge and skills you need to go outside of the church and provide spiritual guidance and pastoral care.
Our community chaplaincy specialization prepares you for the unique settings in which you might find yourself. Other places where chaplains have been called include first response teams, colleges, and sports organizations. Our professors are well-known biblical scholars and apologists who teach in the classroom and conduct research and publish. You will benefit from the instruction and mentorship they provide as you pursue your degree.
Accreditation
Your divinity degree is approved by the Commission on Accrediting of the Association of Theological Schools (ATS) and has met rigorous accreditation standards. You can feel confident that your degree is both academically excellent and well-respected among churches, ministries, and nonprofit organizations.


Award-Winning Campus
At Liberty, you'll find an affordable, high-quality education that equips students like you for the real world. Our commitment to excellence helped us rank among Niche.com's Top 5 college campuses in America. Earning your degree from a nonprofit university with state-of-the-art resources like ours can help set you apart from your peers.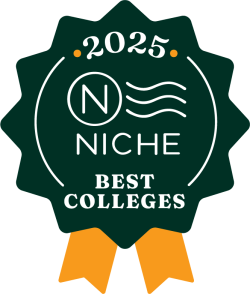 ---
Why Choose Liberty's Master of Arts in Religion – Community Chaplaincy Degree?
Are you passionate about God's Word and want to provide ministerial and pastoral care to those who are in need of it? Liberty's MAR in Community Chaplaincy provides first-hand training and experience in the operation of various chaplain ministries. The term chaplain does not refer to any specific type of faith or denomination, but our community chaplaincy specialization will provide you with a biblical framework from a Judeo-Christian worldview.
In addition to the advanced training you'll receive from our experienced professors, opportunities for practical training at Liberty University are available to you. You can also complete Institutional Challenge Exams (ICE) to get college credit for personal studies and expertise in ministry. With our state-of-the-art facilities in the School of Divinity building, you will gain the knowledge you need to minister wherever you are called to serve.
---
What Will You Learn in Our Master of Arts in Religion – Community Chaplaincy Degree?
Our Master of Arts in Religion provides extensive, well-rounded training in ministry, management and leadership, and theology and biblical studies. In addition to this, you will participate in an in-depth study of the Old and New Testament, the history of Christianity, systematic theology, and the research and writing process of interpreting the meaning of biblical texts.
The roles of chaplains differ from that of church leadership and may be subject to certain state and federal regulations. As such, we make sure to provide an important overview of the specific roles and restrictions placed on chaplains. We provide instruction on the professional and spiritual development needed in the special secular and pluralistic environments that chaplains may often find themselves.
Featured Courses
CHPL 500 – Introduction to Chaplaincy Ministry
Here's what you'll learn:
Examines the theological and cultural issues of a formal and informal ministry setting.
Explores the similarities and differences between the various types of chaplaincies. Gives attention to ministry in religiously pluralistic, multicultural, and multi-staff environments.
Emphasizes skills, strategies, and character traits necessary for effective ministry.
CHPL 598 – Spiritual & Professional Development of the Chaplain

Here's what you'll learn:
This course addresses the professional and spiritual formation of chaplains.
Students will observe and evaluate, first-hand, various chaplain ministries.
Attention is given to the biblical nature of chaplain ministry and its practical application within the secular and pluralistic contexts of the military, healthcare, and community chaplain settings.
Special emphasis is given to the formation of godly character necessary for successful chaplain ministry.
CHPL 615 – Chaplain Ethics for Advisement & Pastoral Care
Here's what you'll learn:
The course provides a study of the methodology and practice of biblical ethics applied within the secular and pluralistic contexts in which chaplains serve.
Attention is given to chaplain ethical advisement of leaders and followers within the military, healthcare, and community chaplain environments.
The course will prepare chaplains for ethical dilemmas through the development of an ethical decision model and a personal code of ethics.
Additionally, the course will address the ethics of evangelism and exercising one's faith in a pluralistic culture.
CHPL 682 – Community Chaplaincy
Highlights of Our Master of Arts in Religion Degree
Monday-only classes for masters' programs allow students to complete large portions of their M.A.R. degree by only attending class one day a week.
We have a state-of-the-art homiletics/teaching lab in our School of Divinity building.
Our Scriptorium houses the Rawlings Foundation rare books collection valued at over $1 million, a 111 ft.-long Torah scroll that dates to the 16th century, and a functioning replica of the Gutenberg Printing Press.
Local church ministry training is embedded within our programs.
We provide experiential learning opportunities through church and para-church ministries
Master of Arts in Religion Degree Information
Career Opportunities for Master of Religion – Community Chaplaincy Graduates
Corporate chaplain
Human resources manager
Instructional supervisor
Military chaplain
Admission Requirements for Graduate Degrees
Every application is reviewed on a case-by-case basis, and all applicants must submit the following documents and meet the minimum requirements for admission:
Admission application
Official bachelor's degree transcripts with a 2.0 GPA or higher
Self-certification form for students in the final term of their bachelor's degree
Current Liberty undergraduate students seeking preliminary acceptance into a graduate program must complete a degree completion application through their ASIST account