Minister to the Needs of Your Congregation and Those Outside of the Church with an M.Div. in Pastoral Counseling
Do you feel called to help others by providing spiritual guidance and biblical direction for their lives? A pastoral counselor's job is a bit different from that of a clinical counselor. While other forms of therapy focus mainly on mental health, a pastoral counselor integrates spirituality, faith, and theology with psychotherapy to provide help for those who seek assistance. As a pastoral counselor, you may provide counseling in a variety of areas such as personal, pre-marital and marital, family, and faith issues.
If you have a heart for people and ministry, our M.Div. in Pastoral Counseling will give you the knowledge you need to effectively lead others through the difficult circumstances in life. Throughout this degree, you will study a wide range of topics like the Old and New Testaments, apologetics, church ministry, evangelism, homiletics, and theology. In addition, you will have a number of pastoral counseling electives so that you can focus on the area that you feel God is calling you to or that interests you most.
Accreditation
Your divinity degree is approved by the Commission on Accrediting of the Association of Theological Schools (ATS) and has met rigorous accreditation standards. You can feel confident that your degree is both academically excellent and well-respected among churches, ministries, and nonprofit organizations.


Award-Winning Campus
At Liberty, you'll find an affordable, high-quality education that equips students like you for the real world. Our commitment to excellence helped us rank among Niche.com's Top 5 college campuses in America. Earning your degree from a nonprofit university with state-of-the-art resources like ours can help set you apart from your peers.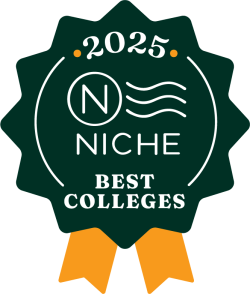 ---
Why Choose Liberty's Master of Divinity – Pastoral Counseling Degree?
As one of the largest Christian universities in the nation, we feel our mission to Train Champions for Christ is our most important task. Because of our size, we have the resources to provide you with one of the most comprehensive seminary degrees in the world. The pastors and pastoral counselors who guide them through difficult times tend to the spiritual health of a congregation. Like you, these pastors faced the decision of where to pursue their Master of Divinity degree. We know our M.Div. degrees will provide the advanced training you need to pursue a fulfilling and rewarding career.  
Another great thing about this degree is that you have the chance to get course credit for prior ministry experience or a previously pursued accredited seminary degree through our transfer evaluation and Institutional Challenge Exams. Our Master of Divinity in Pastoral Counseling will prepare you for the mission of providing spiritual assistance and guidance to those who are in need.
---
What Will You Learn in Our Master of Divinity – Pastoral Counseling Degree?
Our Master of Divinity in Pastoral Counseling provides you with the training you need in multicultural awareness, counseling men, women, children, the elderly, married couples and more. You will learn about the ethnic minorities you might encounter in pastoral counseling and how their backgrounds may affect the functioning and makeup of the family.
Throughout this degree, you will study common problems you might encounter in premarital and marital counseling. In addition, you will have classes that focus on common problems that may cause women to seek counseling and how to approach the solutions to these from a biblical perspective. Our aging society also has special needs they face in their older years. You'll study how to counsel them through grief or coping with the changing world around them.
We invite you to look at our featured courses for an exciting preview of the M.Div. Pastoral Counseling program we offer at Liberty University. You can also review the Degree Completion Plan.
Featured Courses
PACO 504 – Multicultural Issues in Pastoral Counseling
Here's what you'll learn:
This course introduces students to the constructs of Ethnicity, Families, and Counseling. It focuses on the contribution of ethnic background to family makeup and functioning.
Major ethnic minorities are studied along with the counseling approaches appropriate to each.
PACO 625 – Human Sexuality
Here's what you'll learn:
This course introduces students to a research-informed biblical paradigm for healthy sexuality.
It will increase their awareness, knowledge, and skills regarding the broad range of issues in the field of counseling when addressing healthy sexuality.
PACO 687 – Counseling Women
Here's what you'll learn:
This course introduces students with the issues and problems unique to the elderly in American society.
Topics such as grief and loss, suffering, societal attitude, and family structure are examined.
Highlights of Our Master of Divinity Degree
Monday-only classes for masters' programs allow students to complete large portions of their M.Div. degree by only attending class one day a week.
We have a state-of-the-art homiletics/teaching lab in our School of Divinity building.
Study under theologians and missionaries with real-world experience in the M.Div.'s web-based content developed by Liberty University's John W. Rawlings School of Divinity.
Institutional Challenge Exams (ICE) are available to test out of foundational biblical and theological studies content for the M.Div. program.
Our Scriptorium houses the Rawlings Foundation rare books collection valued at over $1 million, a 111-long Torah scroll that dates to the 16th century, and a functioning replica of the Gutenberg Printing Press.
Local church ministry training is embedded within our programs.
We provide experiential learning opportunities through church and para-church ministries.
Master of Divinity – Pastoral Counseling Degree Information
Career Opportunities for Master of Divinity – Pastoral Counseling Graduates
Church counselor (non-licensed)
Family pastor
Senior pastor
Admission Requirements for Graduate Degrees
Every application is reviewed on a case-by-case basis, and all applicants must submit the following documents and meet the minimum requirements for admission:
Admission application
Official bachelor's degree transcripts with a 2.0 GPA or higher
Self-certification form for students in the final term of their bachelor's degree
Current Liberty undergraduate students seeking preliminary acceptance into a graduate program must complete a degree completion application through their ASIST account