Grow Your Understanding of Theology and Apologetics with Liberty's Master of Divinity in Christian Thought
Are you looking to increase your ministry skills so that you can serve your congregation or parachurch organization? Liberty University's Master of Divinity in Christian Thought prepares you to lead your ministry and make a positive impact for Christ. This degree provides flexibility to study the subjects that best suit your goals in the area of apologetics, theology, and church history. Through some of our core divinity courses, you will study the history of Christianity and develop theological analysis and argument skills as you learn the Word of God and lessons from some of the greatest Christian leaders.
Throughout our Master of Divinity degree, you will obtain many of the skills needed to manage, teach, and lead a church or small group organization. You will gain a deeper understanding of Scripture while simultaneously gaining the ability to found, run, and continue a discipleship ministry. By sharpening your ability to study and interpret the Bible, you can identify how its teachings still relate to the modern world.
Accreditation
Your divinity degree is approved by the Commission on Accrediting of the Association of Theological Schools (ATS) and has met rigorous accreditation standards. You can feel confident that your degree is both academically excellent and well-respected among churches, ministries, and nonprofit organizations.


Award-Winning Campus
At Liberty, you'll find an affordable, high-quality education that equips students like you for the real world. Our commitment to excellence helped us rank among Niche.com's Top 5 college campuses in America. Earning your degree from a nonprofit university with state-of-the-art resources like ours can help set you apart from your peers.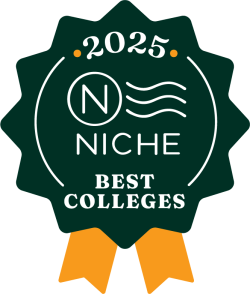 ---
Why Choose Liberty's Master of Divinity – Christian Thought Degree?
Liberty University's Master of Divinity in Christian Thought is an expansive degree that explores every aspect of ministry you might encounter as a pastor or ministry leader. Our mission is to Train Champions for Christ and we have a vested interest in your success in fulfilling the Great Commission.
As one of the largest Christian universities in the nation, we have the resources to ensure that your education is of the highest quality. In addition, we have partnered with many church and parachurch organizations to create various opportunities to turn your classroom knowledge into practical wisdom as you complete an internship towards the end of this degree.
If you have prior ministry experience or you have previously pursued an accredited seminary degree, you might be able to receive course credit through our transfer evaluation or Institutional Challenge Exams. Our Master of Divinity in Christian Thought will prepare you for the challenge of bringing the Word of God to those in need and administering pastoral care to service members and families.
---
What Will You Learn in Our Master of Divinity in Christian Thought Degree?
Our Master of Divinity degree, with a specialization in Christian Thought, provides advanced training in many foundational areas of study like apologetics, evangelism, and theology.
You will also have opportunities to:
Explore the history of Christianity.
Learn how to prepare and deliver meaningful sermons to your congregation or lessons in smaller group settings.
Study the themes, settings, and history of each book in the Old and New Testaments.
Learn foundational Hebrew and Greek, to understand the Bible in its original language.
Pastoral, pre-marital, and marital counseling methods and best practices.
Our Christian thought specialization has 12 credit hours of cognate-specific training that you can choose yourself. You can pick from dozens of courses that interest you the most to complete your degree. Throughout this degree, we focus on providing real-world experience and practical application methods so that you can begin your career with confidence and authority.
We invite you to look at our featured courses for a preview of the dynamic M.Div. program we offer at Liberty University. You can also review the Degree Completion Plan.
Featured Courses
APOL 500 – Introduction to Apologetics
Here's what you'll learn:
This course surveys the basic issues in apologetics such as apologetic method, the biblical basis for apologetics, and the relationship between faith and reason.
Then it turns to consideration of various apologetic issues, including the inerrancy of the Bible, the resurrection of Jesus Christ, and the existence of God.
Finally, the student will be exposed to major worldviews extant today and will consider responses to modern apologetic challenges to Christianity, such as postmodernism, and religious pluralism.
CHHI 635 – Patristic and Ancient Heresy
Here's what you'll learn:
The Christian movement through the first six centuries (A.D. 30-600).
Includes periods of persecutions, heretical developments and attempts to preserve doctrinal purity, the determination of the canon, ecclesiastical developments, the union of church and state, the role of church councils, and the expansion of the authority of the bishop of Rome.
THEO 601 – Patristic and Medieval Christian Thought
Here's what you'll learn:
A study of the early development of Christian ideas from their background in the Greco-Roman world, Judaism, and the Scriptures, through the apostolic fathers, the apologists, and the early struggles toward doctrinal clarity and purity.
In the latter half of the course, attention will be given to the establishment of papal supremacy, the rise and subsequent decline of the scholastic Christianity, and the conceptual factors leading toward the Renaissance and Reformation. 
THEO 603 – Modern and Contemporary Christian Thought
Here's what you'll learn:
A study of thought from Enlightenment trends to contemporary theological and philosophical developments.
The latter subject includes 19th-century liberalism, 20th-century new-orthodoxy, existentialism, and post-existential trends such as secular, liberation, and hope theologies.
Attention is also given to recent philosophical movements such as logical positivism, linguistic analysis, and process thought. The course stresses the history of major ideas, the system of formative scholars, and the conservative alternative.
Highlights of Our Master of Divinity Degree
We have a state-of-the-art homiletics/teaching lab in our School of Divinity building.
Study under theologians and missionaries with real-world experience in the M.Div.'s web-based content developed by our John W. Rawlings School of Divinity.
Monday-only classes for masters' programs allow students to complete large portions of their M.Div. degree by only attending class one day a week.
Institutional Challenge Exams (ICE) are available to test out of foundational biblical and theological studies content for the M.Div. program.
Our Scriptorium houses the Rawlings Foundation rare books collection valued at over $1 million, a 111-foot Torah scroll that dates to the 16th century, and a functioning replica of the Gutenberg Printing Press.
We provide experiential learning opportunities through church and para-church ministries.
Master of Divinity – Christian Thought Degree Information
Career Opportunities for Master of Divinity – Christian Thought Graduates
Apologist
Evangelist
Missionary
Senior pastor
Youth pastor
Admission Requirements for Graduate Degrees
Every application is reviewed on a case-by-case basis, and all applicants must submit the following documents and meet the minimum requirements for admission:
Admission application
Official bachelor's degree transcripts with a 2.0 GPA or higher
Self-certification form for students in the final term of their bachelor's degree
Current Liberty undergraduate students seeking preliminary acceptance into a graduate program must complete a degree completion application through their ASIST account