Provide a Deeper Understanding of Scripture by Earning an M.Div. in Biblical Studies
Do you have a passion for God's word? Are you interested in leading and teaching in a ministry setting? A Master of Divinity (M.Div.) in Biblical Studies provides the training you need to pursue a life of service to the church and your community as a pastor, educator, or ministry leader. Throughout this degree program, you will explore the areas of apologetics, discipleship, evangelism, theology, and pastoral counseling.
Get excited to dig deep into the books and teachings of the Old and New Testaments. Learn the foundations of preparing dynamic sermons and lessons that touch hearts and minds. You will also have the unique opportunity to study the original languages of the Bible, which will help you understand some of the intricate and sometimes dual meanings of a word or phrase. 
Accreditation
Your divinity degree is approved by the Commission on Accrediting of the Association of Theological Schools (ATS) and has met rigorous accreditation standards. You can feel confident that your degree is both academically excellent and well-respected among churches, ministries, and nonprofit organizations.


---
Award-Winning Campus
At Liberty, you'll find an affordable, high-quality education that equips students like you for the real world. Our commitment to excellence helped us rank among Niche.com's Top 3 college campuses in America. Earning your degree from a nonprofit university with state-of-the-art resources like ours can help set you apart from your peers.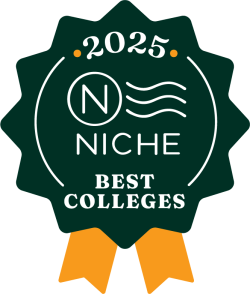 ---
Why Choose Liberty's Master of Divinity – Biblical Studies Degree?
As one of the largest Christian universities in the nation, we have the resources to provide an expansive and comprehensive Master of Divinity degree program. Throughout our M.Div., you will study apologetics, theology, evangelism, and leadership methods. Your deep knowledge of the Bible will have a profound effect on those you lead. Our Master of Divinity will provide you with the advanced training you need to pursue a fulfilling and rewarding career in ministry.  
A benefit of our of M.Div. is that you can get course credit for prior ministry experience or a previously pursued accredited seminary degree through our transfer evaluation and Institutional Challenge Exams. 
---
What Will You Learn in Our Master of Divinity – Biblical Studies Degree?
Our Master of Divinity in Biblical Studies provides the training you need to be a subject matter expert when it comes to biblical and extra-biblical sources. Throughout this degree, you will conduct in-depth studies of the books in the Old and New Testament.  You will explore the historical setting behind the books, as well as the literary genres and structure encountered within. Understanding the symbols, parables, and various themes will also be a big part of your studies. In addition, you will learn how Christian ministry can respond to the various ethical challenges that arise in today's multi-cultural and secular world.
As this is a Master of Divinity program, you might have an interest in leadership positions within a church setting. If you desire to be a pastor or ministry leader, you should study the basics of pastoral counseling, pre-marital, and marriage counseling techniques and best practices. This M.Div. degree provides this training and explores different cultures you might encounter both in your ministry at home and on missions abroad. You will also have the opportunity to experience the ministry field first-hand through an internship.
We invite you to look at our featured courses for an exciting preview of the M.Div. Biblical Studies program we offer at Liberty University. You can also review the Degree Completion Plan.
Featured Courses
Here's what you'll learn:
An advanced course in hermeneutics including a study of the history of interpretation, both biblical and extra-biblical.
An examination of the current status of various interpretive approaches to the Scriptures.
NBST 515 – New Testament Orientation I
Here's what you'll learn:
A general introduction to the New Testament Gospels, General Epistles, and Revelation, emphasizing matters of text, canon, authorship, date, authorial purpose, and theme development. Also a special introduction, involving current issues of criticism and interpretation, such as the synoptic problem.
The general principles of interpretation (hermeneutics) will be introduced as well as the special principles concerning parables, symbols and types, and prophecy.
OBST 515 – Old Testament Orientation I
Here's what you'll learn:
An examination of the status of research in studies relative to the Pentateuch and Historical Books.
Special attention given to biblical introduction, hermeneutics, and the acquiring of a strategic grasp of the historical setting, literary genres, and structure of each book, as well as areas of particular critical concern.
THEO 650 – Public Theology
Here's what you'll learn:
Ethical challenges presented by cultural developments in the contemporary world.
Highlights of Our Master of Divinity Degree
We have a state-of-the-art homiletics/teaching lab in our School of Divinity building.
Study under theologians and missionaries with real-world experience in the M.Div.'s web-based content developed by our John W. Rawlings School of Divinity.
Monday-only classes for masters' programs allow students to complete large portions of their M.Div. degree by only attending class one day a week.
Institutional Challenge Exams (ICE) are available to test out of foundational biblical and theological studies content for the M.Div. program.
Our Scriptorium houses the Rawlings Foundation rare books collection valued at over $1 million, a 111-long Torah scroll that dates to the 16th century, and a functioning replica of the Gutenberg Printing Press.
We provide experiential learning opportunities through church and para-church ministries.
Master of Divinity – Biblical Studies Degree Information
Career Opportunities for Master of Divinity – Biblical Studies Graduates
Christian Educator
Christian School Administrator
Pastor
Sunday School Administrator
Admission Requirements for Graduate Degrees
Every application is reviewed on a case-by-case basis, and all applicants must submit the following documents and meet the minimum requirements for admission:
Admission application
Official bachelor's degree transcripts with a 2.0 GPA or higher
Self-certification form for students in the final term of their bachelor's degree
Current Liberty undergraduate students seeking preliminary acceptance into a graduate program must complete a degree completion application through their ASIST account