Effectively Reach the Next Generation of Young People through Music and Worship
Worship leaders have the unique role of inspiring God-honoring praise in their congregation. If you grew up in the church, you have probably had moments where a certain teaching or song choice from the worship director really moved you. Maybe you feel called to continue this ministry for your church, especially for the youth who you can relate to on a deeper level. Liberty's B.S. in Youth Ministries: Worship degree may be a great opportunity for you to get started!
Whether or not you want to be on the stage or behind the scenes, a worship specialization will educate you on the best ways to reach people through music. From selecting and arranging songs to coordinating rehearsals for the band, the skills you develop through our program will be vital to your ministry.
Study under faculty with years of real-life experience who are eager to guide and advise you throughout your college experience. Learn best practices in youth outreach and leadership. From scheduling events to discipleship training, our courses will help you prepare to lead your church like never before. Let us help you think outside of the box, using creative movement and drama in your services, to reach people effectively. Partner with Liberty to develop into the leader your church needs.
Award-Winning Campus
At Liberty, you'll find an affordable, high-quality education that equips students like you for the real world. Our commitment to excellence helped us rank among Niche.com's Top 5 college campuses in America. Earning your degree from a nonprofit university with state-of-the-art resources like ours can help set you apart from your peers.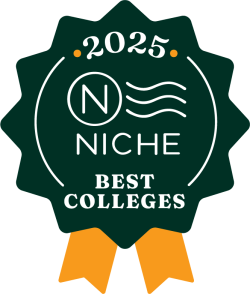 ---
Why Choose Liberty's Youth Ministries – Worship Degree?
Adding a worship specialization to your youth ministries degree can help you become more marketable to churches, parachurches, or nonprofit organizations. Not only will you have a strong theological understanding of best practices in youth outreach, but you will also know how to use music to effectively connect people with each other and their faith.
We want our students to graduate trained not only in the classroom but also in the field. In order to accomplish this, we have incorporated training opportunities, practicums, and internships directly into your degree plan.
The following are ways you can take your skill set further with Liberty:
Complete various church ministry practicums, designed to get you real-world experience under ministry professionals before you graduate.
Complete a youth ministry internship with a church, parachurch, or nonprofit organization to gain even more hands-on experience.
Our Ministry Fellowship program is an excellent opportunity to maximize your vocational ministry training.
Our youth ministries degree programs are designed with your success in mind. To prepare for a career in youth and worship ministry you will want to study under professionals who are excited to instruct from their years of experience. As a teaching university, we ensure that our professors are in the classroom with you every week, teaching, guiding, and mentoring you throughout your educational journey. You can be confident that you are being taught by the very best.
---
What Will You Learn in Our Youth Ministries and Worship Degree?
Specializing your degree in worship is a great way to gain valuable knowledge and skills in music leadership and philosophy. Courses in this cognate focus on surveying the art and culture of worship, especially as it relates to youth ministries. You will also study how music is woven throughout the Old and New Testaments and examine how Jesus and the early Christians let worship and music influence their daily practices.
Additionally, you will receive the foundational knowledge of the Bible that you need to excel in any ministry field through this degree's core curriculum in youth ministries. You'll take courses in cultural engagement, apologetics, inductive Bible study, and hermeneutics. You'll also study topics like global youth culture, strategies for student outreach, and ministering to adolescents in crisis.
Review the Degree Completion Plan, and check out our featured courses below to learn more about what you'll be studying!
Featured Courses
MUSC 200 –  Music, Art Worship, and Culture
Here's what you'll learn:
This course is a comprehensive survey of music, art, worship, and culture in daily life, career choice, and profession.
Introductory concepts of formational, transformational, relational, missional, reproducible, and biblical principles for artistic development are established.
Application is made to the basic relationship between Old and New Testament worship in 21st century culture.
Students complete a project that provides significant experience in research preparation and processes, including: developing literature review, building bibliography, thesis and outline construction, and crafting of meaningful narrative.
MUSC 202 – Old and New Testament Music and Worship
Here's what you'll learn:
This course presents principles of Old and New Testament Music and Worship.
Included is a discussion of pre-tabernacle, tabernacle, temple, and synagogue music and worship.
An overview of how Jesus, the disciples, and early Christians incorporated music and worship in their daily practices.
MUSC 323 – Leadership, Philosophy, Music, and Organization
Here's what you'll learn:
This course addresses the practical principles of music and worship leadership.
Some principles you will cover are issues of integrity and character; developing and implementing philosophy; establishing chains of command; dangers of insubordination; time management, staff relationships; administrative responsibilities for musicians; journaling; building a calendar;  budgeting, and discipleship training; building staff; and family.
MUSC 423 – Congregational Contextualization and Leadership
Here's what you'll learn:
This is a study of congregational worship practices in the evangelical traditions.
Special attention is given to establishing a methodology for evaluating ministry context and demographics.
Attention is also given to song selection, programming, conducting concepts, vocal and band rehearsal techniques, and the integration of multimedia, drama, and creative movement into the congregational ministry.
Highlights of Our Youth Ministries – Worship Degree
John W. Rawlings School of Divinity professors are active in the classroom, as well as in research and publishing original works.
Our School of Divinity is committed to the authority of Scripture and conservative evangelical theology.
Get the teaching and professor involvement of a small Bible college with the experience and amenities of a university.
Internship opportunities with churches and parachurches locally, nationally, and globally.
The new Freedom Tower houses a 7-projector immersive classroom, an interactive classroom that utilizes teleconferencing capabilities, and a state-of-the-art homiletics teaching lab.
The Rawlings Foundation's rare book collection is valued at over $1 million and contains a 111-foot long Torah scroll dating back to the 16th century and a functioning Gutenberg Printing Press replica.
Youth Ministries – Worship Degree Information
Career Opportunities for Youth Ministries – Worship Graduates
Associate pastor
Church administrator
Youth ministry director
Youth pastor
Youth worship leader
Admission Requirements for Undergraduate Degrees
Every application is reviewed by the admission committee on a case-by-case basis, meaning there are no set minimums for acceptance. However, all applicants must submit the following documents* for admission:
Admission application
Official high school transcripts
Official college transcripts (if applicable)
Results from the CLT, SAT, or ACT are not required for admission, but may be used in consideration for merit-based aid.
Admission essay
*Note that additional documentation may be requested by the admission committee after your application has been received.