Help the Next Generation Discern Biblical Truth by Earning Our Youth Ministries – Theology and Apologetics Bachelor's Degree
Consider a bachelor's degree that pairs your interest in defending the Christian faith with your calling to make disciples and fulfill the Great Commission. At Liberty, we offer a youth ministries degree focused on theology and apologetics. Let us help you dive deeper into scripture, equipping you to share your knowledge with the young men and women around you.
Being able to correctly discern biblical truth is vital for a life in Christian leadership. In Romans chapter 16, Paul urges his fellow believers to watch out for false teachers, as they cause division in the church and upset people's faith. In 1 Timothy, he again warns us about people who teach contrary to the truth, wasting time discussing myths and spiritual pedigrees, as none of these things correctly portray God and how we should live. 
Use your work in youth ministry to shine a light on what is true. For young people, it can be very confusing to navigate a world full of crafty false teaching and contradiction. Our degree will give you the insight and interpretative skill to distinguish what the Bible really says on current cultural topics, from feminism to family roles to situational ethics. Open the eyes of young men and women to the way false teachers twist the truth for their own selfish ambitions. Your studies with Liberty can lead you to make an incredible impact on your ministry.  
---
Why Choose Liberty's Youth Ministries – Theology and Apologetics Degree?
Earn your religious degree from a nonprofit, Christian university founded on biblical truths. Partner with our renowned Christian professors as you sharpen your ability to interpret biblical passages and apply the truths and wisdom to the next generation of men and women. Our youth ministries degree in theology and apologetics focuses on raising up Christian leaders excited about sharing the truth and dispelling false teaching.
Additionally, we want our students to walk away trained not only in the classroom but also in the field. In order to accomplish this, we have incorporated training opportunities, practicums, and internships directly into your degree plan.
The following are ways you can take your skill set further with Liberty:
Complete various church ministry practicums, designed to get you real-world experience under ministry professionals before you graduate.
Complete a youth ministry internship with a church, parachurch, or nonprofit organization to gain even more hands-on experience.
Our Ministry Fellowship program is an excellent opportunity to maximize your vocational ministry training.
Our youth ministries degree programs are designed with your success in mind. To prepare for a career in youth ministry you will want to study under professionals who are excited to instruct from their years of experience. As a teaching university, we ensure that our professors are in the classroom with you every week, teaching, guiding, and mentoring you throughout your academic journey. You can be confident that you are being taught by the very best.

Award-Winning Campus
At Liberty, you'll find an affordable, high-quality education that equips students like you for the real world. Our commitment to excellence helped us rank among Niche.com's Top 5 college campuses in America. Earning your degree from a nonprofit university with state-of-the-art resources like ours can help set you apart from your peers.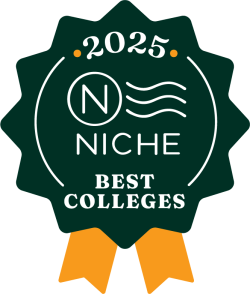 ---
What Will You Learn in Our Theology and Apologetics Youth Ministries Degree?
Specializing your degree in theology and apologetics will help you refine your skill in biblical interpretation. Develop a healthy scrutiny of religious groups who claim to be Christian yet deny fundamental Christian doctrines. You will also examine major world religions, their basic beliefs, and practices. Being equipped to detect flaws and differences in people's theology will strengthen your teaching and leadership capabilities.
Additionally, you will receive the foundational knowledge of the Bible that you need to excel in any ministry field through this degree's core curriculum in youth ministries. You'll take courses in cultural engagement, apologetics, inductive Bible study, and hermeneutics. You'll also study topics like global youth culture, strategies for student outreach, and ministering to adolescents in crisis.
Review the Degree Completion Plan, and check out our featured courses below to learn more about what you'll be studying!
Featured Courses
APOL 325 – Christianity and the Cults
Here's what you'll learn:
This course examines the history and beliefs of those systems that claim to be Christian yet deny fundamental Christian doctrines.
The doctrines they deny include the sole sufficiency of the Bible, the Trinity, the deity of Christ, salvation by faith in Christ alone without works, the eternal punishment of the wicked, and other pertinent doctrines.
Groups discussed include Jehovah's Witnesses, Mormonism, Seventh-day Adventism, Christian Science, and others.
APOL 431 – Introduction to Islam
Here's what you'll learn:
The historic rise and expansion of Islam, as well as basic Muslim beliefs and practices.
Attention is also given to the diversity within the world of Islam.
THEO 330 – Theology of the Family
Here's what you'll learn:
A biblical perspective on the place of women in ministry is reviewed
Emphasis is placed upon theological aspects, ministry positions available, and exposure to women who are in ministry
THEO 350 – Fundamental Theological Issues
Here's what you'll learn:
Major theological questions that arise in the defense of biblical inerrancy, scriptural separation, and creationism
The charismatic movement, feminism, situational ethics, and other vital concerns to the fundamentalist in today's world
Highlights of Our Youth Ministries – Theology and Apologetics Degree
John W. Rawlings School of Divinity professors are active in the classroom, as well as in research and publishing original works.
Our School of Divinity is committed to the authority of Scripture and conservative evangelical theology.
Benefit from the teaching and professor involvement of a small Bible college with the experience and amenities of a university.
Internship opportunities with churches and parachurches locally, nationally, and globally.
The Freedom Tower, home for the School of Divinity, houses a 7-projector immersive classroom, an interactive meeting space that utilizes teleconferencing capabilities, and a state-of-the-art homiletics teaching lab.
The Rawlings Foundation's rare book collection is valued at over $1 million and contains a 111-foot long Torah scroll dating back to the 16th century and a functioning Gutenberg Printing Press replica.
Youth Ministries – Theology and Apologetics Degree Information
Career Opportunities for Youth Ministries – Theology and Apologetics Graduates
Church administrator
International youth pastor
Next generation pastor
Parachurch leader
Youth pastor
Admission Requirements for Undergraduate Degrees
Every application is reviewed by the admission committee on a case-by-case basis, meaning there are no set minimums for acceptance. However, all applicants must submit the following documents* for admission:
Admission application
Official high school transcripts
Official college transcripts (if applicable)
Results from the CLT, SAT, or ACT are not required for admission, but may be used in consideration for merit-based aid.
Admission essay
*Note that additional documentation may be requested by the admission committee after your application has been received.