Learn How to Effectively Reach the Next Generation with Liberty's Sports Outreach Degree
Get excited about making a difference in the lives of tomorrow's leaders. If you enjoy sports and have a passion for student outreach opportunities, we have a degree for you. Liberty offers a B.S. in Youth Ministries: Sport Outreach to equip students like you to live out your dream and make an impact on countless lives.
Our youth ministries degrees aim to prepare students with strong biblical theology, integrity, and ministry skills. By adding our sports outreach specialization to your degree, you will increase your marketability and job opportunities in the field you love. Graduate prepared for sports outreach roles in churches, community programs, and nonprofit organizations.
We make sure you feel confident about your ministry and professional skills before you graduate. Partner with our experienced faculty who have worked for years in youth ministry. You get to choose courses that provide off-campus opportunities for hands-on experience with local ministry organizations. Earning a bachelor's degree is a great achievement and opens the doors to many career options. Make your education count with Liberty.
Award-Winning Campus
At Liberty, you'll find an affordable, high-quality education that equips students like you for the real world. Our commitment to excellence helped us rank among Niche.com's Top 5 college campuses in America. Earning your degree from a nonprofit university with state-of-the-art resources like ours can help set you apart from your peers.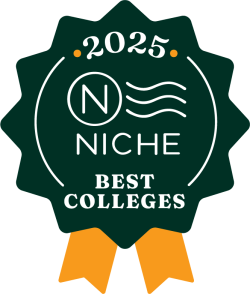 ---
Why Choose Liberty's Youth Ministries – Sport Outreach Degree?
We want our students to graduate trained not only in the classroom but also in the field. In order to accomplish this, we have incorporated training opportunities, practicums, and internships directly into your degree plan.
The following are just some of the ways you can take your skillset further with Liberty:
Choose courses like Mentoring in Sport, which allow you to go off-campus and work with a real ministry outreach organization.
Complete various church ministry practicums, designed to get you real-world experience under ministry professionals before you graduate.
Complete a youth ministry internship with a church, parachurch, or nonprofit organization to gain even more hands-on experience.
Our Ministry Fellowship program is an excellent opportunity to maximize your vocational ministry training.
Our youth ministries degree programs are designed with your success in mind. To prepare for a career in sports outreach ministry you will want to study under professionals with graduate and doctoral degrees who are excited to teach from their years of experience. As a teaching university, we ensure that our professors are in the classroom every week with you, teaching, mentoring, and guiding you along your academic journey.  You can be confident that you are being taught by the very best.
---
What Will You Learn in Our Youth Ministries and Sport Outreach Degree?
Gain the foundational knowledge of the Bible that you need to excel in any ministry field with a degree from Liberty's School of Divinity. Throughout our youth ministries degree, you'll take courses on cultural engagement, apologetics, inductive Bible study, and hermeneutics. You will also study topics like global youth culture, strategies for student outreach, and ministering to adolescents in crisis.
If you choose to specialize in sports outreach, you'll study the effective concepts and practices associated with sports ministry outreach. Learn how to prepare, organize, and manage a sports ministry program, while examining the interrelationship between sport and religion throughout history. You will also learn how to plan, fund, and direct effective camp programs, from local church settings to high school and college campuses.
Review the Degree Completion Plan, and check out our featured courses below to learn more about what you'll be studying!
Featured Courses
SMGT 300 – Introduction to Coaching
Here's what you'll learn:
An overview of the roles, qualifications, responsibilities, and skills required of coaches during the season and offseason
Issues affecting coaches both on and off the field will be addressed
SMGT 312 – Introduction to Sport Ministry Outreach
Here's what you'll learn:
This course will explain the inter-relationships between sport and religion while examining the impact of muscular Christianity and sport ministry in North America
Tools and guidelines for preparing, organizing, and administering a sport ministry program will also be examined
SMGT 315 – Concepts and Practices in Sport Outreach
Here's what you'll learn:
This course introduces the student to the broad spectrum of Christian concepts and practices with sport camp operation and leadership.
The student will be equipped to plan, fund, program, direct, evaluate and assess a camp's effectiveness with an emphasis on outreach to athletes on high school and college campuses, in the local church, and with community organizations.
SMGT 317 – Mentoring in Sport
Here's what you'll learn:
Hands-on experience and guidance in the day-to-day functions of sports outreach.
Highlights of Our Youth Ministries – Sport Outreach Degree
John W. Rawlings School of Divinity professors are active in the classroom, as well as in research and publishing original works.
Our School of Divinity is committed to the authority of Scripture and conservative evangelical theology.
Benefit from the teaching and professor involvement of a small Bible college with the experience and amenities of a university.
Internship opportunities with churches and parachurches locally, nationally, and globally.
The Freedom Tower, home for the School of Divinity, houses a 7-projector immersive classroom, an interactive meeting space that utilizes teleconferencing capabilities, and a state-of-the-art homiletics teaching lab.
The Rawlings Foundation's rare book collection is valued at over 1 million dollars and contains a 111-foot long Torah scroll dating back to the 16th century and a functioning Gutenberg Printing Press replica.
Youth Ministries and Sport Outreach Degree Information
Career Opportunities for Youth Ministries – Sport Outreach Graduates
Children's pastor/director
Community sport outreach director
Next-generation pastor
Youth camp director
Youth ministry director
Youth pastor
Admission Requirements for Undergraduate Degrees
Every application is reviewed by the admission committee on a case-by-case basis, meaning there are no set minimums for acceptance. However, all applicants must submit the following documents* for admission:
Admission application
Official high school transcripts
Official college transcripts (if applicable)
Results from the CLT, SAT, or ACT are not required for admission, but may be used in consideration for merit-based aid.
Admission essay
*Note that additional documentation may be requested by the admission committee after your application has been received.