Prepare for a High-Energy Career in Camp and Outdoor Adventure Leadership!
Follow your dream of working with youth in an exciting camp and outdoor adventure environment. Imagine running your own camp ministry as you invest in the lives of young people and watch them grow spiritually. If you are looking to gain the credentials and experience you need to work in a field like this, consider Liberty's B.S. in Youth Ministries — Camp and Outdoor Adventure Leadership degree.
Pair your love for the great outdoors with your commitment to making disciples and living out the Great Commission. Whether you want to work as a youth ministry director or create your own foundation, a degree in youth ministries will open doors for you. Our program will help you both practically and logistically, as you learn how to plan events, work the land, and communicate with engineers on-site plan development.
Get excited about a ministry position that lets you have fun while you change lives! All of our youth ministries degrees are founded on our vision of Training Champions for Christ. You can be confident that you will receive thorough instruction on major theological issues, hermeneutics, and discipleship vital for any ministry leader. While you take these more intensive biblical courses, you will learn how to reach students with activities and programs that excite them.  
You need a degree that prepares you with confidence, integrity, and unshakeable theology. Partner your passion for youth ministry and outdoor activity with our nonprofit, Christian university. There is no telling how far you can go once you have the skills you need.
---
Award-Winning Campus
At Liberty, you'll find an affordable, high-quality education that equips students like you for the real world. Our commitment to excellence helped us rank among Niche.com's Top 5 college campuses in America. Earning your degree from a nonprofit university with state-of-the-art resources like ours can help set you apart from your peers.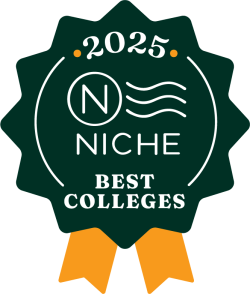 ---
Why Choose Liberty's Youth Ministries — Camp and Outdoor Adventure Leadership Degree?
Our youth ministries degree programs are designed with your success in mind. To truly prepare for a career in ministry and camp leadership you will want to study under professionals with graduate and doctoral degrees who are excited to teach from their years of experience. These professors are in the classroom with you every week, guiding and mentoring you every step of the way. You can be confident that you are being taught by the very best.
We want our students to walk away trained not only in the classroom but also in the field. In order to accomplish this, we have incorporated training opportunities, practicums, and internships directly into your degree plan.
The following are just some of the ways you can take your skillset further with Liberty:
Complete various church ministry practicums, designed to get you real-world experience under ministry professionals before you graduate.
Complete a youth ministry internship with a church, parachurch, or nonprofit organization to gain even more hands-on experience.
Our Ministry Fellowship program is an excellent opportunity to maximize your vocational ministry training.
---
What Will You Learn in Our B.S. in Youth Ministries Degree Program?
Gain the foundational knowledge of the Bible you'll need to excel in any ministry field with a degree from Liberty's School of Divinity. Our youth ministries degree provides vital training for people wanting to work with youth. You'll study topics like global youth culture, strategies for student outreach, and ministering to adolescents in crisis. In addition to the youth ministries-focused classes, you'll also explore topics like cultural engagement, apologetics, and hermeneutics.
If you choose to pursue our camp and outdoor adventure leadership degree, you'll examine the legal issues in camp ministry, as well as how to effectively manage Christian ministry organizations. Additionally, you will learn how to interpret topographical maps and communicate with engineers and architects for site plan development. 
Review the Degree Completion Plan, and check out our featured courses below to learn more about what you'll be studying!
Featured Courses
COAL 210 – Introduction to Camp and Outdoor Adventure Leadership
Here's what you'll learn:
This course will provide students a biblically-based introduction to a wide range of initiative games and team building skills.
This course will also introduce the ability to transfer experience-based discovery learning to real-life application and the proper sequencing philosophies necessary to enjoy success in the camping and outdoor adventure leadership ministry professions.
Students in this course will be able to combine a passion for creation and the outdoors, a love for servant-hearted camping and outdoor adventure ministry leadership, and the recreation and programming methods taught to lead a life of successful ministry.
This course can serve as either an introduction to full-time vocational ministry, or to life-long skills as a church lay leader, a parachurch volunteer, a mission trip coordinator, or even a non-profit organization volunteer.
COAL 220 – Foundations and Programming in Camp and Outdoor Leadership
Here's what you'll learn:
This course will provide students the foundational knowledge necessary for effective leadership in camp and outdoor adventure leadership programs including the introduction to a variety of camps and outdoor ministries, their history, leadership, and how they are being effectively utilized today.
Students will also learn how to effectively develop age-appropriate programs which are properly sequenced in camp and outdoor adventure ministries that apply biblical principles to all aspects of relationship-building.
COAL 310 – Christian Camp: Site Plan and Design
Here's what you'll learn:
This course will provide students with the biblical foundation and critical information that they need to properly evaluate the feasibility of developing raw land into a viable Christian camp or outdoor adventure ministry site.
Understand the environmental studies required, how to read and understand topographical maps, and work with architects and engineers on site plan development.
Learn the principles of development, drainage, natural resource conservation, utility installation, mineral rights, real estate contracts, pipeline, and electrical easements, road construction, parking considerations, size and number of buildings needed for lodging, meeting space, dining services, and activity site planning.
COAL 370 – Managing the Christian Ministry Organization
Here's what you'll learn:
This course will take a comprehensive examination of critical areas for the individual who gives or is considering leadership in a Christian camp or outdoor ministry organization.
An exposition of biblical passages supporting the establishment and function of Christian camps and outdoor ministry organizations and their supportive relationship to the local church will be presented.
Pragmatic applications to effectively direct/manage a Christian camp and outdoor ministry organization will be examined.
Highlights of Our Youth Ministries: Camp and Outdoor Adventure Leadership Degree
John W. Rawlings School of Divinity professors are active in the classroom, as well as in research and publishing original works
Our School of Divinity is committed to the authority of Scripture and conservative evangelical theology
Get the teaching and professor involvement of a small bible college with the experience and amenities of a university
Internship opportunities with churches and parachurches locally, nationally, and globally
The new Freedom Tower houses a 7-projector immersive classroom, an interactive classroom that utilizes teleconferencing capabilities, and a state-of-the-art homiletics teaching lab
The Rawlings Foundation's rare book collection is valued at over $1 million dollars and contains a 111-foot long Torah scroll dating back to the 16th century and a functioning Gutenberg Printing Press replica
Youth Ministries Degree Information
Career Opportunities for Youth Ministries: Camp and Outdoor Adventure Leadership Graduates
Children's pastor/director
Next-generation pastor
Youth camp director
Youth ministry director
Youth pastor
Admission Requirements for Undergraduate Degrees
Every application is reviewed by the admission committee on a case-by-case basis, meaning there are no set minimums for acceptance. However, all applicants must submit the following documents* for admission:
Admission application
Official high school transcripts
Official college transcripts (if applicable)
Results from the CLT, SAT, or ACT are not required for admission, but may be used in consideration for merit-based aid.
Admission essay
*Note that additional documentation may be requested by the admission committee after your application has been received.