Use Sports to Present the Truth of the Gospel by Earning our Camp and Outdoor Adventure Leadership: Sport Outreach Degree
Do you love outdoor sports and activities and desire to have a positive impact on the world? With our Bachelor of Science in Camp and Outdoor Adventure Leadership: Sport Outreach, you can combine your passions and find new ways to reach youth and young adults. You can provide sports training in the field and share Scripture while building long-lasting, trust-filled relationships.
Learn how to transform others' lives through your passion for sports and outdoor recreation. You will gain the skills needed to effectively manage and market Christian camping and outdoor ministry programs. Best of all, you will be doing your part to fulfill the Great Commission and transform lives.
Award-Winning Campus
At Liberty, you'll find an affordable, high-quality education that equips students like you for the real world. Our commitment to excellence helped us rank among Niche.com's Top 5 college campuses in America. Earning your degree from a nonprofit university with state-of-the-art resources like ours can help set you apart from your peers.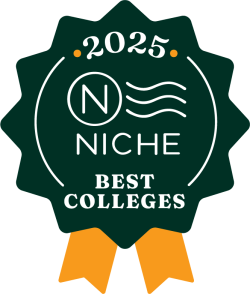 ---
Why Choose Liberty's Camp and Outdoor Adventure Leadership: Sport Outreach Degree?
The field of camp and outdoor adventure is exciting and unique, and people like you are needed to fulfill the roles of leadership. By pursuing this specialization in sports outreach, you will have the special opportunity to take your passions and reach people at all social levels.
You will attend classes in our Freedom Tower, where the School of Divinity resides, while you are studying here at Liberty. This state-of-the-art facility contains cutting-edge technology, like a classroom with teleconferencing capabilities to speak with practicing professionals around the globe and a homiletics lab.
We have many opportunities for you to get the hands-on training you need through an internship. Our students complete local, national, and international internships with our School of Divinity. These internships present the perfect chance to turn knowledge into wisdom while working alongside seasoned professionals in the camp and sport outreach fields.
---
What Will You Learn in Our Camp and Outdoor Adventure Leadership: Sport Outreach Degree?
By pursuing a degree with our John W. Rawlings School of Divinity, you will gain the biblical training you need to excel in any ministerial field. We want you to be fully equipped to disciple others, defend your faith, and study the Word of God, so our program provides the insight and knowledge needed to fulfill these basic ministry needs.
In our camp and outdoor adventure leadership degree, you will learn how to develop and manage camp and outdoor recreational facilities. Courses like Campsite Planning and Christian Ministries Management will prepare you for the world of outdoor ministry.
Our specialization in sports outreach examines the relationship between sport and religion in North America. Throughout this degree, you will learn how to develop a successful sports ministry program at your camp or community church and parachurch organization. Furthermore, you will learn all of the essential functions needed to run an effective camp with an emphasis on outreach to athletes from high school to college age.
Review the Degree Completion Plan, and look at our featured courses below for more information on what you will be studying.
Featured Courses
COAL 370 – Managing the Christian Ministry Organization
Here's what you'll learn:
A comprehensive examination of critical areas for the individual who provides leadership in a Christian camp or outdoor ministry organization
An exposition of biblical passages supporting the establishment and function of Christian camps and outdoor ministry organizations and their supportive relationship to the local church
Pragmatic applications to direct and manage a Christian camp and outdoor ministry organization
COAL 460 – Camp and Outdoor Ministry

Here's what you'll learn:
A comprehensive culmination of the biblical foundation and benefits that were covered in the camp and outdoor adventure leadership program, including philosophies and methods, management styles, marketing strategies, facility design, site planning ability, leadership styles, donor relations and reporting mechanisms, and much more
Complete a brand new start-up camp or outdoor adventure ministry project from mission statement and property selection until opening day for business, including a comprehensive business plan, as an assessment tool to demonstrate mastery of each discipline required to be successful in the camp and outdoor adventure leadership profession
SMGT 312 – Introduction to Sport Ministry Outreach
Here's what you'll learn:
The relationship between sport and religion while examining the impact of muscular Christianity and sport ministry in North America
Tools and guidelines for preparing, organizing and administering a sport ministry program
SMGT 315 – Concepts and Practices in Sport Outreach
Here's what you'll learn:
The broad spectrum of Christian concepts and practices with sport camp operation and leadership
Plan, fund, program, direct, evaluate and assess a camp's effectiveness as you study how to reach out to athletes on high school and college campuses, in the local church, and with community organizations
Highlights of Our Camp and Outdoor Adventure Leadership: Sport Outreach Degree
John W. Rawlings School of Divinity professors are active in the classroom, as well as in research and publishing original works.
Our School of Divinity is committed to the authority of Scripture and conservative evangelical theology.
Benefit from the teaching and professor involvement of a small bible college with the experience and amenities of a university.
Internship opportunities with churches and parachurches locally, nationally, and globally.
The Freedom Tower, home for the School of Divinity, houses a 7-projector immersive classroom, an interactive meeting space that utilizes teleconferencing capabilities, and a state-of-the-art homiletics teaching lab.
The Rawlings Foundation's rare book collection, valued at over 1 million dollars, contains a 111-foot long Torah scroll dating back to the 16th century and a functioning Gutenberg Printing Press replica.

Career Opportunities for Camp and Outdoor Adventure Leadership: Sport Outreach Graduates
Camp director/coordinator
Camp marketing
Natural resource management
Search and rescue
Wilderness guide
Wilderness skill instructor
Camp and Outdoor Adventure Leadership: Sport Outreach Degree Information
Admission Requirements for Undergraduate Degrees
Every application is reviewed by the admission committee on a case-by-case basis, meaning there are no set minimums for acceptance. However, all applicants must submit the following documents* for admission:
Admission application
Official high school transcripts
Official college transcripts (if applicable)
Results from the CLT, SAT, or ACT are not required for admission, but may be used in consideration for merit-based aid.
Admission essay
 *Note that additional documentation may be requested by the admission committee after your application has been received.