Develop the Character and Skills You Need For a Successful Career in Pastoral Counseling
Equip yourself for a career that pairs your passion for people with your desire to serve the Lord. Our M.A. in Pastoral Counseling degree provides the skills, training, and experience you need to help people understand their situation, prevent further hardship, and begin the healing process.
Becoming a pastoral counselor allows for incredible ministry opportunities. Imagine being entrusted with your congregation's emotional and spiritual well-being. You will have the chance to minister to countless individuals at a time when they need it most.
Whether you are looking to become a full-time counselor in your church, a non-licensed marriage and family counselor, or even a pastor, this graduate degree will put you on the right track. Our experienced team of professors have spent years in pastoral ministry, so you can trust that your courses will highlight the exact skill set you'll need.
---
Award-Winning Campus
At Liberty, you'll find an affordable, high-quality education that equips students like you for the real world. Our commitment to excellence helped us rank among Niche.com's Top 3 college campuses in America. Earning your degree from a nonprofit university with state-of-the-art resources like ours can help set you apart from your peers.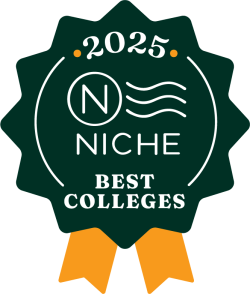 ---
Why Choose Liberty's Pastoral Counseling Master's Degree?
Wherever you see your ministry taking you, you want to be fully prepared to make the most positive impact. Choosing to pursue a master's degree in pastoral counseling can help you gain the skillset, knowledge, and experience necessary to minister to your clients, congregation, and community.
Our team of pastoral counseling professors are excited about sharing their wealth of knowledge and experience as they lead the next generation of Christians in the field of behavioral sciences. With over 140 years of pastoral counseling experience between them, our faculty knows the ins and outs of providing exceptional care to those working through grief and trauma. Choose Liberty and learn from the best in the field.
You will also have the opportunity to take your education outside the classroom. Our M.A. in Pastoral Counseling students complete a 225-hour internship in an approved, related setting. You will gain invaluable hands-on, face-to-face counseling experience in individual, relationship, and group therapy. Not only that, but you will also have our faculty by your side, monitoring your completed assignments related to the internship.
---
What Will You Learn in Our Pastoral Counseling Master's Degree?
Our graduate students studying pastoral counseling explore the multicultural, family, and spiritual issues most often faced in a pastoral setting. As a student in this program, you will receive training in solution-based models so you can apply various behavioral approaches and appropriate biblical teaching in your work. You will also examine the best ways to promote spiritual growth during crises, as well as in premarital and marriage circumstances.
Pastoral Counseling Concentration
By specializing in general pastoral counseling studies, you will examine how to address issues across various demographics, like with children, women, and the elderly. You will also learn how to combine faith with successful counseling practices from both secular and Christian counselors.  
View the Degree Completion Plan, and check out our featured courses below to learn more about what you'll be studying!
Featured Courses
PACO 506 – Integration of Psychology and Theology
Here's what you'll learn:
This course introduces students to the process of pastoral counseling with a variety of religious clients, particularly religious clients who would define themselves as evangelical Christians.
The course provides a systematic overview of Christian doctrines, a discussion of various theological viewpoints regarding those doctrines, and an examination of how psychological and theological concepts relate to each other.
PACO 507 – Theology and Spirituality in Counseling
This course provides an examination of the content, comprehensiveness, and validity of several counseling theories developed by prominent Christian counselors.
PACO 630 – Gerontology and Counseling
Here's what you'll learn:
This course introduces students to the issues and problems unique to the elderly in American society.
Topics such as grief and loss, suffering, societal attitude, and family structure are examined.
PACO 687 – Counseling Women
Here's what you'll learn:
This course examines the most common problems women bring to counseling, including both developmental and situational crises.
It explores biblical perspectives and the most effective treatments for these situations.
Highlights of Our Master's in Pastoral Counseling Degree
Complete your entire master's in as little as one year!
Receive opportunities to earn several certificates from the American Association of Christian Counselors (AACC). These include Crisis Response, Life Coaching, and Saving Your Marriage Before It Starts (SYMBIS).
Our AACC student chapter provides the chance for students like you to grow professionally and spiritually as you network and interact with successful counseling professionals!
Our student to professor ratio for residential graduate students is 6:1!
Our faculty care deeply for their students, praying for and with them throughout their academic journey.
Pastoral Counseling – Marriage and Family Degree Information
Career Opportunities for Pastoral Counseling Master's Degree Graduates
Associate Pastor
Chaplain
Church Counselor
Lay Leader
Non-licensed Counselor
Teaching Pastor
Youth Pastor
Admission Requirements for Graduate Degrees
Every application is reviewed on a case-by-case basis, and all applicants must submit the following documents and meet the minimum requirements for admission:
Admission application
Official bachelor's degree transcripts with a 2.0 GPA or higher
Self-certification form (for students who are in the final term of their bachelor's degree)
Current Liberty undergraduate students seeking preliminary acceptance into a graduate program must complete a degree completion application through their ASIST account