LUPD K9 Units

Liberty University Police Department utilizes K9 Units to ensure further safety of the students, faculty, and staff while attending major events.
K9 Officers Hvezda and Hera joined LUPD in the Fall of 2018 as our first detection dogs. Their job is restricted to smelling and detecting explosives, only. Each K9 went through specialty training for several months until they received their Police badges.  Their handlers work and train with them throughout the year to stay up-to-date on the most current and effective detection methods.
If seen on campus, their Handlers would like you to know that Hvezda and Hera do wear harnesses and collars that indicate when they are hard at work.
---
---
While there may be times that interactions are be permitted, please consult their handlers first. Hera and Hvezda do enjoy spreading smiles across campus when they are not hard at work sniffing campus to keep students safe.
In their off time, Hvezda and Hera love to chew on tennis balls and run around outside in beautiful weather.
---
K9 Units
K9 Officer Hera
Explosive Detection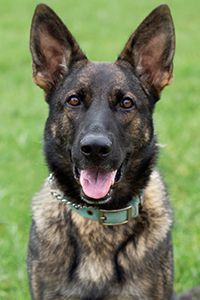 K9 Officer Hvezda
Explosive Detection